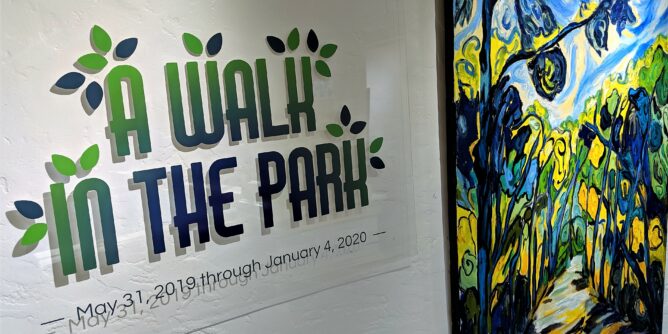 There's an opening reception for the colorful exhibit of large paintings at the Historic Thomas Center's Doris Bardon Gallery during Friday night's monthly Artwalk.
---
Gainesville residents are fortunate to have access to more than 90 public parks, including some 2,200 acres of preserved land and nature parks.
To celebrate those green spaces on the city's 150th birthday, the art exhibit "A Walk in the Park" is opening this week at the Thomas Center Galleries, featuring 21 pieces created by nine local artists. An opening reception takes place Friday from 7-9 p.m. during the monthly Artwalk Gainesville.
Anne Gilroy, who curated the exhibit for the city's Parks, Recreation and Cultural Affairs Department, said the goal of "A Walk in the Park" is "to shine a spotlight on the city's parks and public places by exhibiting work that is not limited to illustrating the beauty of the parks, but work that is inspired by spending time in the park and the natural spaces that we are fortunate to have in our community."

Only a handful of the paintings contain recognizable landmarks, including oil-on-canvas paintings by Daniel Stepp that feature Depot Park and The Historic Thomas Center. The Thomas Center painting, titled "Dog Park," shows humans and canines interacting near the fountain, while the painting titled "Depot Park" shows a yoga class in various poses on the park's grassy hill.
Both large-scale paintings are in the style of Georges Seurat, a French post-Impressionist artist who painted "A Sunday Afternoon on the Island of La Grande Jatte" in 1884. Stepp is an art professor at Santa Fe College.
"Dan's work is both formal in its geometric approach and very irreverent in narrative," Gilroy said. "Spend a bit of time with these pieces and you get a glimpse into his wry look at us and our world."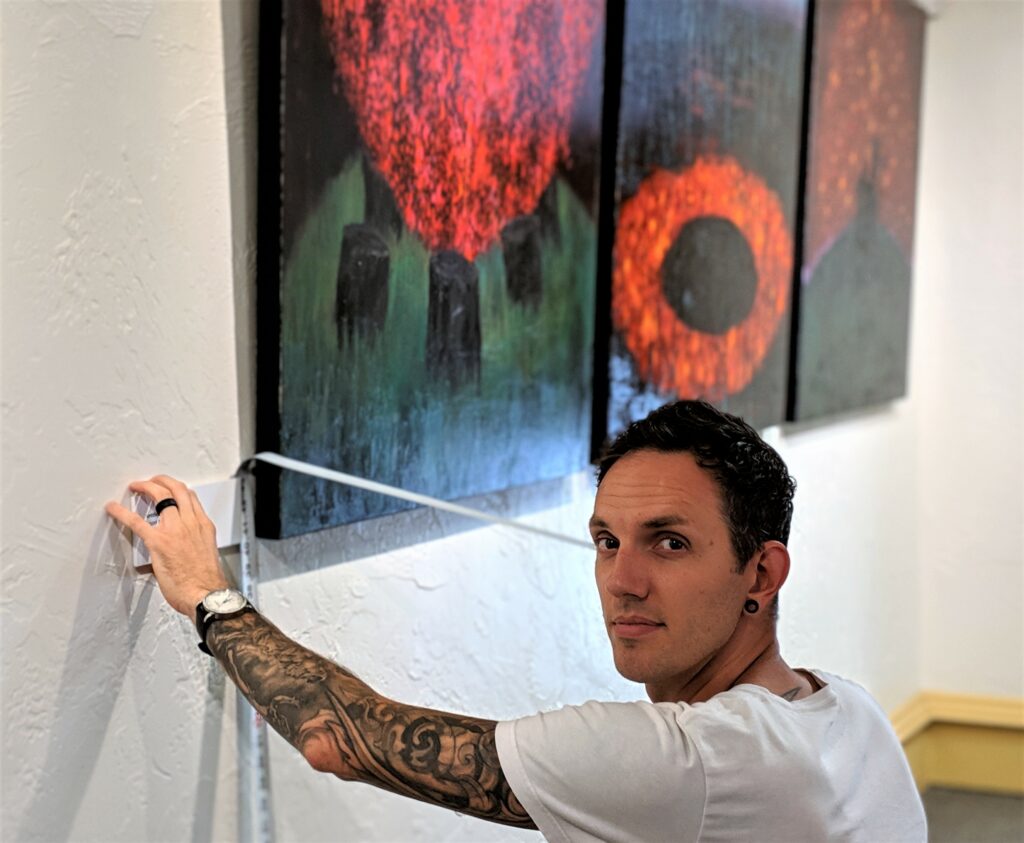 The "A Walk in the Park" exhibit also includes the works of Bob Bird, Cindy Capehart, Ben Ingle, Logan Marconi, Sara Nash, Leslie Peebles, Alfred Phillips and Irene Salley.
Marconi, 34, has four oil-on-polyester paintings in the exhibit. Three paintings — "Veiled Throne," "In Memorial Burn" and "The Gate" —are hung next to each other. "In Memorial Burn," which appears to be a ring of red coals, was inspired by a prescribed burn Marconi and a friend came across while cycling along the Gainesville-Hawthorne Trail.
"I like the prescribed burn because it's an opportunity for renewal and transformation," said Marconi, an adjunct professor at both UF and Santa Fe College. "I'm not so interested in the physical description as emoting or suggesting something."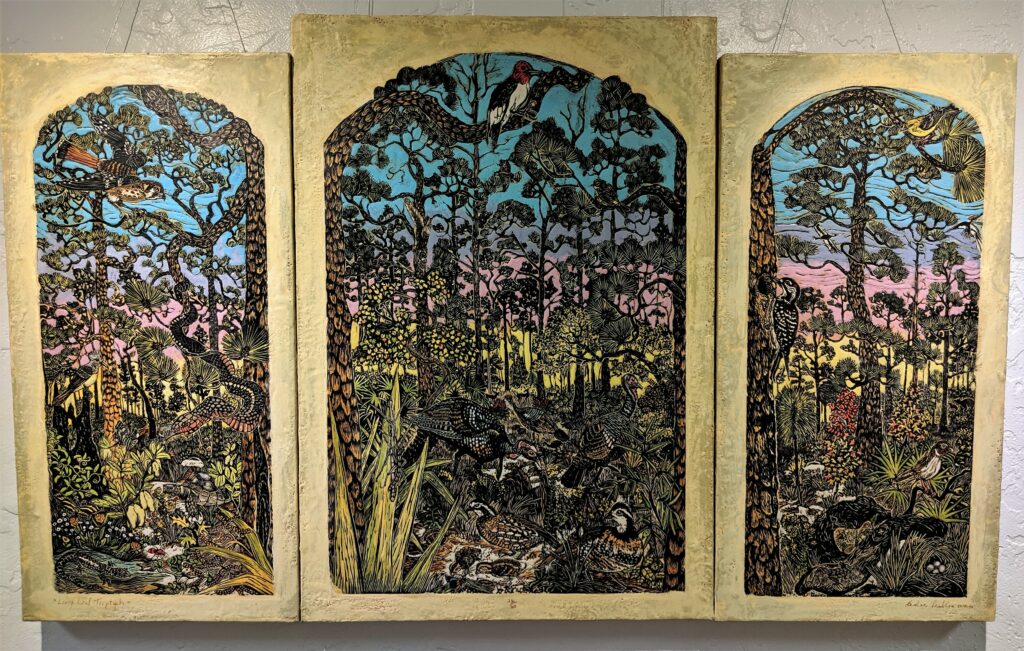 Meanwhile, Peebles has two pieces in the exhibit that showcase her linoleum block printmaking technique. In some cases, she takes her linoleum into the woods and draws the trees and plants directly onto the blocks.
Russell Etling, the city's Cultural Affairs Manager, said many of the paintings are not park-specific.
"It's more of an exploration of how we experience parks," Etling said. "We hope it will encourage people to visit and enjoy the parks we have as they have so much to offer."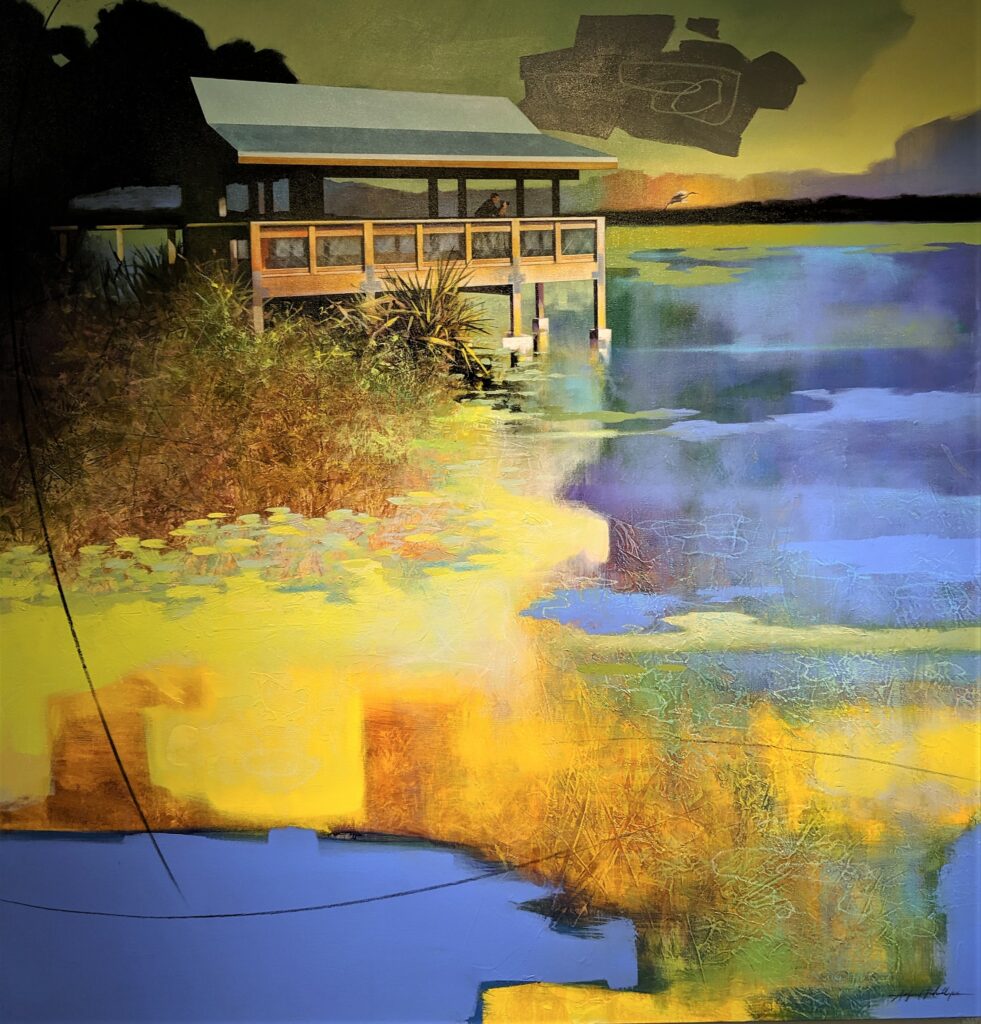 In "Sweetwater Shelter," Alfred Phillips shifts from abstract to hyperrealism in a single painting of a pavilion at the city's Sweetwater Wetlands Park overlooking Paynes Prairie.
"I go back to Sweetwater for the healing strength that open space and stunning beauty provide for my soul," Phillips said in his artist statement.
According to Gilroy, "A Walk in the Park" is not intended as an all-encompassing exhibit of city parks and artists.
"I more or less knew I wanted large work and I wanted to focus on new work and some new 'voices' in this exhibit," she said. "There are many many more artists inspired by our landscape and natural spaces. I chose work we don't often get to see in other exhibits or printouts for the interest and inspiration it brings both to viewers and hopefully to other artists."
"A Walk in the Park" will remain on display in the upstairs Doris Bardon Gallery through Jan. 4, 2020. Meanwhile, the exhibit "Synchronica :: Framing Time," featuring 150 photo self-portraits by young adults, opens June 28 in the first-floor Main Gallery.
— Noel Leroux
---
Following is a list of participating venues for May's Artwalk and what to expect:
GFAA Gallery (1314 S. Main St.): Presenting the members' themed show "Photography and Digital Art." Opening reception and awards presented during Artwalk. Exhibit continues through June 22. Meanwhile, the Front Gallery features self-curated collections of artwork. The GFAA Gallery also includes a boutique with affordable artisan objects and artworks. Note: Artwalk hours 6-9 p.m. GFAA Gallery open Tuesday-Saturday 11 a.m.-6 p.m., closed Sunday and Monday. (For further info, visit the gallery's website at gainesvillefinearts.org.)
First Magnitude Brewing Company (1220 SE Veitch St.): Hosting a variety of artists and live music by Dylan Gerard, as well as food trucks, craft beers. Note: Artwalk hours 6-9 p.m.
435 (435 S. Main St.): Hosting Michael J. Garvin and his exhibit "Follies and divine madness: the fall of titans." Otherworldly watercolors that peer into the vanished worlds of gods, titans and beings "chthonic and empyrean." (Venue is next door to the Civic Media Center.)
Civic Media Center (433 S. Main St.): "Experiencing the Other," a performance-art event hosted by Theatre for Community Change, Ignite Applied Theatre and Your Authentic Self Work. (civicmediacenter.org)
4Most Gallery (534 SW 4th Ave.): Featuring the show "iko.la1." An unfolding, letting go, unbecoming, unbeknownst to you. It's as much an exploration game as is a heartfelt novella. It's a dialogue. What do you want to bring to the table? What seat will you occupy?
Swamp City Gallery Lounge (404 SE 2nd St.): Featuring Byron Jester, a Gainesville woodworker who uses reclaimed and recycled wood to paint Florida swamp-scapes. He also cultivates bonsai trees for enjoyment and inspiration. Also, Wine & Jazz by DJ Adikt.
Hippodrome Gallery (25 SE 2nd Place): Featuring local guitar maker and music lover Alex Ferrington and his exhibition "Rock Paper Stone: Guitar Designs." His original designs take on the classic American cigar box guitar style. Using found objects, Alex uses his love of the country blues sound and wood-making talents to innovate a part of American music history. The exhibit opens just in time for Opening Night of the Hippodrome Theatre's mainstage production of Million Dollar Quartet, recreating a 1956 jam session that included music legends Elvis Presley, Jerry Lee Lewis, Johnny Cash and Carl Perkins. (thehipp.org)
Dale's Salon (101 SE 2nd Place, Suite 105): Hosting "The Art of Remembering: In Ceramic Tile, In Words," a joint project by ceramic artist Bonita Dewiliby Moore and writer/author Dorothy Weik Smiljanich. Moore creates a variety of ceramic tiles focusing on the history of North Central Florida and nature patterns both real and imagined. Smiljanich will read from her recently published memoir, "Bringing Jessie Home: A Story of Canine Rescue, Human Redemption," at 8 pm.
Maude's Classic Café (101 SE 2nd Place): Featuring "PERSPECTIVES," a group show of artists who meet regularly to draw or paint various models. It's always interesting to see a rendition of the same person from different points of view, with different media. Included are works by Frank Barone, Mary Ruth, Colleen Rand, John Then, Gwen Chrzanowski and Troid Brett.
Black C Gallery (201 SE 2nd Place): Presenting "The City, in photos and phonics." Sounds of NYC mixed with visuals and the spoken word marry two art forms. Join the gallery mailing list to hear about new projects under the artistic collaboration of Ani Collier, Lauren Warhol Caldwell and Sara Morsey. Note: Artwalk hours 7-9 p.m. Regular gallery hours Monday-Thursday noon–5 p.m. and by appointment. (blackcproduction.com)
Somewhere Along the Way (201 SE 2nd Ave, Suite 110): Featuring a live painting with Robert Ponzio and music by Damaged Daughters. (somewherealongtheway.biz)
Artisans' Guild Gallery (201 SE 2nd Place): Presenting guest artist Alfred Phillips: "I  generally paint realistically but never to the point of photo-realism. I call my work 'contemporary realism' to allow for the freedom to include abstracted areas or mixed media, or even palette knife work." (View his work at alfredphillips.com.) Live music by The Ukuleles. Exhibit continues through June 28. Regular gallery hours Monday-Saturday 10 a.m.-7 p.m. and Sunday noon-5 p.m (artisansguildgallery.com)
Sweetwater Print Cooperative (117 S. Main St.): Presenting Leslie Peebles and"Summer Dreamscapes," an exhibit of experimental collographs, mixed-media prints and encaustics that explore themes of myth, fantasy, dreams and spirituality, a divergent but continuous path for Peebles. Exhibit continues through June 26. After Artwalk, the gallery is open Thursday afternoons and Friday mornings, or by appointment by calling Stewart Thomas at 352.514.3838.
Lennie Kesl Studios (115 S. Main St., upstairs in the Tench Building): Presenting "Adventures With Pencils," featuring pulp sci-fi drawings by Kevin Allard; black and white visionary drawings by Catherine Goldman and graphite portraits by Nika Zakharov.
Eleanor Blair Studio (113 S. Main St.): Artist Eleanor Blair is moving out of her beautiful studio. Her Realtor, Greg Johnson, is helping her find a new tenant. Eleanor and Greg will be co-hosting. Stop by for a tour of the studio. (eleanorblairstudio.com)
The Bull (18 SW 1st St.): Join artist Brittany Boyer with her pieces that focus on "zero/low" waste and sustainability with watercolor, eco-dyeing with food waste and drawings. These pieces are created from recycled canvas, fabric and more from local businesses such as The Repurpose Project, thrift shops and Life Unplastic. Brittany's artistic mission is to build from the discarded, fix what needs mending, create a circular economy and grow relationships with the community to reduce, reuse and then recycle.
The SL8 (10 E. University Ave.): Take in all of Juan Pachón's careful intention and detail that he puts into his pieces. Artist statement: "I am interested in finding everyday poetry and the possibilities of the oneiric. Amazement is the attitude that accompanies me. I appreciate the final result after hours of inspiration and investigate the color and light of our time. I try to record the passage of tia
Uniquities Consignment Shop (528 N. Main St., with parking in back): Featuring artist Laura Richards: "Most art is hung on the wall for the pleasure of viewing. My hand-painted and crafted feather light leather earrings are art for daily enjoyment. As a multi-disciplinary artist, I take joy in exploring many mediums and allowing myself to freely create objects that can be hung, as well as have a functional use. Join me at Uniquities where I will be sharing my pillows, collages and, of course, my jewelry."
The Collaborative Shoppe (532 N. Main St., with parking in back): Featuring artist Cette Vie! "Photography is the art of creating art from photography." The DIY classroom will host a Creativity station for this event so you can leave with a finished project. (Next door to Uniquities Consignment Shop.)
The Historic Thomas Center (302 NE 6th Ave.): Opening reception for "A Walk in the Park," a group exhibition of the works of 10 local artists inspired by the city's spectacular public spaces. Opening reception from 7-9 p.m. includes light refreshments and open waltzing in the Spanish Court.
The AUK Market (2031 NW 6th St., in the Curia on the Drag complex): Featuring  aFlorida-themed installation by Jen Duerden. This papier-mâché based sculpture and object installation will welcome you into the sweet and swampy Florida environment. The specialized flora and fauna of the locale captures a scene of richness in nature that is vast and strong, now appearing as fleeting and fragile as paper. Holding on to the essence, lifeblood and history of this part of our world is a strong focus in this work. Dad's Bar will be serving up tasty cocktails during the event.
For further info, visit the Artwalk Gainesville website.