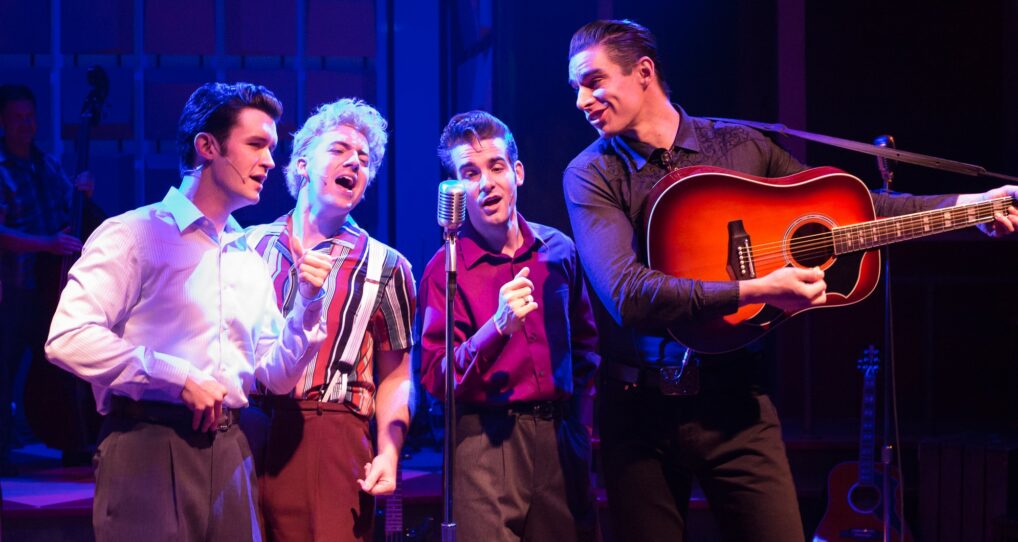 The Hippodrome Theatre presents a high-octane production about four iconic musicians and one history-making jam session for the ages.
---
On Dec. 4, 1956, four budding musicians who one day would become Rock and Roll Hall of Famers bumped into each other — maybe not quite by accident — at a record studio in Memphis. The impromptu jam session that followed with Carl Perkins, Jerry Lee Lewis, Johnny Cash and Elvis Presley was a harmonic convergence of epic proportions.
Sam Phillips, the owner of that Sun Record Studios, had the foresight to record the entire session. A quarter-century later, when each performer's greatness was etched in stone, the jam session was released on an album titled "The Million Dollar Quartet."
Beginning this week, Gainesville audiences can relive that seminal moment in rock and roll history when the Hippodrome Theatre presents Million Dollar Quartet, an electrifying musical production that just might blow the red-tile roof off the Old Post Office this summer.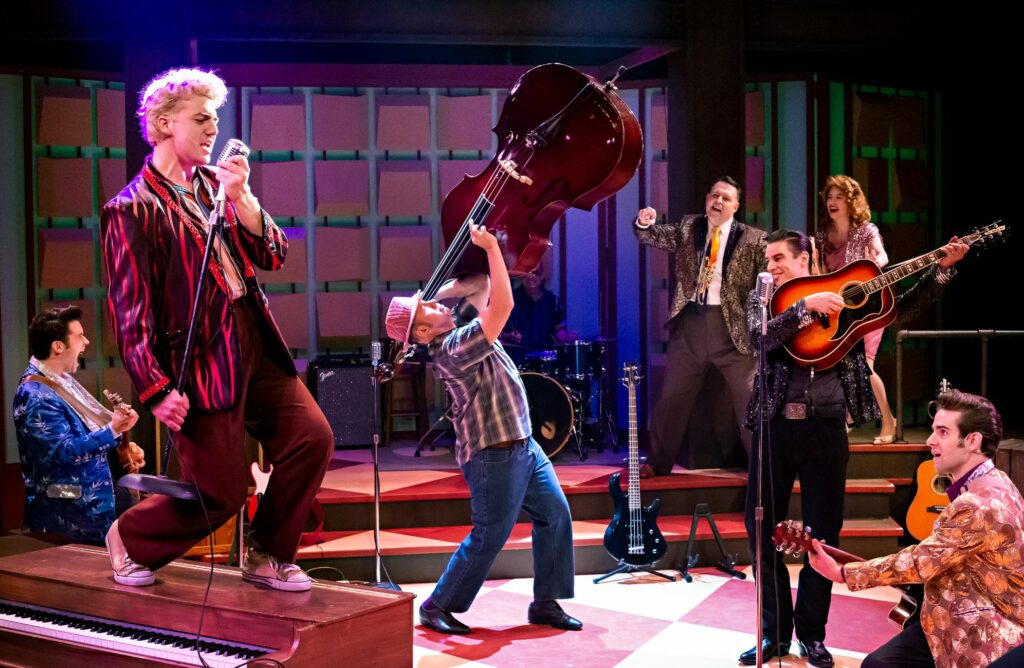 "It is a whole lot of shaking going on!" said Stephanie Lynge, the Hipp's artistic director. "It's the music that all the other rock and roll music and everything that came after it came from."
Opening Night for Million Dollar Quartet is Friday at 8. There are also performances Saturday at 5 p.m. and 8:30 p.m., and Sunday at 2 p.m. followed by seven performances a week throughout June and, more than likely, well into July. There are pay-what-you-can ($5 minimum) preview performances Wednesday and Thursday at 7 p.m.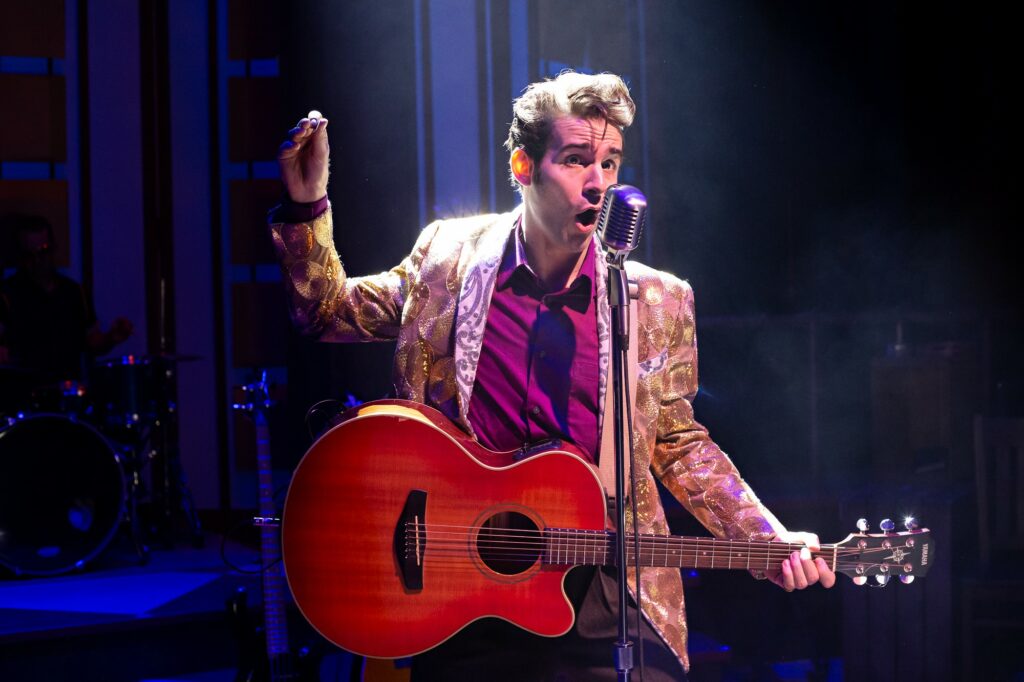 Hugh Hysell, a former UF grad student, is not only directing Million Dollar Quartet but also starring as Sam Phillips, the shrewd record producer often credited as the inventor of rock and roll.
"This play is based upon this real moment in history when these four people got together and jammed," Hysell said. "It also is about a lot of things that were going on in their lives and in their careers that really took place in and around this moment in history. The play kind of condenses it all down so that we get celebration and career moves and broken promises and joy and passion about their work."
Phillips is narrator of the story, which is a fictionalized and glorified version of the real-life jam session, but he is also the central character who sets many of the scenes into motion. Very much the businessman as the visionary, Phillips has contracts that need signing.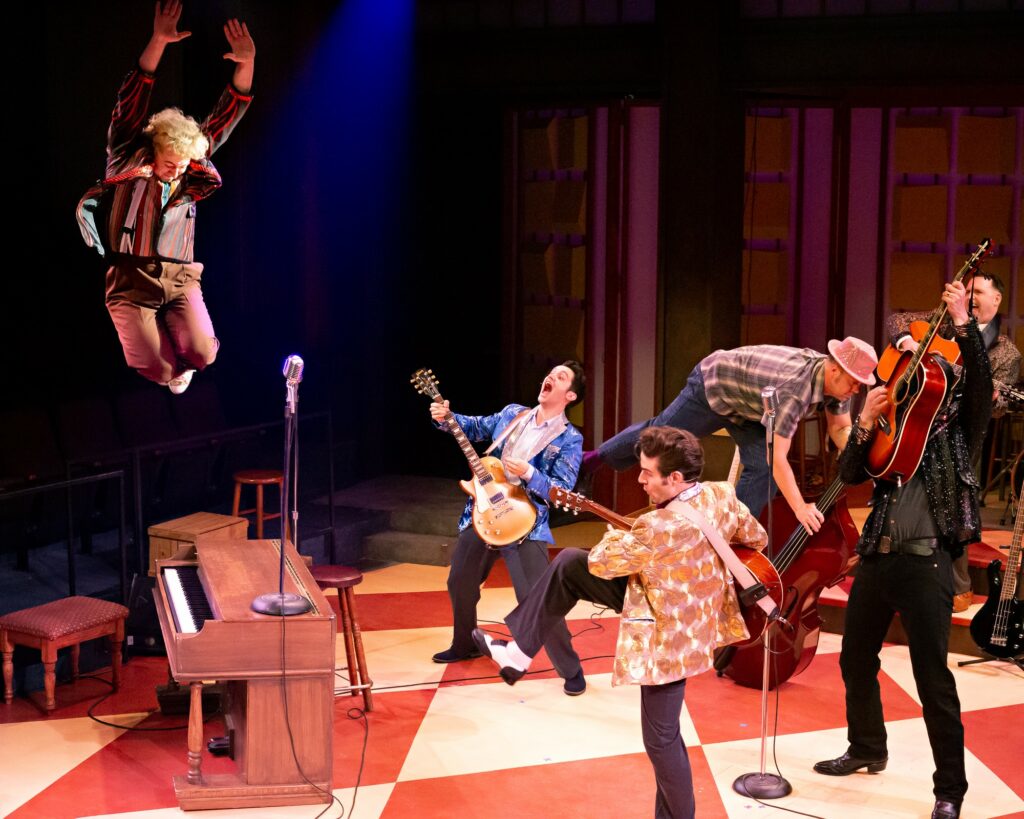 No one can argue, however, that the star of Million Dollar Quartet is the intoxicating jukebox music of the era. More than 20 songs are featured in the production, including the iconic "Hound Dog" by Elvis Presley, "Folsom Prison Blues" by Johnny Cash, "Matchbox" by Carl Perkins and "Great Balls of Fire" by Jerry Lee Lewis. There's also "Blue Suede Shoes," which Perkins wrote and performed before Presley took it to a whole other level.
Unlike many musicals, the actors and musicians are one and the same in Million Dollar Quartet. The multi-talented cast includes Joe Boover (Elvis Presley), Sam C. Jones (Carl Perkins), Brady Wease (Jerry Lee Lewis) and Colin Barkell (Johnny Cash). All are newcomers to the Hippodrome mainstage, but all have performed in previous productions of the play around the country.
"All the Quartet has been blessed to be able to do this show a number of times, so we come in with a lot of experience about how this show works and is put together," said Hysell, who recently directed (and performed in) the musical's U.S. tour. "Directing it is a matter of 'Let's all find how we jell together' because each of the Quartet is really solid in their roles."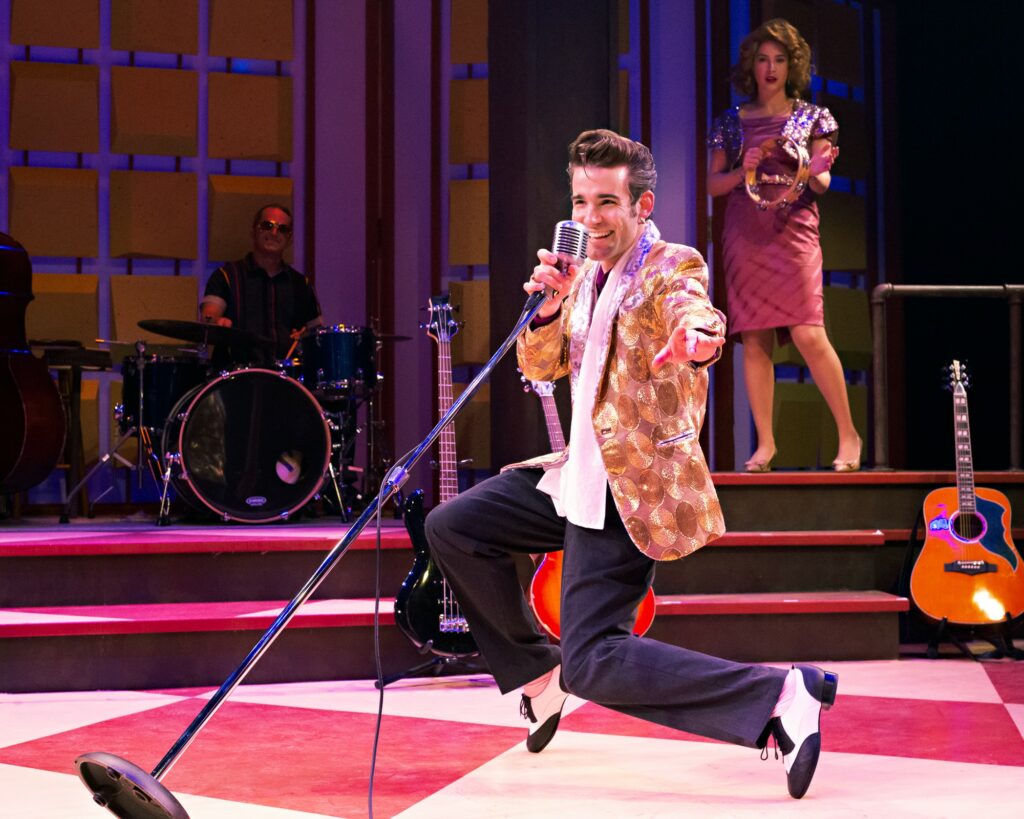 The senior cast member is Boover, now in his 10th production as the pelvis-shaking Elvis in Million Dollar Quartet.
"It's kind of fun to play an iconic role in a way," Boover said. "Sometimes I feel like there's a trap of just becoming only an icon, just an impersonator. I think the main goal of this show is to show what these guys were like in their day-to-day lives before they were famous, before they were icons, how they related to each other and who they were as people."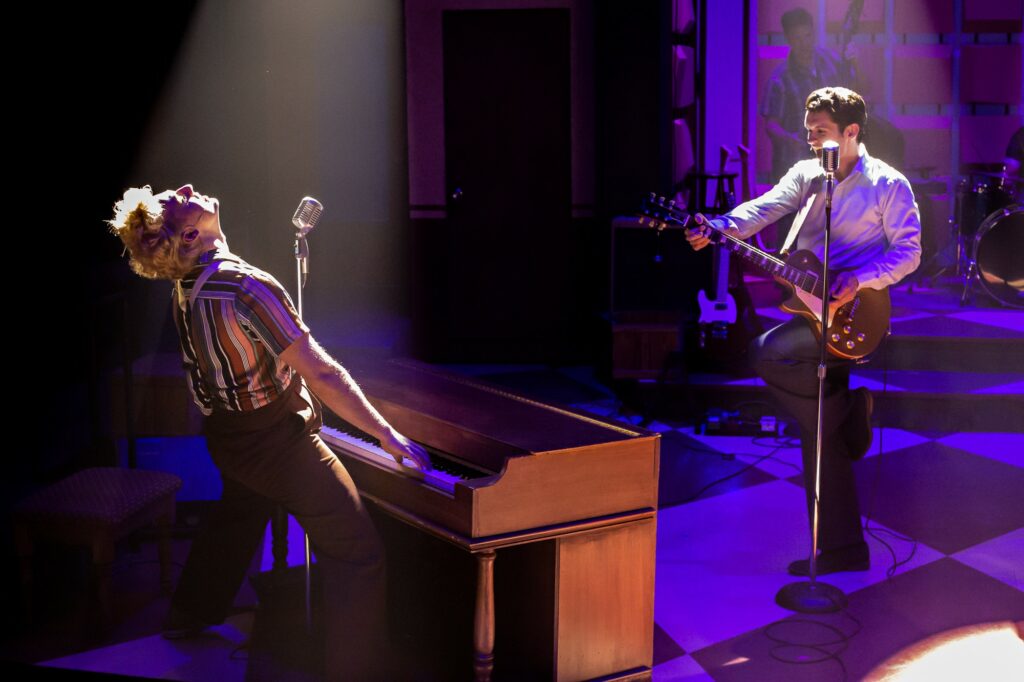 Jones is making his stage debut as Perkins, the sharecropper's son who became a rockabilly pioneer. The actor-musician played Elvis in two previous productions of Million Dollar Quartet.
"It's a real treat," Jones said. "It's a lot of fun and it's a lot of hard work on the guitar. I'm really really thankful to be able to tell [Perkins'] story."
Wease probably expends the most energy onstage as the 20-year-old Jerry Lee Lewis, the self-proclaimed "rompin', stompin', piano-playing son of a bitch." Lewis, now 83, was known as rock and roll's first great wild man.
"It's an intimidating show," said Wease, who also portrayed Lewis at Florida Repertory Theatre in Fort Myers this spring (with Boover). "Once I found out I was doing that show, I watched every clip of Jerry Lee I could find, every piano solo — everything — just to wrap my head around that style."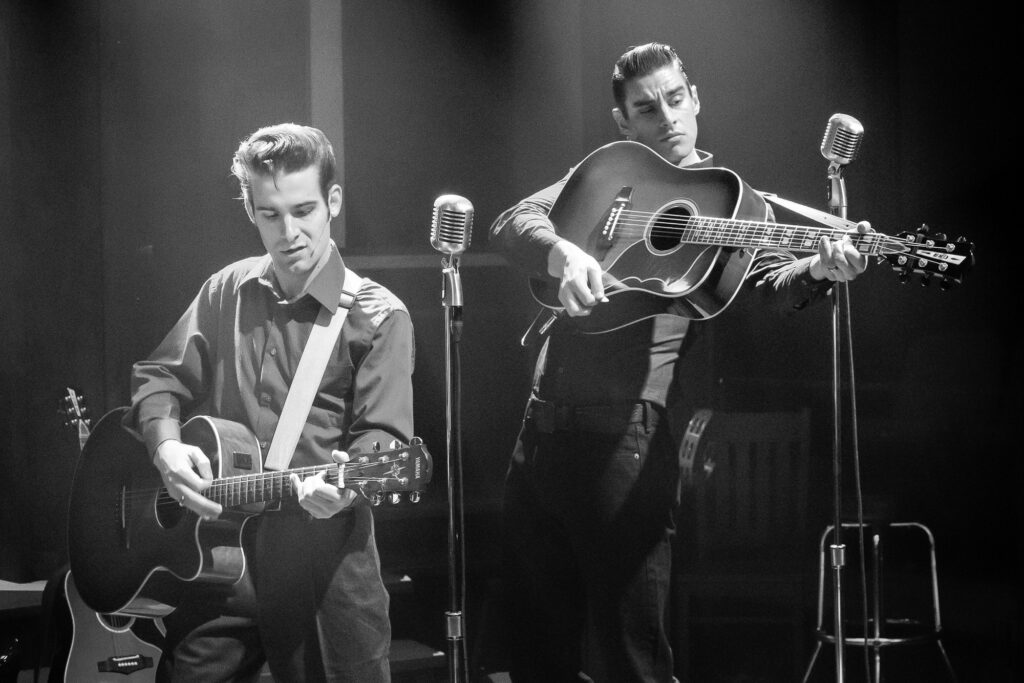 Meanwhile, this is Barkell's fourth time onstage as Johnny Cash. The actor-musician mimics the legendary "Man in Black" in both stature and bass-baritone voice.
"It's something that just came about," Barkell said. "I grew up listening to oldies with my parents so I guess it was always there and I loved that kind of music. I didn't go out thinking like 'I'm gonna be Johnny Cash in a show.' It wasn't my goal, but I'm a tall guy with a deep voice who likes country music."
Rounding out the cast are recent UF grad Cali Newman (Dyanne), Justin Bendel (Brother Jay Perkins) and Benny Cannon (W.S. "Fluke" Holland). Dyanne is Elvis's gal-pal during the jam session while Brother Jay and Fluke play upright bass and drums, respectively, in Perkins's band.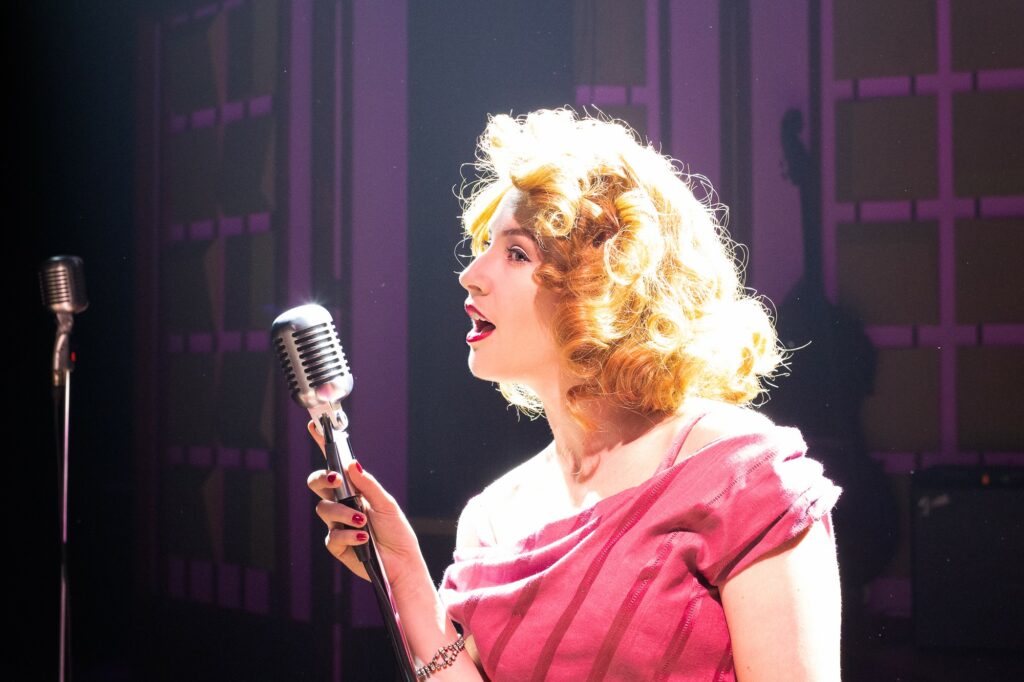 Newman gets to put her brand-new musical theater chops to work on the Hippodrome stage with riveting solos "Fever" and "I Hear You Knocking." And although Bendel and Cannon are often in the background, they are very much part of the show with their musical talents.
Cannon, a lifelong Gainesville resident, said he is honored to be part of such a talented cast.
"I've been blown away by all these performers," he said. "It's a very humbling experience for me. It's been a lot of fun. … It's easy when there are great performers to play behind who know how to bring energy to the stage."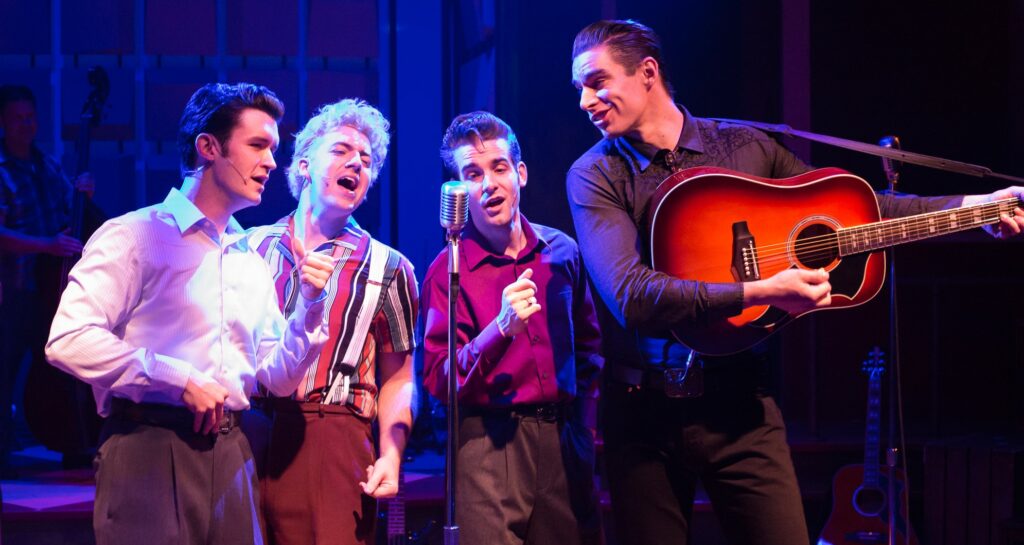 That energy is what makes Million Dollar Quartet such an engaging production, according to Lynge.
"There is something so exciting about having not only the live singers on stage, which is what we always have [for summer musicals], but the actual musicians onstage playing that music live night after night," she said. "There is nothing quite like it, and that's one of the most exciting elements of this show."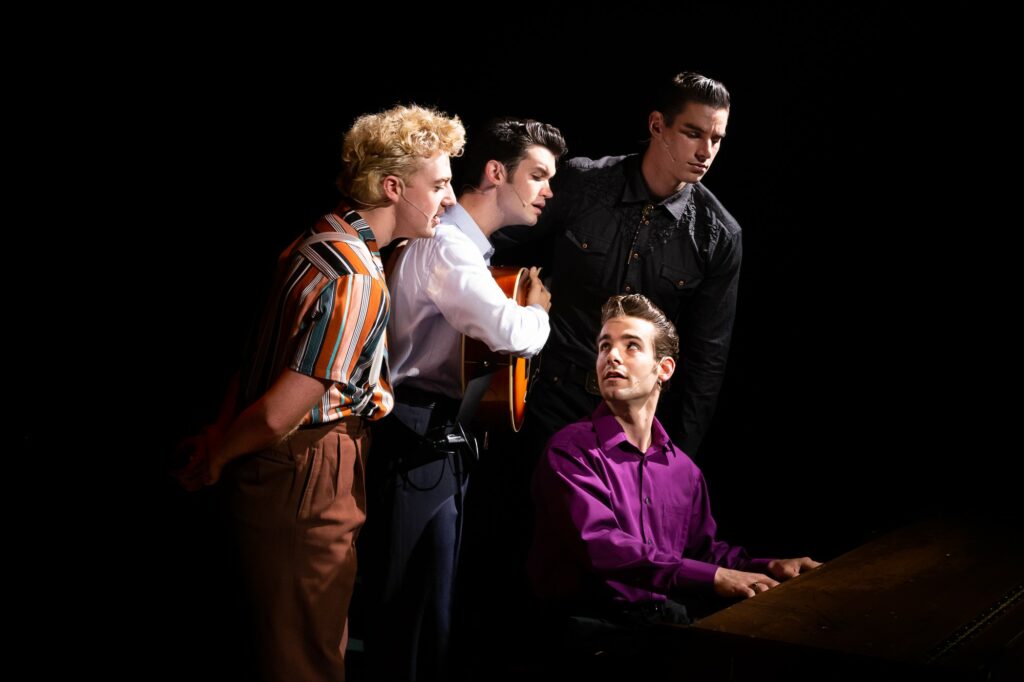 Million Dollar Quartet is a Hippodrome homecoming for Hysell, who has lived in New York City since he was 25. He worked at the theater when he attended UF grad school in the mid-'90s.
"I worked downstairs in the concession stand over the course of those two years and made a lot of popcorn and very heavy drinks," he said.
He also appeared in one production of A Christmas Carol, which the Hipp has staged every holiday season for four decades.
"When we decided to do the show, we reached out to Hugh and he really wanted to come down here and mount it in our space that he knows so well," Lynge said.
The artistic director pointed out that Million Dollar Quartet is an "extremely expensive" play to produce, but is consistent with the Hippodrome's mission to bring all kinds of stories to the community.
"This show makes me smile, and I think our community is going to love it," Lynge said. "I can't imagine anyone coming and not loving it. It's truly something that the entire family — kids all the way up to grandparents — can share. It's that music. … I like to think of the family going home afterward and someone pulling out the old recordings or pulling up the Spotify channel and everybody dancing."
— Noel Leroux
---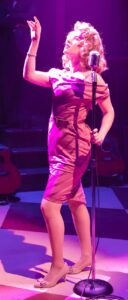 Million Dollar Quartet
Hippodrome Theatre
25 SE 2nd Place
Gainesville, FL 32601
Box office: 352.375.4477
Performances: Tuesday 7 p.m., Wednesday 7 p.m., Thursday 7 p.m., Friday 8 p.m., Saturday 5 p.m. and 8:30 p.m. and Sunday 2 p.m. (through June and possibly longer.)
To purchase tickets and for further info, visit the Hipp website.
Follow the The Hippodrome on Facebook.
* Please let us know what you think of the production by leaving a comment below.