Here are some ongoing and scheduled events to look forward to in downtown Gainesville in the coming weeks and months. (We update this calendar on a regular basis, with your input!)

---
Hippodrome Theatre, 25 SE 2nd Place
2019-20 Season
Aug. 30-Sept. 22: The Curious Incident of the Dog in the Night-Time
Oct. 11-Nov. 3: The Blameless
Nov. 22-Dec. 22: Scrooge in Rouge
Nov. 30-Dec. 22: A Christmas Carol
Jan. 24-Feb. 16, 2020: Lone Star Spirits
Feb. 28-March 22, 2020: Marie and Rosetta
April 24-May 17, 2020: Native Gardens
Opening June 5, 2020: Rock of Ages
(For further info, visit the Hippodrome website)
---
Acrosstown Repertory Theatre, 619 S. Main St.
2019-20 Season
Sept. 12-Oct. 6: Jekyll & Hyde
Oct. 25-Nov. 10: Florida Man
Dec. 5-15: Exit Santa
Jan. 3-5, 2020: A Film by Craven Frankel
Jan. 17-Feb. 2, 2020: I Love You Because
Feb. 28-March 15, 2020: Two Trains Running
April 3-19, 2020: The Importance of Being Earnest
May 6-10, 2020: Gainesville Homegrown Playwrights' Showcase
May 29-June 14, 2020: Proof
July 9-Aug. 2, 2020: Summer Shakes: A Midsummer Night's Dream
(For further info, visit the Acrosstown Repertory Theatre website)
---
Actors' Warehouse, 619 NE 1st St.
2019-20 Season
Sept. 6-22: God of Carnage
Oct. 11-27: Sordid Lives
Nov. 15-24: The Ghosts on the Wall
Jan. 31-Feb. 16, 2020: Skeleton Crew
March 13-29, 2020: Ann
April 17-May 3, 2020: The Revolutionists
May 29-June 14, 2020: Actually
July 10-26, 2020: Antony & Cleopatra (Abridged)
(For further info, visit the Actors' Warehouse website)
---
Artwalk Gainesville
Aug. 30: Numerous downtown venues, including galleries and art-minded businesses, open their doors for the self-guided tour. Hours are 7-10 p.m. (earlier at some venues). Pick up a brochure at participating venues.
---
UF Homecoming Parade
Oct. 4: The annual parade featuring bands, floats and dozens of other units begins on the UF campus and follows University Avenue eastward toward Main Street and downtown Gainesville. The parade begins at noon.
---
Tommy Petty Weekend
Oct. 17-19: Heartwood Soundstage, 619 S. Main St., is once again the epicenter of Tom Petty Nation with a lineup that includes The Bayjacks, featuring Tom Leadon (of Mudcrutch); Southern Accents, the acclaimed Tom Petty tribute band from Nashville; The Mudpies with Danny Roberts of Mudcrutch and Mike Boulware; and more than 25 other musical acts as well as authors Paul Zollo and Bob Kealing, storytellers and more. For details and ticket info, visit the Heartwood Soundstage website.
---
Tommy Petty Birthday Bash
Oct. 19-20: A free rock and roll music festival in Depot Park celebrating the life and legacy of the late Tom Petty, Gainesville native and music legend. The event is organized and hosted by Gainesville-based Tom Petty and the Heartbreakers tribute band Heavy Petty. For further info, visit the Tom Petty Birthday Bash 2019 website.
---
Friends of the Library Fall Book Sale
Oct. 19-23: More than a half-million items, including books, magazines, record albums, games, puzzles, CDs, DVDs, posters, paintings and prints will be available for sale during the five-day sale at the FOL Bookhouse, 430-B N. Main St. The Collector's Corner, featuring rare books, signed books and books related to Florida, is open the first four days of the sale. For further info, visit the Friends of the Library website.
---
FEST 18
Nov. 1-3: More than 300 punk rock bands from around the world — and thousands of their fans — converge on 18 venues in downtown Gainesville for a three-day music festival. For further info, including how to purchase passes, visit the FEST 18 website.
---
38th annual Downtown Festival & Art Show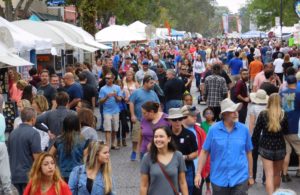 Nov. 16-17: The streets of historic downtown Gainesville, from city hall to the Hippodrome Theatre, will be transformed into a celebration of art and creativity complete with live music, performing arts and and food. More than 80,000 art lovers will fill the streets to enjoy and purchase one-of-a-kind artwork. The festival features 240 local and national artists displaying oils and acrylics, watercolors, sculpture, jewelry, ceramics and photography. Children can create their own art at the Imagination Station. There will also be live entertainment on four stages by local bands, solo musicians and dance companies. For further info, visit the Downtown Festival & Art Show website.
---
Free Fridays Concert Series
The weekly live-music series continues through October at Bo Diddley Plaza. All events take place from 8-10 p.m. Here's the remaining lineup:
Aug. 23: The Forever Miles Band featuring Phillip JazzDad Thomas (jazz)
Aug. 30: The Progressive Rock Experience (A Tribute to '70s Progressive Rock with Covers of Emerson, Lake & Palmer, Deep Purple, Genesis, Kansas, Styx & Elton John)
Sept. 6: The Nancy Luca Band with Anna Marie (classic rock)
Sept. 13: Morningbell (psychedelic rock)
Sept. 20: The Impostors (Beatles Tribute)
Sept. 27: Gilberto De Paz & Tropix (Latin fusion) in partnership with the Gainesville Latino Film Festival
Oct. 4: Gumbo Limbo Cajun Band (cajun, creole, swamp pop and Zydeco)
Oct. 11: A Tribute to Jimi Hendrix performed by Michael Derry & Friends
Oct. 18: Savants of Soul (soul, rock and ndie)
Oct. 25: UF World Music Ensembles: Jacaré Brazil, Agbedidi Africa and Others
(All shows subject to change)
---
If you would like us to add an event to this list, please send an email with all pertinent info to gainesvilledowntown@yahoo.com. (The event must be open to the general public.)