The Thomas Center Galleries opens a fascinating exhibit during this month's Artwalk that examines the paintings, prints and life of Louise Leak, whose finest work was found in a California garage almost 40 years after her tragic death.
---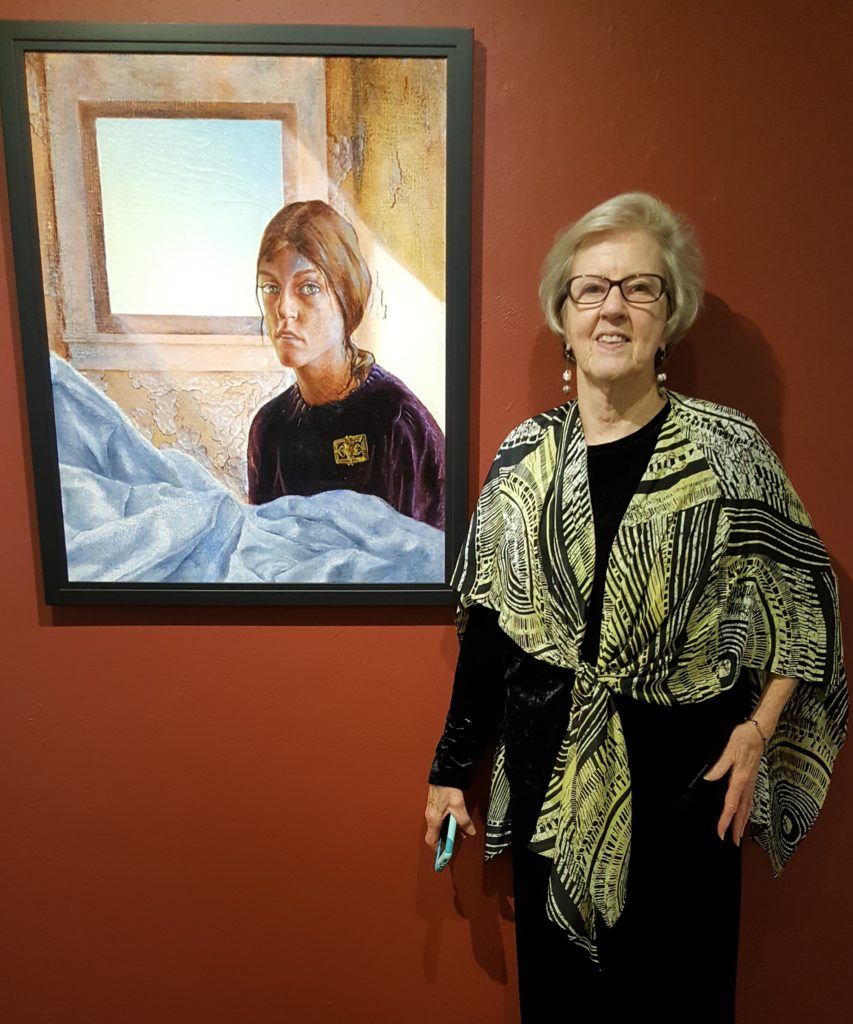 Jane Myers has quite a story to tell about her late sister, the artist Virginia Louise Leak. Now the longtime Gainesville resident is ready to share that story with the community through an exhibit of Leak's work at the Thomas Center Galleries.
"Into the Light: The Rediscovered Paintings and Prints of Louise Leak" debuts Friday night in the first-floor Main Gallery of the Historic Thomas Center, 302 NE 6th Ave. The exhibit's opening reception takes place from 6:30-9:30 p.m. during the monthly Artwalk Gainesville. The event is open to the public, and the exhibit will continue into the summer.
Leak's story is that of a prolific artist who immersed herself in the Southern California art scene in the early 1960s and produced everything from exquisite small prints to virtuoso major works while battling mental illness. She died in 1978 of asphyxiation after choking on peanut butter. She was only 37 years old.
Leak's story could've ended there, in the same Parkland Hospital in Dallas where President Kennedy had died 15 years earlier, and her remarkable works never fully appreciated by future generations. Just another forgotten artist.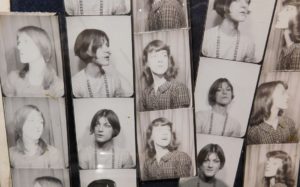 And that was pretty much the case until 2015. That's when the telephone rang in Jane Myers' home in the historic Duckpond neighborhood of downtown Gainesville.
"'Are you Louise Leak's sister?' the man on the other end of the line asked me," Myers recalled.
That man was Darryl Curran. He explained that he was calling from Santa Monica, California, and recently widowed. His wife, Doris, had befriended Louise Leak many years ago. Now Curran, a noted photographer, was going through the house and sorting out his late wife's personal possessions.
"He said, 'I want you to know I have these large plastic bags in my garage with the name Louise Leak on them. I haven't opened them yet. What do you want me to do with them?'" Myers said.
Myers remembered hyperventilating and then blurting out, "Hold the presses! I'm on my way out there!"
"It was like finding a lost treasure we didn't know was lost."
— Jane Myers
Later that week, Myers and her son spent three days in Curran's spacious living room opening the black plastic bags. Inside the bags was rolled-up artwork. They carefully unrolled one Louise Leak painting and etching after another — 37 in all.
One by one, they taped each piece of artwork to the hardwood floor and photographed it from a stepladder. Thanks to the dry climate, not a single one was harmed by mold or mildew.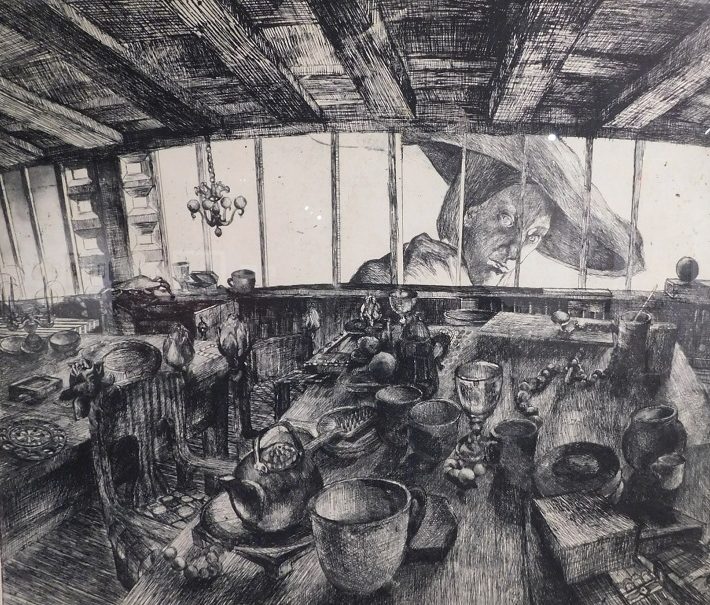 "We didn't know they existed or whether they had ever been seen," Myers said. "It was like finding a lost treasure we didn't know was lost."
According to Myers, Curran "did his homework" tracking her down in Gainesville. He'd remembered that Louise Leak had mentioned traveling to Nova Scotia for Myers' wedding in 1963 and that her groom was the great-great grandson of Alexander Graham Bell with the surname Myers. The Internet's breadcrumb trail led to Gainesville.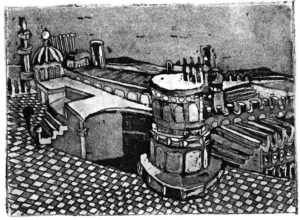 "He was quite the sleuth!" Myers said. "I guess he got fascinated, but it's a miracle he found me — and so surreal."
Myers had her sister's rediscovered work shipped to Gainesville in a crate containing three dozen oversize cardboard tubes. Two years ago, Thomas Center Galleries curator Anne Gilroy became aware of Myers' collection through Michelle Karahalios, a local real-estate broker and artist.
"Believe me, I had a degree of skepticism, but I made a note to follow up on that," Gilroy said. "It took me nine months before I called Jane Myers out of the blue."
Gilroy, along with art connoisseur Héctor Puig, visited Myers' home and took a look for themselves at the work of Louise Leak.
"It was unorganized and uncatalogued to a certain degree," Gilroy said. "But the work itself was gorgeous and complex."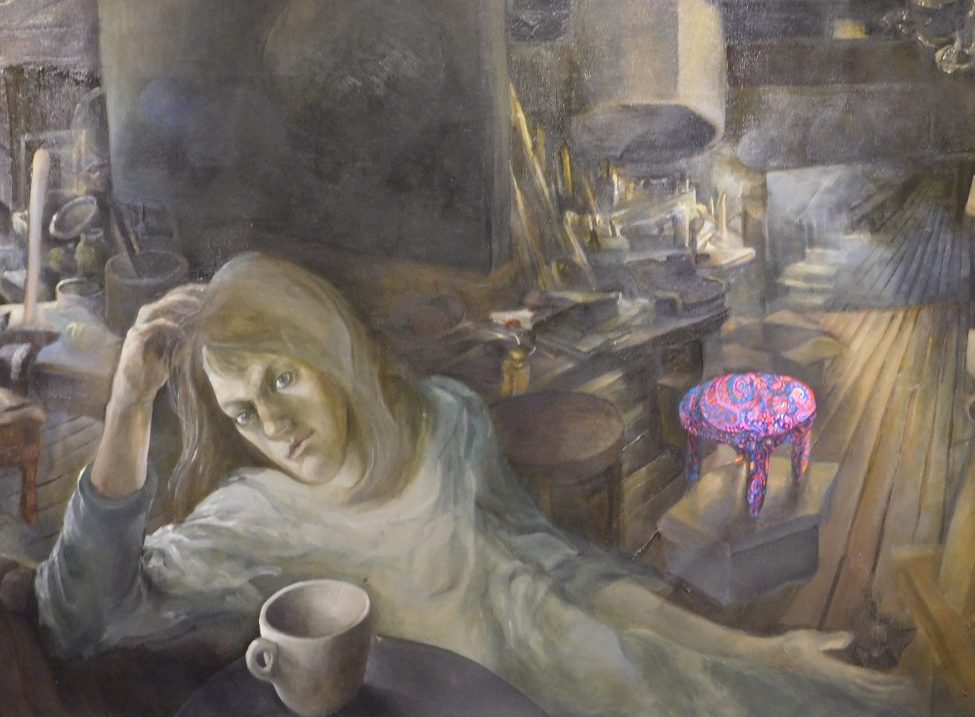 Gilroy noted that, first and foremost, Leak was a printmaker. Some of the prints were as small as 2 inches square and others extremely large. The subject matter often included botanical images because Leak had aspired to be a botanical illustrator. One of the pieces on display in "Into the Light" is a botanical line drawing Leak gave to her sister on her wedding day.
Much of Leak's work involved self-portraiture, reflecting her perception of the world.
"She did a lot of exploring of interior space and interior thoughts," Gilroy said. "When you come in here [to the Thomas Center Galleries], you're deciding to acquaint yourself with Louise Leak."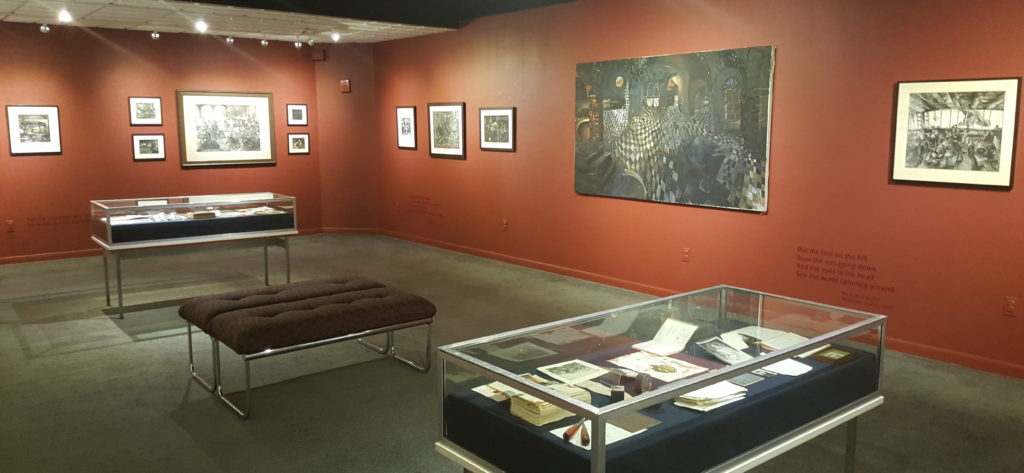 A few of the images take the viewer into Leak's hayloft studio in Southern California. In the foreground is Leak herself blankly staring back at you, perhaps a sign of her struggles with mental illness that would plague her personal and professional life until her death.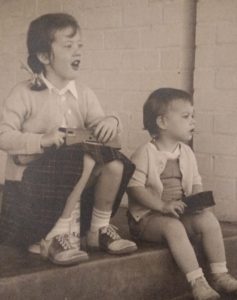 Virginia Louise Leak was born in Iowa City, Iowa, on June 28, 1940. She was the second daughter of Arthur and Irene Leak. The family moved to Dallas when Louise was 5. There were two and a half years age difference between Louise and her older sister, but Jane said the two were quite different during childhood.
"I don't know where her art ability came from; I couldn't draw a straight line with a ruler!" Myers said. "She was always drawing while I was climbing trees."
Myers recalled that she and her sister endured attending Catholic grade school together.
"We were told we were going to hell because we were not Catholic," she said, "and we believed it!"
While her sister attended the University of Texas, Leak was an honor student at Highland Park High School before attending Lindenwood College near St. Louis and earning her bachelor's degree. She later received her MFA from UCLA and established herself in the Los Angeles area.
"She had a lot of exhibits," Myers said. "I remember going to an exhibit of hers at UCLA. They still have some of her work there."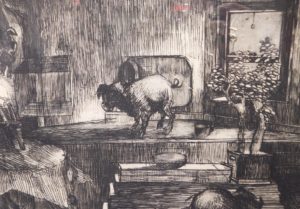 Last year, Myers wanted to learn more about her late sister, so she traveled to Lindenwood College in Missouri and met Leak's former art professor, John Wehmer.
The 90-year-old Wehmer arranged for Myers to visit the college's library to view etchings done by Leak as a student.
"One of the curators told me 'I'm going through her collection now and getting ready to do a retrospective. Her work was so dynamic and it really spoke to me,'" Myers said.
Today, Myers has a fuller appreciation of her sister's artistic ability and her vast body of work.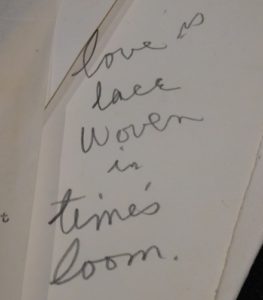 "She was so prolific, I don't think she slept," Myers said. "There was so much in her. There was so much she wanted to get out that she was driven to express herself. It's like when she was a kid drawing, drawing, drawing."
Myers took a different life path than her sister. She earned a degree in radio/TV journalism and got her first job with KPIX in San Francisco.
"I thought I was a hot shot — I felt like Mary Tyler Moore!" she said. "But I was just a gopher."
Meanwhile, Louise was in Southern California doing her own thing. She lived a "flower-child" lifestyle, complete with a Volkswagen minibus.
"We really didn't have that much in common," Myers said. "She always made great grades; I didn't. She was the most serious child, but she wasn't stuffy. I was jealous because she could draw and I wanted to be queen of the mountain."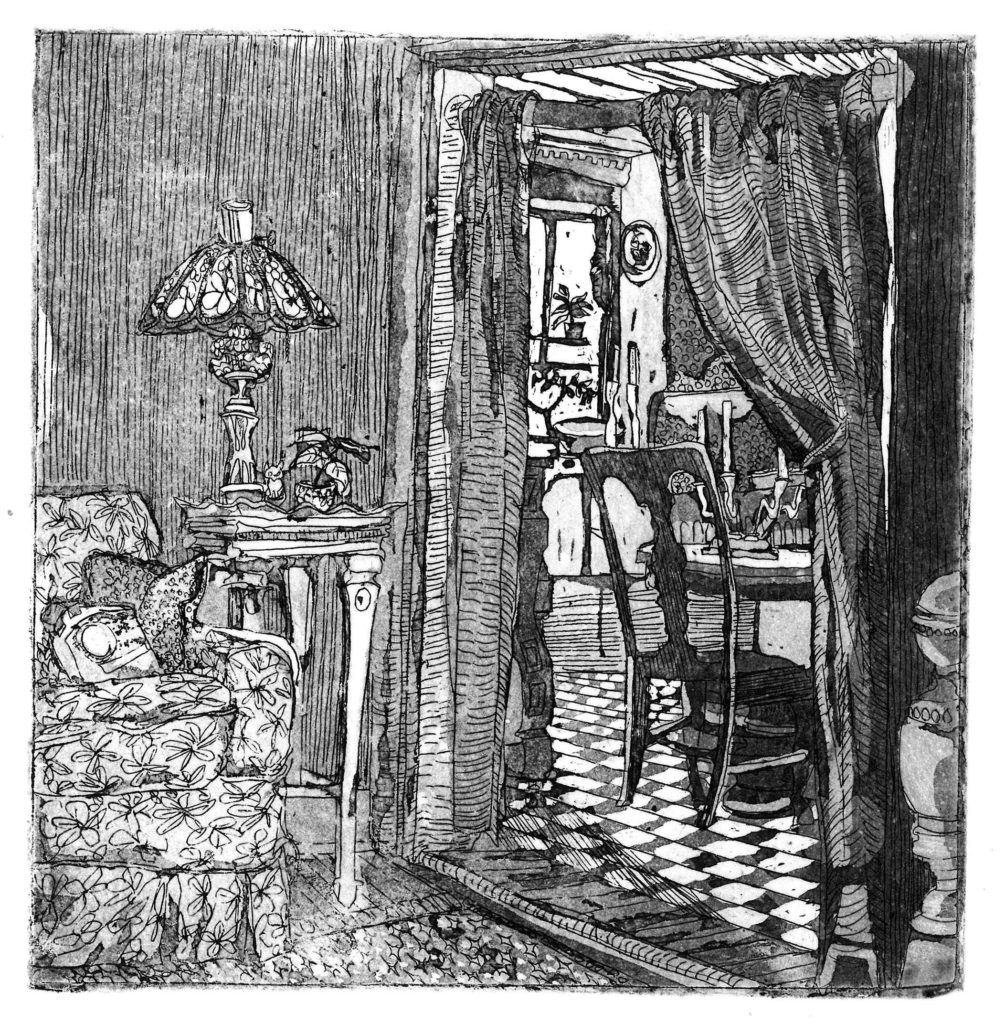 John Wehmer had known Myers only a few days when he told her: "You're not like your sister at all. She was shy, quiet and reserved, like a shadow."
"And I said, 'That's right, John, and I'm the wild one. I was demonstrative and the leader of the pack, and Louise was my slave."
One image of her sister is ingrained — etched? — in Myers' head.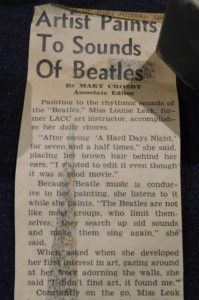 "At my wedding in Nova Scotia, my sister went out in the fields and picked wildflowers for a crown," Myers said. "She dipped the flowers in water to keep them fresh, then she put the crown on her head. Water started dripping down her face and onto her dress. We laughed and laughed, but that was Louise."
But there was also a dark side to Louise Leak that comes through in much of her work. Myers said that Leak's mental health began to decline while she was in college.
"They didn't know how to treat it back then," Myers said. "I think she suffered greatly with this torment. Her artwork, her friends and her poetry helped her cope. When she was at UCLA, it started manifesting itself.
"My mother was the one who kept her from falling into the abyss. Our mother was a rock. She would not allow my sister to use this as a crutch to get things from people. She could not hold a job. She would work as a waitress but then get fired."
Leak eventually moved back to Texas, but her mother retreated to Gainesville when she could no longer handle her youngest daughter's irrational behavior. Leak once took a bus to Gainesville, but her mother quickly bought her a return ticket back to Texas.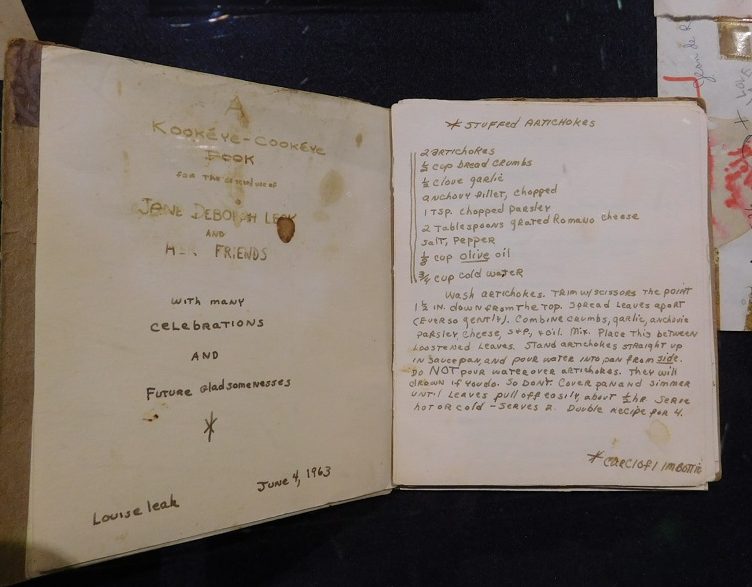 Eventually, Leak was institutionalized. She was living in a halfway house in Dallas in 1978 when she stuck her finger in a jar of peanut butter and stuck the thick substance in her mouth. The peanut butter lodged in her throat.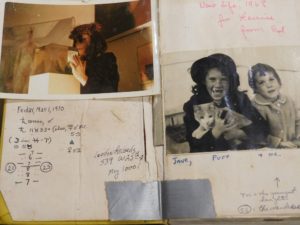 "She fell to the floor," Myers said. "The people around her thought she was having convulsions, but she was choking to death."
Leak spent three days plugged into a respirator at Parkland Hospital before giving up her fight.
"I never went into her room to see her because I didn't want to see her like that," Myers said. "It's a terrible way to go, but she didn't have to suffer anymore."
It is a sad story, but one that could have a happy ending if people go to the Thomas Center Galleries and study Leak's work. And that is Myers' mission.
"What is my role in all of this?" Myers said. "My role is to make sure the public sees her work. I just think that people can judge for themselves."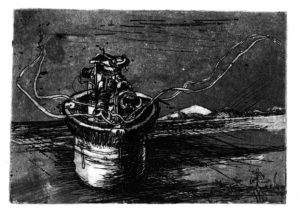 Myers said that "Into the Light" contains many parts of a puzzle that can be pieced together. In addition to the artwork, the exhibit contains two displays of Leak's ephemera, including a recipe book, photos, newspaper clippings and collages.
"Artists give us clues into their lives," Myers said. "They have the talent of showing what planet they're from — and we wish we could do the same. They've got the courage to do it. We've always been interested in artists and their lives. Like, why did van Gogh cut off his ear?"
You could say that Myers, who turns 80 next month, is on a mission.
"We were not close, but I hold my sister in great respect and awe," she said. "I think she has something to say."
— Noel Leroux
---
Artwalk
Enjoy a self-guided tour of downtown area galleries and other art spaces on the last Friday of each month. Artwalk hours are 7-10 p.m. (unless noted). Some of the venues feature live music or performance art. Most offer some refreshments.
Following is a list of participating venues for January and what to expect:
GFAA Gallery (1314 S. Main St.): The Gainesville Fine Arts Association presents an opening reception for a special exhibit titled "What We Cherish." In conjunction with the Friends of Elementary Arts, hosting artwork that has been recreated or transformed. Exhibition judged by L. Claire Orenduff-Bartos Ph.D. The exhibit runs through Feb. 17. NOTE: Artwalk hours 6-9 p.m. There will be a special silent auction for Friends of Elementary Arts donated works on Feb. 2 from 6-9 p.m. Gallery closed Sunday and Monday. Open Tuesday-Saturday 11 a.m.-6 p.m. (For further info, visit the gallery's website at gainesvillefinearts.org.)
First Magnitude Brewing Co. (1220 SE Veitch St.): Hosting a variety of artists and fun. Also enjoy the atmosphere of a local craft brewery. Food trucks and beverages available. NOTE: Artwalk hours 6-9 p.m.
Civic Media Center (433 S. Main St.): The home of free thought and expression. See online calendar at civicmediacenter.org. Find on Facebook for details. 352-373-0010.
9th annual Cinema Verde Film Festival (101 SE 2nd Place): A booth will be set up to inform about the environmental films that will be screened at the Hippodrome Theatre on Feb. 8-9. Cinema Verde is a Florida not-for-profit corporation designated as a 501(c)(3) public charity by the IRS. Contributions are tax deductible.
Maude's Café (101 SE 2nd Place): Diana Diaz (Dee Carolina/Feral Ursa), a second-grade teacher and mixed-media artist, uses the process for each piece as part of her therapeutic regimen. Her abstract paintings include both random and deliberate images under organic materials such as plants, wood and insects — all sewn and glued, creating something that resonates with all of us.
4Most Gallery (534 SW 4th Ave.): Presenting Le Vie Est Ailleurs, a solo exhibition by Dina Benbrahim, MFA candidate in Graphic Design at UF. Dina exhibits photographs taken in her home country of Morocco during the month of Ramadan. 4Most Gallery is supported by UF's School of Art and Art History and aims to connect SAAH students, alumni and faculty with the greater Gainesville community with innovative, dynamic exhibitions and programming.
Hippodrome Gallery (25 SE 2nd Place): Presenting the works of Turbado Marabou. "Art is a reflection of the human condition. It mirrors, defines and interprets one's culture, daily life and spirituality. This is the premise upon which my works and life are based. The images and concepts I draw from are wells full of rich cultural heritage and social values. Our ancestors teach us that the beauty of life is working in tandem with the grand plan of creation. The courage of an artist is being able to capture these aspects in their work in order to retain that which is meaningful to us as human beings, thus I contend Art is For Life's Sake." Exhibit continues through Feb. 19. (thehipp.org)
Artisans' Guild Gallery (201 SE 2nd Place, Union Street Station): A new year brings new fine art and crafts for home or office at Gainesville's most comprehensive collection of regional artists and fine craftspeople. Hours: Monday-Saturday 10 a.m.-7 p.m., Sunday noon-5 p.m.
Black C Gallery (201 SE 2nd Place): Showcasing a mix of photography and digital collage works created by Ani Collier. (www.blackcproduction.com) New Hours: Tuesday-Saturday noon-6 p.m.
Sweetwater Print Cooperative (117 S. Main St.): Presenting "Comics as Comment," exploring the long-time link between printmaking, comics and social commentary by artists in many different styles and media. Show continues through Feb. 21 and may be seen Thursday afternoons, Friday mornings, and by appointment by calling Stewart Thomas at 352.514.3838.
Eleanor Blair Studio (113 S. Main St.): Special guest artist The Captive Eddies will join the Weeds of Eden for an epic jam session. Of course, the beautiful oil paintings of Eleanor Blair will be on display. (www.eleanorblairstudio.com)
The Bull (18 SW 1st St.): Presenting Josh Wilson and "Faces I Can See." In this portrait series, Wilson offers both an expressive representation of the subject and a window into who they are, painted on large wooden panels. (www.joshuawilsongnv.com.) Followed by live reggae performed by Maca Samba.
City Church (19 SW 1st St.): Featuring Stacey Fletcher Reynolds a cathartic painter, visiting from Ormond Beach. She says "I exhibit work that seeks to evoke emotions, questions background, and the journey of one's self." Contact Reynoldds at 865.406.6899 or www.staceyfletcher.com.
Hardback Café (211 W. University Ave.): Hosting Anastasia Overton's "Artificial Environment." All your senses will appreciate this installation: new paintings by Anastasia, music by Rex Dameron, food by Hardback, tactile spaces … a journey of perception as the Hardback transforms into the artifice of nature. (hardball211.com)
Mind Space Collective (834 E. University Ave.): Inviting you into JMC'S #futurecave of primitive expressionism that takes a leap into the future by looking back into our primordial instinction. Timber Line Jewelry debuts its earring collection influenced by JMC'S abstract chalk creations and Timber Line's wooden geometric gems. Enjoy complimentary, art-inspired cocktails with Madrina's bartender Clara Leibinger and access to the charcuterie bar.
Florida Community Design Center (101 N. Main St.): AnARTists Returns with Ouida McIlhinney. A talented local artist, she returns to the Design Center in celebration of AnARTists, a community arts collaborative to encourage "Healing with Art."
Third House Books & Coffee (113 N. Main St.): Featuring Heather Halak's nature photography features and Jarrod Harris' work in portraiture that highlights the diverse human condition in Florida. Adjacent Downtown Wine & Cheese will be open, offering food and beverages for purchase.
E'Lan Hair Studio (115 N, Main St.): "Don't Eat Anything White," photography by Dan Rountree.
The Vine (627 N. Main St.): Featuring art by Nikki McClure and happy hour that includes a complimentary cheese plate with purchase of a bottle of wine. Also, live music by Rebecca Vincent from 7-9 p.m.
Thomas Center Galleries (302 NE 6th Ave.): Evening begins with 6:30 ribbon-cutting and dedication of the Doris Bardon Gallery, named in recognition of the generous endowment gift to the Gainesville Arts & Parks Foundation from the Arts Association of Alachua County. The Thomas Center's Mezzanine Gallery is now The Doris Bardon Gallery in honor of the late arts leader. "INTO THE LIGHT | The Rediscovered Paintings and Prints of Louise Leak" is featured in the first-floor Main Gallery until 9:30 p.m. With live performance by musician Agapitus "Augi" Lye.
Visionary Crossfit (716 N. Main St.): Presenting Gainesville Goddess Visions Show, featuring three galleries of art, live painting and music; Goddess presentation, yoga, dance, meditation, and women's self-defense demos; art raffle, tacos, drinks + dancing. Unique and fun family-friendly show from 7 p.m.-2 a.m. Free before 9 p.m./$8 cover after 9 p.m. Artists: Onna Maya Meyer, Frances Aiom, Sarah Whitmire, Carrie Martinez, Tracy Kunce-McDurman, Samantha Simons, Jessica Wilson, Xylena, Judi Cain, Clara Ortega, Kayleigh Ryan, Tori Murray and Tim Malles. Featured DJs: DJ K8, Spindle, Kashmira, Mariposa, FAKE, LZRKMMNDR, Mickey Flair and John E Whoops and food by Soul Spice.
Cypress & Grove Brewing Co. (1001 NW 4th St.): Featuring Amy Freeman and her astounding and powerful paintings. (amyfreemanstudio.com)
For further info, visit the Artwalk Gainesville website.