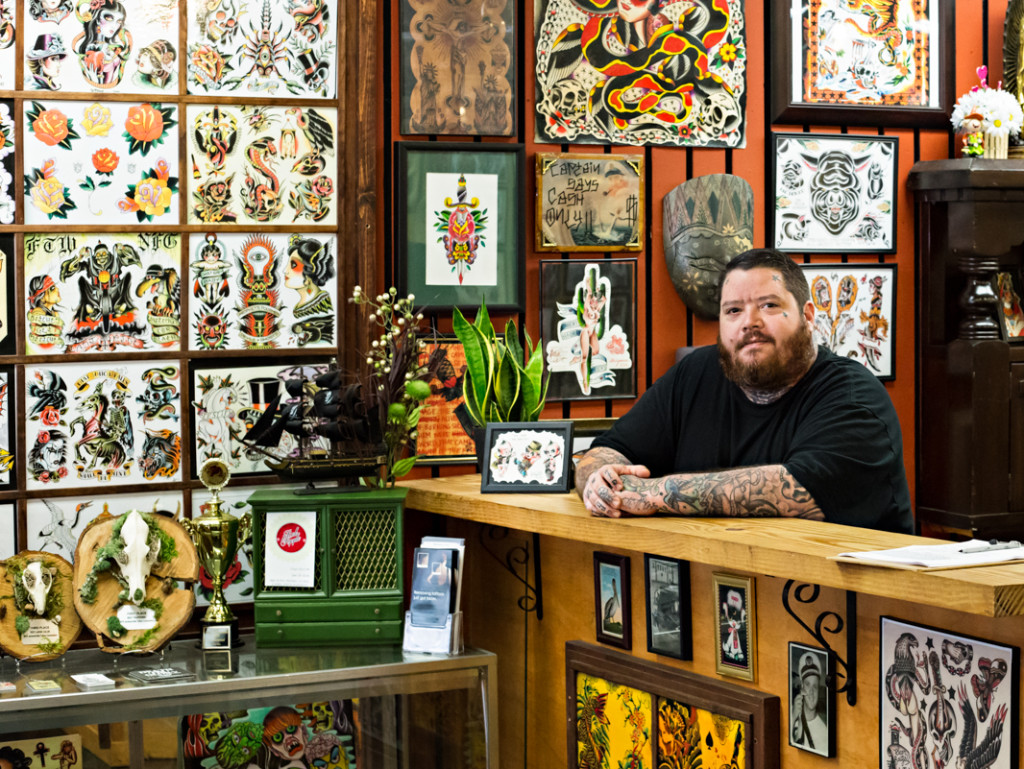 The colorful owner of the downtown tattoo parlor takes an old-school approach to body art.

---
Mike Mehaffey's mother was not pleased when she discovered her son's first tattoo. After all, he was only 14.
"I had skipped school to get the tattoo from a biker named Eddie," Mehaffey recalled. "It was completely illegal."
A few weeks later, an exhausted Mehaffey fell asleep in his backyard after a long afternoon of chores.
"I was sitting down and my mom woke me up," he said. "She saw the tattoo and started screaming, 'I can't believe you did that!'"
The humiliating episode might have scarred some teens. For Mehaffey, however, it was only the beginning of a lifelong love affair with body art.
"It's the age-old story of people my age skateboarding and hanging out in punk clubs," he said. "I was instantly in love with the idea of getting tattoos."
"It takes a true craftsman to put ink in skin."
— 'Little Mike' Mehaffey
Today, the 38-year-old Mehaffey answers to "Little Mike" and owns Death or Glory Tattoo Parlour in downtown Gainesville. He oversees a small crew dedicated to preserving tattooing as an art form.
"It takes a true craftsman to put ink in skin," Mehaffey said. "Knowing the fundamentals makes a good tattoo artist."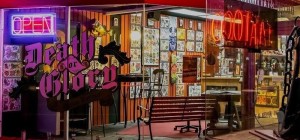 Being a college town, Gainesville doesn't lack for tattoo shops. More than a dozen are listed in the Yellow Pages. Half of them are on the mile-long stretch of University Avenue between the University of Florida campus and downtown. As to be expected, some are quick and cheap.
According to Mehaffey, what sets Death or Glory apart is an old-school street approach by tattoo artists who respect tradition while using the most current methods and materials. At the 2015 Jacksonville Tattoo Convention, Death or Glory earned first place in the "Best Traditional" category.
"Our shop harkens back to a different era," he said. "We're a tattoo shop. It's the only thing we do."
The display window at the front of the shop is a shrine to the art of tattooing with such vintage items as brass knuckles, switchblades and old tattoo stencils. There's even an anchor.
"The Navy was a big part of keeping tattooing alive during World War II," Mehaffey said.
More than ever, social media is helping to drive the tattoo business. Death or Glory stays up with the latest trends—whether it's the zombie kit, the earth-tone collection or glow-in-the-dark inks.
Mehaffey insists on giving customers tattoos they want, even if the idea is not all that original.
"Sometimes you've done a hundred infinity symbols, or whatever's hot on Pinterest," he said. "You have to dig down to get motivated to do the same image for the 900th time, like a feather turning into a bird, but your name is on it regardless."

He added, "I take everyone individually. My job is to make sure that I give them a tattoo that's going to look good for the rest of their lives."
What's a bad idea for a tattoo?
"Anything that is racist," he said. "I'll say to them, 'Man, you're going to ruin your life.'"
It's been quite a few years since Mehaffey has had to deal with that issue. More common is customers trying to cram too many ideas into a single tattoo.
"We call it ten pounds of crap in a five-pound bag," he said. "They'll say 'I want this tattoo of a rose with my whole family's names on every petal and the year I graduated and my dog's footprints in the middle and my birth year in the thorns…'"
A pet peeve of Mehaffey's is when clients won't accept input or when they bring someone with them who's watched too many episodes of Ink Master on Spike because "They think they know everything about tattoos by watching the show."
Mehaffey grew up in South Florida but also lived in New England before moving to Gainesville to attend UF. He worked construction and welding jobs to get through school.
In college, Mehaffey created kinetic sculptures—like a heart spewing flames out of its ventricles. He also did some religious sculptures, such as three-dimensional sacred hearts. He graduated with a Bachelor of Fine Arts degree.
By the time he was 26, tattooing consumed him.
"I was married when I started tattooing and was divorced a year later," Mehaffey said. "Tattooing is my whole life. Everything I do is related to tattooing."
Mehaffey started out at Cool World Tattoos and Body Tech before helping open Anthem in 2006. He was one of four owners.
"It was a situation where there were too many chiefs and not enough Indians," he said.
Mehaffey then worked in Ocala, at Crawling Panther, but most of his customers traveled from Gainesville.
"I was going to move back to South Florida, but I had built loyal clientele," he said. "The owner of Crawling Panther [Stefan Meisse] told me 'Go back to Gainesville and open a shop,' so I did."
Mehaffey, along with Robert "Ol' Dirty Rob" Barnes, opened Death or Glory in 2011 on Northwest 6th Street. Two years later, they moved to their current location off University and Main.
"We doubled the crew and tripled the space in less than two years," he said. "I couldn't do this place without Ol' Dirty Rob."
"Tattooing is my whole life. Everything I do is related to tattooing."
— 'Little Mike' Mehaffey
In addition to Mehaffey and Barnes, the Death or Glory family includes Lee Miles, Krystin Lopez, Jesus Lopez, "Hawaiian" Nik Hall and Anna Mack.
Mehaffey's body is covered with tattoos. His latest is blood, sweat and tear drops on his left knuckles. Coming soon: a large back piece.
Mehaffey said creating quality tattoos can be exhausting and nerve-racking, especially with certain body parts.
"People say 'It's cool that you get to tattoo women's breasts and butt cheeks,' but it's not easy," he said. "To be honest, I'd rather tattoo some fat guy's thigh."
Mehaffey laughed when recalling tattooing the words "Thunder Cheeks" on the butt of a man he knew with a wicked sense of humor.
"It was super awkward, to say the least," he said, "but I'm in the service industry."
And then there are tattoos that touch the heart.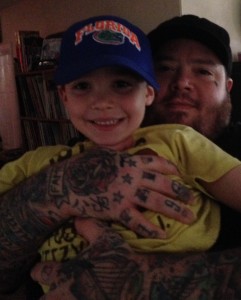 "One that stands out is a guy who had just lost his son," Mehaffey said. "Through the mourning process, he got a tattoo of a compass rose on his chest to symbolize himself moving on in a new direction.
"He was in tears the whole time. It was monumental to help this guy get through it."
Mehaffey, who has a young son named Leathem, said he is pleased with the growth of Death or Glory.
"We had a five-year plan and then, all the sudden, it exploded," he said. "I can't describe how much I love working here. We're deadly serious about tattooing and consciously helping each other get better.
"It sounds cliché, but I couldn't ask for anything more. I love this shop. We're definitely like a family here."
Speaking of family, Mehaffey's mother also has come full circle with Little Mike.
"My mom cried when she saw my first tattoo," he said. "Now she wants one."
— Noel Neff
---
Visit Death or Glory Tattoo Parlour on the web.
Follow Death or Glory Tattoo Parlour on Facebook.