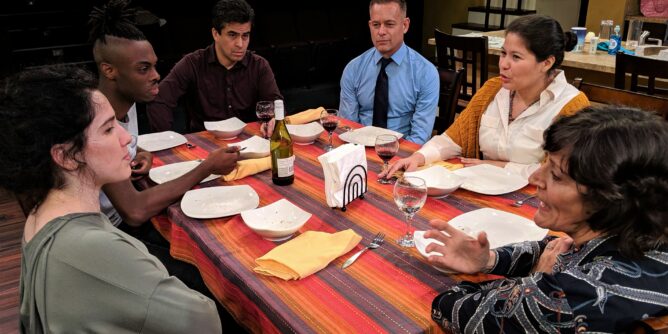 The Hippodrome Theatre presents the east coast premiere of Nick Gandiello's play that explores the power of familial bonds under the most extraordinary circumstances.
---
Coping with grief is arguably the most challenging of human tasks. The sudden loss of a loved one taps into every heart-wrenching emotion, from shock and anger to sadness and despair — and everywhere in-between.
When that grief is fueled by an inexplicably violent event — oh, say a mass shooting — the emotional stakes reach a whole other level.
In the drama The Blameless, opening this week on the Hippodrome Theatre's mainstage in downtown Gainesville, a grief-stricken family marks the one-year anniversary of its painful loss with a dinner guest whose mere presence at the table creates great trepidation.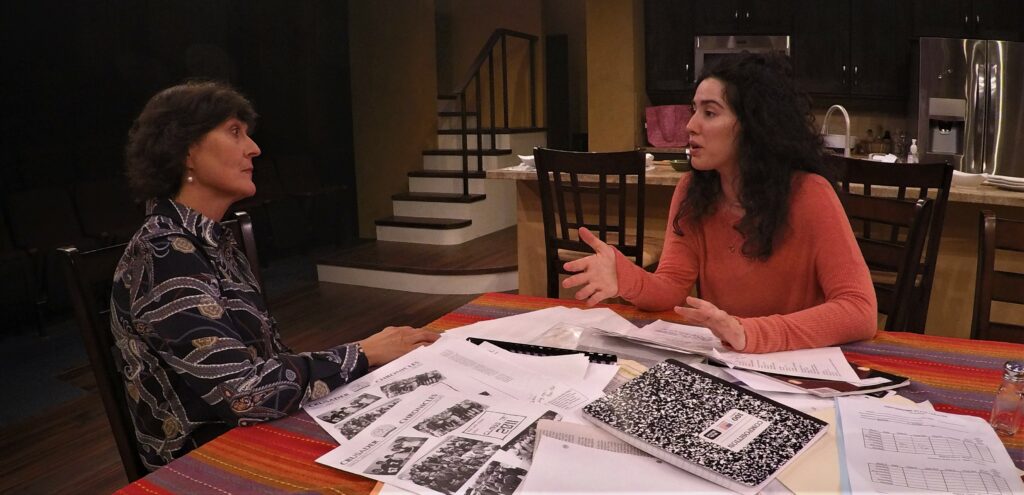 The one-act play, written by Nick Gandiello, attempts to remind us how to be compassionate and empathetic in a polarized world where finding common ground no longer seems to be an option.
Director Stephanie Lynge said audiences are in for a bumpy but rewarding ride.
"It's serious and heavy," she said. "… At the end of the day, it's quite a journey. It's an important journey, but it's intense."
Opening Night for The Blameless is Friday at 8. There are also performances Saturday at 2 p.m. and 8 p.m. and Sunday at 2 p.m., followed by seven performances a week through Nov. 3. Get a sneak peek of the show this week with pay-what-you-can previews on Wednesday and Thursday at 7 p.m.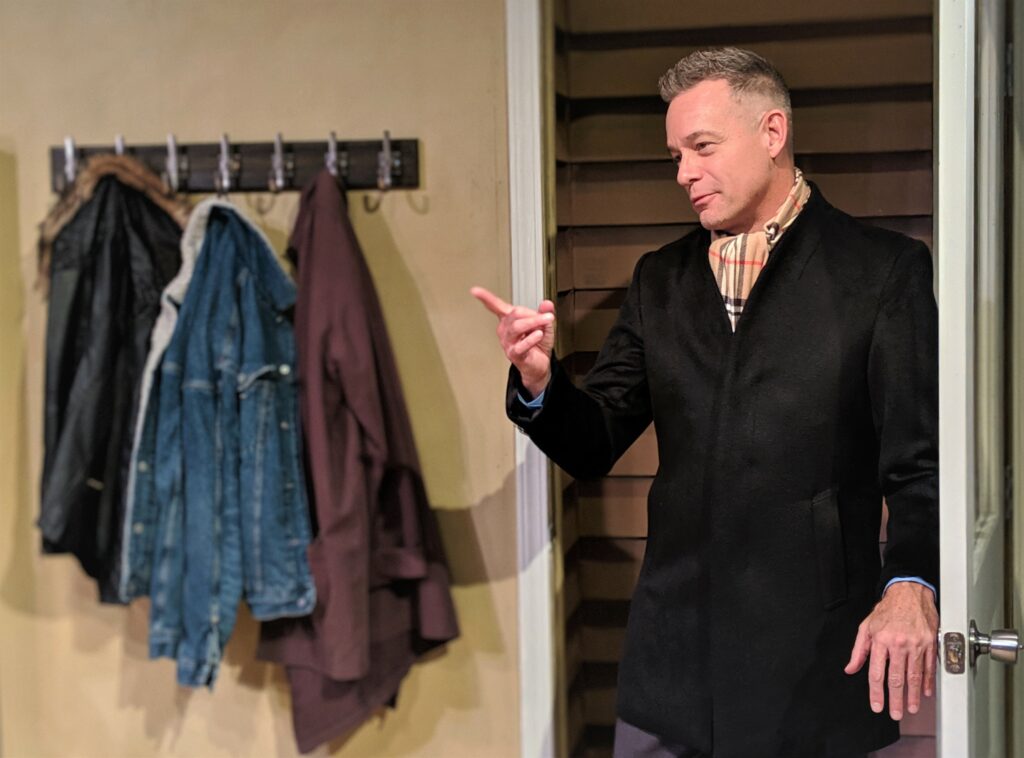 The Blameless takes place entirely within the confines of the modest Garcia home, specifically in the island kitchen and around the ample dining table. There's plenty of food for thought, but not until after an opening scene in which family matriarch Diana Garcia (Maryann Towne) admonishes teenage daughter Theresa (Hannah Benitez) over an indiscretion with her boyfriend in the high school prop closet.
There's already tension in the air because Diana and husband Alex (Alberto Bonilla) have reluctantly agreed to invite a stranger to dinner. He's none other than Drew Davis (Tim Altmeyer), father of the late Jacob Davis, the person responsible for gunning down Jesse Garcia and others on a college campus exactly one year earlier.
Contributing to the awkward dinner conversation are Theresa's boyfriend, Howard (Oghenero Gbaje), and her Aunt Amanda (Maylin Castro). Each character brings something tangible to the table.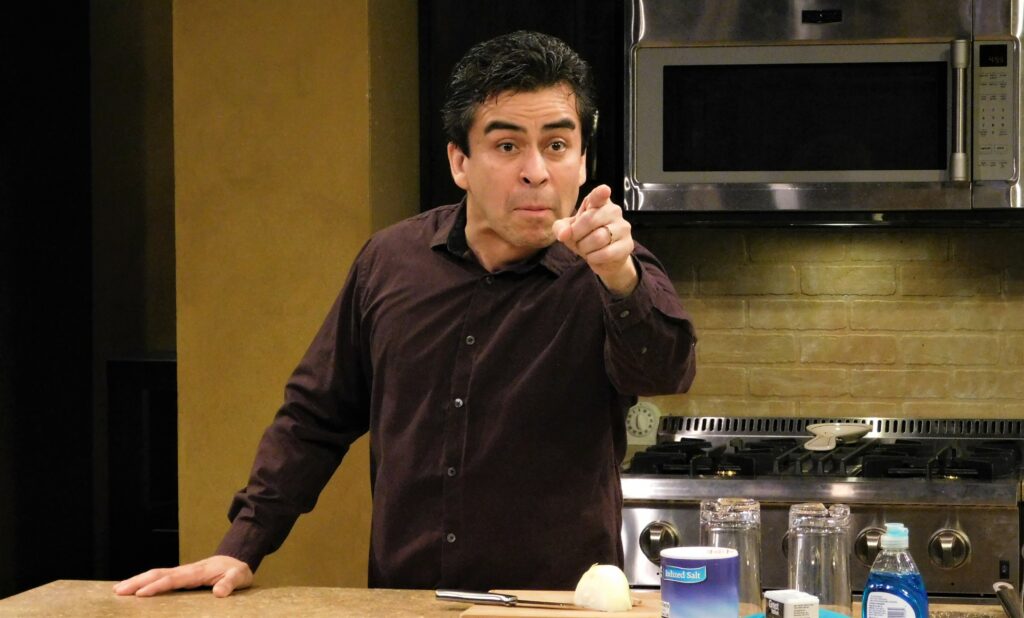 A natural tendency would be to feel contempt toward Altmeyer's character. After all, Drew's son committed an unspeakable act. However, Gandiello's script allows every voice to be heard, though some are louder than others.
"The idea of grief and loss being explored — not legal battles, not the legal ramifications of the issues, but the human loss — that's why I like this play so much," said Altmeyer, a UF associate professor and Hippodrome Acting Company member.
A few years ago, Gandiello set out to write a play addressing the proliferation of mass shootings in the U.S., but he had difficulty establishing a tone that wasn't all gloom and doom. Then he noticed a newspaper photograph in which the father of a shooting victim was hugging the father of the shooter. The powerful image helped inspire the playwright to approach the subject from a human level.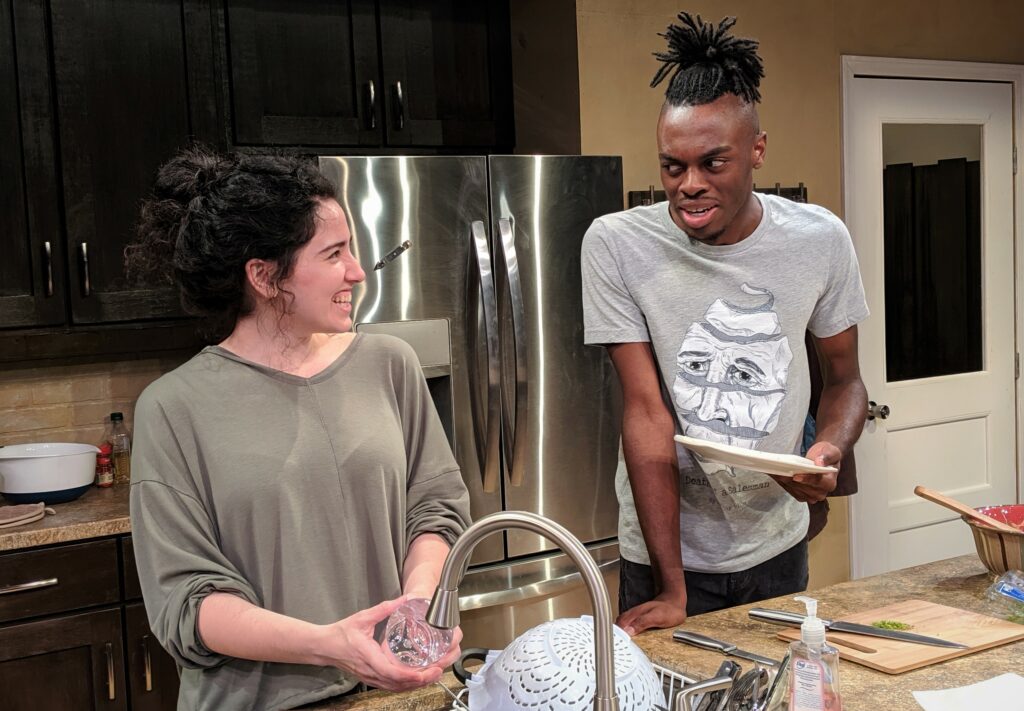 "Grief is never really over," said Gbaje, whose lighthearted Howard provides an outsider's perspective of the Garcia family's pain and suffering. "A year later, things still linger when it comes to school shootings. … A year is still sort of [too] fresh."
Bonilla, a New York-based actor making his Hippodrome debut, said The Blameless is an exercise in empathy.
"It's one way of thinking as an intellectual idea or as a concept or as a theory," he said, "but the more you're actually living it, you have to bring your humanity and your empathy to these characters because there are times when you don't have to forgive 100 percent. [That's] the power of what empathy can really do."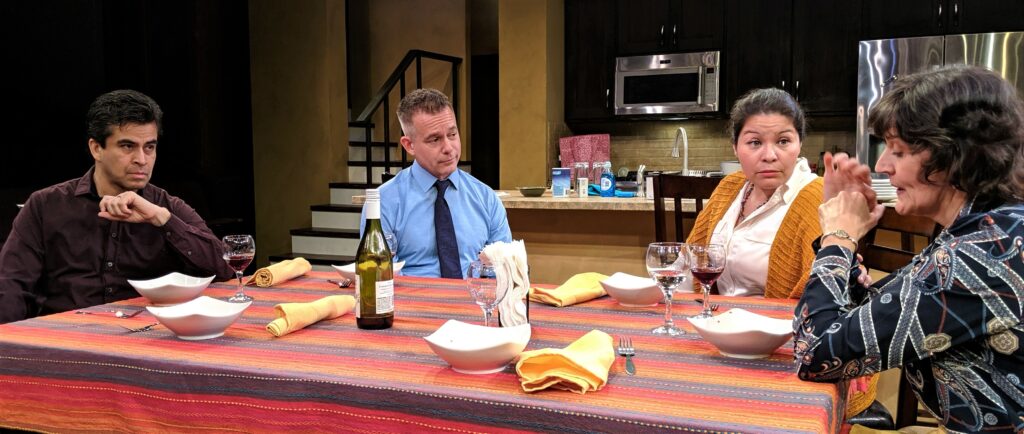 Lynge said The Blameless is a perfect fit with the Hippodrome's "Breaking Boundaries" theme for the 2019-20 season. She hopes the play sparks conversations between audience members long after the show ends.
"The beauty of live theater is that we get to do it all together," she said. "You're not sitting by yourself in front of the TV at home. We're taking the journey together and that makes it something that's special."
With Second Amendment rights helping to drive the 24-hour news cycle, Lynge calls the play "super timely."
"I think [The Blameless] opens up a great space no matter what side of the debate you're on as far as the politics," she said. "I think it opens a great human space for us all to be in together. I think it's important for us to be able to show both sides and be able to talk about it."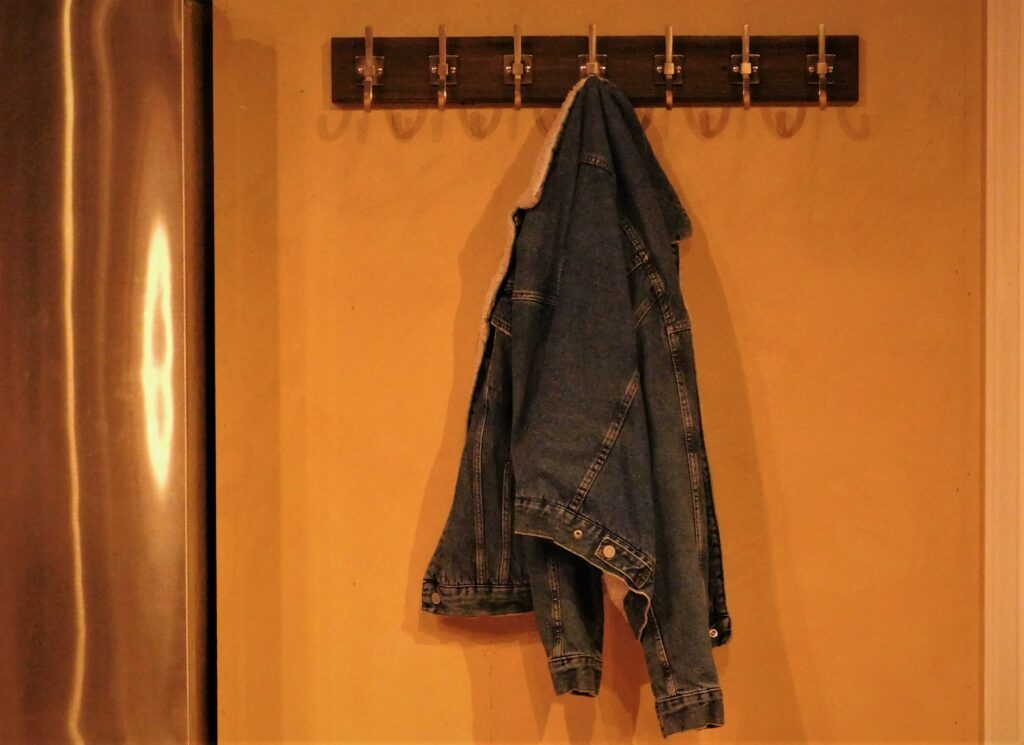 The Blameless has been performed at only one other theater, the Old Globe in San Diego in early 2017. The Hippodrome is promoting the play as its east coast premiere.
"That's something we really like to do here at the Hippodrome is work on new works and dig into it," Lynge said. "We're really grateful because of the support of the community that we're able to take a risk … with more of a difficult piece."
One engaging aspect of The Blameless is its fixation on food. Several characters scramble around the kitchen preparing picadillo, a traditional Latin meal made with ground beef, onions and several other ingredients.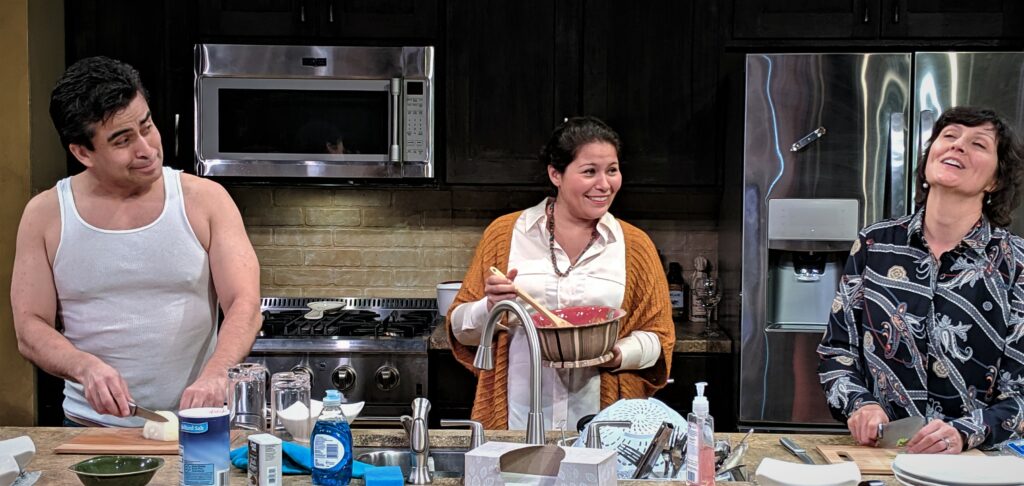 "I've never directed a play where we make dinner on stage!" Lynge said. "Figuring out the food, figuring out the timing of the food, figuring out how to wash the food, where to fix the food, how not to be distracting with the food, what kind of food everybody could eat, …"
Of the six-member cast, only Altmeyer and Benitez have performed previously on the Hipp's mainstage. Benitez has made appearances in A Christmas Carol while Altmeyer has appeared in more than a dozen mainstage shows, most recently Venus in Fur and God of Carnage, and directed Stage Kiss.
"I wanted to do [The Blameless] because it explores an issue-topic and discovers the human nuances of it, the complications of it, the depth of it," he said. "It visits daily life, and I think we become acutely aware of daily life when somebody whom we possibly take for granted is suddenly gone missing. The play sort of relies on daily life to tell its story."
— Noel Leroux
---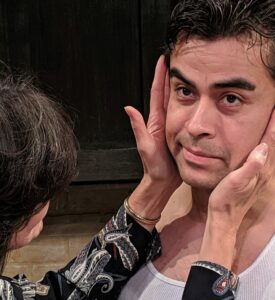 The Blameless
Hippodrome Theatre
25 SE 2nd Place
Gainesville, FL 32601
Box office: 352.375.4477
Performances: Tuesday 7 p.m., Wednesday 7 p.m., Thursday 7 p.m., Friday 8 p.m., Saturday 2 p.m. and 8 p.m. and Sunday 2 p.m. (through Nov. 3).
Cast: Alberto Bonilla, Maryann Towne, Hannah Benitez, Maylin Castro, Tim Altmeyer and Oghenero Gbaje
To purchase tickets and for further info, visit the Hipp website.
Follow the The Hippodrome on Facebook.
* Please let us know what you think of The Blameless by leaving a comment below.