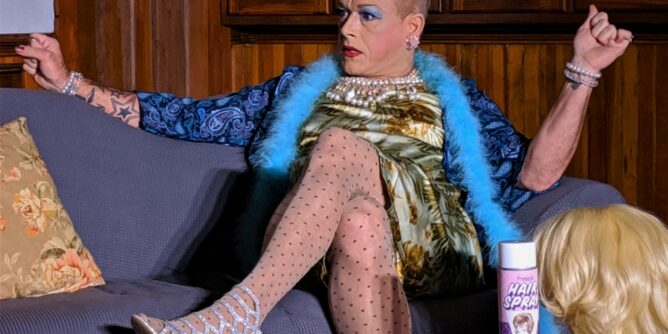 Actors' Warehouse presents Del Shores' play that puts a comedic twist on a tale of unconditional love, acceptance and "coming out" in a Texas family.
---
Zackery Ryan might not have the most lines in Sordid Lives, the comedy opening this week at Actors' Warehouse, but he certainly steals the attention with his feathered boa, powder-blue eye shadow, deep-red lipstick, fishnet stockings and stylish stilettos — not to mention his long red fingernails with gold sparkles.
The fashion accessories are all essential for Ryan to play the cross-dressing Earl "Brother Boy" Ingram, whose ill-fated mother put him in a mental institution 23 years ago for being homosexual.
Ryan said getting to play the eccentric Brother Boy onstage is a dream come true.
"I originally saw this play when it premiered in Los Angeles [in 1996]," he said. "I was quite taken with the show, and I went every night for six weeks."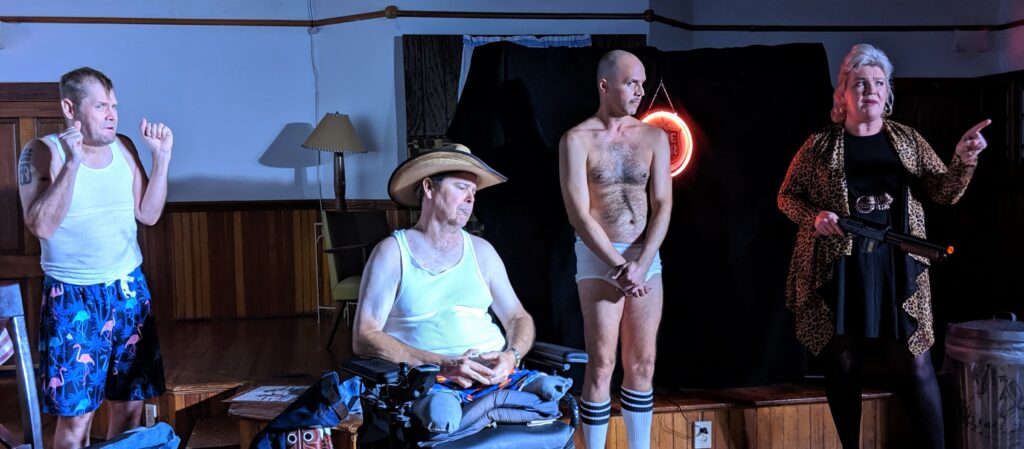 Starting Friday night at 8, Ryan and 11 other actors will bring Del Shores' zany but tender comedy to life at Actors' Warehouse, 619 NE 1st St. There will also be shows Saturday at 8 p.m. and Sunday at 3 p.m., followed by four shows a week through Oct. 27.
Sordid Lives, billed as "a black comedy about white trash," follows a rural Texas family preparing for the funeral of Brother Boy's mother, Peggy, who bled to death after hitting her head on a bathroom sink in a seedy motel after tripping over her lover's wooden legs.
Talk about bad karma.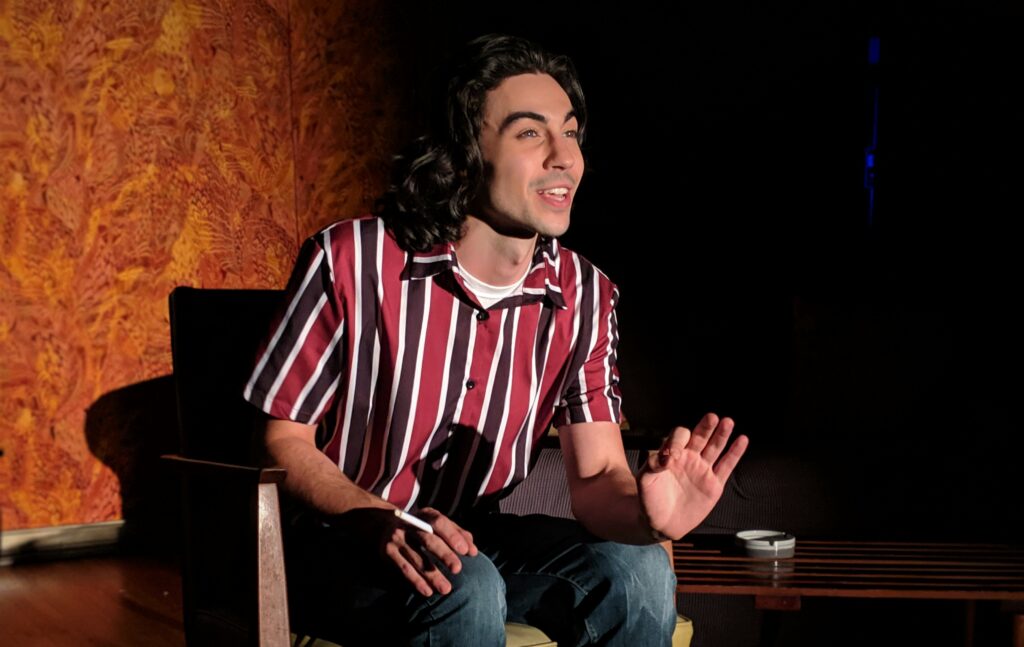 Another story line in the play involves Peggy's closeted gay nephew Ty (Dalton Cotter), who fled Texas for the big city to avoid the same fate that befell his uncle, Brother Boy. Now Ty is planning to return home for the funeral and come out to his kin.
"This is a play about broken people seeking wholeness or redemption," director Kathy Byrne said. "So this show is about forgiveness and acceptance of people — just as they are."
The odd assortment of characters in Sordid Lives includes Latrelle (America Gordon), Ty's in-denial mother; LaVonda (Kristen Mercer), Latrelle's open-minded sister; Sissy (Jan Cohen), Peggy's chain-smoking sister; Noleta (Cindy Lasley), Sissy's betrayed neighbor; Bitsy Mae Harling (Anna Marie Kirkpatrick), a guitar-playing ex-con singer; Juanita (Jacquie Garvey), a foul-mouthed barfly; and Dr. Eve (Elyse Bois-Jobidon), Brother Boy's sex-starved therapist.
And that's just the women. The oddball male characters include G.W. (Eddie Suggs), Noleta's unfaithful husband and legless Vietnam vet; Wardell (Chuck Sanders Ekbladh), G.W.'s best friend and Brother Boy's former love interest; and Odell (George O'Brien), Wardell's dimwitted brother. O'Brien also plays Rev. Barnes, a Southern Baptist preacher presiding over Peggy's funeral.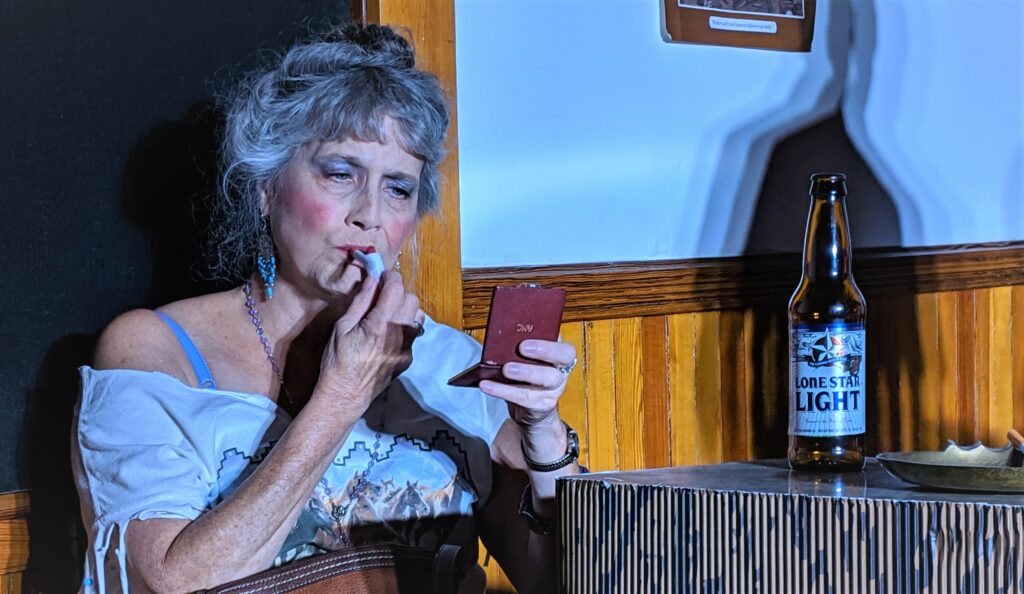 It might take awhile to sort out all the characters, but it doesn't take long for the silliness to begin.
"Audiences will enjoy this play because we all need to laugh at the absurdity of life," Byrne said. "Del Shores has given us a cast of characters who are not perfect, but we love them all, like they are our own family and friends."
As she did for Fuddy Meers and Under a Liar's Moon earlier this year at AW, Byrne has assembled a stellar cast for Sordid Lives. For example, Mercer, Cohen, Lasley and Kirkpatrick are reunited for the first time since appearing together in Michael Presley Bobbitt's original Sunset Village a year ago.
"It's the whole original Sunset Village 'gang' and we've just moved to Texas!" Kirkpatrick said. "This is just a super fun show to do."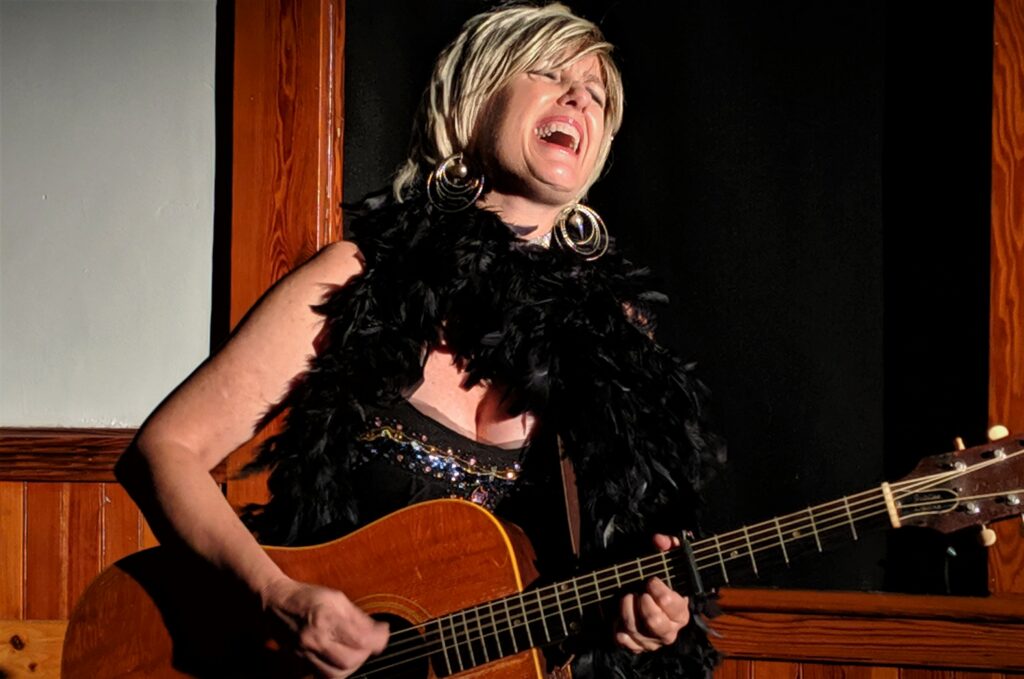 Garvey is returning to the AW stage for the second time in two months after a 33-year absence from acting. In August, she played Gertie in Fuddy Meers.
"During the audition, I had several women do an improv of getting drunk together," Byrne said. "Jacquie nailed it with her funny yet believable acting.
"Jacquie has had life-long health issues and suffered from other personal tragedies. Comedians instinctively know how to turn pain into humor. She is hilarious in this role."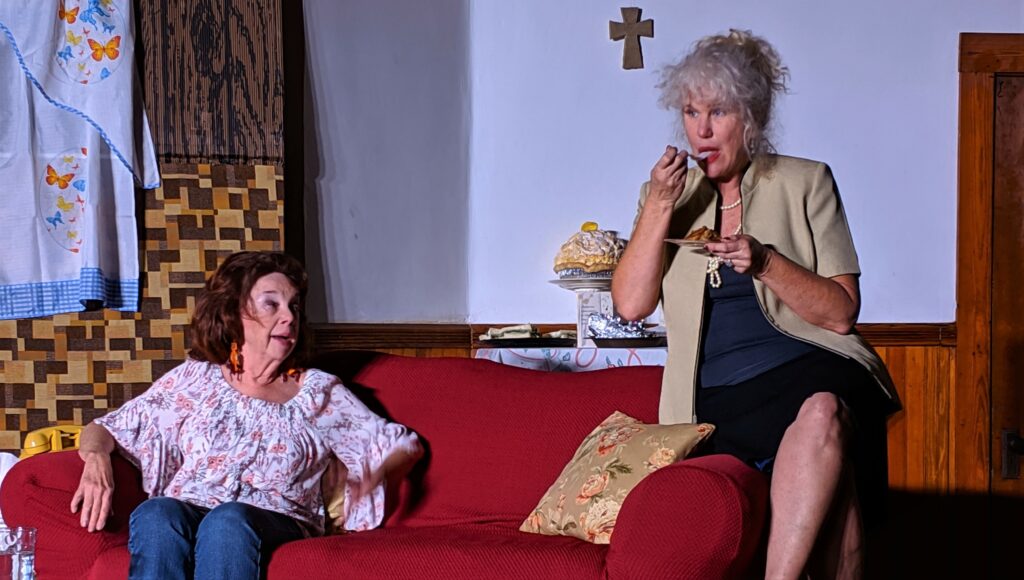 Meanwhile, Gordon, Ryan and Suggs are making their acting debuts in Sordid Lives. Gordon, who owns the Micanopy OutPost antiques store, said she is learning a lot from her character.
"It calls up so much emotional stuff you didn't know you had inside," she said, adding, "I think [Sordid Lives] is just what Gainesville needs right now."
Ryan is familiar with theater but mainly behind the scenes in costume design and special effects. He has worked locally at Santa Fe College and with the Hippodrome, designing costumes for Zombie Town and Vonya and Sonia and Masha and Spike, among other shows.
"I have been doing shows with Zackery since 2009 when he costumed the plays I was directing at Santa Fe College," Byrne said. "He costumed me when I was an actor in The Foreigner at the Acrosstown and he designed costumes for all of the plays I directed at P.K. Yonge."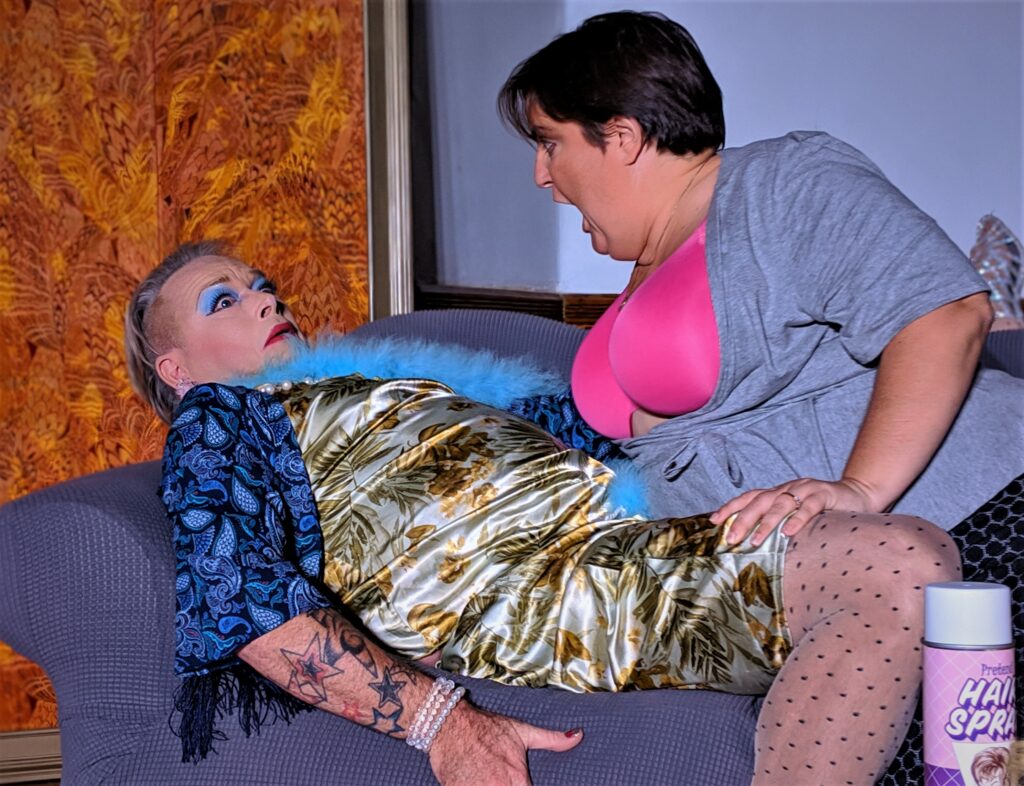 When Ryan lived in Los Angeles and repeatedly attended Sordid Lives repeatedly, he became friends with Leslie Jordan. The veteran actor not only originated the role of Brother Boy, he later played the character in the 2000 film by the same name and on the short-lived TV show Sordid Lives: The Series.
Ryan and fellow cast members also have gotten to know Shores, the playwright, through a Facebook group. Each actor in the AW's version of the play had an opportunity to pose a question for Shores.
"It's real — it's stuff that really happens," Ryan said of the Sordid Lives script. "Del Shores told us to play it real, not as a cartoon."
And then there is Suggs, perhaps the first legless man to play a legless man in Gainesville theater history. Suggs lost his legs in 2011 when he was run over by a truck while operating a leaf blower in Lake City.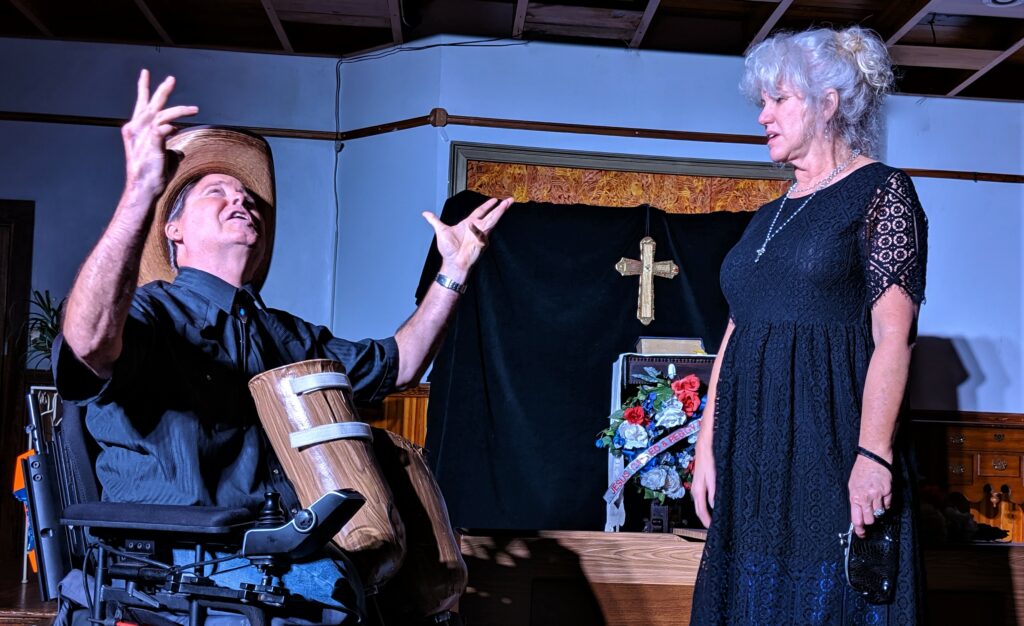 In Sordid Lives, G.W. lost his legs in Vietnam, but that hasn't prevented him from being a ladies' man. He's guilt-ridden because his wooden legs led directly to Peggy's death.
"This is a thrill," said Suggs, who joked that Byrne tricked him into auditioning for the role. "I only came up here [to the theater] because Kathy is my friend. I rolled down here to see what they were doing. Now I'm in the show!"
Byrne was the drama teacher at P.K. Yonge several years ago when she met Suggs' daughter, Erin, in the school's Thespian Troupe. She then met Erin's parents, Eddie and Janet, and kept in touch with them through Facebook. In casting Sordid Lives, Byrne immediately thought of Suggs in the role of G.W.
"Eddie has a life history that prepared him for this role," Byrne said. "He knows the Southern country accent and the small-town people. As a person and artist, he understands and can convey honest emotions. His ability to trust words and communicate the feelings behind them is a part of who he is."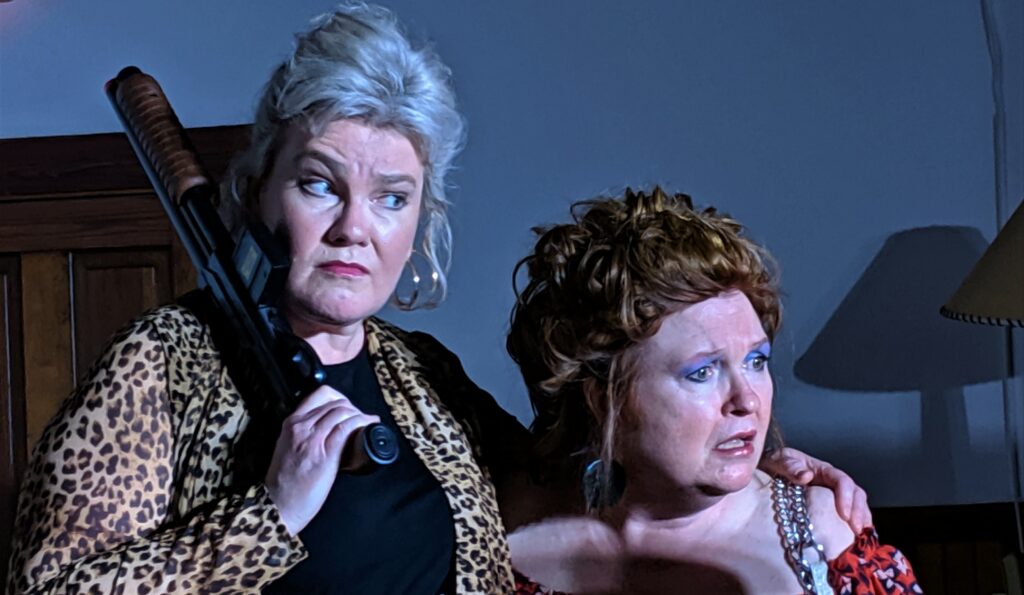 Byrne then added: "Because Eddie is playing this role, we're able to give a layer of authenticity that probably no other production has been able to do. The jokes about G.W. having wooden legs, and his mistress tripping over them and dying, take on a different tone when the other actors and the audience are looking at a real person who lives with having lost his own legs every day."
The acting experience, Suggs said, has been humbling.
"I guess this is not my first rodeo, but I feel like I'm riding a bucking bronco," Suggs said. "This is kicking my ass!"
Also noteworthy is the performance of Cotter, 23, a BFA acting student at UF making his Actors' Warehouse debut as Ty. He said he's using Sordid Lives as the basis for his thesis.
"I think this show is important in today's social climate because it emphasizes the human spirit in all its facets," he said. "It's set in the late '90s and Ty is a gay man in a world that doesn't fully accept homosexuality.
"It really puts into perspective how we interact with our families and how we treat ourselves and how we navigate the world according to how people perceive us."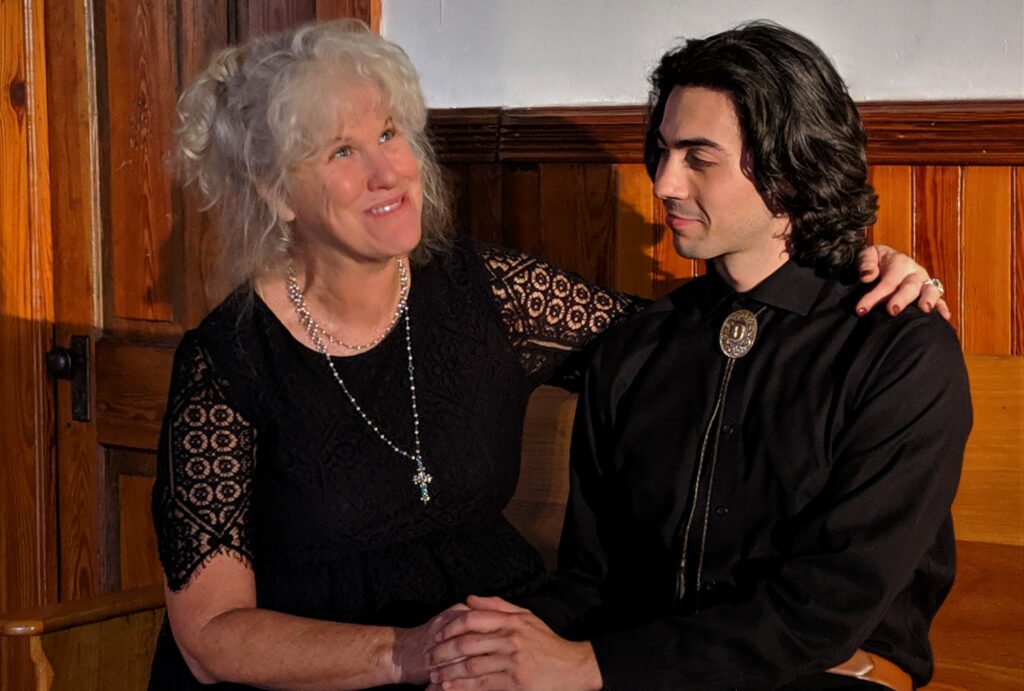 Steven H. Butler, the AW's artistic director, had approached Byrne several months ago about directing the play.
"He needed more humor in the season and wanted to do something in October for Gay Pride," Byrne said. "I ordered the script and read it. I told Steven, 'You know me too well.' This is exactly the kind of show I love to direct."
She was surprised to learn that Sordid Lives has a cult following not unlike Rocky Horror Picture Show.
"What I love about the play is the authenticity of real people in a small Texas town juxtaposed with the young man [Ty] who didn't fit in and moved to New York to become an actor," Byrne said. "I love the humor that can come from life, even in the midst of a handicap, a scandal, unacceptance and even death."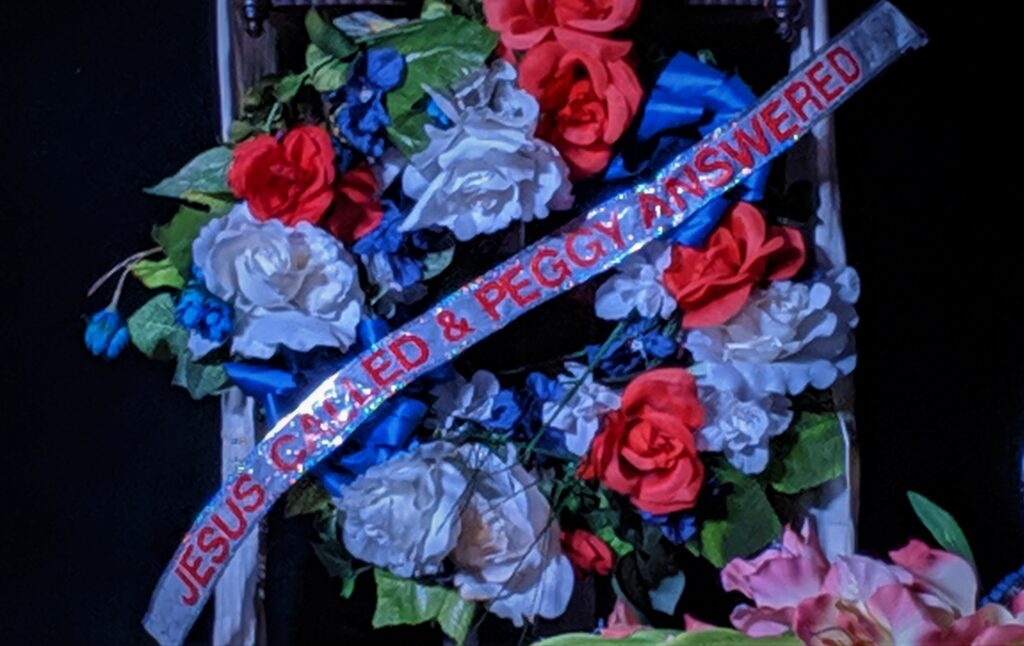 Byrne added that she is fortunate to have the assistance of stage manager Bo Broawell, a director and choreographer with more than 20 years experience in the theater industry. He moved to Gainesville less than two weeks ago from North Carolina.
The director added that Sordid Lives, for all its comical moments, delivers a universal message of hope and love.
"Folks will leave the theater feeling like they've been cleansed," Byrne said.
— Noel Leroux
---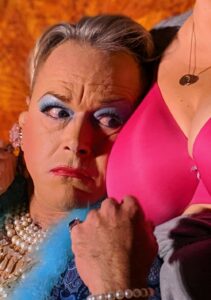 Sordid Lives
at Actors' Warehouse
619 NE 1st St.
Gainesville, FL 32619
Performances: Thursday through Saturday at 8 p.m., Sunday at 3 p.m. through Oct. 27.
Tickets: $25 general admission, $20 seniors, $15 students. Note: There are $10 Thursdays on Oct. 17 and Oct. 24.
For further info, visit the Actors' Warehouse website.
Let us know what you think about Sordid Lives by posting a comment in the Leave a Reply section below.