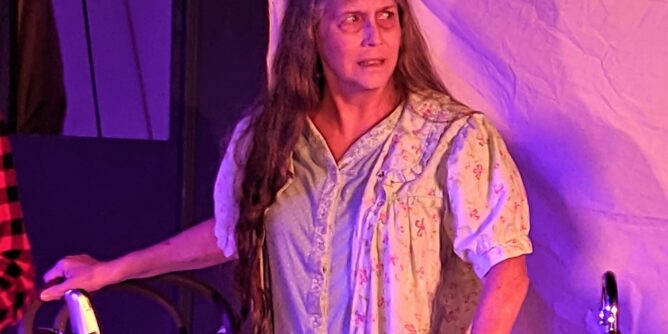 Jacquie Garvey plays a stroke victim in the Actors' Warehouse play "Fuddy Meers," but that's nothing compared to what she's endured in real life.
---
Jacquie Garvey's return to the stage after more than three decades is a story of pain, misunderstanding, struggle, heartache, more pain and struggles and, ultimately, triumph.
Garvey, 67, is currently playing the role of Gertie in Fuddy Meers, a dark comedy being performed at Actors' Warehouse in downtown Gainesville. The play is entering its final weekend, with performances Thursday, Friday and Saturday at 8 p.m. and Sunday at 3 p.m.
Gertie is a stroke victim with slurred speech who uses a rolling walker to get around. She lives by herself, but on one particularly forgettable day she gets visits from her amnesiac daughter, a limping man claiming to be her son, her grandson and three other oddballs who throw Gertie's quiet life into chaos.
Oh, how art imitates life!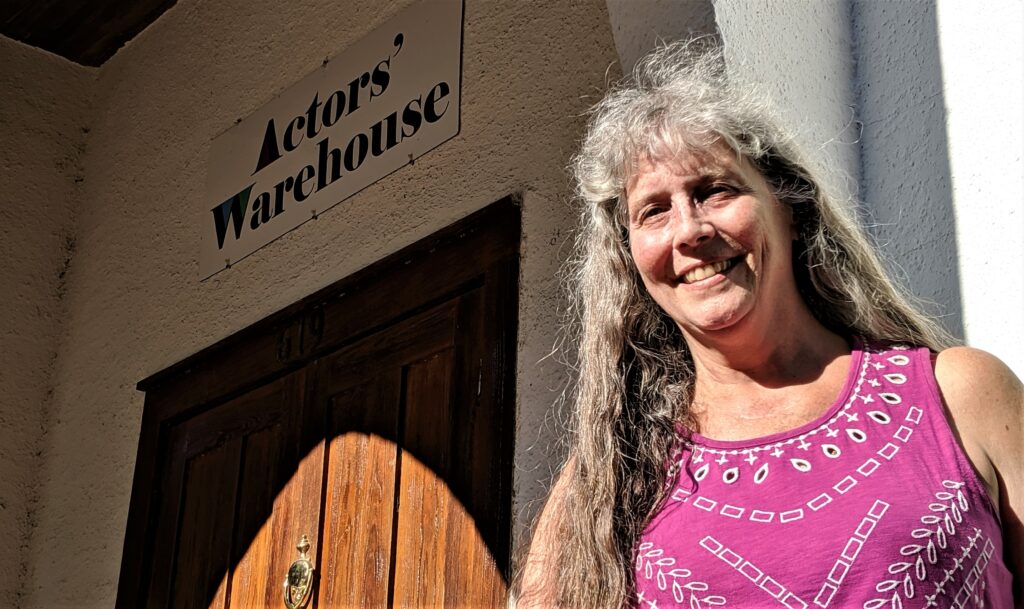 You see, Jacquie Garvey's life is not unlike Gertie's — except even more dramatic! She's faced a lifetime of health-related issues, financial struggles and personal loss. Only three years ago, she was in a hospital bed unable to speak, much less move.
Oh, and we forgot to mention she's had a double-lung transplant.
Seriously, I shouldn't even be alive at this age.
— Jacquie Garvey
And the fact that this woman is back onstage, in a speaking role that is also physically demanding (heck, she stabs a guy and a sock puppet!), is testament to Garvey's resilience and determination.
"There's no reason I should even be upright," Garvey said. "Seriously, I shouldn't even be alive at this age."
Garvey was born with cystic fibrosis. The hereditary disease affects the lungs and digestive system. The body produces thick and sticky mucus that often clogs the lungs and obstructs the pancreas. People with the condition tend to have shorter-than-normal life spans.
"I've coughed ever since I was a kid and I was just always really, really sick," Garvey said. "They used to say I was 'on the verge of pneumonia.' The doctor in my small town couldn't figure out what was wrong with me."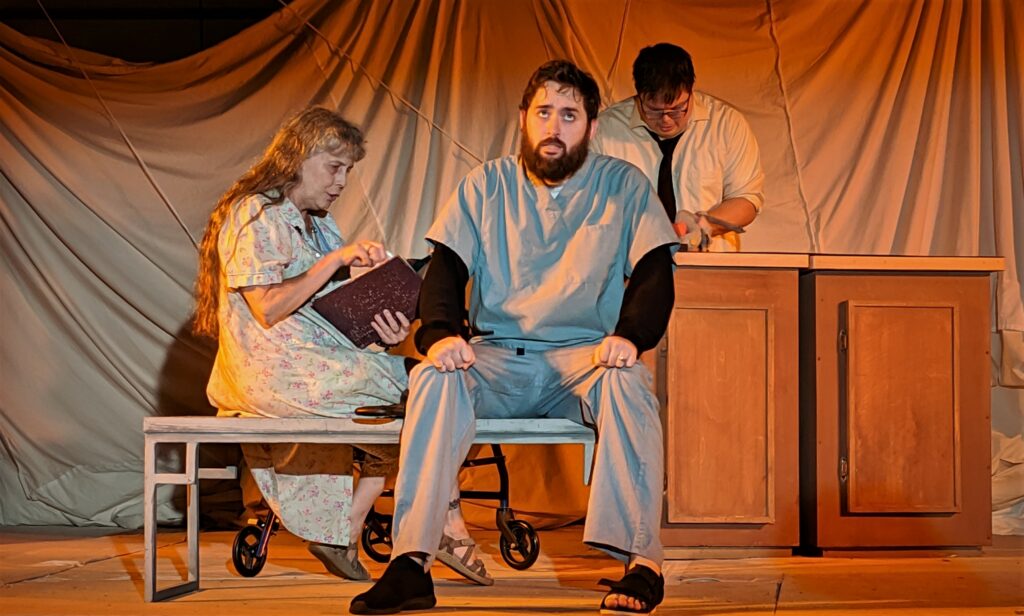 Garvey said she almost died of malnutrition when she was 2.
"They never diagnosed me because back then there was only the salt test [to test for cystic fibrosis]," she said. "They basically heated you up and made you sweat into gauze pads, and then they would measure the amount of salt on the gauze pad. Even though I was really salty, I was apparently never salty enough to fail the salt test."
As she got older, Garvey's health problems persisted. Her doctors just scratched their heads.
"They kept going, 'We don't know what's wrong with you. It must all be in your head,'" she said.
"My parents screamed at me and told me I was doing it to get attention. 'You just want to get out of school!' I turned out tough because I had to be. Most kids died with this that were born with it at the time I was."
Garvey refused to let her illness slow her down. In fact, she discovered a love for performing at an early age. In kindergarten, she and two friends built a stage out of large cardboard blocks.
"We'd get up on that little stage and sing 'Sugar in the mornin', sugar in the evenin', sugar at suppertime…', and we'd put on a show for everybody," she said. "I was in a talent show when I was 6, a fundraiser for the Catholic school, and just kind of kept that going. I started playing organ when I was 6, which was against my will, instead of my parents getting a piano like the rest of the world."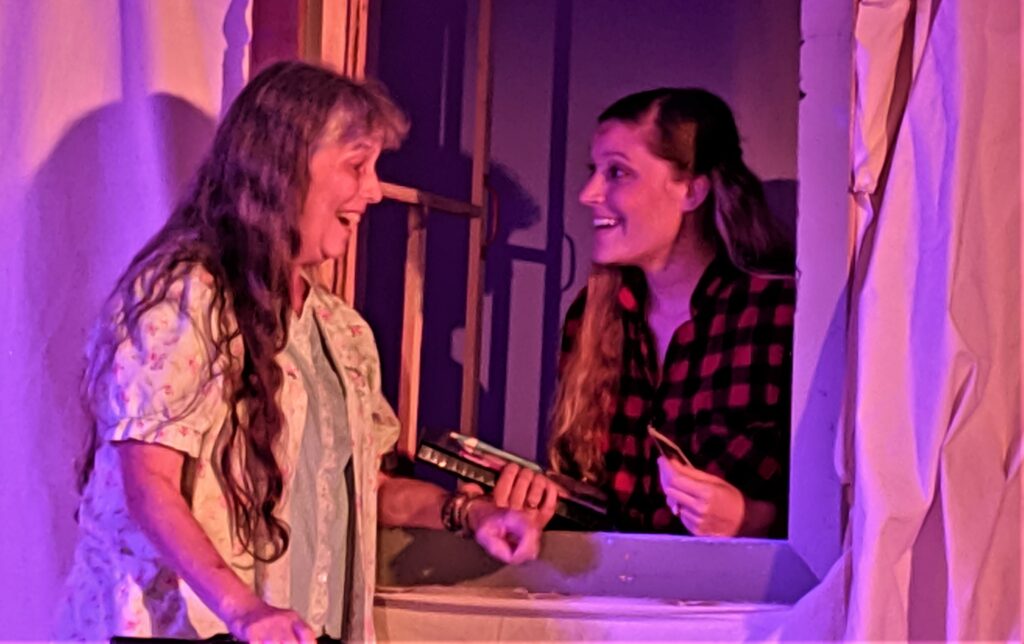 Garvey's father worked for General Electric. His job required the family to relocate often, from upstate New York to Connecticut to Kentucky and back to Connecticut. Young Jacquie never finished in the same school where she'd started. But, of course, the undiagnosed cystic fibrosis — including the constant coughing — was ever-present.
She was involved in theater in high school, including a production of The King and I. All too often, however, Garvey was a background extra because of the coughing, which she tried to suppress.
"I got yelled at my freshman year of high school because they were recording something in our music program and I kept coughing," she said. "The nun, instead of letting me leave the room, kept making me sit in there. She was screaming at me, 'Don't you dare cough on this take!'"
One highlight of her young acting career was being part of "an extravaganza" directed by Joseph Hayes, a well-known Broadway producer, playwright and novelist.
"He had these high school kids in Connecticut doing these amazing ensembles with 100 kids tap dancing together and stuff like that," Garvey said.
When she lived in Kentucky, Garvey became heavily involved with numerous productions at the Little Colonel Playhouse in Pewee Valley. She had prominent roles as Vera in Ten Little Indians and many other shows.
"We did a whole lot of stuff," she said. "You think you're never going to forget plays that you did, but every now and then I come across a Playbill, and it's like, 'I did that!'"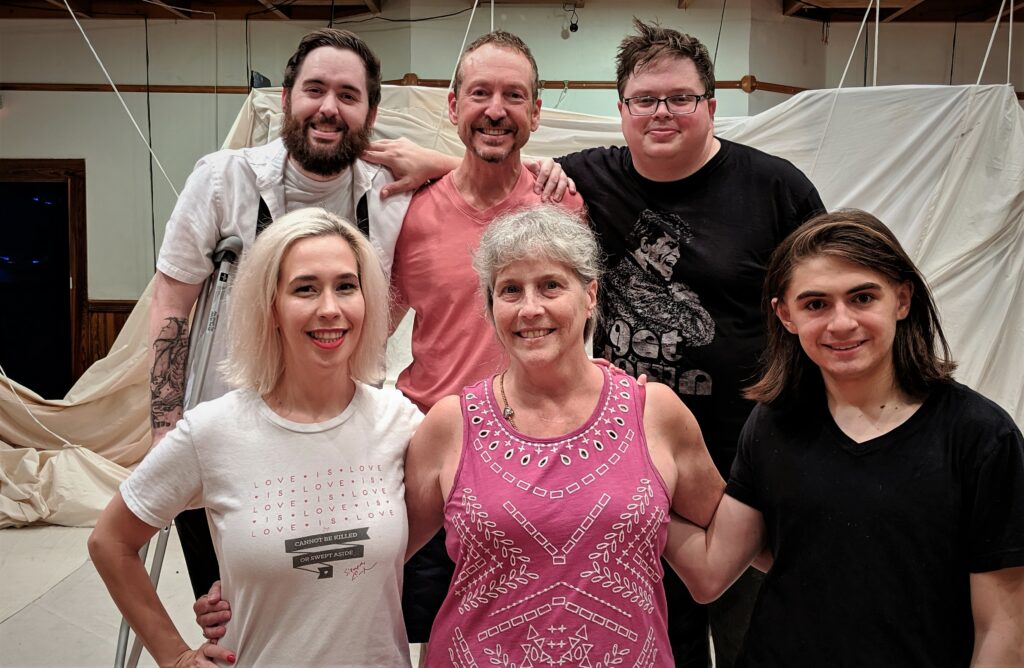 During her 20s, Garvey worked a variety of jobs, including construction. She helped to crush the rock the Washington, D.C., Metro system sits on. All too often, health issues intervened, including severe pancreatitis that doctors failed to link to cystic fibrosis.
"At one point, they decided I was an alcoholic," she said. "For years, that diagnosis followed me, which was really annoying when I was in the hospital for two months and obviously not drinking."
In 1982, at age 30, Garvey moved to Gainesville with her newborn son, James.
"I'm not really sure why," she said. "My parents lived here and I had my oldest child, so I came down because I thought it would be nice to be near my family."
Garvey dabbled in local theater, performing in Arsenic and Old Lace at Santa Fe Community College and, in 1986, in H.M.S. Pinafore at Gainesville Community Playhouse. And then, due to her snowballing health issues, Garvey reluctantly said goodbye to theater.
"I was really very sick when I hit Gainesville," she said. "That's why I've had many, many jobs. You reinvent yourself every few years because you're in the hospital for a couple months at a time. When you come out, they haven't held your job for you."
At 38, Garvey had her right hip replaced, which was followed by revisions and a left hip replacement done with epidurals — no general anesthetic. For years, she struggled to pay her medical bills while putting food on the table for her young family. She divorced her husband when their twins were 3 years old.
I was circling the drain. I would've died without the transplant.
— Jacquie Garvey
In 2008, doctors told Garvey she needed a double-lung transplant. She was placed on a donor list a year later but then waited until 2013 for the transplant.
"I was circling the drain," she said. "I would've died without the transplant."
Then tragedy struck the family in early 2014 when Garvey's oldest son, talented musician and activist Jamie Garvey, died at age 31.
Like the good mother she is, Jacquie Garvey grieved her son's loss but somehow persevered, like she persevered through every medical crisis she's endured, including nine fused vertebrae and a stroke in late 2015 that rendered her unable to speak.
She remembered being in the ICU at Shands when things started getting blurry.
"It was so bizarre," Garvey said. "Fortunately the nurse stepped into my little cubicle and she goes 'Are you OK?!' I could see my friend Sally coming down the hall to visit me. I knew something was going on. I saw the nurse look at the monitor, so I knew the crash cart was coming. They had to POOMPH!"
Within a few moments, the medical staffed resuscitated Garvey with a defibrillator.
Talk about a comeback!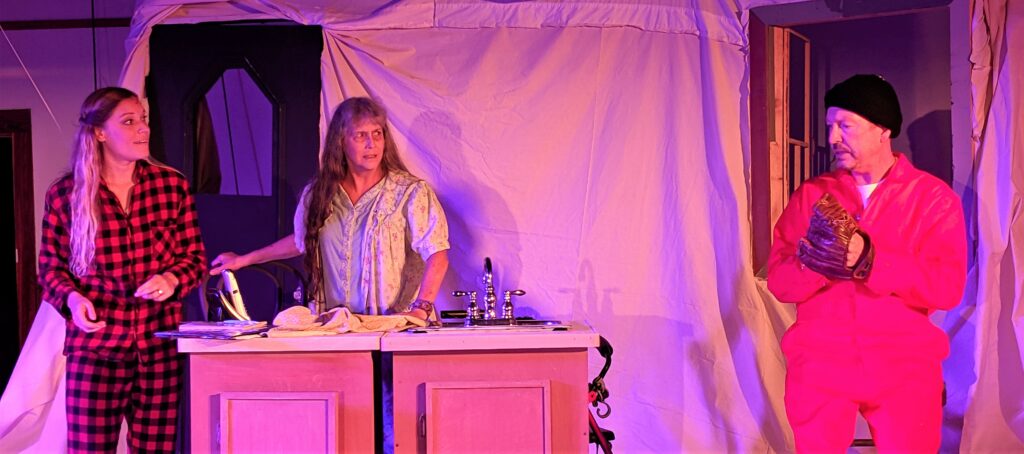 Earlier this year, Garvey pondered getting back into theater. A good friend, Jane Edwards, told her about Under a Liar's Moon, a play Edwards had written and that Kathy Byrne was directing at Actors' Warehouse.
"She [Edwards] posted there were going to be auditions, so I asked her 'Are there any parts in that play for an old lady with a walker?' And she goes, 'Just come to audition.'"
There was a role for a grandfather in Edwards' play but not for an older woman.
"Although Jacquie came to both nights of auditions and enthusiastically read for any part, she didn't seem right for any characters in that play," Byrne said.
However, Byrne was also getting ready to direct Fuddy Meers, a dark comedy written by David Lindsay-Abaire that just happened to call for a 60-something, "clear-headed lady who's had a stroke and can't speak properly."
"When I found this play, I thought that the role of Gertie would be the most difficult to cast and to play," she said. "The actor has to memorize a lot of lines that, to me, made no sense, even though there is a translation of her lines at the back of the script."
Byrne asked Garvey to audition for the role, adding that her need to use a walker onstage would not be a problem.
"I sent Jacquie a copy of the script and told her which scenes I would have her read at auditions," Byrne said. "I cast her because she seemed to immediately identify with the character. She had the right balance of sweetness and rage. The gibberish speech didn't seem to phase her."
Garvey seemed a natural as the nightgown-clad Gertie, who, despite her physical disabilities, ends up being the most level-headed character in Fuddy Meers.
"I felt like 'Oh, God, if I can't do this, let's just give up because she [Gertie] has had the stroke, she's trying to make people understand her. She also is tough. She's going out stabbing people. She's a lot healthier than I am. She lives by herself. There were a lot of things that I thought 'I'd really would love to do this.'"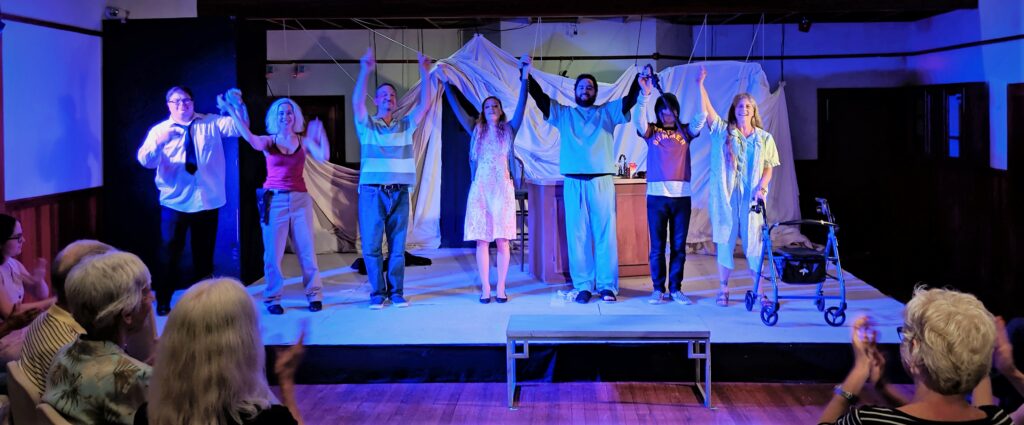 With seven performances of Fuddy Meers down and four more to go, Garvey has proven to be more than up for the challenge. Byrne said she has worked "tirelessly" on making Gertie her own.
"From the beginning, I could tell how badly she wanted to act again, but she also seemed to worry if she would be good enough because she had not acted in so long," Byrne said. "She would apologize whenever I gave her a note … and toward the end, I just didn't have any notes for her, except that her scenes were great."
Garvey said she only wishes she could forget the time during one rehearsal when she fell backward trying to lift her walker onto the stage platform.
Gertie's a mess and, you know, the lady playing her is kind of a mess!
— Jacquie Garvey
"I was trying to get up onstage by myself, but I could feel myself going backwards, and it was like 'Oh, man!'" she said. "And, of course, that held up rehearsal for a while. My back still hurts but luckily and I'd taken judo a hundred years ago and knew to get my elbows back there so I didn't hit my head."
Garvey shrugged off the mishap.
"Gertie's a mess and, you know, the lady playing her is kind of a mess!"
That type of attitude has endeared Garvey to her Fuddy Meers cast mates.
"She's an endless ray of positivity," said Alex Setlow, 18, who plays teenage pothead Kenny in the play. "She's incredibly dedicated and she's incredibly sweet. She's experienced a lot in life and I've learned from her."
Nick Turner, who plays Richard in Fuddy Meers, said he relates to Garvey and her disability. Turner suffers from a migraine disorder that can be debilitating.
"She puts in 110 percent," he said. "She's the epitome of the kind of actor I want to work with."
"It's amazing what she's been able to do after recovering from everything," added Tyson Adams, who plays Limping Man, a character with facial deformities and a speech impediment in Fuddy Meers. "The fact that she's had to learn gibberish after she herself has had to relearn speech is amazing."
In addition to her revived theater career, Garvey is an active musician. She plays the ukulele in the Ukulele Club of Gainesville, Ukulele Sisterhood and for Phabulous Phil and Phriends. The groups often visit Gainesville area nursing homes and memory units such as Al'z Place.
She also was a founding member of the Voices Rising Community Chorus led by Ruth Lewis. In 2013, Lewis gave an insistent Garvey the go-ahead to sing the solo "We Are One" with her fresh new lungs.
That performance had special meaning because Garvey's twins, Curt and Beth, were handing out programs and seating people along with her oldest son, Jamie, who made a surprise appearance at the concert.
"I remember looking out and seeing all three of my kids standing together," Garvey said with a smile. "I don't participate [in Voices Rising] anymore. Every time we'd do a show, I'd picture all three of my kids there and, of course, one is gone, so I just can't do it anymore."
Byrne, the director of Fuddy Meers, said Garvey has taught her that, even if an actor has a physical disability, as long as it doesn't conflict with the playwright's intention, it does not have to be an obstacle.
"In fact, it is a part of the authentic person who is playing the part," Byrne said. "As actors, we take every part of us to the stage, honestly and openly, even as we take on the character we are playing. All the difficult things Jacquie has been through in her life make her who she is today.
"She has a rich and difficult past to draw upon, and brings that life experience with her to the role."
Garvey, who will soon replace her walker with an Anatolean shepherd service dog, said her return to theater has been fun and energizing.
"I'm hoping I can get more little parts here and there," she said. "It really is meaningful. It's kind of like coming home."
— Noel Leroux
---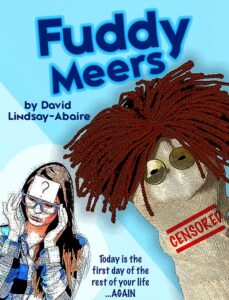 Fuddy Meers continues at Actors' Warehouse, 619 NE 1st St., with shows Thursday, Friday and Saturday at 8 p.m. and Sunday at 3 p.m. Tickets for Thursday night's show are $10. General admission for all other shows is $20 (discounted for students, seniors and military).