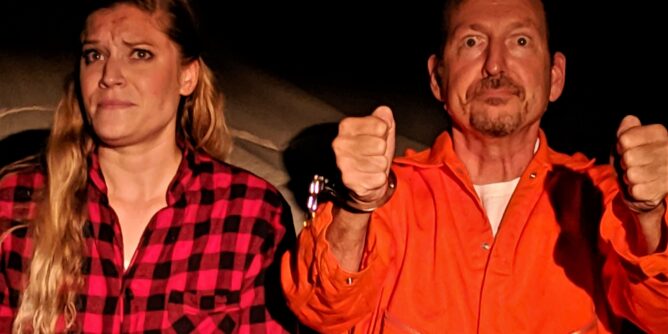 Actors' Warehouse presents a play by David Lindsay-Abaire about how not to sort things out when amnesia erases everything you ever knew.
---
It's not unusual, especially in a college town such as Gainesville, to meet someone who can't remember anything about the previous evening. (It's also fairly easy to determine the culprit.)
In the dark comedy Fuddy Meers, opening this week at Actors' Warehouse, a woman named Claire wakes up confused each day with no recollection of her entire life. And she can't blame it on an alcohol-induced bender — although she also can't exactly explain that nasty scar on her forehead.
"Claire wakes up every morning with psychogenic amnesia," explained Kathy Byrne, who's directing Fuddy Meers, the final show of the AW's 2018-19 season. "As she discovers more about herself and her past, the audience makes the discoveries with her."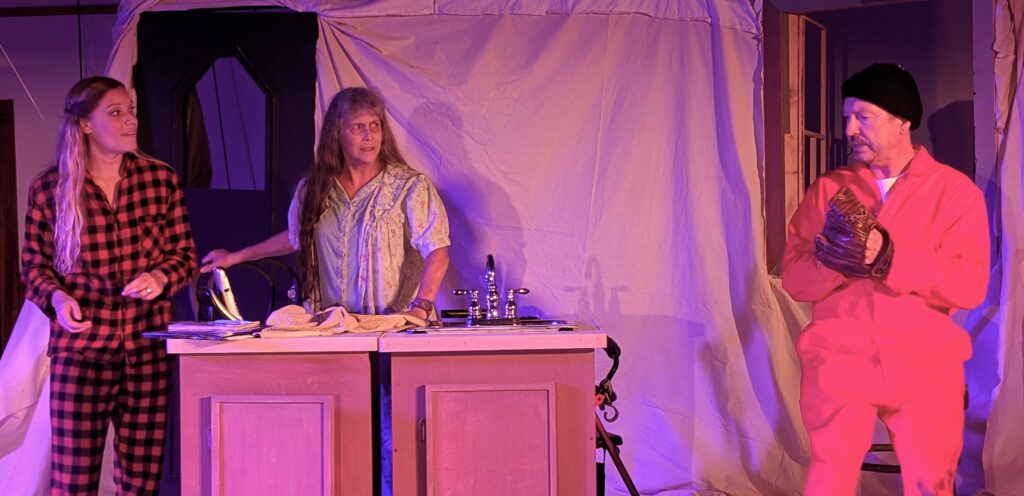 Written by Pulitzer Prize winner David Lindsay-Abaire (Rabbit Hole), Fuddy Meers opens Friday at 8 p.m. There are also performances Saturday at 8 p.m. and Sunday at 3 p.m. followed by four shows a week through Aug. 11. Actors' Warehouse is located at 619 NE 1st St.
What makes Claire's life even more strange in Fuddy Meers is the assortment of characters she encounters as one particularly eventful day unfolds.
There's Richard, her chatty but nervous husband; Kenny, Claire's stoner teenage son; Limping Man, who tries to convince Claire that her husband wants to kill her; Millet, a quirky guy with a potty-mouthed hand-puppet; Gertie, Claire's mother who has had a stroke and cannot speak properly; and Heidi, a seemingly tough woman in a police officer's uniform.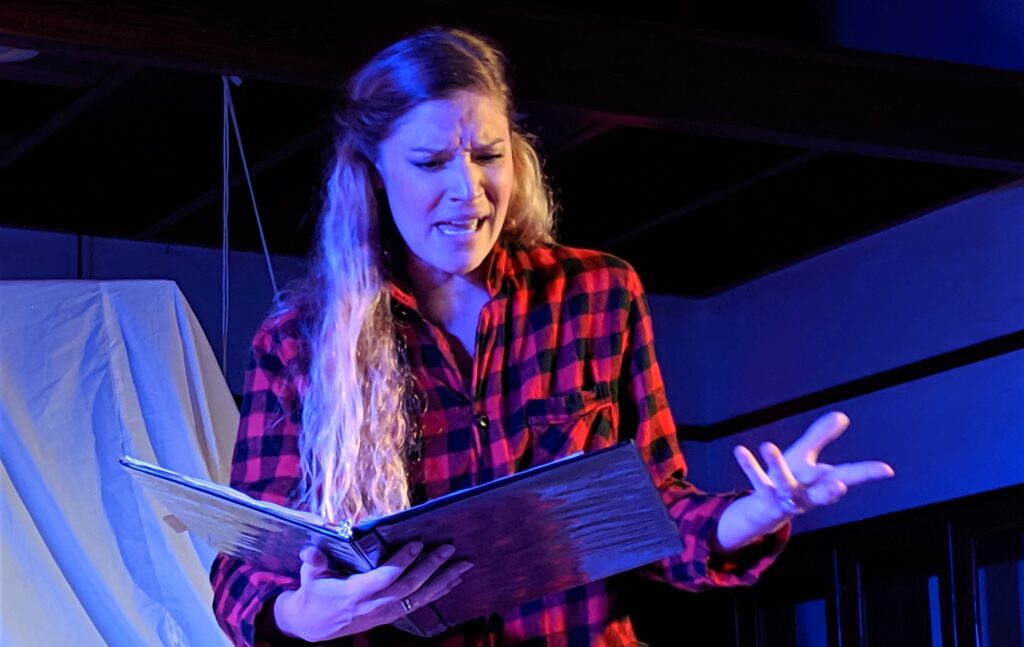 The play begins with Claire (Kaitie Graves) reading from a scrapbook filled with instructions to start her day and to help jog her memory. With childlike innocence, she seems puzzled and fascinated with every flip of the page.
The absurdity begins when Limping Man (Tyson Adams), wearing a ski mask and prison jumpsuit, suddenly appears and kidnaps Claire. His intentions aren't clear except that he's headed to Claire's mother's house.
"It's a dark comedy but a classic comedy in that it's a comedy of errors in which people aren't who they seem to be," Byrne said. "All the incongruities are what makes it funny."
Graves said Fuddy Meers, which addresses mental-health issues with humor rather than pathos, will make audiences laugh and perhaps wince at the same time.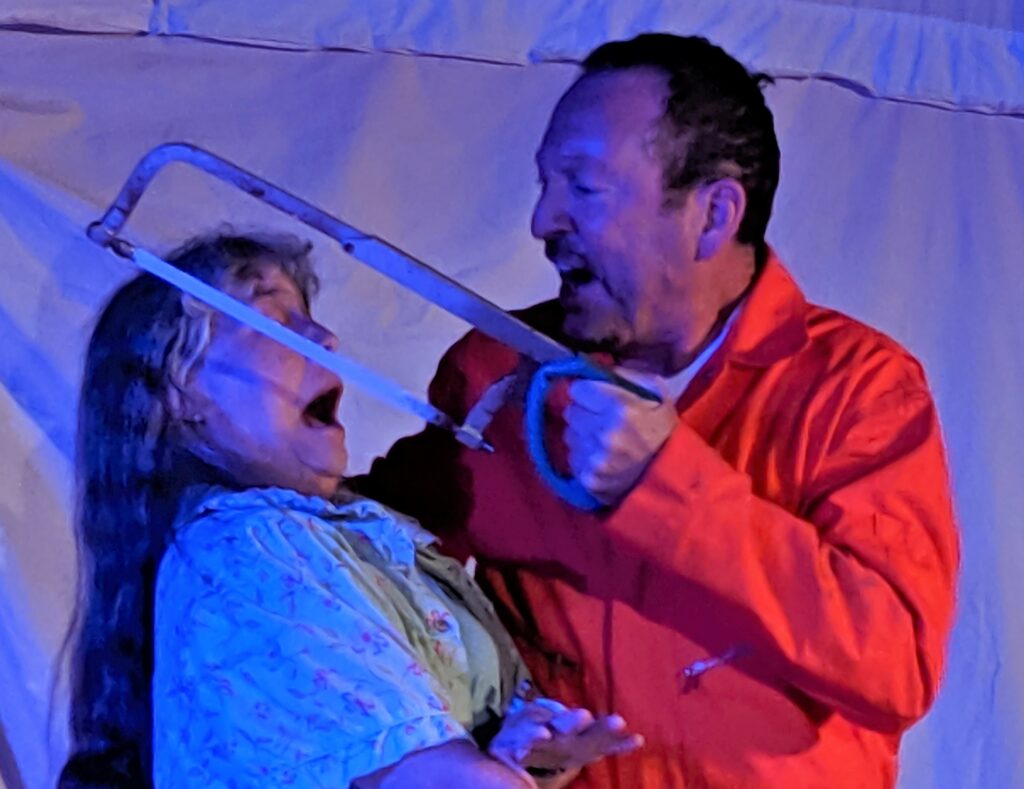 "There are some really funny moments, but really what's happening in each character's life is pretty tragic and sad, but we kind of cover it all up with funny one-liners and situations," she said. "So you're laughing, but you're kind of sad at the same time."
Graves compares it to laughing at a bad joke so as to not hurt the feelings of the person who told it.
"It's kind of like sucking through you're teeth a bit like, 'Whoa, that seems like I shouldn't be laughing because it's sad.'"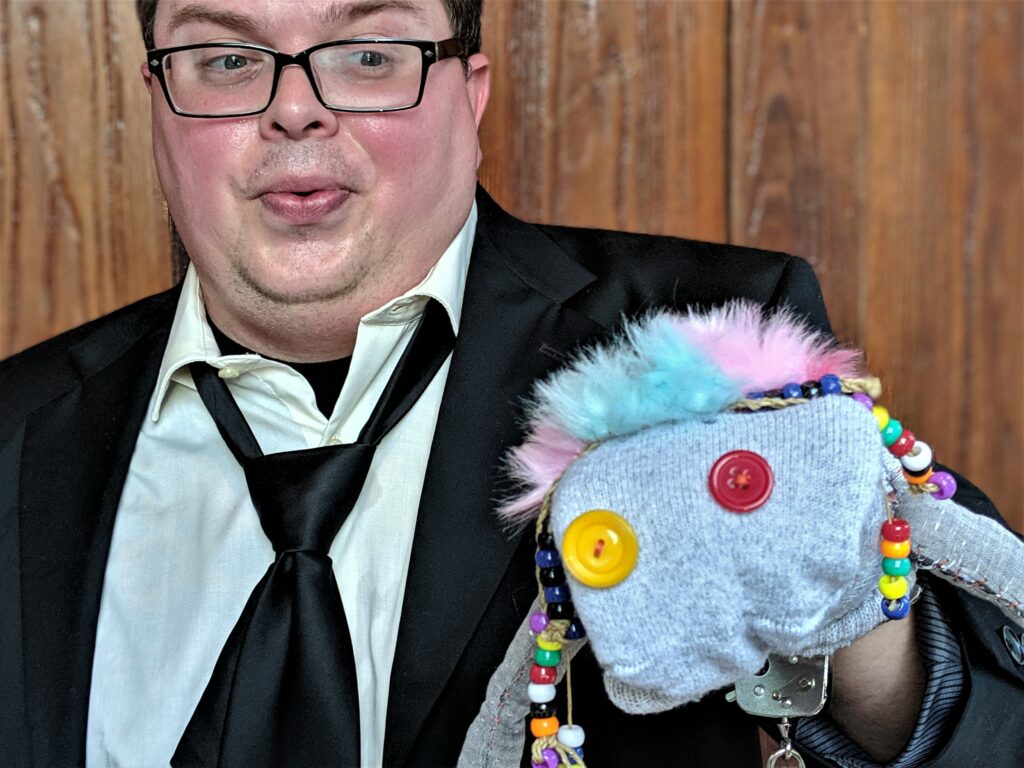 Some of the play's funniest moments occur with the arrival of Millet (Badger Moring, Jr.) and his obnoxious sidekick, a sock puppet named Hinky Binky. Millet, also an ex-con, serves as Limping Man's bumbling henchman.
"Hinky Binky is kind of my alter ego," Moring said. "He says things that other people filter out. He is my lack of filter. I channel any of my id thoughts through Hinky Binky."
Moring designed the sock puppet himself with button eyes, pastel hair and multicolored beads purchased during a late-night shopping spree. He might have created a monster.
"He wants to be the star of the show!" Moring said of Hinky Binky.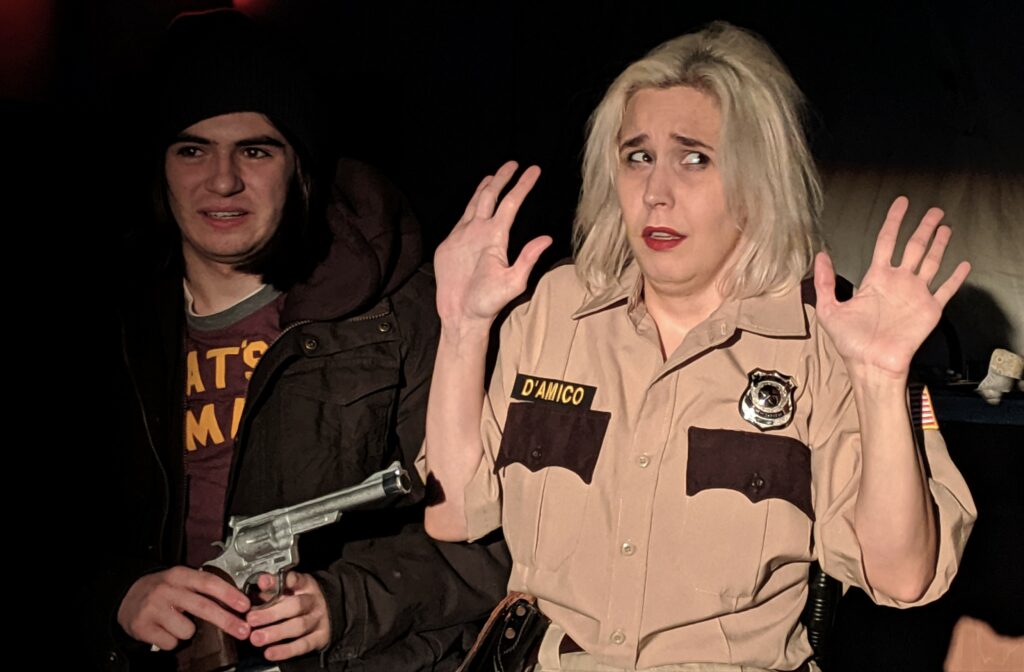 The cast also includes Nick Turner as Richard, Jacquie Garvey as Gertie, Alex Setlow as Kenny and Rachel Cockrell as Heidi. Only Cockrell has performed previously at Actors' Warehouse, performing recently in Under a Liar's Moon and The Colored Door at the Train Depot.
Graves, meanwhile, is making her Actors' Warehouse debut in Fuddy Meers. She recently starred in Bloody Poetry at the Acrosstown Repertory Theatre, where she also directed Into the Woods last fall.
According to Graves, what makes Claire so engaging is that she's the only character in Fuddy Meers not pretending to be someone else.
"I think we all kind of have guards that we put up and we try to make ourselves seem better than what we are," Graves said. "In this play, the only person who really can't be who she is is Claire. It's very confusing for her."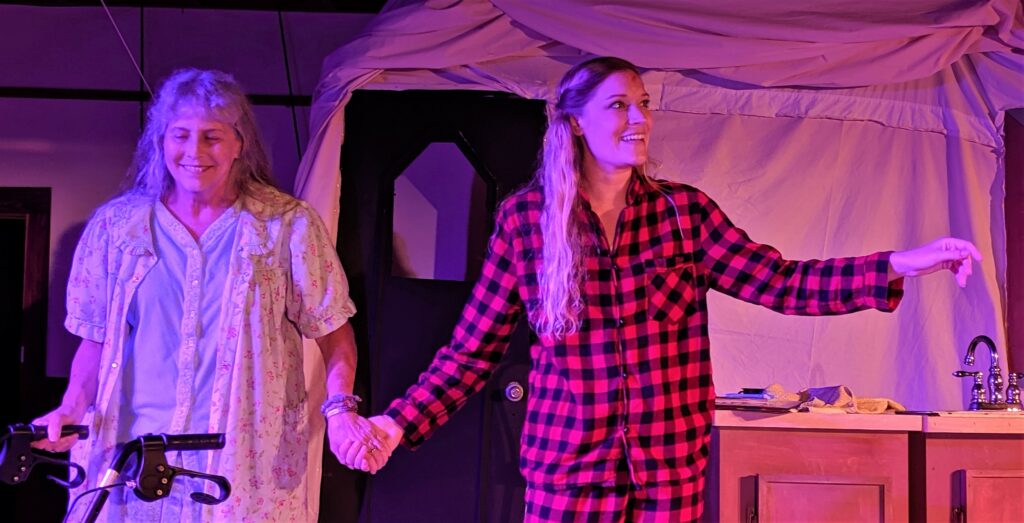 Claire's rare form of amnesia really does exist, Graves said. It's often the result of a traumatic event.
"When she loses her memory, she's joyful because she doesn't remember all those horrible things that happened to her," Graves said. "As she starts remembering her past, everything starts getting a little more darker and emotional. …
"Underneath it all, she is very good and she really wants to understand who she was so she can continue being good."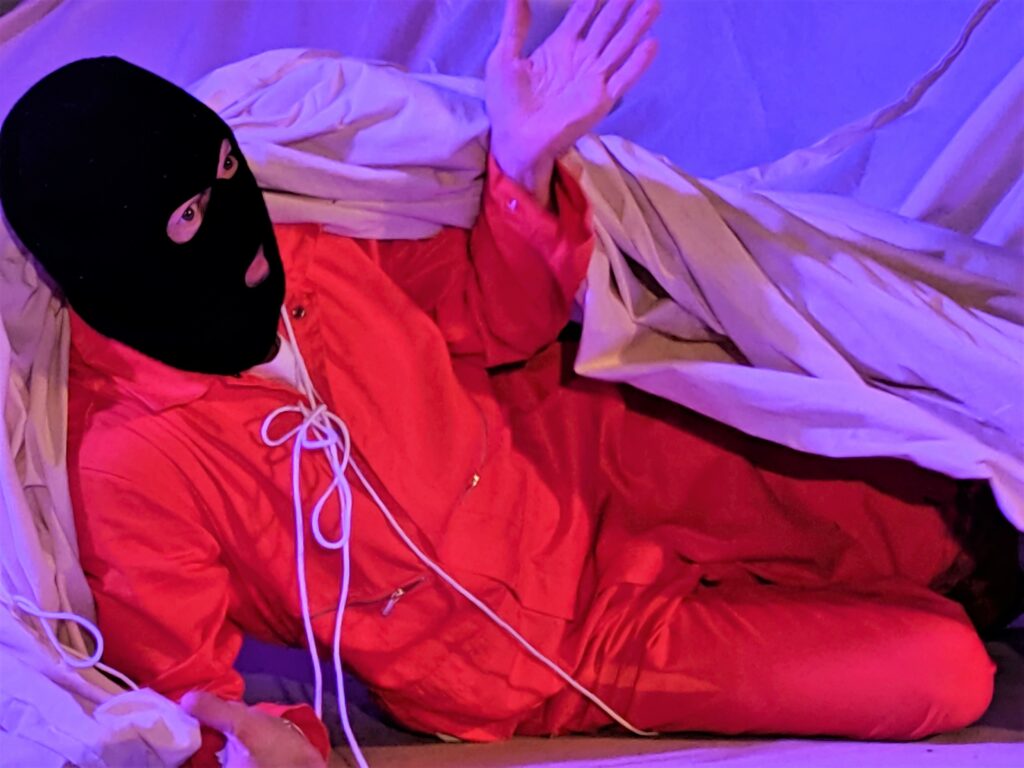 Byrne suggested Fuddy Meers after Actors' Warehouse artistic director Steven H. Butler asked her to find "something funny" to end the season.
"I went on a mission to find something that was lighter," she said. "I read Fuddy Meers and thought it was quirky and different."
The set design for Fuddy Meers is unique in that a white canvas curtain shrouds the more traditional elements of the set during certain scenes to create a surreal effect. Byrne and Butler enlisted Peta Mckenna and Samantha Lewis, both MFA candidates in set design at UF, to achieve the look.
By the way, the title of the play is based on how stroke victim Gertie struggles to pronounce "funny mirrors" when she reminisces about a carnival's funhouse.
"In a way, the title represents the way things aren't very clear visually or audibly," Byrne said.
— Noel Leroux
---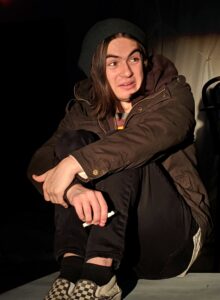 Fuddy Meers
at Actors' Warehouse
619 NE 1st St.
Gainesville, FL 32619
Performances: Thursday, Friday and Saturday at 8 p.m., Sunday at 3 p.m. through Aug. 11.
Tickets: $20 general admission; $15 students and seniors.
For further info, visit the Actors' Warehouse website.
Let us know what you think about the play by posting a comment in the Leave a Reply section below.