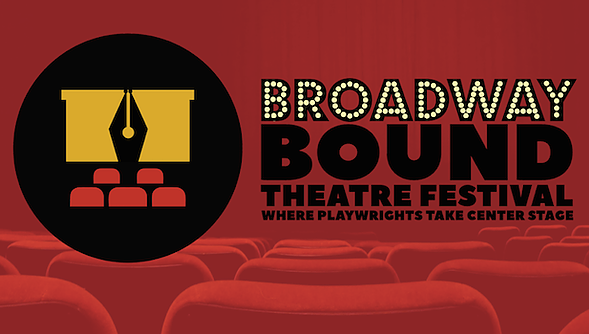 The Gainesville area residents are among 18 playwrights from around the country whose plays have been selected for the 2019 Broadway Bound Theatre Festival.
---
Michael Presley Bobbitt has done it again. Esteban R. Alvarez III is ready to do it the first time.
The two Gainesville men, both active in the local theater scene for years, have been chosen to produce new plays they've written at the Broadway Bound Theatre Festival that begins in late July in New York City.
"It is a remarkable feat for two Gainesville playwrights to have made it through so many hundreds of scripts from around the world and into the festival," Bobbitt said.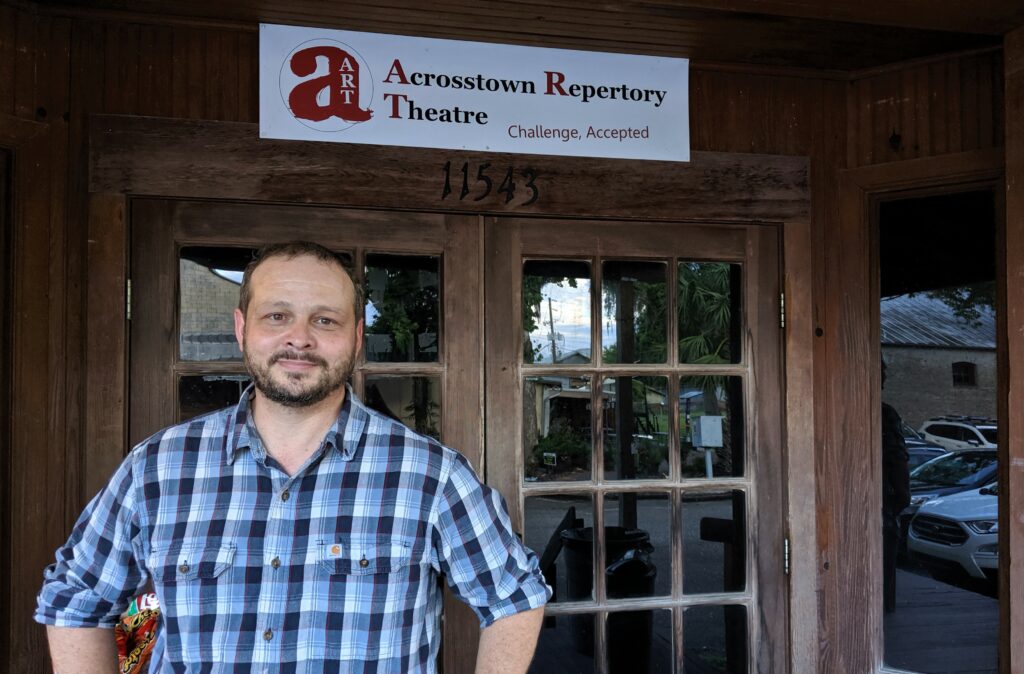 One year after his play Sunset Village debuted at the Broadway Bound Theatre Festival, Bobbitt is returning to New York City with Florida Man, which pokes even more fun at our beloved Sunshine State.
In Florida Man, Bobbitt tells the story of a young Florida man who, racked by guilt, digs up his dead father to give him the proper Viking funeral he always wanted. The play's title is borrowed from the "Florida Man" phenomenon in which almost-daily headlines draw attention to the bizarre and often criminal behavior of men who happen to reside in the state.
Bobbitt had originally titled his work Digging Up My Father, but then had an epiphany.
"When I realized these characters I'd written were from the 'Florida Man' universe and decided to change the name, suddenly everyone on Earth was interested!" he said.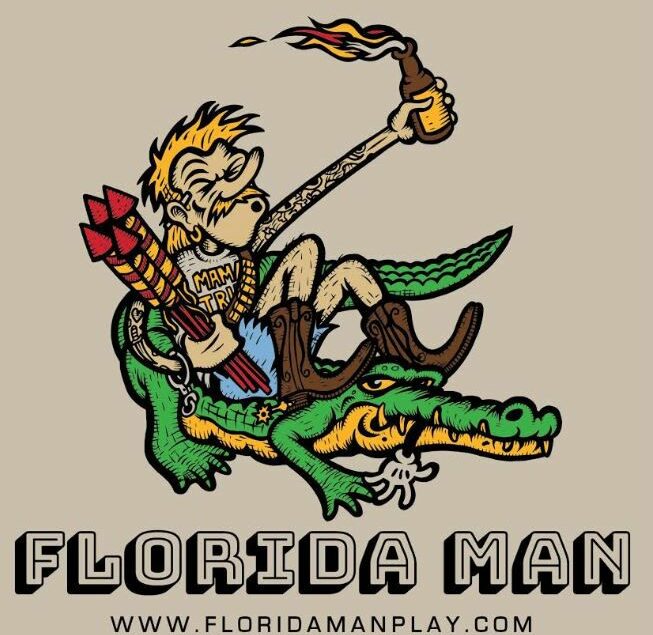 Unlike Sunset Village, which included a Gainesville-based cast and crew, Florida Man will be performed by Equity actors based in New York City. The play debuts on July 31 at 2 p.m. at The Lion Theatre at Theatre Row, the renowned Off-Broadway performance center a few blocks from Times Square. There will also be performances of Florida Man on Aug. 1 at 5 p.m. and Aug. 3 at 8 p.m. at the same venue.
Meanwhile, Alvarez will make his debut in the Broadway Bound Theatre Festival with Just Outside the Door. The play also opens July 31, at 5 p.m., and will also be performed Aug. 1 at 8 p.m. and Aug. 2 at 2 p.m.
In Just Outside the Door, a desperate man kidnaps his dying grandmother, Abuela, in order to save her, but must learn to cope with depression, grief and self-acceptance before it's too late.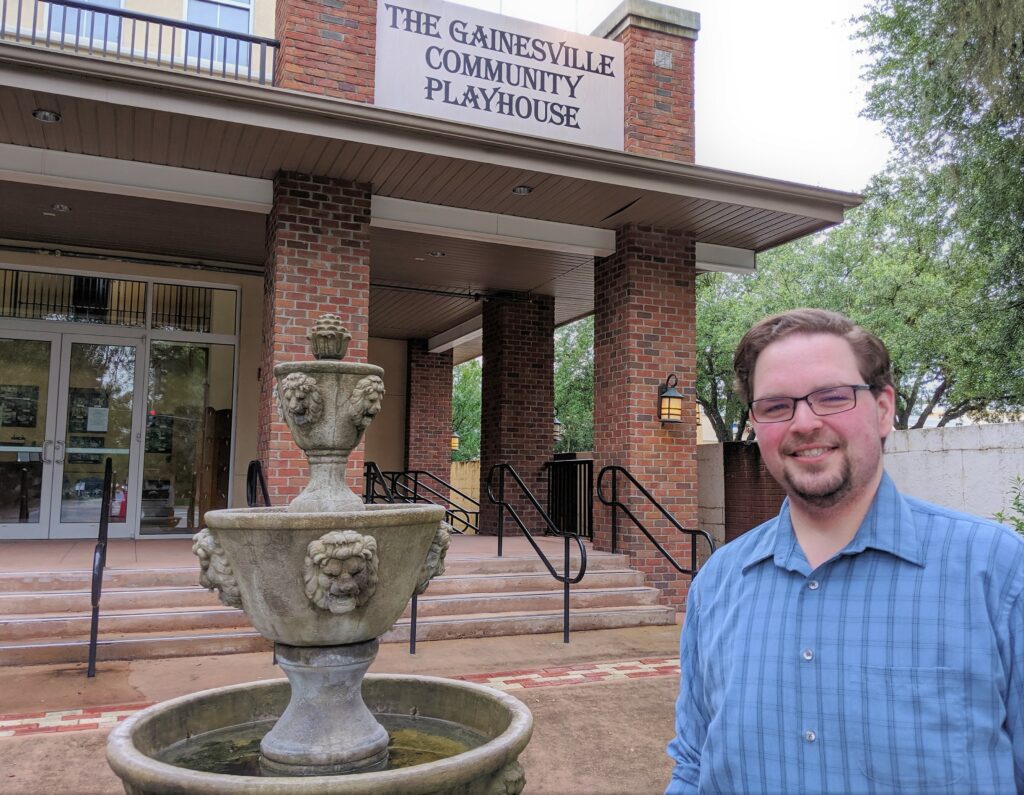 "The play then takes place over the following five days and how they interact with each other," Alvarez said. "The grandson [Robert] takes her to an acupuncture place, gives her a healing crystal, and does everything he can to try to save her."
The play's theme apparently struck a chord with the Broadway Bound Theatre Festival's selection committee.
"Esteban's play is a tightly written story from an obviously skilled playwright," a committee member wrote. "It's sweet but also a little sad, tempered with humor in the most human kind of way. A really delightful work."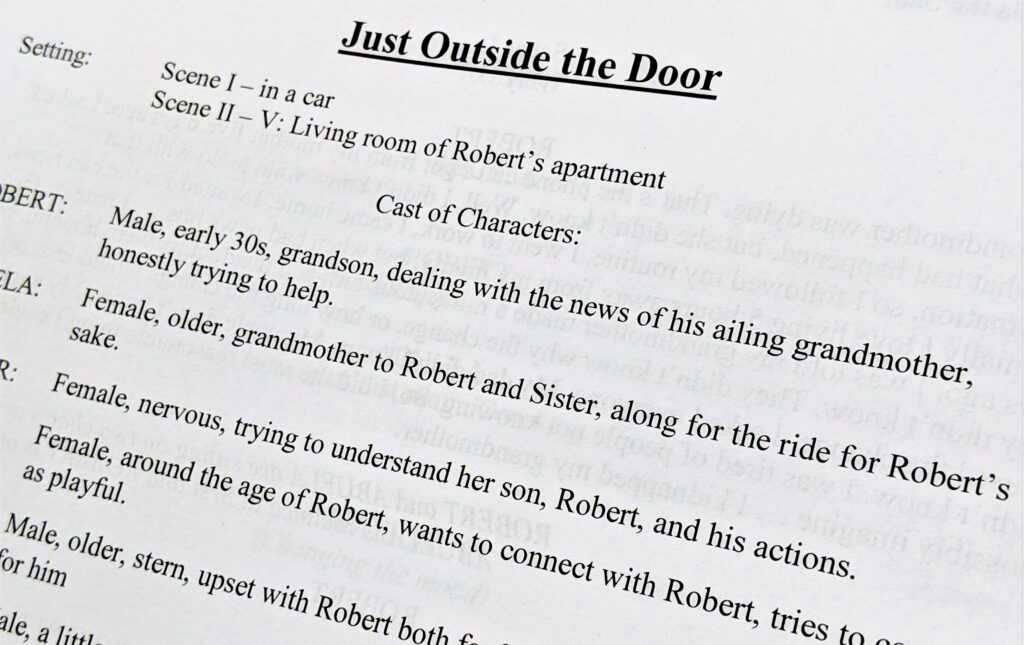 Although Just Outside the Door is a work of fiction, Alvarez said he drew on personal experiences to write the story.
"The inspiration for the show came from my grandfather, actually," the playwright said. "He had passed away and, for whatever reason, we never had a funeral or anything like that. I was clearly dealing with a lack of closure.
"I kept dreaming that I would have conversations with him. This would result in me waking up and thinking he was fine … only to then remember he wasn't. I took that experience and did what I do. I wrote."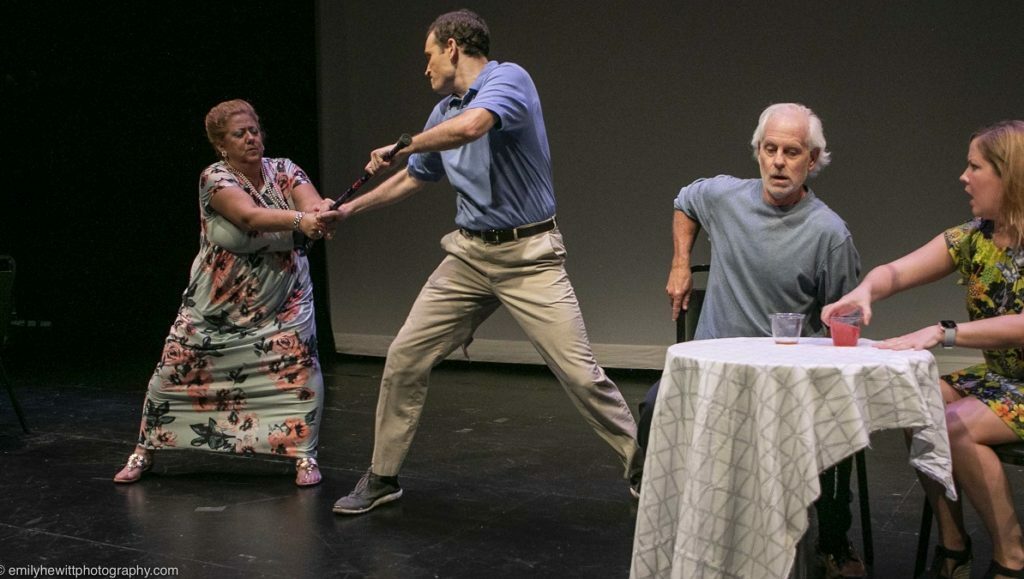 Bobbitt received critical praise from Sunset Village, about an oversexed retirement community, after last year's Broadway Bound Theater Festival. The play was directed by Tom Miller and featured an all-Gainesville cast at New York's 14th Street Y.
After making its world premiere in New York City, Sunset Village enjoyed three weeks of sold-out performances last fall at the Acrosstown Repertory Theatre in downtown Gainesville. It was so popular, in fact, that the Gainesville Community Playhouse will do a Sunset Village revival for its 2019-20 season-opening production Sept. 13-29.
Florida Man continues Bobbitt's string of plays that examine the quirkiness and absurdities associated with the Sunshine State. He also wrote Trailer Park Elegy, about the manager of a Florida trailer park who discovers the ashes of a dead woman on a shelf in a storage shed.
"It's my thing to disarm the audience with a little absurdity and outlandishness, and then hit them with the heavier human issues," he said. "I want to share about people and places you're not like to encounter in real life but in whose reflection hopefully you can see some of your own struggles — and triumphs."

In his day job as a commercial real estate appraiser, Bobbitt travels extensively around the state of Florida. Despite the title of his newest play, he thinks the "Florida Man" headlines do a disservice to the state he loves so dearly.
"Florida gets a bad rap," Bobbitt said. "I'm not convinced we're exceptionally weirder than other places, but we just have open public-record laws that make it easy for the media to find out about all the strange stuff that goes on."
To raise the $5,000 or so needed to produce Florida Man at the Broadway Bound Theatre Festival, Bobbitt is selling custom-designed "Florida Man" T-shirts for $20 each through his Florida Man website.
Local audiences will be able to see Florida Man this fall when it is performed at the Acrosstown Repertory Theatre Oct. 25-Nov. 10.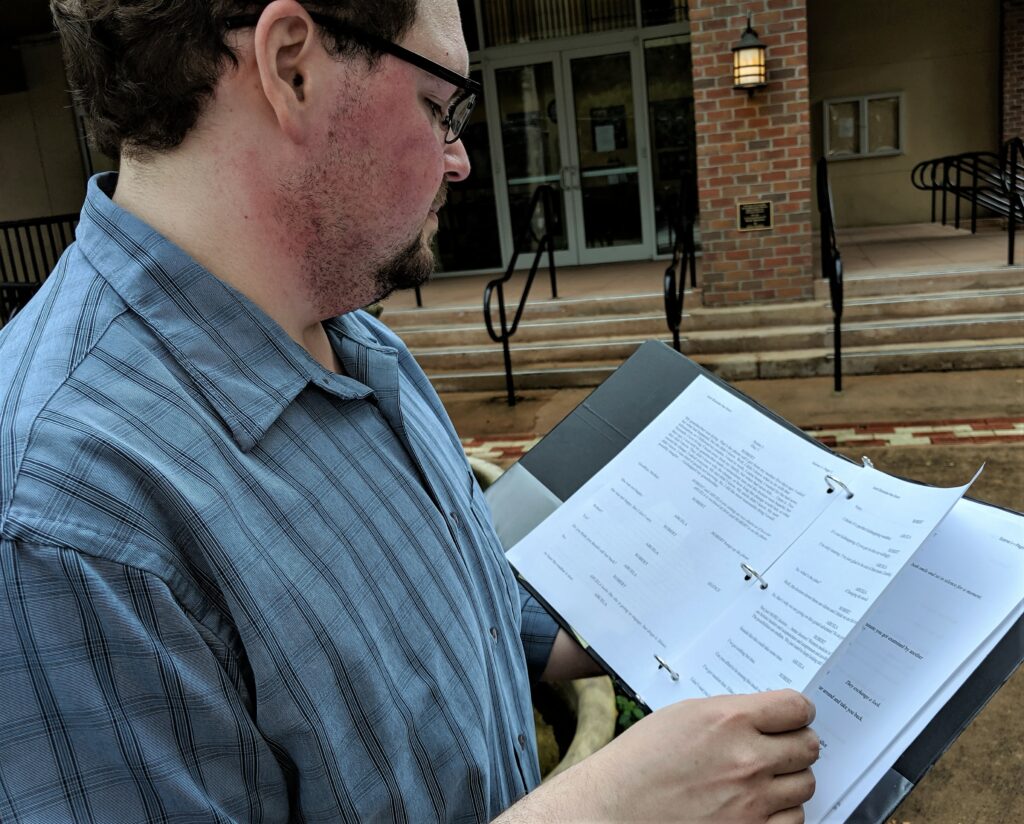 Alvarez said he needs to raise at least $6,500 in the next six weeks to produce Just Outside the Door.
"That will pay for staff and actors, production costs, rehearsal space, insurance, graphics and everything else you can possibly imagine is needed to put on a show in New York," he said. "I have never had to produce my work before, so I think that has been the most challenging part of this experience."
Alvarez is going the crowdfunding route and hoping the Gainesville community supports his efforts. To make a donation, visit his Indiegogopage page.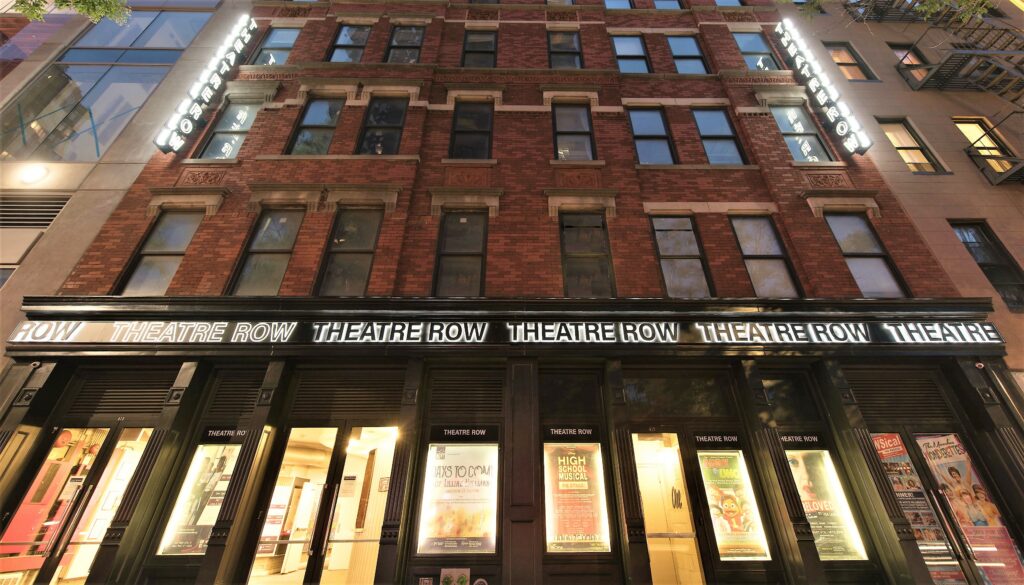 Alvarez just recently had his original two-act play, Ins & Outs, performed at the Gainesville Community Playhouse. He also had his first play, Turning Tables, performed at the GCP in 2016.
Writing and directing a play in Gainesville is a nice accomplishment, but producing a play in the theater capital of the world is every playwright's dream, he said.
"I think it took me a couple of days to really grasp the fact that my work was going to make it to New York," he said.
Oh, and there's one more thing.
"I think the most interesting thing about this entire experience is, I've never been to New York before," Alvarez said. "As much as I love theater, I've never made it up there. So, I think it is amazing that the first time I will be in New York is to watch a production of my own work. It still boggles the mind."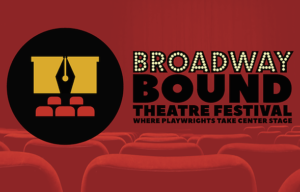 For further info about tickets, visit the Broadway Bound Theatre Festival website.