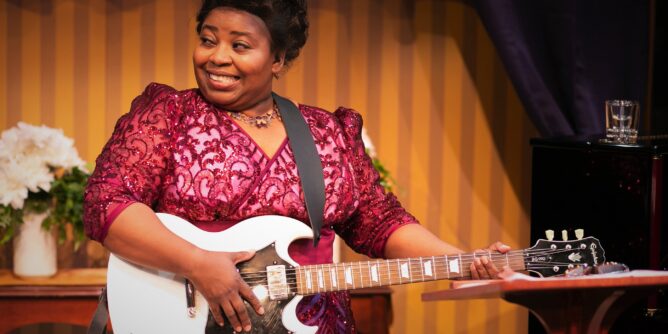 The newest play at the Hippodrome Theatre offers a glimpse into the life of a gospel singer whose guitar riffs influenced rock and roll.
---
Sister Rosetta Tharpe had a heavenly voice, but she was no angel. And despite her stage name, she certainly wasn't a nun.
Praise the Lord!
If Tharpe had been only a guitar-swinging gospel singer, she still would've been famous. But her crossover into New Orleans jazz and rhythm and blues — and ultimately the influence she had on rock and roll — made her a music legend.
Tharpe's rise to fame is at the center of Marie and Rosetta, currently running on the mainstage at the Hippodrome Theatre. There are performances Tuesday, Wednesday and Thursday at 7 p.m., Friday at 8 p.m., Saturday at 2 p.m. and 8 p.m., and Sunday at 2 p.m. through March 22.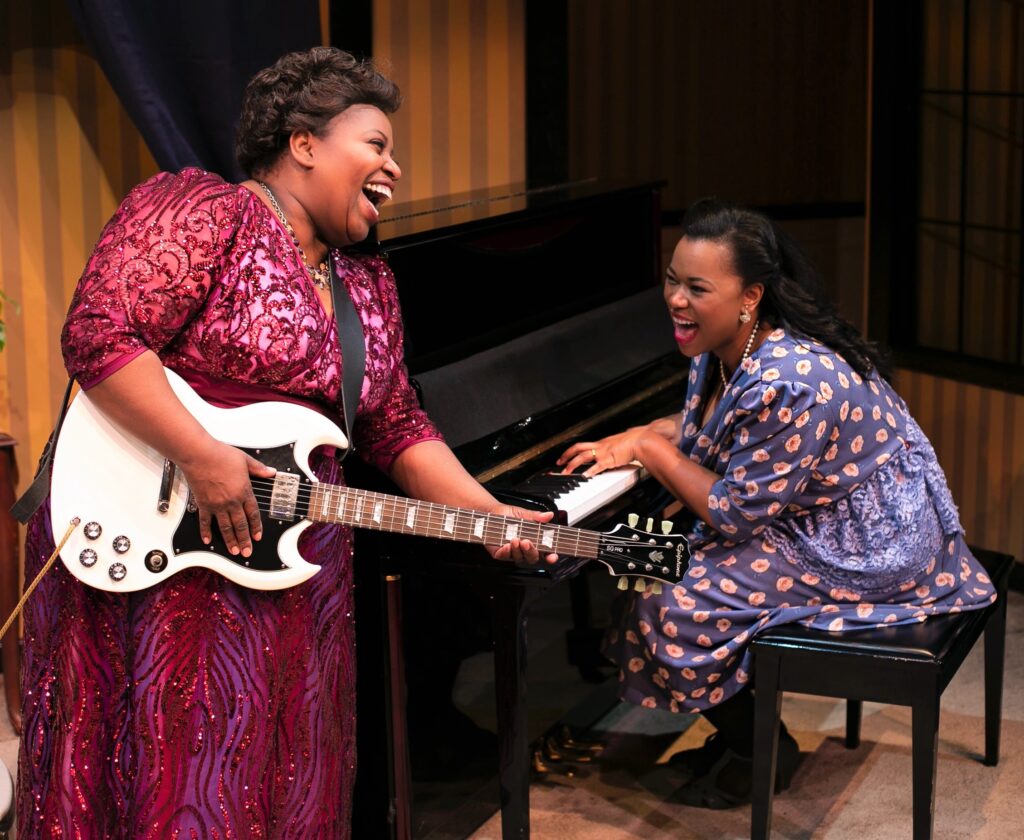 In the musical, Illeana Kirven plays Tharpe and Hillary Scales-Lewis plays Marie Knight, Tharpe's young protégée. The two actors performed the show to sold-out audiences in January and February at the freeFall Theatre Company in St. Petersburg. Now, through a unique collaboration with the Hippodrome, they're entertaining Gainesville audiences with their acting abilities, powerful singing voices and musical skills.
If you enjoyed last summer's Million Dollar Quartet (and pretty much everyone did) on the Hipp's mainstage, you will appreciate the much lower-key jam session in Marie and Rosetta.
The play takes place on a single day in 1946. The unlikely setting is a casket-lined funeral parlor in Mississippi. In the Jim Crow South, the solemn backdrop is one of the few places a traveling entertainer of color — even with Tharpe's notoriety — is welcome as an overnight guest.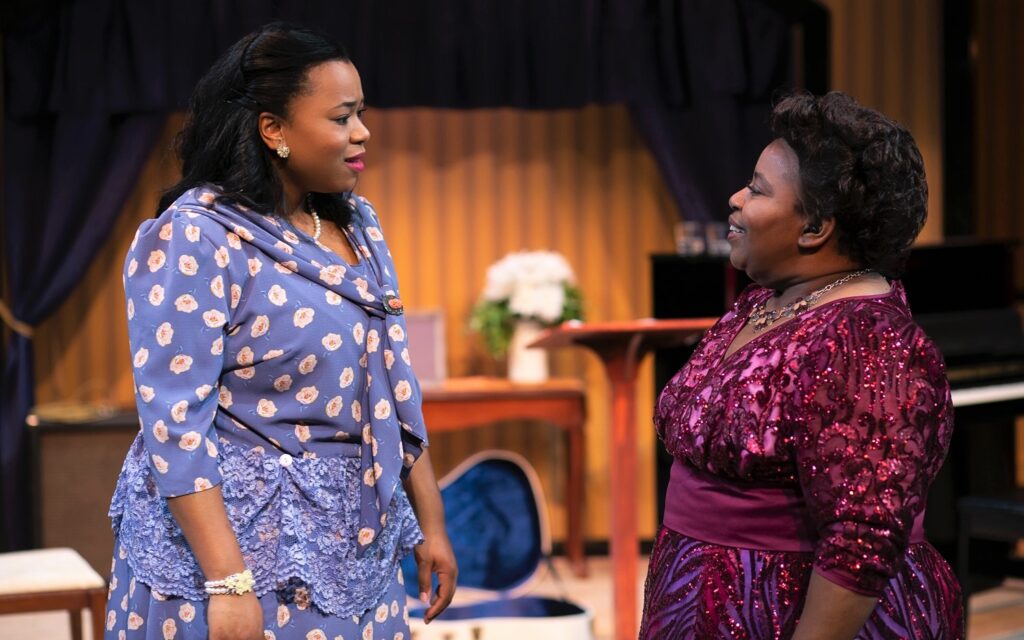 Tharpe, already an established musician, and Knight, an up-and-coming performer, are meeting for the first time. Tharpe wants to take Knight under her wings to form a duo that will redefine gospel music.
"I been in exile for too long," Tharpe tells Knight. "Those gospel gates got locked behind me when I went out into the nightclubs. Time for them to swing back open."
Tharpe, however, is also on a mission. She insists that the uptight Knight let loose.
"Your piano's an old maid with a gray tabby on her lap," Tharpe declares. "You need a little more barrelhouse in there. A little more boogie!"
And thus begins a 95-minute performance in which the two women swap stories and trade barbs between "rehearsing" a series of songs made famous by Tharpe. The dozen or so tunes include "This Train," "Didn't It Rain," "Up Above My Head," "I Looked Down the Line" and the bawdy "Four or Five Times."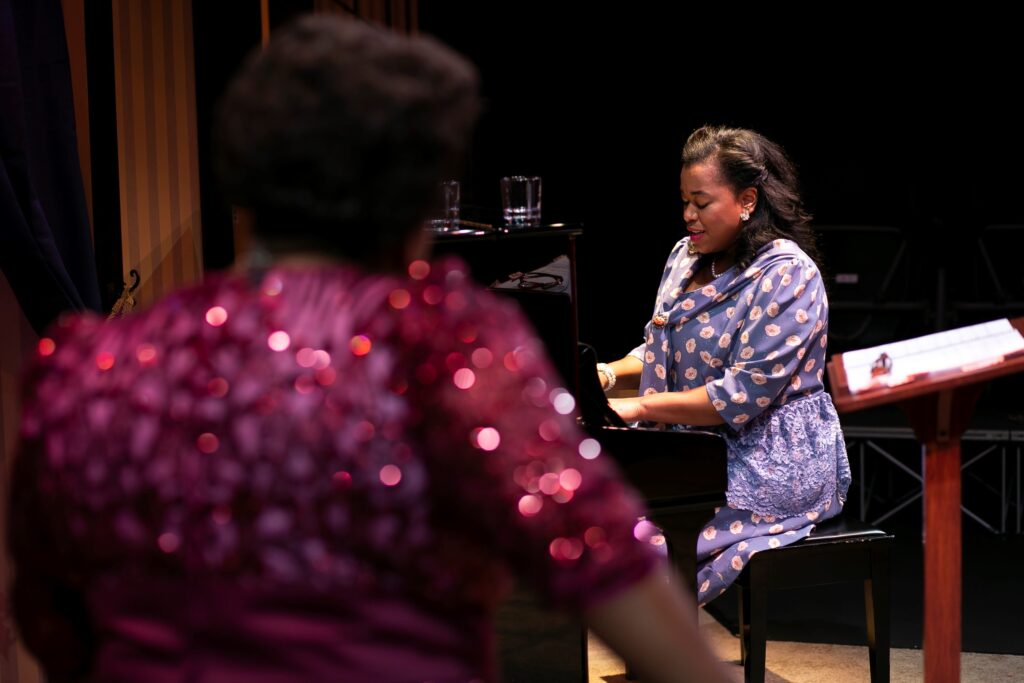 "Growing up in the church, you know some of the music," Scales-Lewis told Bill DeYoung of The St. Pete Catalyst. "Then when I started researching Rosetta's story, and everything about her and Marie, I thought, 'Wow, what an interesting story.' A story that I was never even aware of. It just never came on my radar."
Tharpe, born in Arkansas in 1915 to parents who were cotton pickers and musicians, was already one of the first commercially successful gospel recording artists when she met Knight. The two later began touring together and established themselves as one of the great duos in music history.
"I think it's really cool to have a piece of theater that pays homage to these ladies," Scales-Lewis said.
Kirven was not originally cast in the freeFall Theatre's production of Marie and Rosetta. She was an emergency replacement and had only four days to rehearse the role after driving 20 hours straight from her home in Texas to St. Petersburg.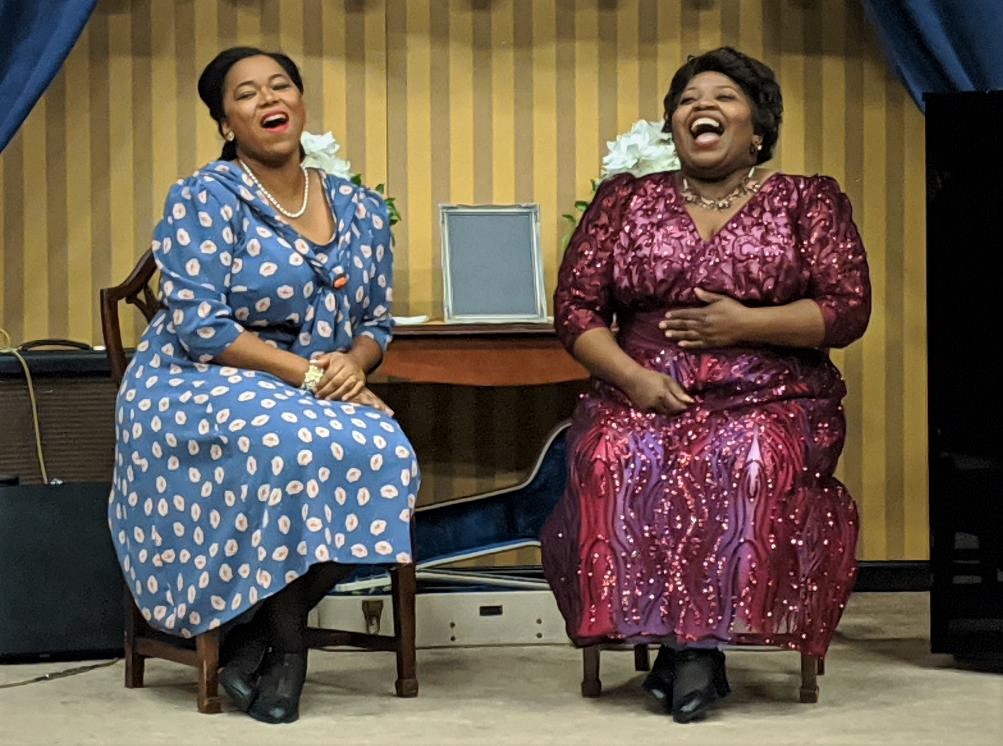 And like the real-life characters they play on stage, Kirven and Scales-Lewis formed a bond.
"I think we hit if off right away," Scales-Lewis said. "She's been the angel. She's been a rock for me."
Kirven admitted that she wasn't familiar with Sister Rosetta Tharpe's full history until she was cast.
"I didn't know she'd played the Cotton Club, those sorts of things," Kirven said. "But I was familiar with the same songs as Hillary, and even hearing them sung in my church growing up. Even today, those songs are so iconic in the church."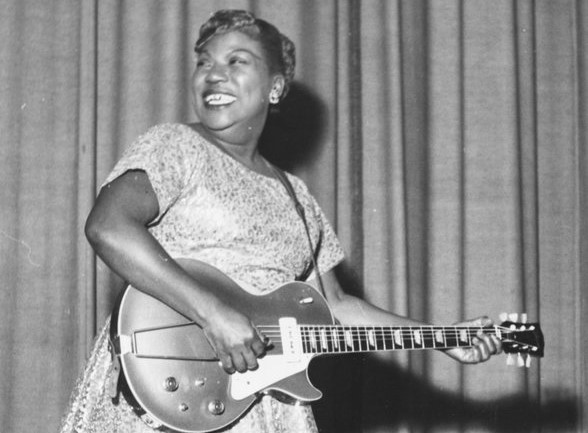 Despite being known as the "Godmother of Rock & Roll," Tharpe's star faded from view. For years after her death in 1973, she was buried in an unmarked grave in Philadelphia.
In recent years, however, Sister Rosetta Tharpe's place in music history has been solidified. The U.S. Postal Service put her on a commemorative stamp in 1998. More recently, in 2018, she was inducted into the Rock & Roll Hall of Fame.
And, of course, George Brant wrote the script for Marie and Rosetta, which debuted off-Broadway in 2016.
Now, Hippodrome audiences are enjoying and embracing the musical force of nature that was Sister Rosetta Tharpe.
— Noel Leroux
---
Marie and Rosetta
Hippodrome Theatre
25 SE 2nd Place
Gainesville, FL 32601
Box office: 352.375.4477
Performances: Tuesday 7 p.m., Wednesday 7 p.m., Thursday 7 p.m., Friday 8 p.m., Saturday 2 p.m. and 8 p.m. and Sunday 2 p.m. (through March 22).
Cast: Illeana Kirven and Hillary Scales-Lewis.
Crew: Lydia Fort (director), Sarah Smiley (stage manager), Tom Hansen (set designer), Amanda Nipper-Yanes (sound engineer), Frank Chavez/Stephanie Parks (costume design), Dalton Hamilton/Robert P. Robins (lighting), Bill Boothman (master electrician), Bert Rodriguez (music director), Warren Goodwin (technical director).
> To purchase tickets and for further info, visit the Hipp website.
> Follow the The Hippodrome on Facebook.
* Please let us know what you think of Marie and Rosetta by providing a comment below.