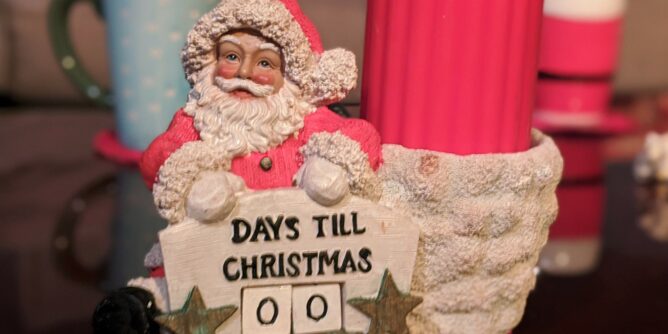 The Acrosstown Repertory Theatre presents an original play by local playwright Robert Hugh Brown that pokes fun at just about every Christmas story ever told.
---
Who can blame Santa Claus for calling it quits and taking up residency in Florida — with his young mistress, no less?
After all, Rudolph is letting the red-nose thing go to his head by hiring an agent, Amazon is stealing a lot of his thunder in the gift-delivery business, Coca-Cola has replaced him with polar bears, and then there are all those new government regulations. Try crossing the border with a sleigh overflowing with toys made by elves in the North Pole and see how far you get.
Saint Nick's frustrations rise to the surface in volcanic glory in Exit Santa, a comedy by Robert Hugh Brown making its world premiere this week at the Acrosstown Repertory Theatre, 619 S. Main St. Opening Night is Thursday at 8. There are also shows Friday and Saturday at 8 p.m. and Sunday at 2 p.m. through Dec. 15.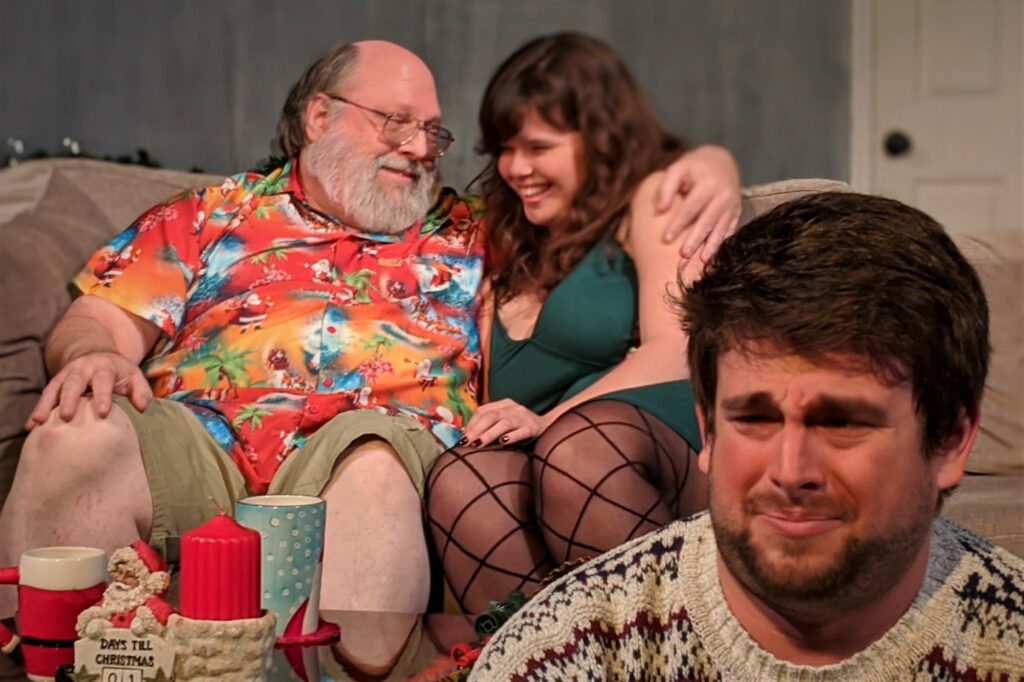 "Santa has decided he's not going to do it anymore," Brown said in explaining his play. "He's going to his condo in Florida to hang out with his mistress and relax, but it's all made impossible by his neighbor and some ghosts that are escapees from some overused Dickens story."
And then there is Mrs. Claus, who's having none of it!
Brown, who lives in Micanopy, not only wrote the play but also stars in the leading role as the snarky and sardonic Kris Kringle.
"I wasn't really intending to jump in and play that part," he said. "I was fully aware I could probably play the role — I fit the role physically. I've spent a lifetime getting ready for this — I'm fat, bald and bearded. Yes!"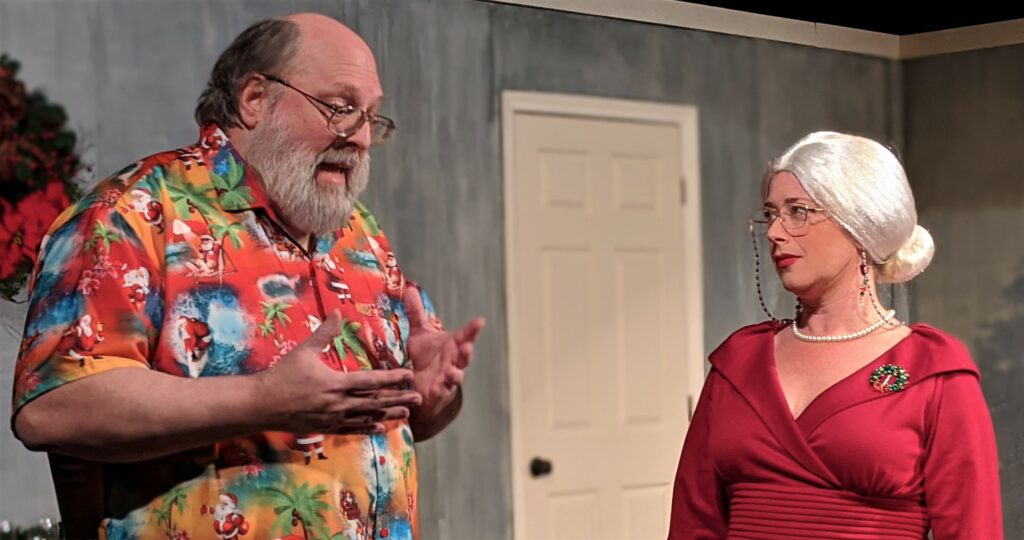 Brown's supporting cast includes Norma Berger as Mrs. Claus, Katherine Wallace as his mistress Virginia, Zachary Simon as Santa's geeky neighbor Dru, and Jennifer Hutton as various ghosts and newscasters that give the show a madcap element.
Anne Rupp Polo, who is co-directing the show with Laura Jackson, said that anyone who has ever stressed out in their job can relate to Santa's situation in Exit Santa.
"Santa is experiencing the same malaise in his job as everyone else," Rupp Polo said. "It doesn't matter if you quit your job, but when you're Santa Claus literally the entire world is depending on you. He's got the weight of the world in his sleigh."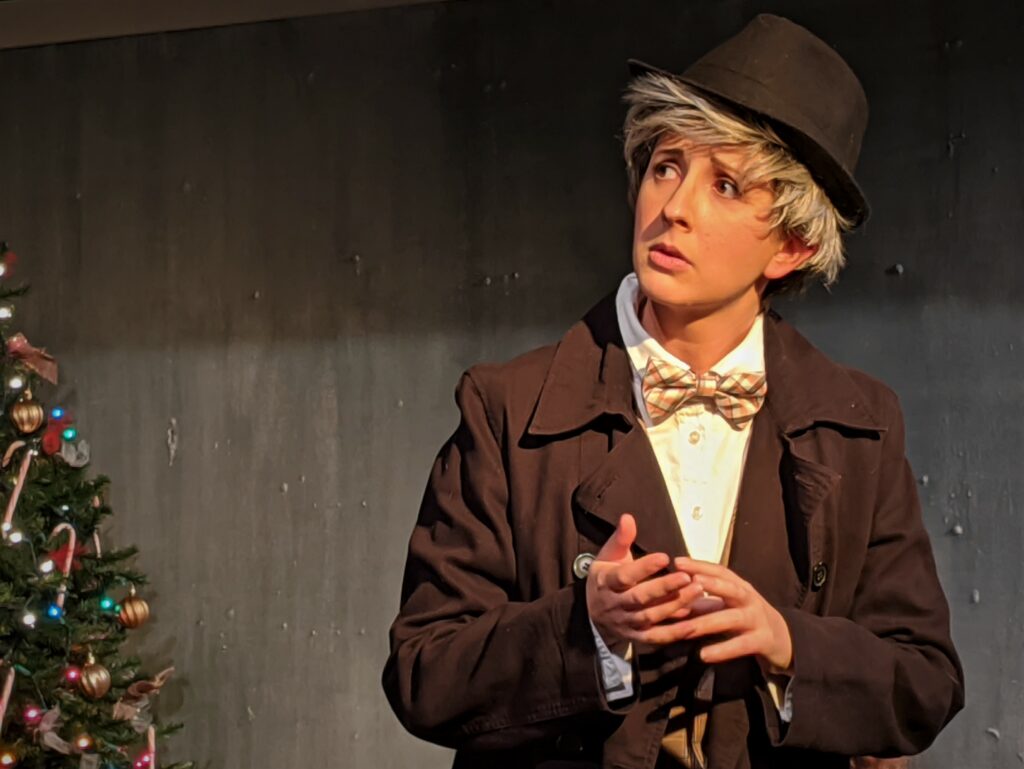 Brown said he got the idea for writing the play last year when he saw all the Christmas-themed stories on TV in a different light. Exit Santa borrows from or mentions everything from "A Christmas Carol" and It's a Wonderful Life to A Charlie Brown Christmas and, yes, the original Diehard.
"I was writing it more as a comment on all these other Christmas stories," he said. "There are a lot of parodies of these various stories in this play. I just wanted to write something funny."
Hutton steals many of the scenes when she arrives at Santa's door as various mashups of ghosts, beginning with the Ghost of Marley the Human-Nosed Reindeer. Her Ghosts of Christmas Past, Present and Future are just as ingenious, each paying homage to a big-screen icon — or notable Bible figure.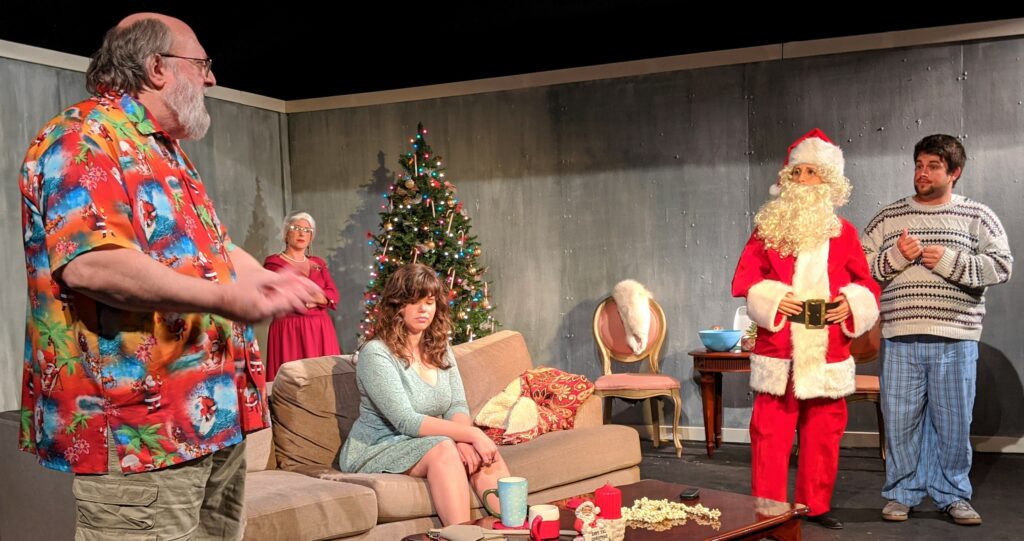 It's Christmas Eve and the clock is ticking. With each annoying appearance by a ghost, Santa is reminded that the children of the world are counting on him. He's also told he's making a big mistake by choosing Virginia over Mrs. Claus.
"I don't need elves, I don't need reindeer, and I don't need her," Santa rants during one scene.
But, yes, he does want Virginia, played with a certain seductiveness by Wallace, who's working on her masters degree in International Business at UF.
"I think Virginia's way smarter than she's first portrayed," Wallace said. "She's figured out a game she can win rather easily to achieve what she wants. At the end of the day, she's still a warmhearted person and not a blood-sucking gold-digger."
Few subjects are taboo in this PG-13 rated show. Santa might even drop an f-bomb.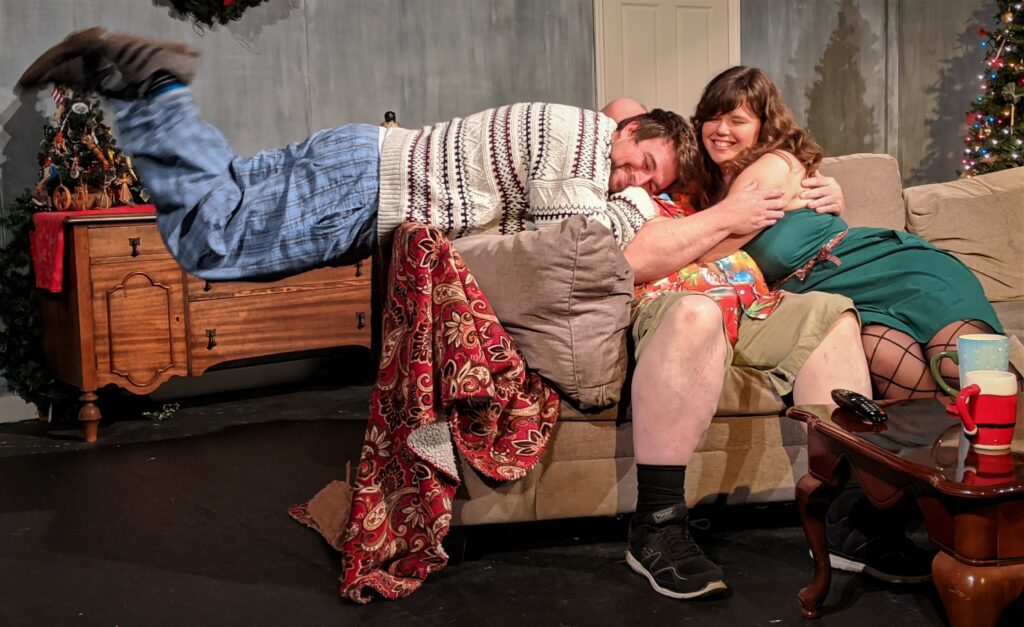 Brown's witty script is filled with one-liners, zingers and obscure pop-culture references on everything from Handmaid's Tale to Hollywood flop Hudson Hawk. Even a MAGA hat makes an appearance in a hilarious, rapid-fire news roundup performed by Hutton to start the second act.
"I like that he pokes fun at all the Christmas movies and the tropes," said Jackson, an Acrosstown board member who pushed for Brown's script to be developed into a play. "I was pleasantly surprised when I first read it. It was very original and very funny."
And, Rupp Polo added: "One of the cornerstones of the Acrosstown is supporting local talent."
This is the first time in several years the ART has staged a Christmas-themed play. In recent years, the theater has used the pre-holiday slot to stage the Gainesville Homegrown Local Playwrights' Showcase. However, that five-day event has been pushed back to next May.
By the way, there are adult situations in Exit Santa that children under 17 might not understand.
"It's not a kid's show — you wouldn't expect that at the Acrosstown," Brown said. "But, after a few detours, it ultimately affirms the Christmas spirit."
Ho! Ho! Ho!
— Noel Leroux
---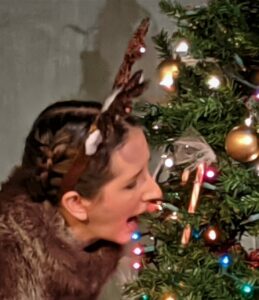 Exit Santa
Acrosstown Repertory Theatre
619 S. Main St.
(in the Historic Baird Center)
Gainesville, FL 32601
Performances: Thursday through Saturday at 8 p.m., Sunday at 2 p.m., through Dec. 15.

Tickets: $20 ($15 for students, seniors and military)