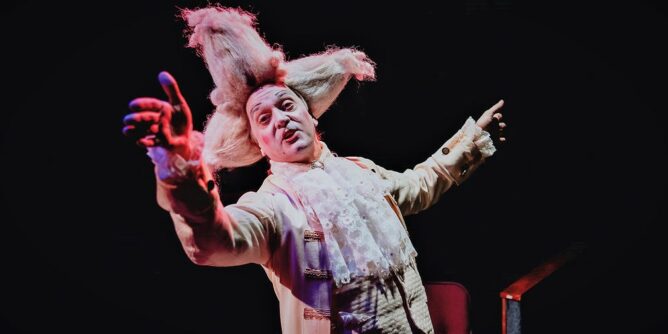 Stephanie Parks is responsible for everything everyone wears in the Hipp's productions of "Scrooge in Rouge" and "A Christmas Carol."
---
If you've seen a performance of Scrooge in Rouge on the Hippodrome Theatre's mainstage this holiday season, you've probably noticed some quick-change artists at work.
In fact, the three primary actors in the production undergo 49 costume changes during each performance, in some cases leaving the stage and seamlessly reappearing moments later as a totally different character.
That's because backstage — and sometimes downstage, behind the audience — a well-organized team of dressers is hustling to help actors change from one costume into the next with split-second precision.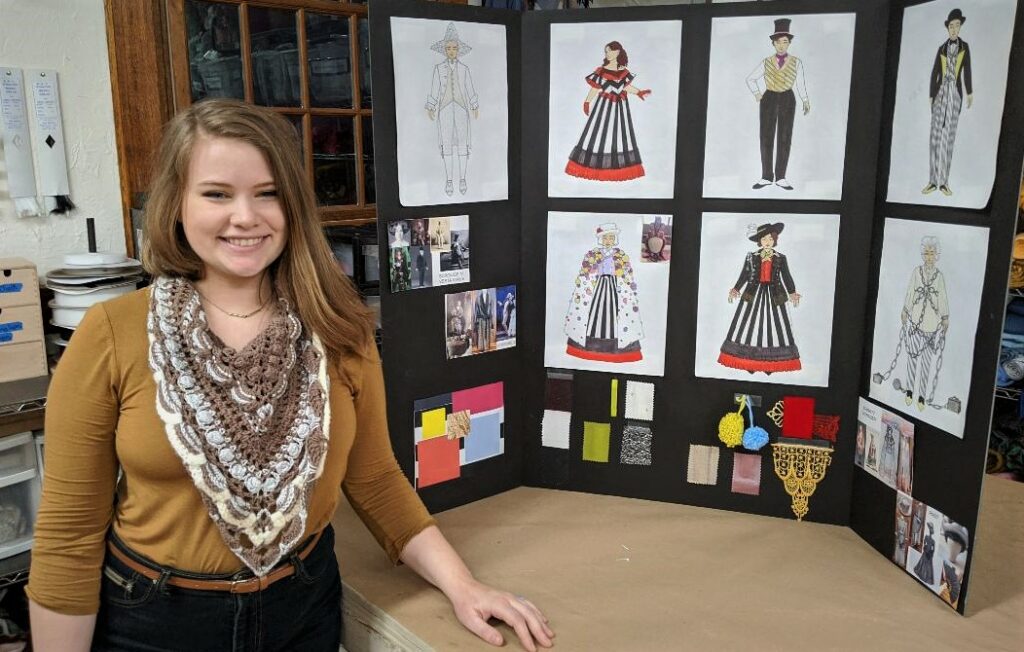 "Plenty can go wrong, but it's about thinking on your feet," said Stephanie Parks, who directs the Hippodrome's costume department. "Some nights things seem perfect and other nights everything goes wrong, but our stagehands are incredible. They solve difficult problems at the drop of a hat every night."
For example, only minutes before a recent performance of Scrooge in Rouge, actor Kelly Atkins discovered the fly on her Ebenezer Scrooge trousers had popped open. Delaying the start of the show to fix the broken zipper was not an option.
"I had to rush in there and come up with a solution," said Katrina Lundquist, the show's wardrobe supervisor.
In less than 10 minutes, Lundquist had attached temporary snaps to the pants. Although the snaps eventually popped open on stage, audience members didn't seem to notice as the actors pushed on through their nonstop antics.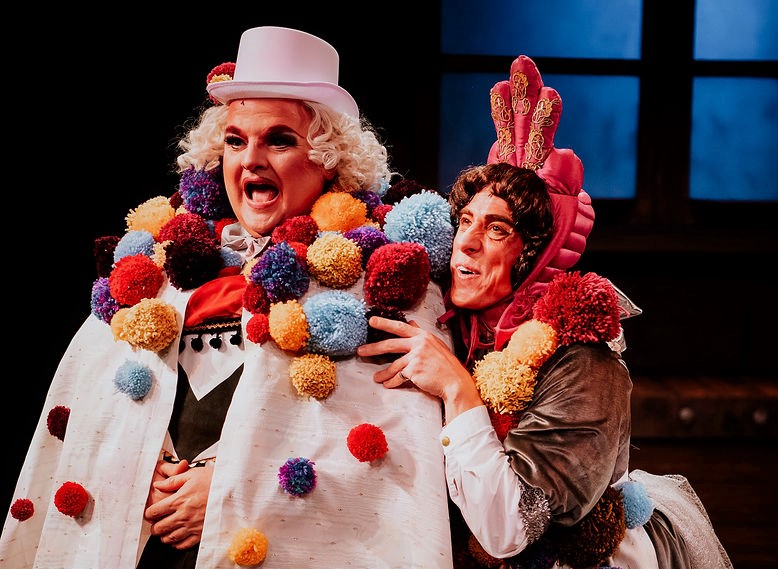 Parks, 29, said the on-stage high jinks of Scrooge in Rouge mirror the frenetic activity going on behind the scenes.
"It's a ballet back here the whole show," Parks said during a recent tour of the Hippodrome's backstage area with gainesvilledowntown.com. "There's a whole other show happening that the audience doesn't see."
She added: "If people could see everything that goes on back here, they would be shocked."
In a good way, of course.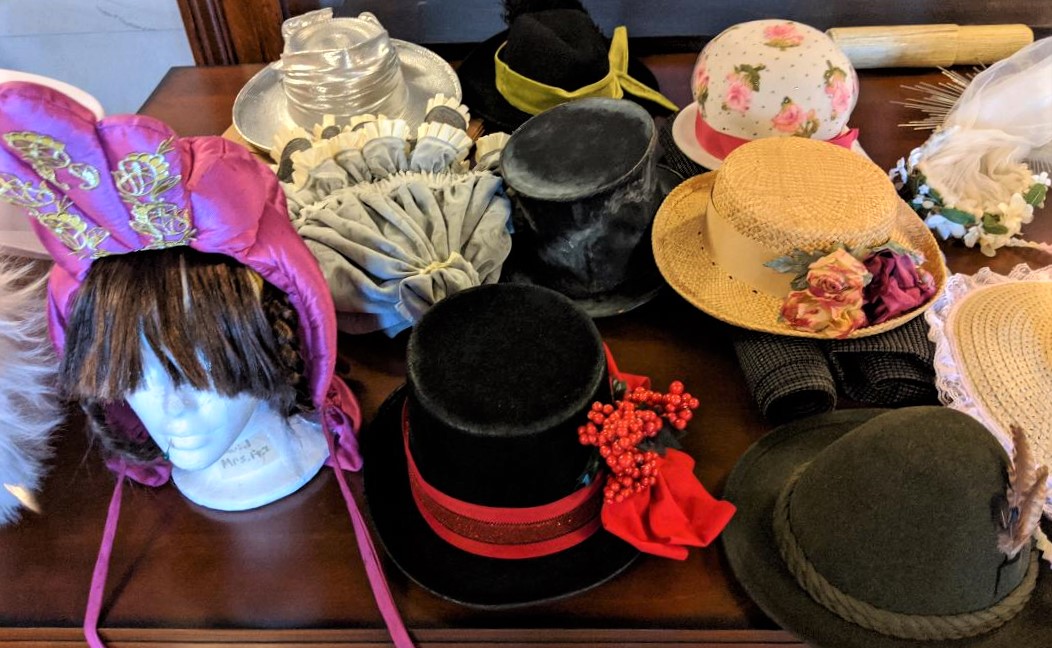 Parks is the Hippodrome's full-time costume designer and costume shop supervisor, overseeing a small staff and several volunteer seamstresses. This holiday season has been particularly challenging for Parks — and everyone at the Hippodrome, for that matter — with Scrooge in Rouge and a whole new adaptation of A Christmas Carol.
The two shows involve a total of 30 performers, each requiring a costume custom fitted to his or her shape and size. In many cases, especially with Scrooge in Rouge, actors wear numerous outfits Parks designed and created specifically for the show.
"A lot of people don't know what a costume designer really does," said Parks, who arrived at the Hippodrome in 2018. "Every single thing about what the actor looks like on stage, I make the final call. Everything I do evolves based on conversations I have with the actors and the director."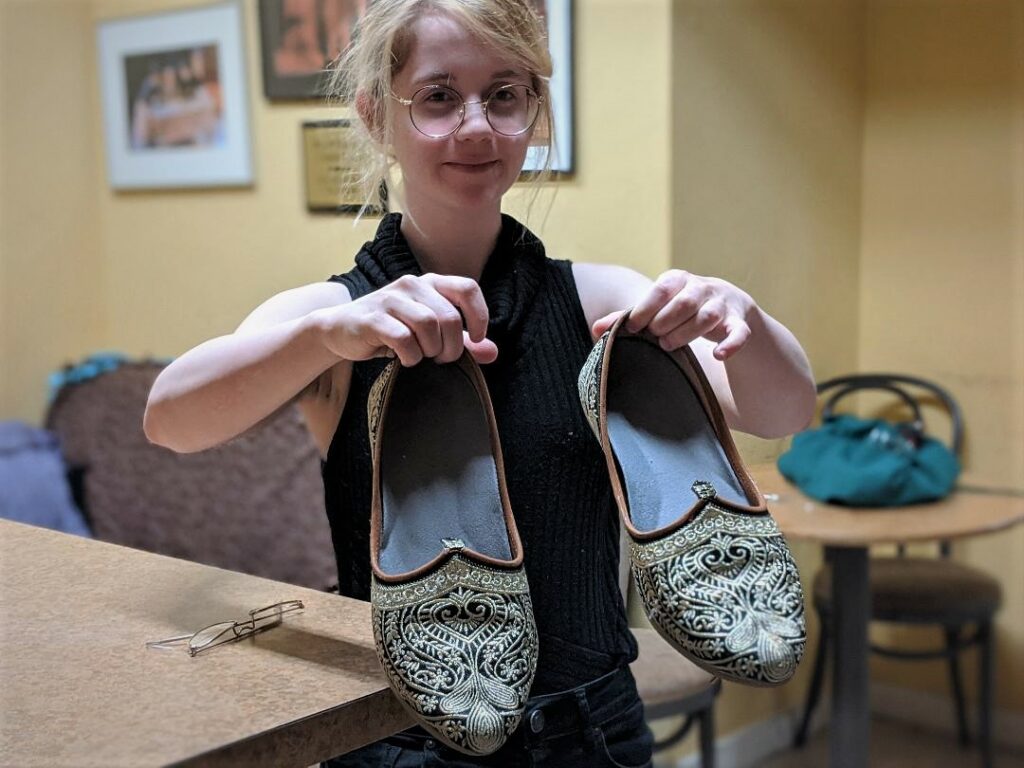 Parks began planning for Scrooge in Rouge in September, while the theater was staging A Curious Incident of the Dog in the Night-Time and was in rehearsals for The Blameless. She started by reading and researching the play to envision the characters. Then Parks began rendering costumes in the style of a British music hall during the Victorian era.
"Usually I start with the colors because that's what will inform the scenic, lighting and props designers," she said. "We have a production meeting every week to discuss everything. The wheels are always turning."
For Scrooge in Rouge, which relies on visually stunning costumes to tell the story of a play within a play, Parks was excited to get started.
"This is the first opportunity I've had to let loose since I've been here," she said. "I wanted to have fun!"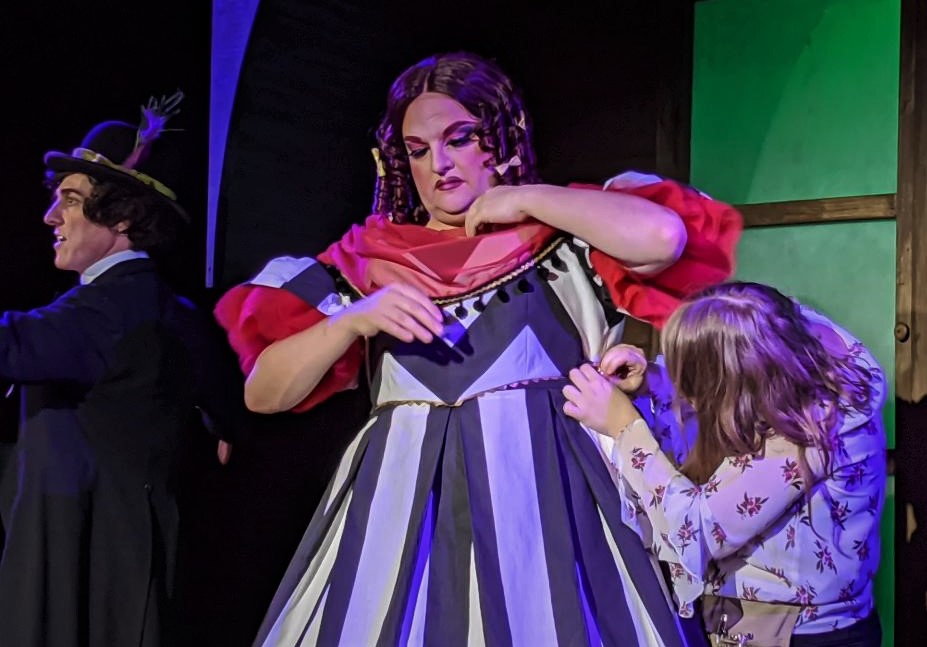 There's little doubt that the centerpiece of Scrooge in Rouge is the clothing ensemble worn by Lottie Obbligato, the eccentric female actor played with perfect slapstick timing by 6-foot-2 Matthew McGee.
"I reached out early to Matthew for his measurements, as well as the other actors," Parks said. "I designed the garments and made the patterns based on those measurements. I try to have everything ready for a fitting when the actors arrive for their first rehearsals, then I tweak the costume based on each actor's vision of their character."
McGee, a Tampa-based actor making his Hippodrome debut, referred to wardrobe supervisor Lundquist as his "little cherub" for the assistance she provides him backstage during each show.
"Katrina is my dresser and she's so sweet," McGee said. "We were doing a fitting and she goes 'You're really tall.' And I'm like 'Yes, yes. Sorry!'"
Then he added: "I would love for people to be able see what happens backstage as she pops up and down to get my wig on. … Bless her heart!"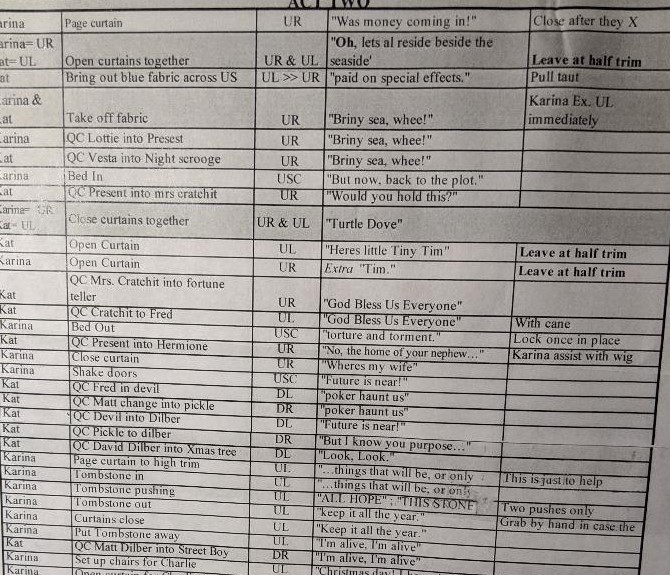 In fact, many of McGee's costume changes take place in the cramped wings only inches beyond the stage curtain. Lottie's many outfits and accessories are laid across the backs of chairs in the order they will be worn.
"I'm there making sure they're in the costume when they need to be in it," Lundquist said.
Also, all headwear, including a dozen or so wigs, and props are organized on nearby tables ready to be swiped on a moment's notice. UV-reactive tape and strips of tiny LED lights, out of the audience's sight lines, help light paths in the otherwise dark backstage area.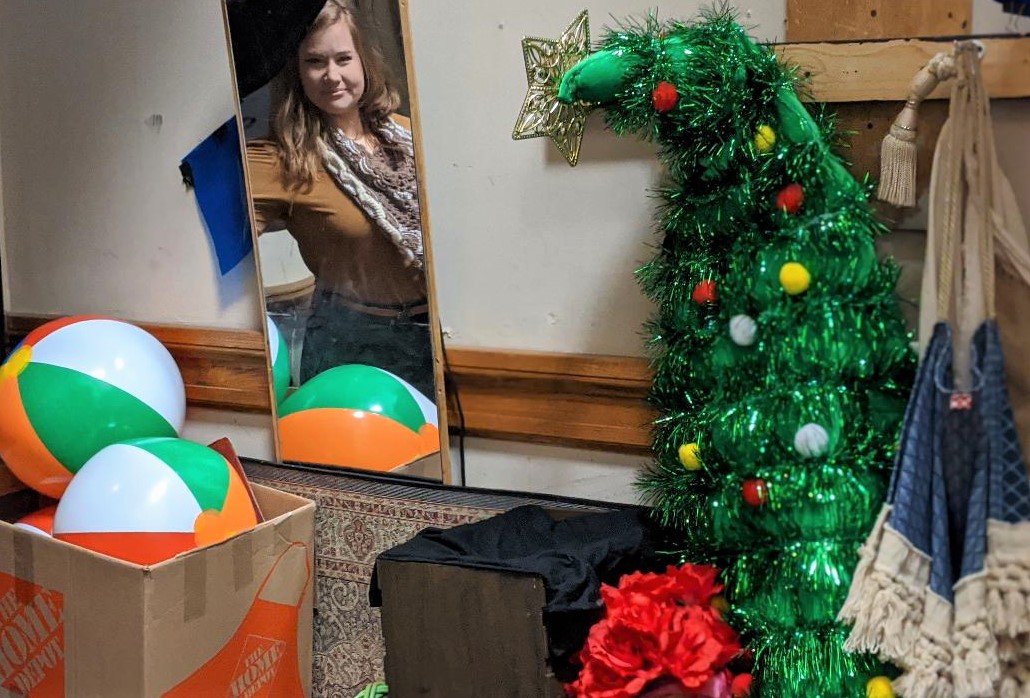 For costume changes that take place downstage, behind where audience members are seated, there are "Voms" located outside either entrance to the auditorium. The cubbyhole-size changing areas are hidden behind tall black curtains until the show begins.
"We make use of every square inch of space," Parks said.
Meanwhile, the location of the Hippodrome's mainstage on the second floor of the 108-year-old building creates certain logistical issues for the costume team.
Four times during each performance of Scrooge in Rouge, Lundquist has to deliver, or "track," costume items or props from the backstage to the downstage area — or assist with costume changes there. There's no passageway from the back of the theater to the front except across the stage, so the journey requires her to scale a long back stairwell, dash down a third-floor hallway and quickly descend another long stairway to reach her destination.
"We've timed it," Parks said. "The record is something like 30 seconds, which is pretty fast!"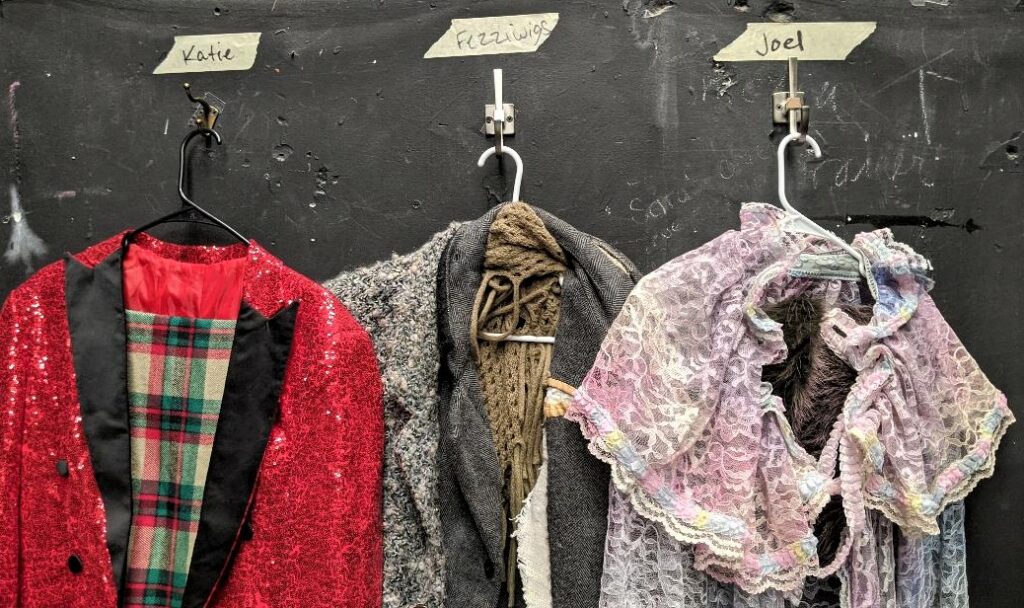 Parks, a Maryland native, started sewing when she was 8 years old and became interested in theatrical costuming while attending Hereford High School outside Baltimore. She designed and made her own prom dresses her junior and senior years.
"My senior year was actually three dresses in one," she said. "It was a transformative dress with a detachable bottom and a detachable corset."
She then earned a degree in fashion design from prestigious Pratt Institute in Brooklyn. The school takes more of a fine-arts approach to fashion than a mass-production, commercial approach.
Parks remained in New York City for two years following graduation. She worked as a technician for Timberlake Studios, a Broadway costume build shop, and worked on pieces for Motown the Musical, the revival of Cinderella and other productions.
Her road to Gainesville also included regional theater stops in Alabama, Vermont and Maryland, where she helped found Submersive Productions, an immersive theater company.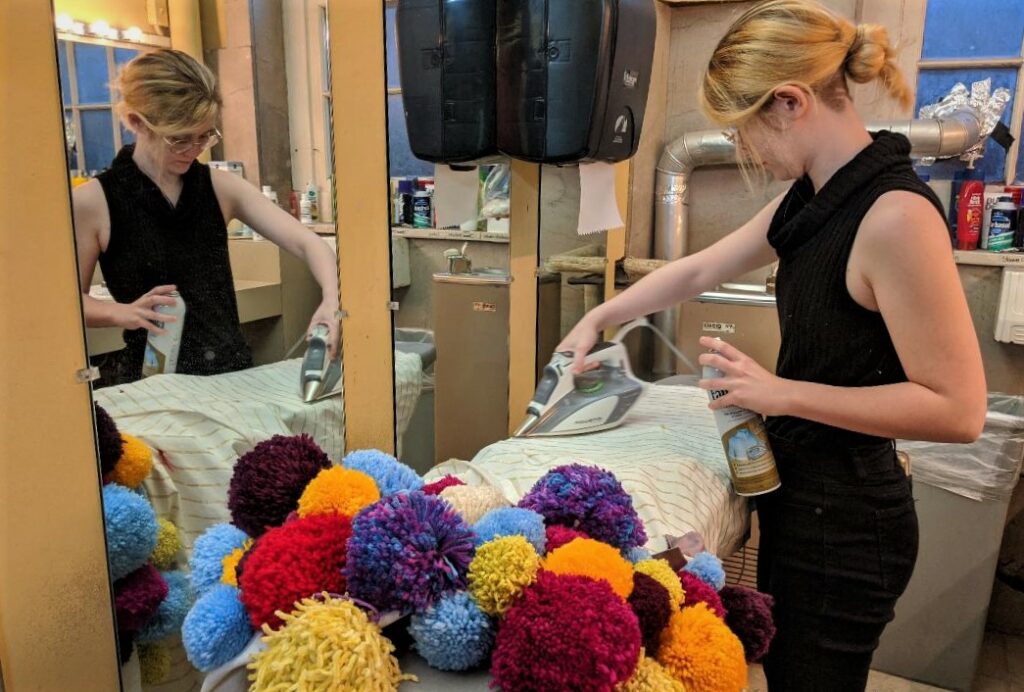 Parks' title as Resident Costume Designer with the Hippodrome means she and her staff are responsible for eight mainstage productions each year. Her first production was last year's season opener, The Wolves, in which all but one character wore soccer uniforms the entire show. Parks served in the capacity of shop manager for that show.
She's overseen the costumes for such shows as Let the Right One In, Million Dollar Quartet and The Curious Incident of the Dog in the Night-Time.
"Stephanie and the costume team make magic happen," said Stephanie Lynge, the Hippodrome's artistic director. "They've been able to create amazing costumes on a limited budget and, time and time again, exceed our wildest dreams. We are so fortunate to have them as part of the Hipp team!"
Although Scrooge in Rouge involves all new costumes made from scratch, Parks admitted that the Hippodrome's new adaptation of A Christmas Carol has very few new costumes. The costumes used in this year's production are a combination of original pieces created by Marilyn Wall 40 years ago and newer pieces added throughout the years.
"The theater invested in a new set this season, and we plan to hopefully invest in new costumes [for A Christmas Carol] next year," she said. "Donations to the Collier Challenge campaign will help us to revamp the costumes and complete the transformation of our production."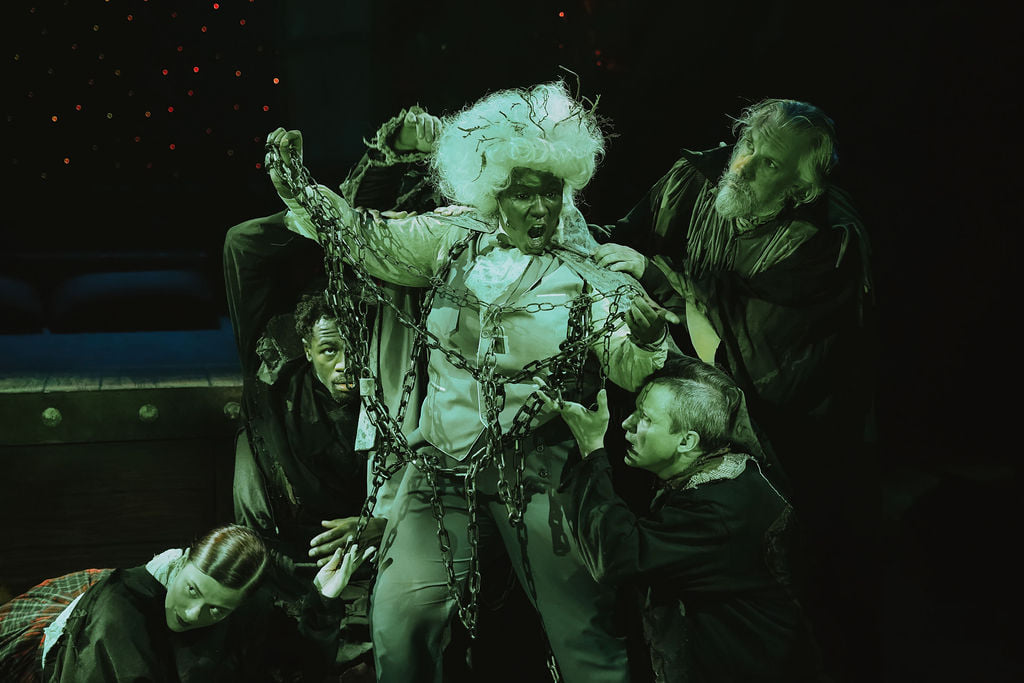 Parks, however, did design all new costumes for Jacob Marley's Ghost and the Ghost of Christmas Past to match Niall McGinty's new script. There are 26 performers in A Christmas Carol that Parks said require approximately 250 total costume pieces in this production. Rebekah Leppert is the dresser for A Christmas Carol.
"Scrooge's wardrobe is the original design created by Marilyn Wall for the first iteration of the show," Parks said. "We added the top-of-show storyteller look this year, but nothing else has changed. Next year it will be new!"
Although Parks is already working ahead on future Hippodrome productions, including Lone Star Spirits opening Jan. 24, she is proud of her team's work on Scrooge in Rouge, which is directed by Clint Thornton.
"I created a very ambitious design for the show," Parks said. "Clint's concept was for it to have a Tim Burton feel in the style of Colleen Atwood [Sweeney Todd: The Demon Barber of Fleet Street and Sleepy Hollow]."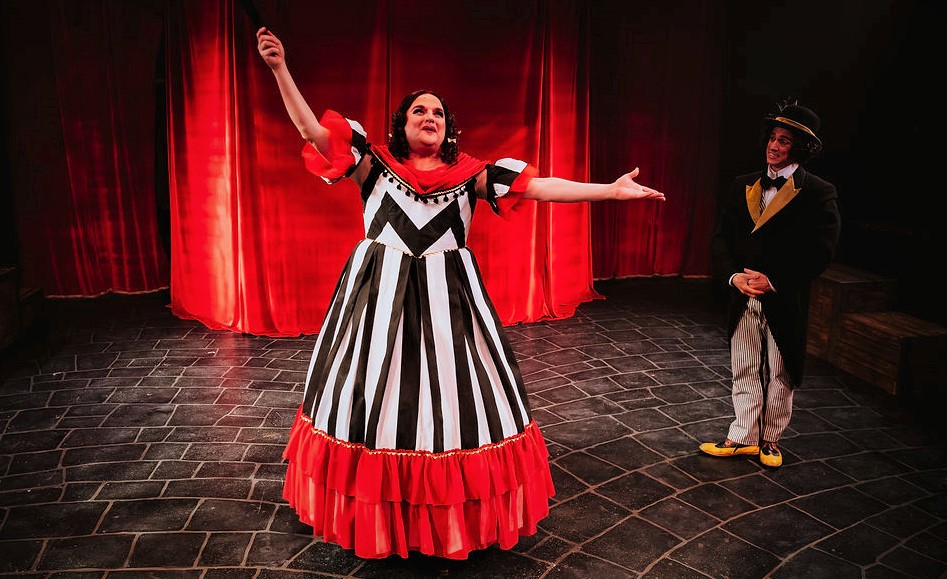 And most will agree that the dress worn by McGee's flamboyant character, Lottie Obbligato, is the show stealer. According to Parks, the full garment has six layers — tights, bloomers, a hoop skirt, a petticoat, a skirt and a bum roll — built atop an understructure.
"He's got a lot on," Parks said of McGee. "He's a trouper because it's so heavy. He puts up with it — and he makes it look great!"
Another showstopping ensemble is the one worn by pianist Alfred Da Cappo (Bryan Mercer) throughout the show. Of special note is a white, three-pointed wig that seems to have a life of its own. (See the photograph by Suzanna Mars at the top of this article.)
"The director's concept was that Alfred Da Cappo 'comes with the hall' and has been there quite a long time," Parks said. "He is dressed in an 18th-century style, a little more than 100 years earlier than the rest of the cast. His wig is one of my favorite pieces in the show. It was inspired by the oversize hairstyles of that time period but taken into the realm of fantasy."
In addition to full-timers Lundquist and Leppert, Parks gives special credit to her main volunteer, Leslie Klein, who has been working with the Hippodrome for decades.
"We worked some 90-hour weeks on this show," Parks said. "We're really proud of the level of work we've accomplished."
— Noel Leroux
---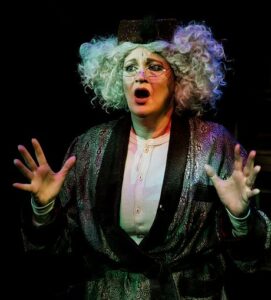 The Hippodrome Theatre has six performances of Scrooge in Rouge each week and three performances of A Christmas Carol each weekend through Dec. 22. For information on showtimes and tickets, visit the Hippodrome Theatre website.