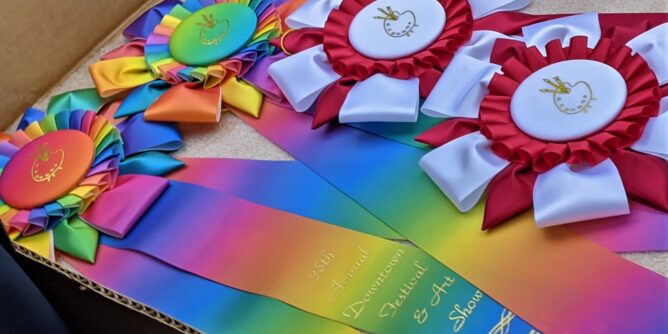 Judges award Best of Show honors to artists from Orlando and Crestview on the first day of the two-day show in downtown Gainesville.
---
An artist who draws intricate still life with colored pencil and another who creates jewelry and other ornate pieces from re-purposed metal were the big winners on Saturday at the 38th annual Downtown Festival & Art Show on an overcast, chilly day in downtown Gainesville.
Dennis Angel from Orlando won Best of Show 2D and Caleb Barnaby from Crestview won Best of Show 3D, respectively, in the juried competition, each winning a $2,000 prize and rainbow-colored ribbons. Twenty-five artists from the field of 240 won more than $20,000 in this weekend's show, which ends Sunday. Hours are 10 a.m.-5 p.m.
"I'm really honored," said Angel, who is participating in the Downtown Festival & Show for the first time since moving to Florida from Las Vegas in June. "When you're in a show this size, there are so many artists who are deserving, so it's nice when it happens to you."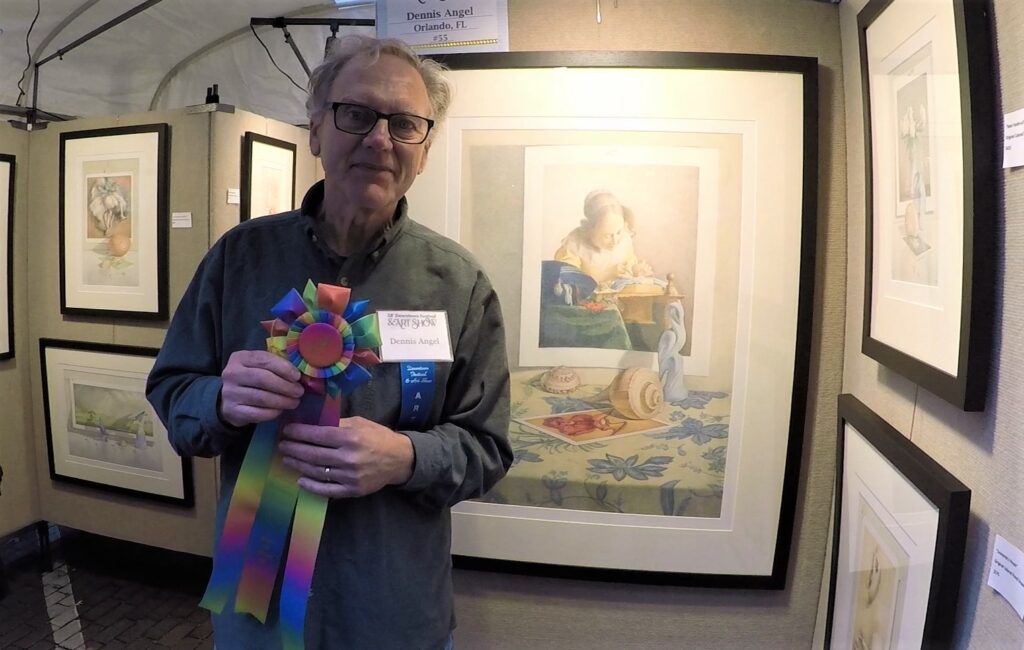 Angel said he applied for the show because he had heard the Downtown Festival & Art Show was highly ranked among shows in Florida, "So I thought I'd give it a shot." His only other Florida show so far has been the Winter Park Autumn Art Festival last month.
"All of my pieces revolve around the idea of a painting within a painting or picture within a picture," Angel said. "All pieces begin with the representation of an artist I've studied, then the idea of creating a still life that will respond to the work."
Angel said his drawings are inspired by the work of such famous artists as Edward Hopper, Leonardo da Vinci, Johannes Vermeer, Edgar Degas and Vincent van Gogh.
"I'm really interested in working from observation," Angel said. "Of course, still life is ideal because I have control over lighting and arrangement."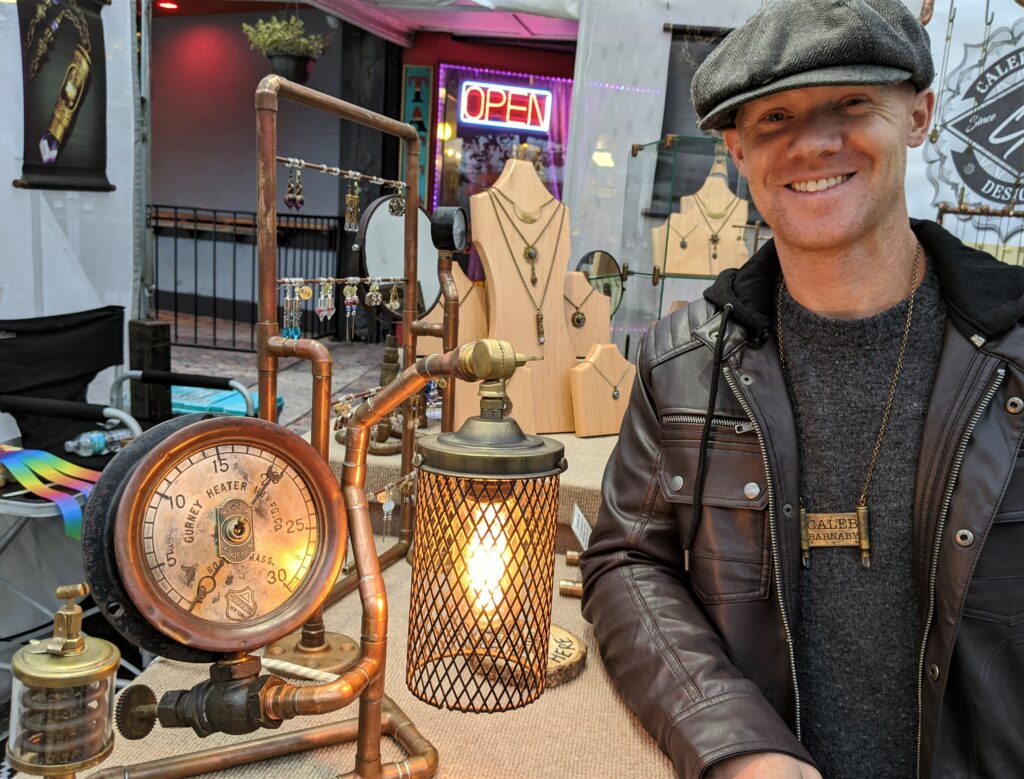 Barnaby, meanwhile, said he was flattered to win the Best of Show 3D award for his metal creations.
"I am blown away with the caliber of art here," he said. "I definitely didn't think I was in the running [for the top prize], but I'll take it. It's always nice to be recognized."
Barnaby is participating in the Downtown Festival & Art Show for only the second time. He said that, like many artists, he tends to suffer from "impostor syndrome," a lack of confidence that your work is worthy.
"That's what I refer to it as," he said. "It's when you think you're good enough, but at the same time you always question everything because that's the mindset a lot of people have. To be recognized [with an award] kind of alleviates that for a moment."
Barnaby's metal jewelry and sculptures are fashioned from recycled watch parts, old gears and even old bullet casings.
"All the metalwork, whether it's the bullet casings or the flat metal, I hand-etch all the detail," he said.
He turns flat metal pieces into Old Worldly designs, such as blooming flower mandalas.
"I've been making jewelry since I was a little kid and I've adapted and acquired my own techniques and design ideas," Barnaby said. "My mother was a jeweler, so she kind of inspired me to get into it. She showed me that I could actually make money doing it."
The show's judges this year were David Bogus, a visiting assistant professor at UF's College of the Arts, and Noah Verrier, a full-time working artist and former art professor at Florida State University.
Steve Howell of Gainesville and Natacha Monnalisa of Waldo were the only Alachua County artists recognized by the judges this year. Both won Awards of Distinction, which carry $600 cash prizes.
Sunshine Andrade, event coordinator for the Downtown Festival & Art Show, said that the weather was the only issue on the first day of the show.
"It went surprisingly well considering the coldness and misty rain that welcomed us at 3:30 in the morning," she said. "Attendance was down a little bit. It's always higher when the sun is out and when it's a little bit warmer.
"Sunday is the day to go to the art festival — we're expecting twice the crowd size."
Sunday's forecast calls for partly cloudy skies and temperatures in the mid-60s.
Following is a list of award winners for the 38th annual Downtown Festival & Art Show:
> Best of Show 2D ($2,000)
Dennis Angel, Orlando (drawings)
> Best of Show 3D ($2,000)
Caleb Barnaby, Crestview (jewelry)
> Judges' Choice 2D ($1,000)
Monica Rios, Tallahassee (painting)
> Judges' Choice 3D ($1,000)
David Figueroa, Sanford (sculpture)
> Awards of Excellence ($1,000)
Michael Bryant, Atlanta (photography)
Bruce Peeso, Monson, Massachusetts (painting)
Melissa Russell, White Springs (metal)
Andrew Butler, Santa Cruz, California (photography)
Rick Lowe, Parkland (mixed media 2D)
> Awards of Distinction ($600)
Steve Howell, Gainesville (mixed media 3D)
Glenn Woods and Keith Herbrand, Palm Harbor (ceramics)
Kelsi Adams, Navarre (mixed media 2D)
Don and Serena David, Palm Coast (jewelry)
Lou Hii, Indianapolis (mixed media 2D)
Wayne Trinklein, St. Peters, Missouri (sculpture)
Lisa Davin, Delray Beach (jewelry)
Mikiko Kory, Charleston, S.C. (fiber)
Natacha Monnalisa, Waldo (mixed media 2D)
Betsy Best, Winter Park (printmaking)
Mary Miller, Columbus, Ohio (mixed media 3D)
James Carter, Southbury, Connecticut (painting)
Rick Abrams, DeLand (painting)
David Golzbein, Miami (wood)
Teresa Bowen, New Smyrna Beach (ceramics)
> Les Senesac Creativity Award ($300)
Mike Brown, Nokomis (painting)
— Noel Leroux
---
For a complete list of artists and the schedule of events, visit the 38th annual Downtown Festival & Art Show website.