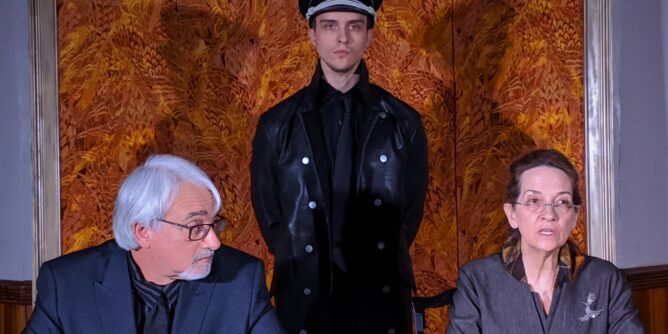 Actors' Warehouse presents a stark play based on letters written by Jewish parents in Nazi Germany to their son living in the United States.
---
It's estimated that 6 million Jews were among the 17 million people killed by the Nazis during the Holocaust, the willful extermination of so-called "undersirables" some 80 years ago in Europe.
Almost every one of those Holocaust victims had a story that, tragically, went left untold.
That isn't the case with Curt and Regina Schönwald. Thanks to their grandson, Kenneth D. Wald, distinguished professor of Political Science at UF, the story of their final years is being retold during the next two weekends at Actors' Warehouse in a one-act play titled The Ghosts on the Wall.
Opening Night is Friday at 8 p.m. There are also performances Saturday at 8 p.m. and Sunday at 3 p.m., followed by four more performances next week.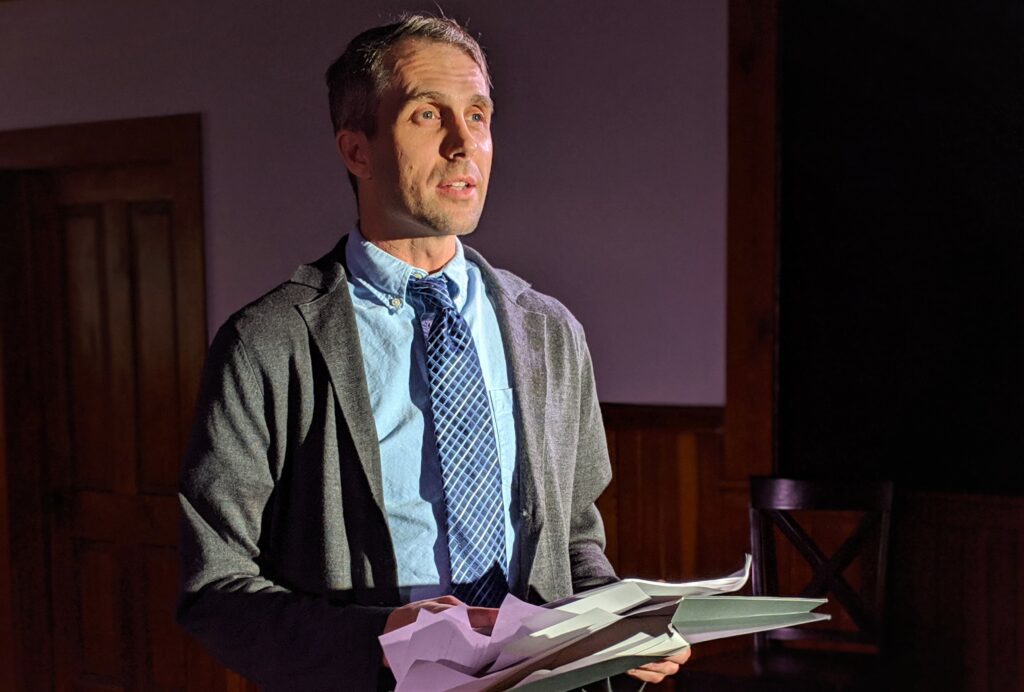 "I would like for the audience to not only hear a Holocaust story, but to put a face on it," said Steven H. Butler, artistic director of Actors' Warehouse. "When we put a face to situations and events, it makes it even more real."
The Ghosts on the Wall is based on about 200 letters the Schönwalds sent from Germany to their son, Heinz (Henry) Wald, who fled to America with his sister prior to World War II. Kenneth Wald discovered the letters in 1986 hidden in a file cabinet in the basement of his late father's Nebraska home.
Christopher Maly, a high school teacher in Lincoln, used the letters as the basis for writing a dramatic reading that first took place in 2014. With Kenneth Wald's blessing, a similar staged reading of the play took place earlier this year at Gainesville's Congregation B'nai Israel as part of the Holocaust Remembrance Day program sponsored by the Jewish Council of North Central Florida.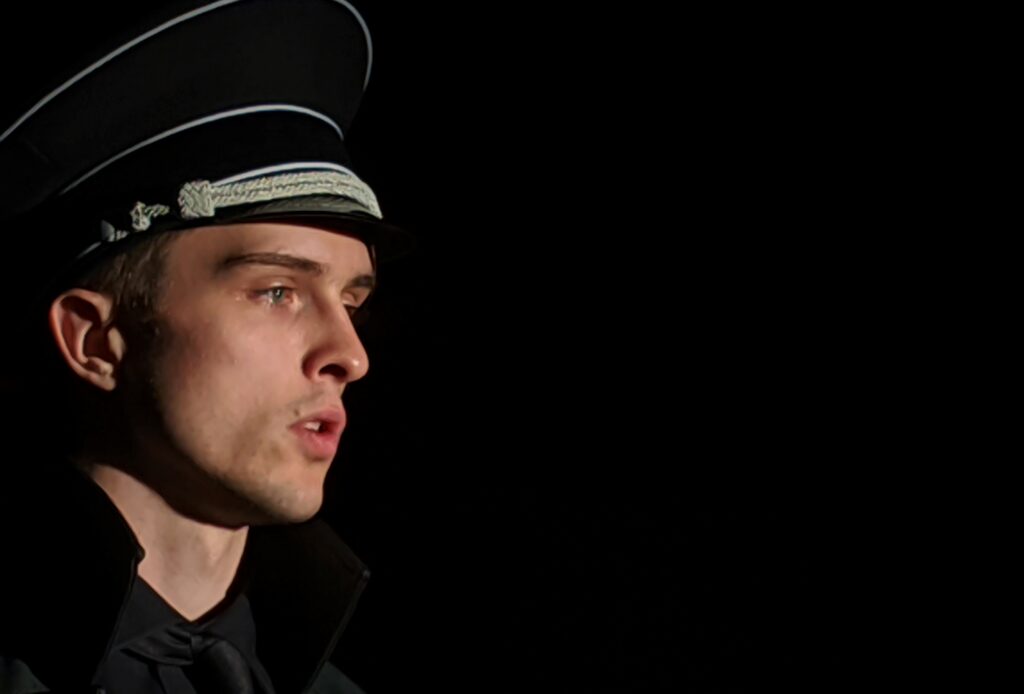 Butler helped stage that reading in April, but then decided he wanted to expand on it.
"I knew that Ken Wald's story was real, that Curt and Regina's story was real, and that by adding more dimension with lighting, costumes and blocking, it would allow us to invoke a visceral response from the audience," he said.
And so Butler enlisted Chuck Lipsig, a local playwright and actor, to direct a full production of The Ghosts on the Wall. Lipsig, who had never directed a full play, gladly accepted the challenge of telling the Schönwalds' heartbreaking but important story.
"I think it's necessary in this day and age because I think we're trying to forget the Holocaust and deny it," Lipsig said. "I'm a strong believer in the idea that telling the story and having people up there on stage communicates the memory more than the textbooks and statistics do."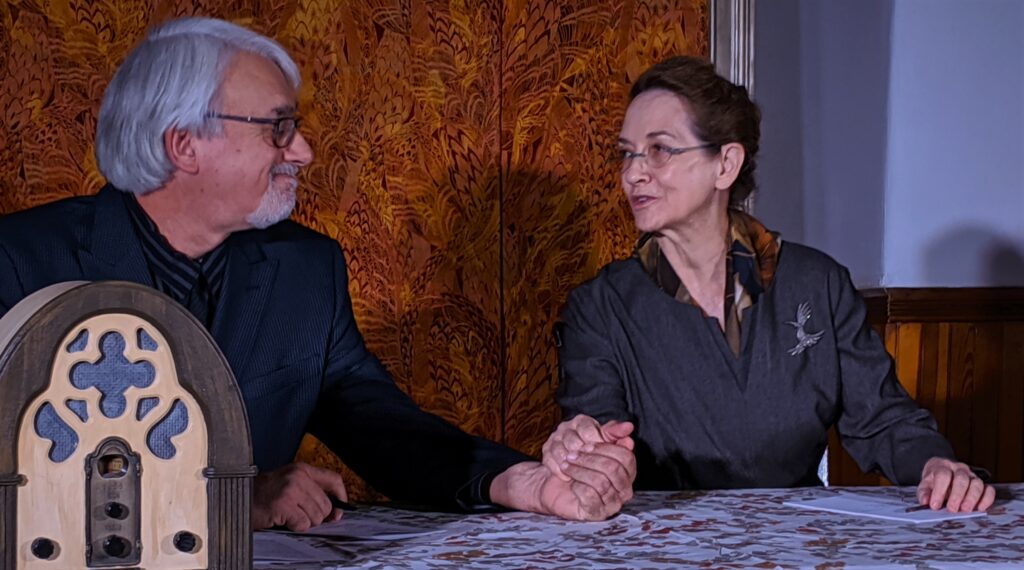 The AW production reunites Ed Hunter and Claudia Senesac as Curt and Regina from the staged reading. Bo Broadwell plays Kenneth Wald, the play's narrator, and Croix Perkins plays the uniformed Third Reich official who provides tension throughout the play with stern announcements and orders.
"It seems like the character is patterned after, I don't want to say a stereotype but the traditional Nazi soldier," Perkins said. "His lines all come from official transcripts, notices and memos from World War II. A lot of it is very dictatorial and I'm very hard line in setting out the rules."
Perkins, 23, a political science major at UF, is making his acting debut. He took his first acting class last summer at Actors' Warehouse.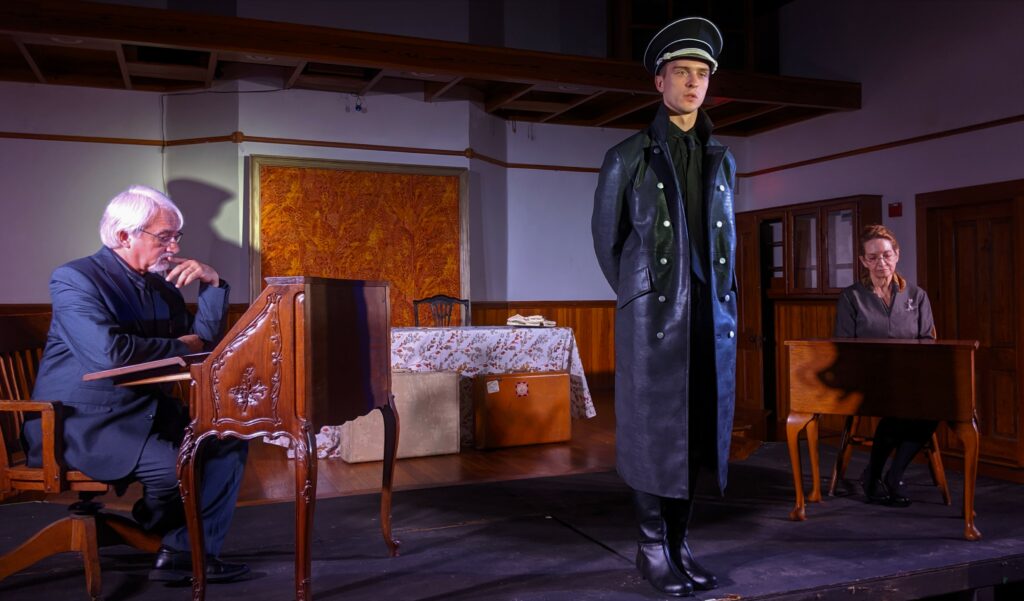 "When we decided to re-stage the show, we offered the roles to the original cast members, and some chose not to accept," Butler said. "When faced with having to recast, Croix came to mind. I remembered him from one of our acting classes and made sure to invite him to the audition. As far as I was concerned, he nailed it!"
Although not new to acting, Broadwell is new to the Gainesville theater scene. He arrived in town last month and immediately stage managed the AW comedy Sordid Lives. He's also a choreographer.
Broadwell said The Ghosts on the Wall is unique in that there is no actual dialogue between actors. Curt and Regina speak to the audience from the many letters they wrote to their son but do not converse with each other.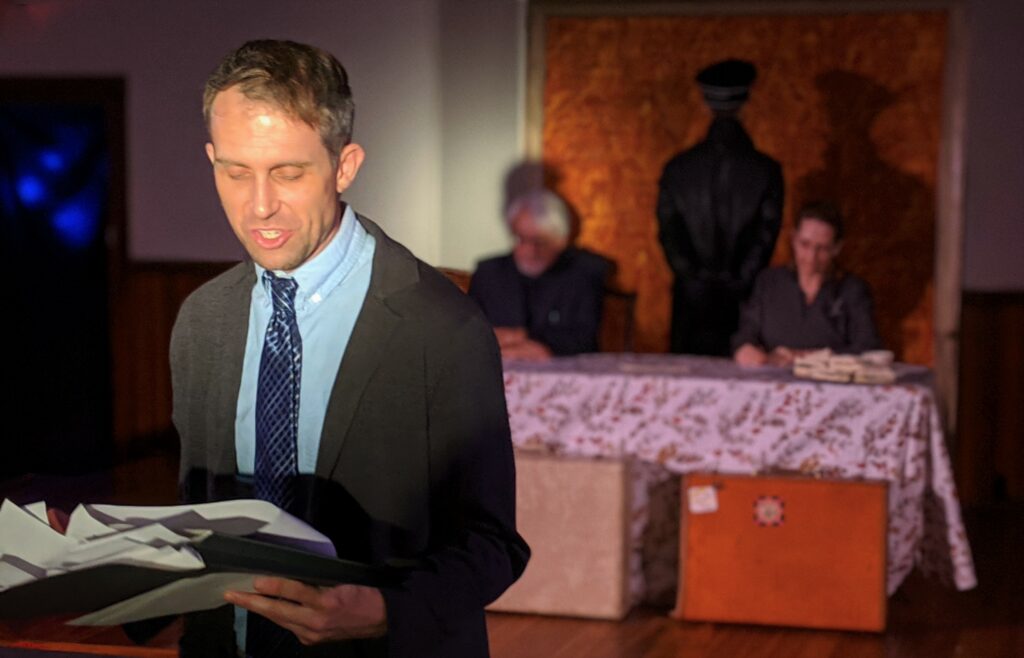 "There are moments where it doesn't feel as theatrical as something specifically written to be a play," Broadwell said. "But because the majority of these letters are almost verbatim — there was translation from German to English — we're hearing the words these people actually wrote as opposed to it being fully dramatized.
He added: "This is tricky because it's a play, but it's not a play. It's a play in the sense that we are embodying characters, but the way it's written it's almost written more as a dialogue for education."
In fact, before opening at Actors' Warehouse on Friday night, The Ghosts on the Wall will be performed in front of history students at Eastside High earlier in the day.
"It's really just a series of monologues," Hunter, a veteran of local theater, said about the play. "Sometimes it's been a bit challenging getting the sequence of letters straight in my head."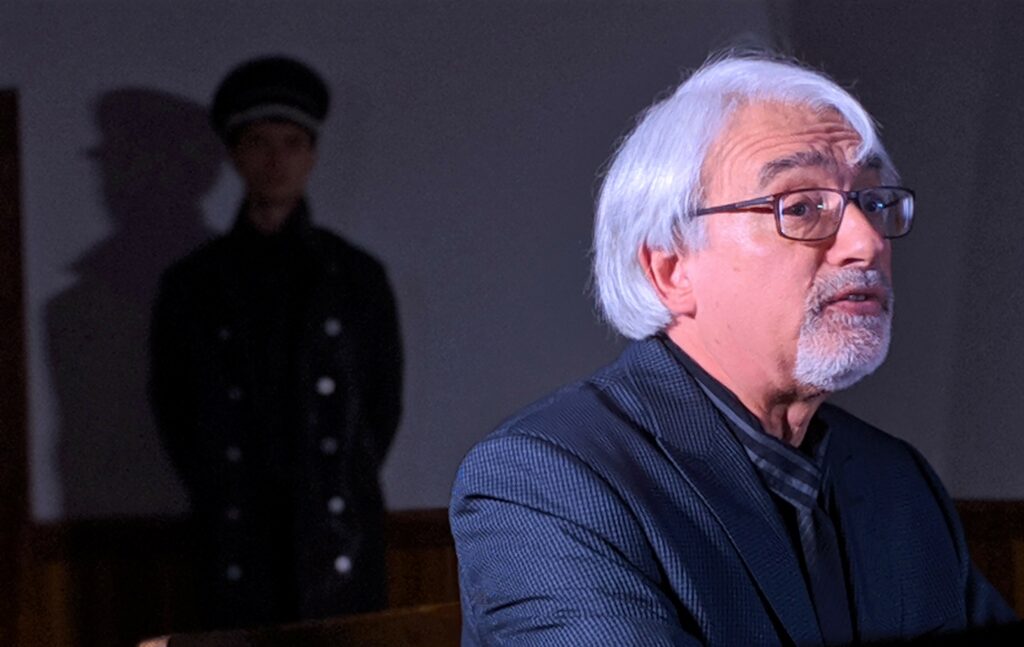 Hunter noted that the letters written by the Schönwalds tell only one side of the family's story. All letters written to the couple by their son and daughter in America were likely confiscated and destroyed by the Nazis.
"More than 200 letters were sent from Curt and Regina to Heinz," Hunter said. "We don't have any record of how many letters went in the other direction because … they ended up in a death camp."
The letters reflect everyday life in Germany from 1939-41 and the couple's unsuccessful attempts to join their children in America. Senesac said the play is a chronological re-creation of the Schönwalds' daily life and their thoughts.
"I think Regina, of all the characters, is the one who tries to keep things a little lighter and is very hopeful about the future," Senesac said.
"Curt is hopeful, too, but I think he is more concerned with the paperwork and trying to get things done. Regina is just trying to get through the day and the next day, and she still has hope that there will be a next day when they will be with their children again."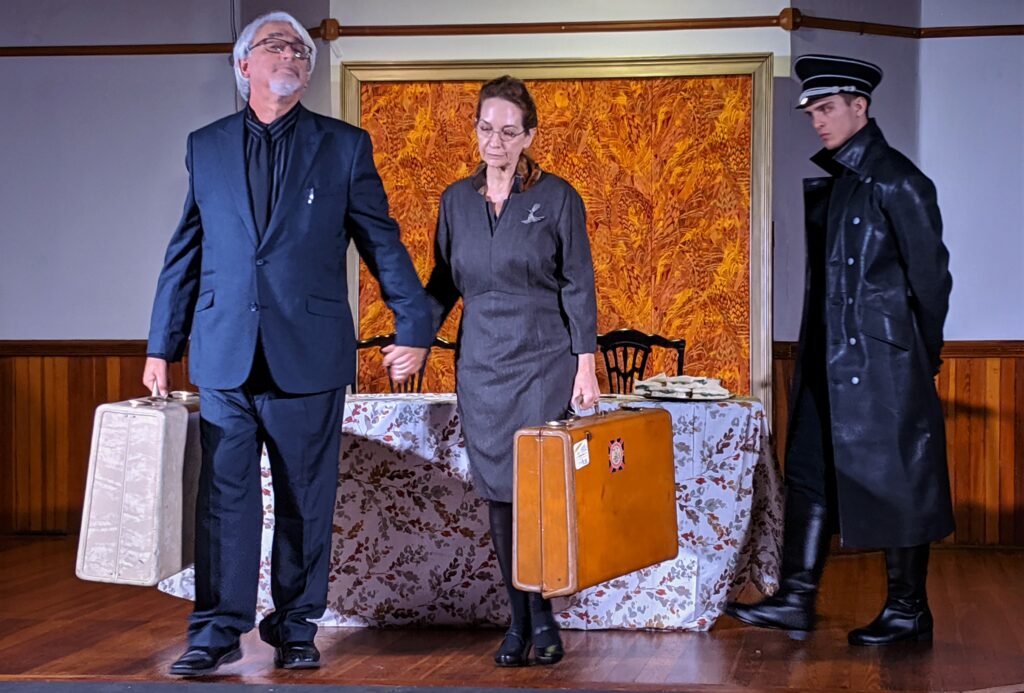 It's a production where the audience is encouraged to listen to every spoken line.
"Part of Actors' Warehouse's purpose is to provide a platform for voices to be heard — voices that have been silenced or marginalized within our society," Butler said. "Actors' Warehouse is the artistic venue for those voices to be heard.
"Although the Holocaust story isn't necessarily silenced or marginalized, I believe that it is vital for our world to continue to tell the story."
Lipsig, the director, said that he personally relates to The Ghosts on the Wall.
"I don't have the same story as Ken, but my grandmother made it to the U.S. [from Prague, Czechoslovakia] in the early '20s, but  none of her five siblings left and …" he said. "… My grandmother was the only survivor of her immediate family."
Butler said audiences can view The Ghosts on the Wall from various perspectives.
"I'm really into my family's genealogy," he said. "One of the things that fascinates me is how my family was affected while history was unfolding around them. I see Ken Wald's family story the same way."
— Noel Leroux
---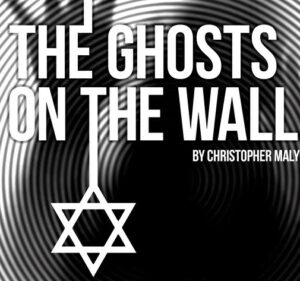 The Ghosts on the Wall
at Actors' Warehouse
619 NE 1st St.
Gainesville, FL 32619
Performances: Friday and Saturday at 8 p.m., Sunday at 3 p.m. through Nov. 24. There's also a performance on Thursday, Nov. 21, at 8 p.m.
Tickets: $25 general admission, $20 seniors, $15 students, $10 Thursdays.
For further info, visit the Actors' Warehouse website.
Let us know what you think about the play by posting a comment in the Leave a Reply section below.