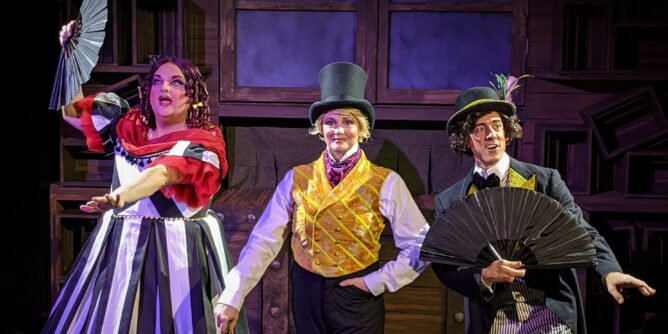 The Hippodrome Theatre presents an alternate universe to 'A Christmas Carol' that includes gender-bending buffoonery. … Oh, and it's a musical!
---
Scrooge in Rouge might not be what Charles Dickens imagined when he wrote "A Christmas Carol" back in 1843, but the cross-dressing farce that borrows heavily from the holiday classic probably would draw a few belly laughs from the novelist.
The absurd play opening this week at the Hippodrome Theatre is filled with enough one-liners, wacky puns, innuendos, slapstick comedy and silly musical numbers to heighten anyone's holiday spirit — or, perhaps, drive you to drink! (If so, we recommend the Blotto Obbligato sugar-pop martini in the Hipp's bar!)
"We could all use a good laugh around the holidays — and this show definitely delivers on that," said Stephanie Lynge, the Hippodrome's artistic director. "When people come to this, they're just going to be tickled pink!"
That might be because they're blushing at some of the antics of the three characters frolicking merrily across the stage in the play within a play. Think Mary Poppins on steroids.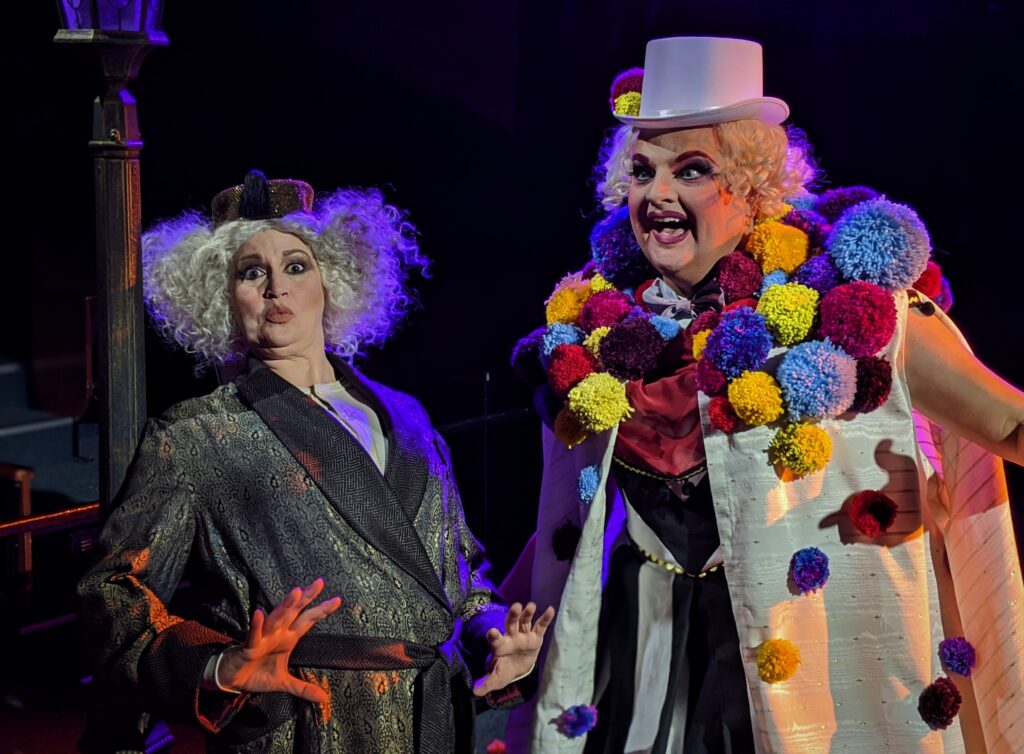 Set in a British Music Hall in 1899, Scrooge in Rouge begins with the audience being informed that an unfortunate case of food poisoning has reduced the cast of A Christmas Carol from 20 members to only three. They are the woefully ill-prepared but gleefully determined Lottie Obbligato (Matthew McGee), Vesta Virile (Kelly Atkins) and Charlie Schmaltz (David Patrick Ford).
But because the show somehow must go on, each performer rises to the occasion and takes Dickens' cherished story of redemption to new comical depths. (For Dickens' purists, the Hippodrome is presenting a new adaptation of A Christmas Carol starting the weekend after Thanksgiving.)
Clint Thornton, director of Scrooge in Rouge, just wants everyone to be happy.
"Since we're doing a new version of A Christmas Carol, it works really well to pair the show with a goofy, kind of bawdy, naughty version of A Christmas Carol," he said.
"It's great to have both [shows] at the same time because you can get whatever your holiday entertainment need is. You can get your [traditional] Christmas Carol and a little bit more meaningful experience, and then you can get this, where you're just at a fun party."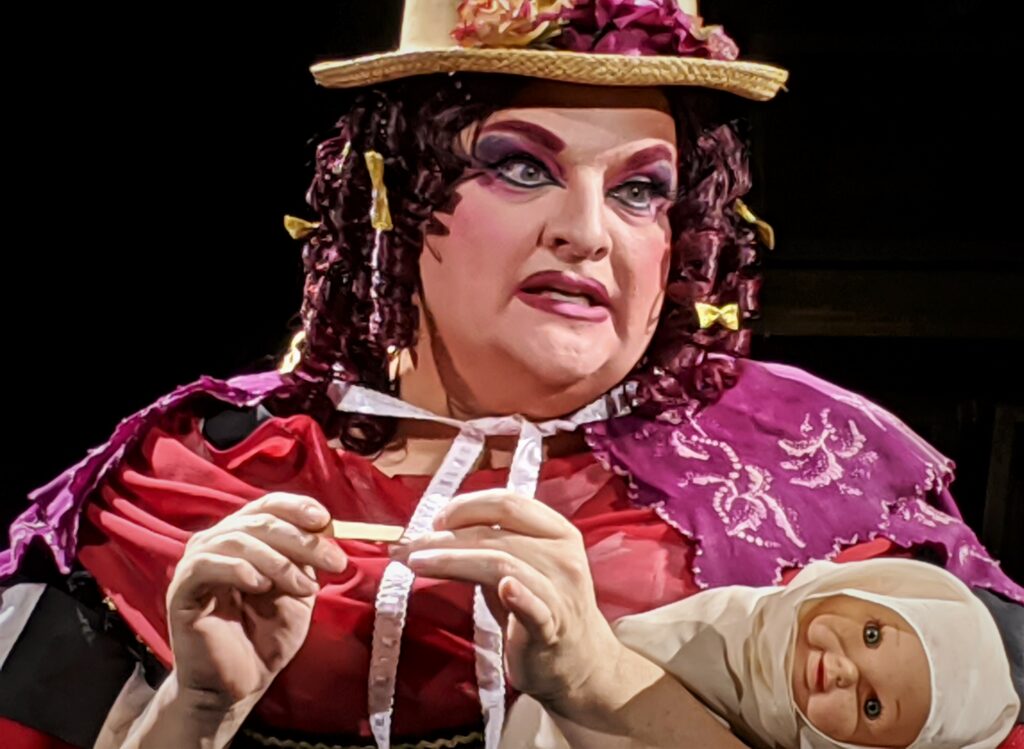 McGee, a Hippodrome newcomer, along with Hipp veterans Atkins and Ford keep the laughs coming with witty banter and almost 20 twisted tunes delivered with exaggerated British accents and a parade of outlandish costumes reminiscent of ye olde Monty Python's Flying Circus.
"The Scrooge wig alone is worth the price of a ticket," Thornton said.
Atkins, last seen at the Hippodrome a summer ago in The Bikinis, crosses into the role of the cold-hearted Ebenezer Scrooge in Scrooge in Rouge.
"He was so mean he'd send a Mother's Day card to an orphan," one character says of him.
"He was so tightfisted, fortunetellers had to read his knuckles," another offers.
Well, you get the idea. He/she is one mean bah-humbugger!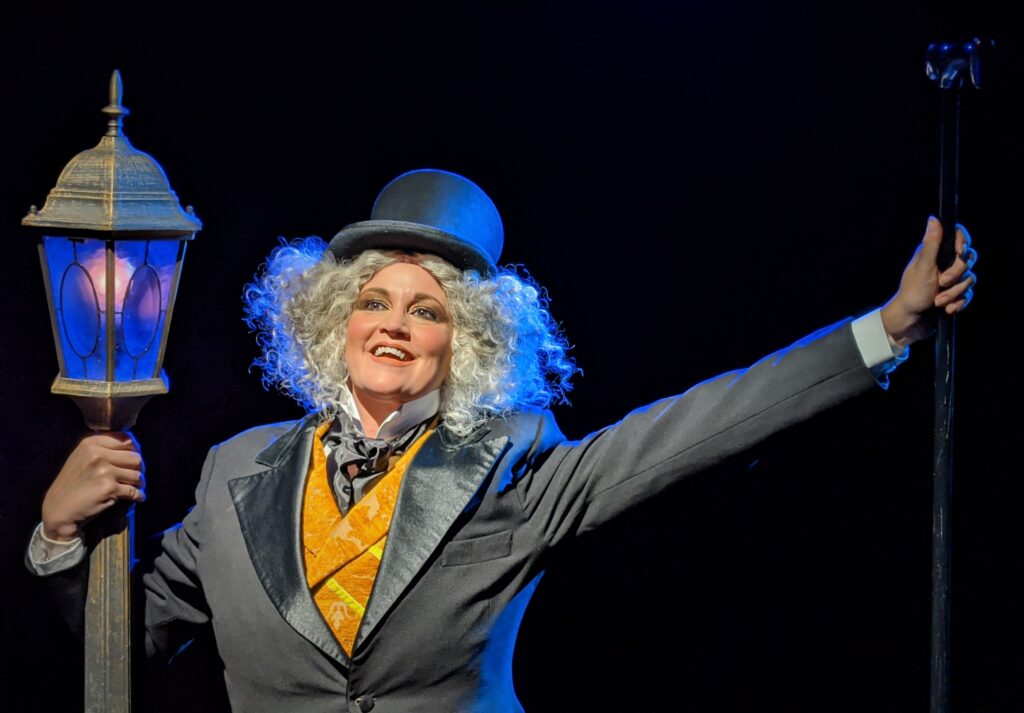 "What's not to like? It's so fun to do!" Atkins said about her role. "And I'm so thrilled to work with Matthew again."
Atkins and McGee last worked together in 2007 in Victor/Victoria at freeFall Theatre in St. Petersburg.
"It's the only other time I've ever put on drag or boy drag before," Atkins said. "And I think it's so funny that here I am doing another boy drag show with Matthew."
The greatest challenge, especially for Ford and McGee, is the number of costume changes required during the show. There are hats, wigs, coats, elaborate dresses and shoes to sort through with barely a moment to spare.
"I do six characters in the first act and add three more in the second act," said Ford, who performed the similarly frenetic The Ultimate Christmas Show (Abridged) three years ago at the Hipp.
Ford said it's important for each of his characters to be distinctive from the others — whether it's Scrooge's disgustingly upbeat nephew Freddy, Jacob Marley's Ghost, Bob Cratchit or the Ghost of Christmas Past.
"I've tried to choose a different kind of physical posture or physical center for each of the characters so that when I start to move like that character, it's just 'OK, so that's who I'm doing right now,'" he said. "One is, you know, big in the chest, one is the 'nose' one, so I start to move like that character.
"The costumes are incredibly complicated, but that's what's going to keep me centered as to which character I'm playing."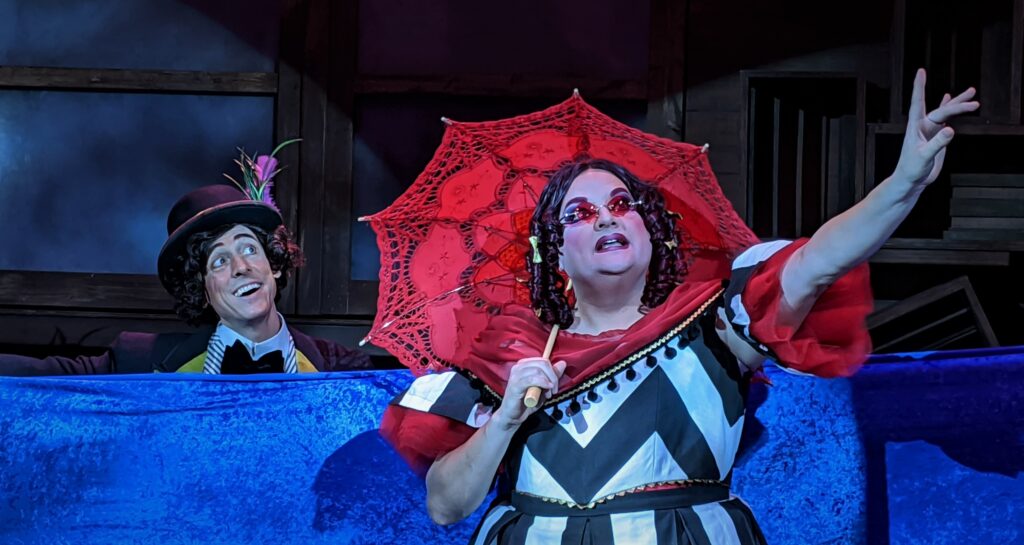 McGee, who is based in Tampa and performs all over Central Florida, including Disney World, said he is also excited about his extensive wardrobe. In addition to Lottie, he plays 10 characters, including Charity Dowager, Mrs. Cratchit and the Ghosts of Christmas Present and Future.
"It is a lot, but I'm looking forward to getting to look like whatever different character I'm playing," McGee said. "For me, they're all a little bit Lottie and sometimes they're a little bit Matthew McGee, but there's a little bit of that at play."
Thornton, who directed and acted in A Year with Frog and Toad two years ago on the Hipp's mainstage, said he couldn't be happier with the "seasoned professionals" in his cast.
"They have a lot of experience and a lot of technical skill that they bring, and then I think everybody's just really well-suited to their part," he said. "I knew that Kelly had the comic and vocal strength to anchor the Scrooge role, Matt was right what we needed for what we thought Lottie should do, and David Patrick fits right into the Charlie mold. It wasn't a difficult casting process at all."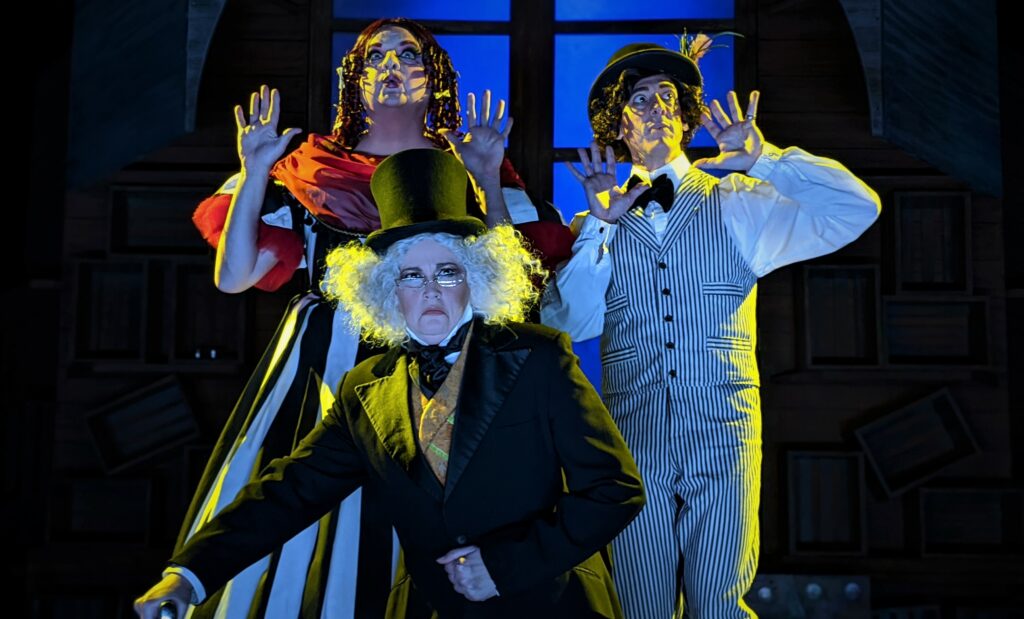 Not to be overlooked is Thornton's husband, Bryan Mercer, who plays pianist Mr. Alfred da Cappo in character throughout Scrooge in Rouge.
Lynge said the Hippodrome has been waiting for an opportunity to produce Scrooge in Rouge.
"I was actually told about this play about four years ago by a woman who worked in our props department," Lynge said. "She saw it up in Wisconsin and loved it. She sent me the script. It's been on my short list as something I thought would really work well, and this was the year it rose to the top."
— Noel Leroux
---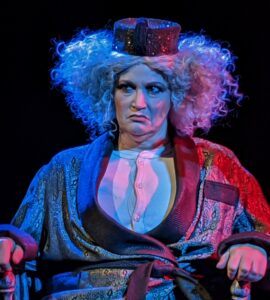 Scrooge in Rouge
Hippodrome Theatre
25 SE 2nd Place
Gainesville, FL 32601
Box office: 352.375.4477
Performances: Tuesday 7 p.m., Wednesday 7 p.m., Thursday 7 p.m., Friday 8 p.m., Saturday 8 p.m. and Sunday 2 p.m. (through Dec. 22).
Cast: David Patrick Ford, Kelly Atkins, Matthew McGee and Bryan Mercer.
Crew: Clint Thornton (director), Bryan Mercer (musical director), Amber Wilkerson (stage manager), Karina Ortega (assistant stage manager), Robert Robins (lighting), Stephanie Lynge (choreography), Stephanie Parks (costumes), Amanda Nipper (sound), Warren Goodwin (props), Bill Boothman (master electrician), Jeffery Zwartjes (puppetry).
To purchase tickets and for further info, visit the Hipp website.
Follow the The Hippodrome on Facebook.
* Please let us know what you think of Scrooge in Rouge by providing a comment below.