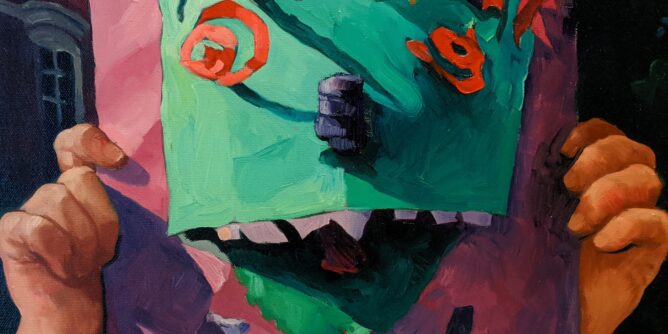 The longtime Gainesville artist backtracked a few years to find just the right image to promote the 38th annual show this weekend in downtown Gainesville.
---
Eleanor Blair may have closed up shop in downtown Gainesville earlier this year, but the 72-year-old artist best known for her paintings of lush Florida landscapes is not hanging up her brushes just yet.
Far from it!
"Many people thought, 'I guess she's giving up. She's dead. She's going to get her crochet and be in a rest home,'" Blair joked.
In fact, Blair is as busy as ever. This week she's the poster artist for the 38th Downtown Festival & Art Show, which is expected to draw 240 artists and 80,000 visitors to downtown Gainesville.
"People ask me 'What will you do now that you don't have a gallery downtown?'" Blair said. "But the truth is, for many years I haven't had what you would call a gallery with open hours except for Artwalk."
That's because most of her sales now come from the internet, via her website and through social media. Her brick-and-mortar gallery at 113 S. Main St. was a spacious, tastefully appointed studio where Blair created, framed and displayed her work, but it no longer made much financial sense.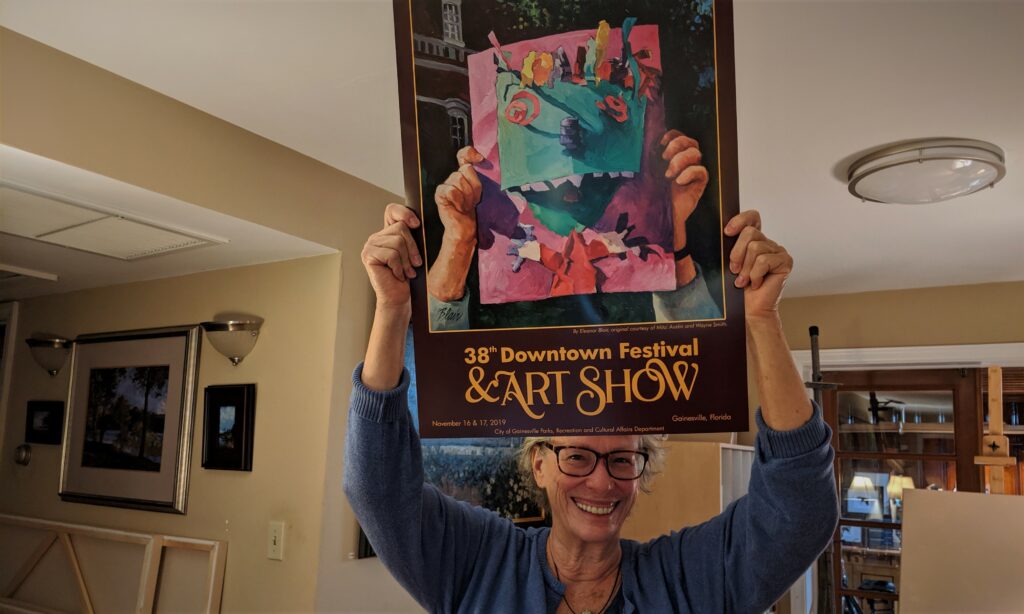 "Whenever someone was interested in buying a painting, they would call me and ask, 'Hey, when are you open?' And I'd go, 'Well, when would you like to meet me there?' So, well, then I thought, …" Blair said.
However, now that she no longer operates her business out of a downtown studio, Blair faces a daunting task. For the first time in 30 years, she'll have to transport all of her paintings to the Downtown Festival & Art Show by vehicle instead of walking her paintings less than a block from her gallery to her booth on Southeast 1st Avenue near Main Street.
"I'm not looking forward to that," she lamented.
Blair is delighted to be this year's poster artist, however. She also was chosen for the honor in 1998 and 2007. In fact, this year's image of a child's hands holding up a construction paper mask against a blue sky was a painting Blair finished in 1998 and submitted for that year's poster — only to be turned down.
"The committee rejected [the painting] because they felt people might think it was a children's art show," Blair explained in a Facebook post.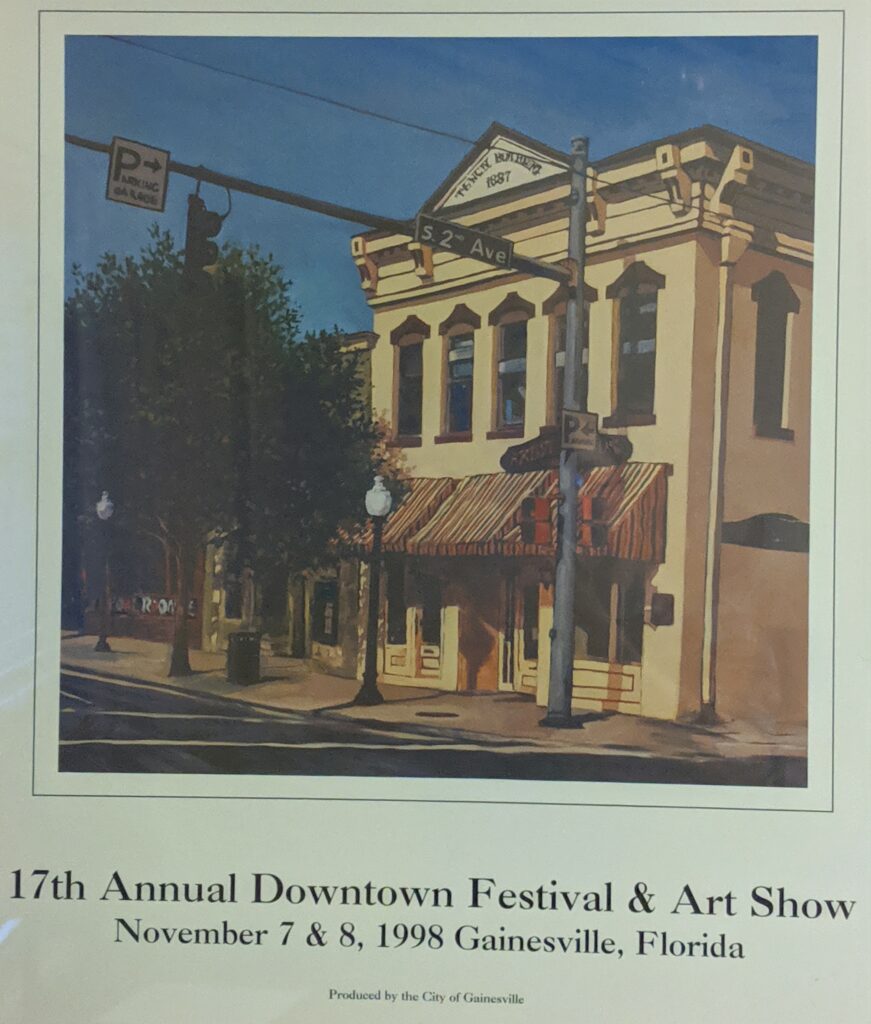 Blair eventually sold the colorful image — painted with oil colors from a photograph she'd taken in front of the old Cox building during the festival — to local couple Mitzi Austin and Wayne Smith.
"It has been prominently displayed in our home on Lake Winnott, south of Melrose, since we purchased it directly from Ellie, I guess about 20 years ago," Austin said. "We were drawn to the color and the energy of the painting."
Austin and her husband also liked the painting's historical tie to downtown Gainesville with the red-brick Cox building as the backdrop.
"That's the building where Harry's restaurant occupies the ground floor now," she said. "Of course, in the history of Gainesville that building has been important, originally being an opera house."
Blair found out she would be this year's poster artist several months ago, prior to the Santa Fe College Spring Arts Show in downtown Gainesville. As luck would have it, Blair spotted Austin and Smith at the show and inquired about the mask painting. Two days later, Blair submitted the original painting for consideration as the poster art.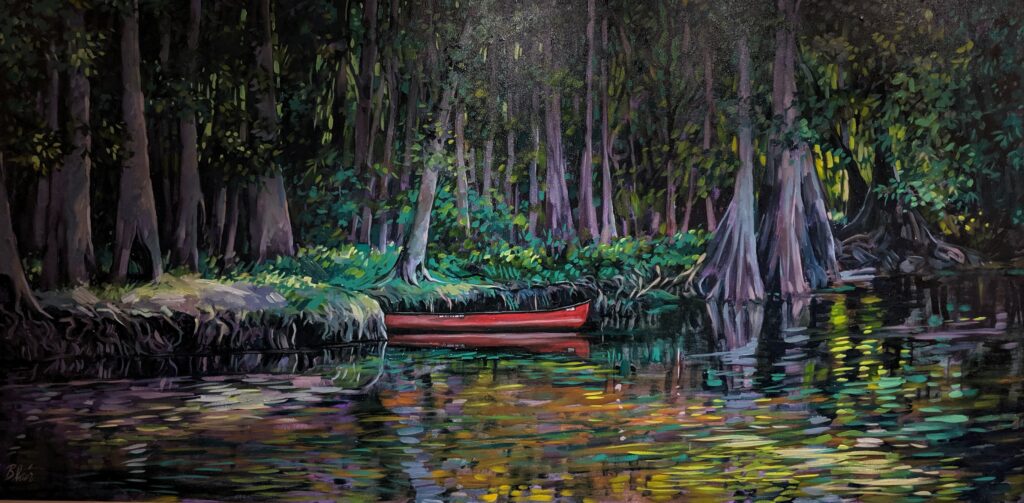 Sunshine Andrei, event coordinator for the Downtown Festival & Art Show, said her committee embraced Blair's painting for its vibrancy.
"I love how this image is like looking through a window of a window to the past and each window is one of joy and creativity," Andrei said.
Blair said she had been perfectly willing to paint something new this year, but is thrilled the festival committee accepted her suggestion from 21 years ago. She referred to it as a happy ending.
"I love the art that children make," Blair wrote in a description of the painting. "The joy they feel as they make it is in the work. I have collected paintings, drawings and sculptures made by children over the years — every object expressing the essence of our shared creative spirit."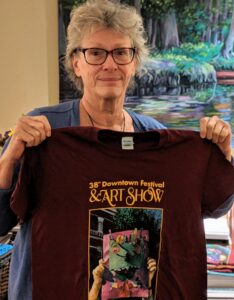 All that's required of Blair during the Downtown Festival & Art Show is that she sign hundreds of the posters for patrons to purchase. She has already spent time at the festival's office in the Thomas Center doing just that.
The only drawback with being chosen poster artist, according to Blair, is that she doesn't sell as much of her own artwork during the show.
"People are coming to buy art, and if they get my poster, it's 'We've got Eleanor Blair's thing. Let's see what Peter Caroline's got,'" she said, referring to another well-known landscape artist from Gainesville.
"Short term I take a hit, but long term, in terms of name recognition and the images people associate me with, it's an amazing perk. A lot more people can afford posters than original art. And over the decades, they become historically significant. They become collector's items, in a way."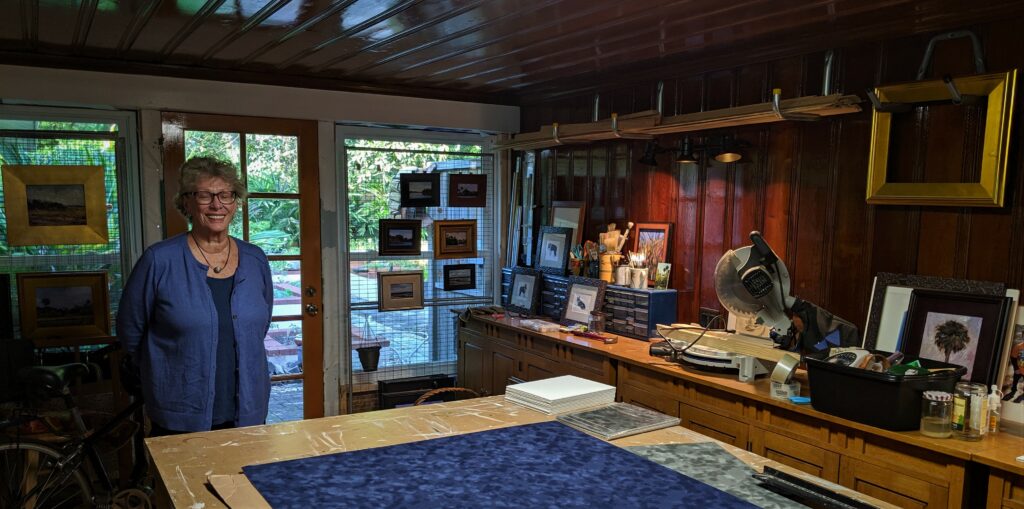 Since closing her downtown studio earlier this year, Blair has worked exclusively out of her comfortable home in the Duckpond neighborhood of northeast Gainesville. She recently enclosed a breezeway to serve as a workshop for building frames for her paintings.
She paints on an easel set up near her kitchen. Each room of her home is adorned with paintings. One bedroom serves as a well-organized storage room with floor-to-ceiling shelving containing sketchbooks and other items.
Although the house is now officially her studio, she says it is not a gallery. Her website, which she updates herself, serves that purpose.
Blair's living room has a fully furnished dollhouse in the front window next to a globe marked with tiny rhinestone stickers indicating the dozens of countries she has visited — and been influenced by — during the past 20 years or so.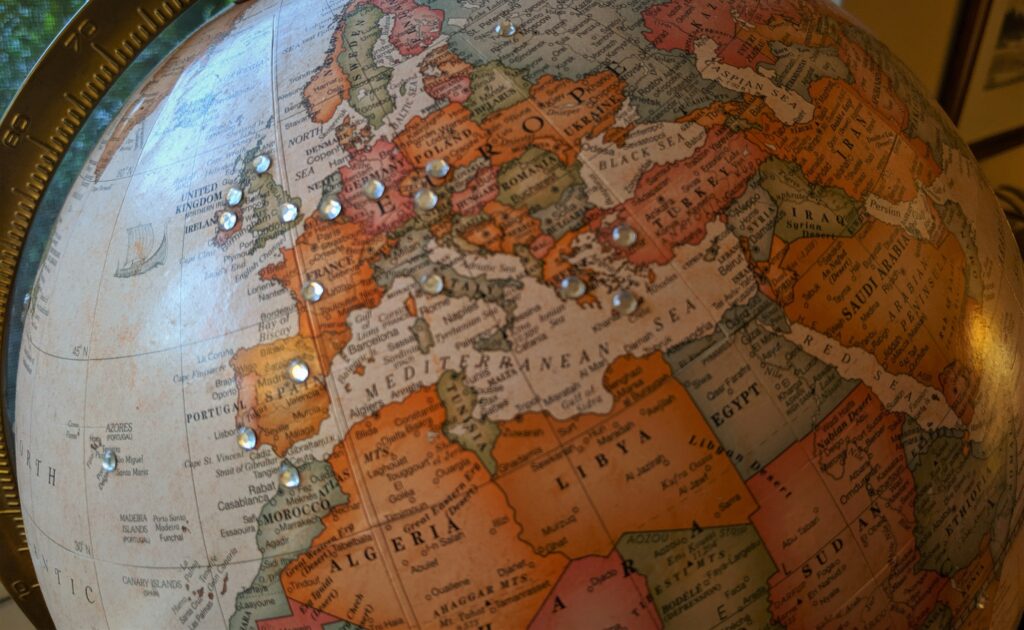 Most recently she's traveled to Rwanda and Russia, and Cuba before that. Blair's also been to Turkey, Morocco, Kenya, Burma, the Galapagos, Scotland, Myanmar and many nations in between.
In one corner of the room sits a drum set. That's because Blair is the drummer for Weeds of Eden, a local rock band.
"I started learning drums when I was in my 30s," she said. "I've probably failed with many instruments, starting with the violin in fourth grade and clarinet through middle high school and high school in the marching band."
Blair has also dabbled with the recorder in college and also went through autoharp and flute stages before settling down with drums. She's also shared the stage with the Gainesville Orchestra, painting on stage as they perform.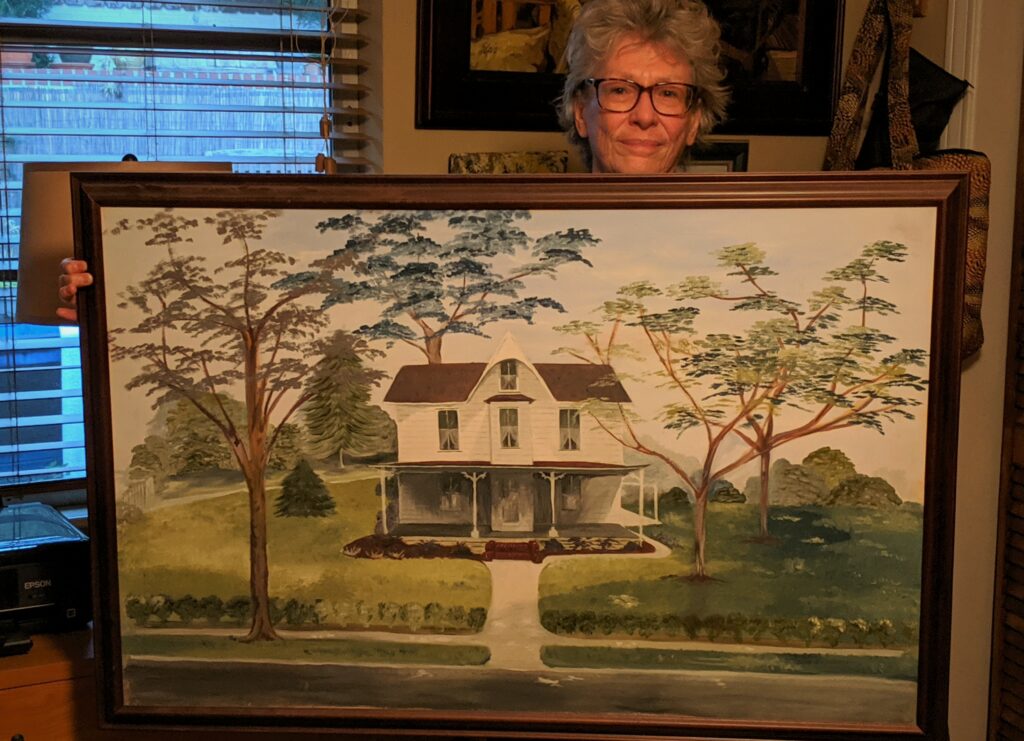 Blair grew up in New Jersey. Her mother, also named Eleanor, started painting as a hobby when she was pregnant with her daughter. She enjoyed copying images from wall calendars.
"My mother said I did my first oil painting when I was 3," Blair said. "I don't remember that. I do remember taking an oil painting I did to kindergarten for show-and-tell."
I was 15 before I ever went to an art museum. I didn't know that art was a thing.
— Eleanor Blair
Blair only has one small drawing left from those formative years — a tree next to a river.
"I was 15 before I ever went to an art museum," she said. "I didn't know that art was a thing. To me, art was fun, it was playing. Even when I was a teenager making money babysitting, I would go to the art-supply store in town. That was my toy. I just loved art supplies and still do. My fellow artists and I joke that we can still get that thrill a child gets going to a toy store when we go into an art-supply store."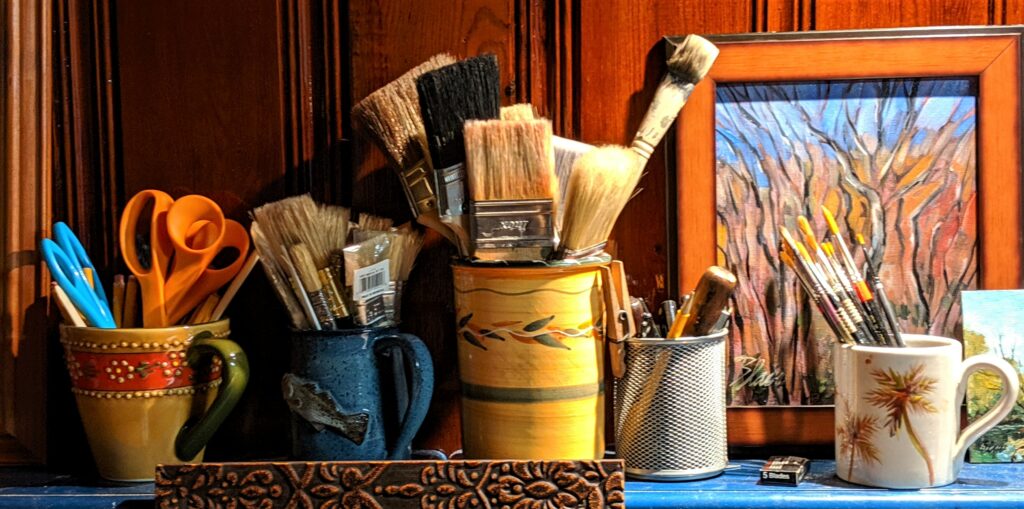 Blair attended The Cooper Union for the Advancement of Science and Art in New York City's East Village. It was the late 1960s and she was a product of the generation.
"I was at the tail end of the beatniks," Blair said. "I was reading Jack Kerouac and I had the same bank as Allen Ginsberg in the Lower East Side. Sometimes we'd stand in line together to cash checks."
She said it was the ideal environment to be creative.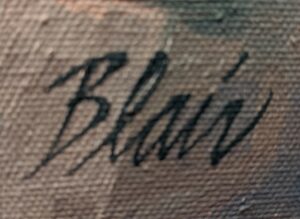 "You wore comfortable dark clothes; you didn't do anything with your hair or wear makeup," Blair said. "You did art. You were a poet or an artist, especially in New York City. And there was sort of a folk component to that. We'd go to concerts in basements and things like that."
Blair, the mother of two grown sons and with a third grandchild on the way, has now been part of the Gainesville art scene for almost five decades. Her first local show was the 1972 Santa Fe College Spring Arts Show. She's also participated in the Downtown Festival & Art Show since the early '90s.
Many people recognize Blair for her sweeping landscapes that often include wetlands and palm trees — something she was once criticized for when she moved to Florida. Her first big show was with other Gainesville area artists at Miami's Gillman Gallery.
"I had done these paintings of palm trees and people actually came up to me and said 'You've got some nerve showing palm trees in Miami. You realize how tacky and cliché that is?'" Blair recalled. "Long story short, I was the only artist who sold anything at that show and so I took that criticism very well!"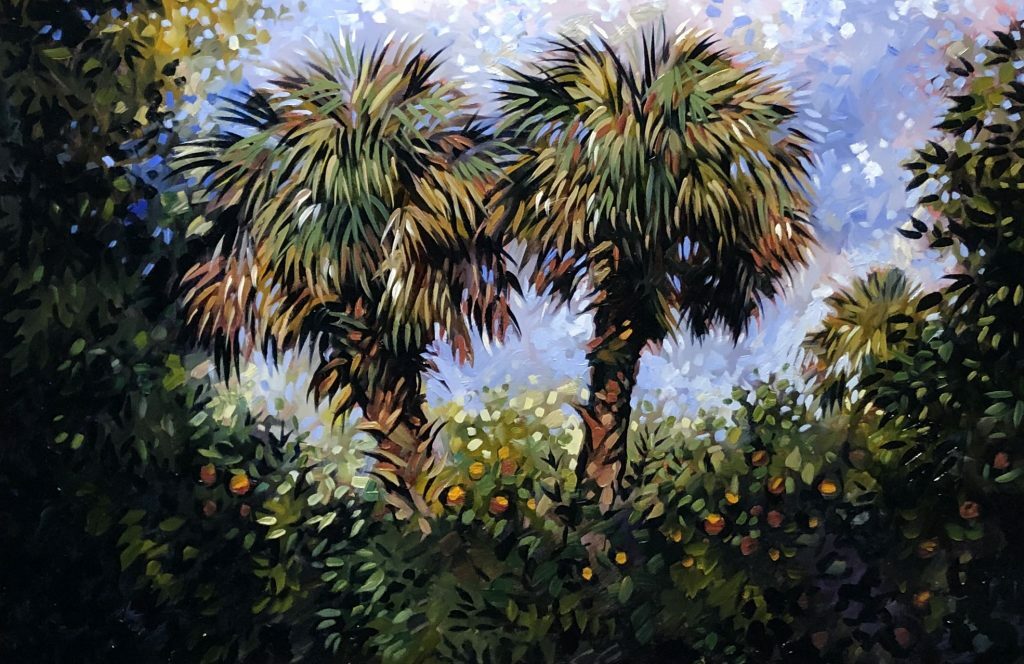 Blair recently participated in a "paint-out" event in rural Evinston with 30 other artists.
"It was Palm Tree Central!" she said. "Some of the most beautiful palm trees on the planet grow in clumps out there on the banks of Orange Lake. It's just beautiful."
She said her challenge as an artist is to create a palm tree painting that doesn't look like a million other palm tree paintings. That is important, she said, because landscapes are again in demand at galleries all over Florida.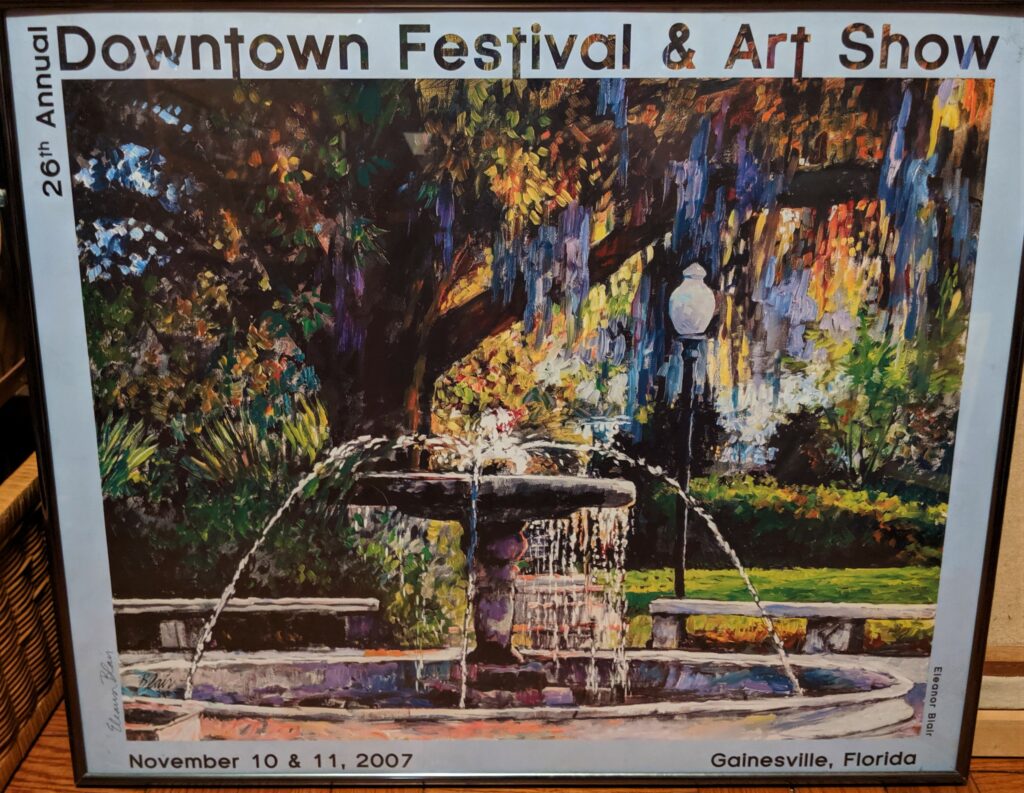 "The landscape has returned to its valid position as a reasonable subject for lots of reasons," she said. "We're now more environmentally conscious. And doing landscapes helps remind people in whatever environment they're in that 'Hey, that just a few miles out of town, there's a beautiful place and you could be there.'"
After thousands of paintings over a 50-year career, sitting down with brushes at an easel still brings Blair satisfaction and joy.
"I feel like my job is not painting; that's just what I do. That's who I am," she said.
— Noel Leroux
---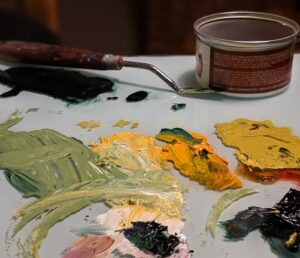 Visit Eleanor Blair's digital studio at EleanorBlairStudio.com.
T-shirts and posters with Blair's painting will be available for purchase at the festival booth, located on the corner of Southeast 1st Street and 1st Avenue, during the 38th annual Downtown Festival & Art Show.