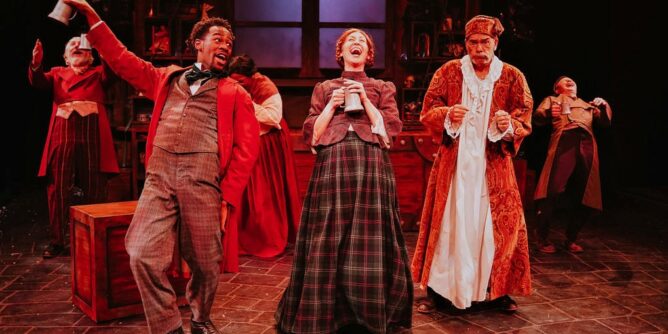 The Hippodrome Theatre's updated version of the Charles Dickens classic comes with a new set, new director, lots of fresh faces and plenty of songs.

---
The Hippodrome Theatre unveils a new adaptation of A Christmas Carol this weekend that injects new life into the timeless Charles Dickens tale of redemption.
Those who have attended any of the 41 previous seasons of the play at the Hipp will quickly notice that this is not your father's — or grandfather's — A Christmas Carol.
Niall McGinty, a member of the Hippodrome Acting Company, is putting his own stamp on this year's show with a script that emphasizes ensemble storytelling and movement while spicing things up with traditional Christmas songs.
"When I think of Christmas, one of the first things that comes to my mind is Christmas carols, and this play is called A Christmas Carol," McGinty said with a chuckle. "It's part of what Christmas is … singing Christmas songs and hearing them, and bringing back childhood memories."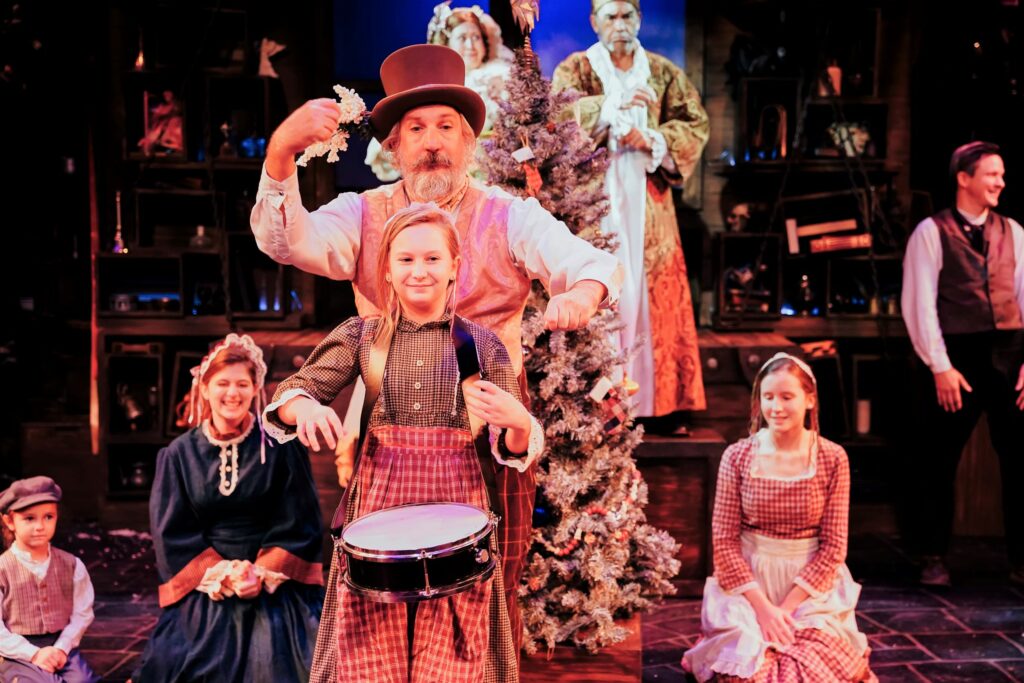 Oh, and the days of Ebenezer Scrooge being whisked around the Hippodrome Theatre's mainstage on a rickety old bed are a thing of Christmas past. This year the miserly coot gets what the director calls "an Alaska king."
It's one of many noticeable improvements in Mihai Ciupe's redesigned set that Hippodrome artistic director Stephanie Lynge said has helped reinvigorate the telling of A Christmas Carol.
"The old set had been held together by Duct Tape and Bondo for about 10 years," Lynge said. "Every year we were told that it would never last. At some point we were going to run out of luck, so we thought 'Why not just refresh this new adaptation with a new set?'"
A Christmas Carol will be staged for the public Saturdays at 2 p.m. and 4 p.m. and Sundays at 6 p.m. through Dec. 22. The play will also be performed for Alachua County grade-school students each weekday morning leading up to the holiday break. (A Christmas Carol is running concurrently with the comedy Scrooge in Rouge, intended for more mature audiences.)
John Gray, who is directing A Christmas Carol for the first time at the Hippodrome, said he's confident Gainesville audiences will embrace the new adaptation.
"I had not seen any of the other adaptations, but this one is a much more traditional showing," he said. "We're taking it from a standpoint of Victorian storytellers who come in to help discover A Christmas Carol. We're trying to create a lot of stage magic through crates and small props."
The first several minutes of the play is a dialogue-free buzz of activity as eight adult members of a theater troupe frantically go through the motions of preparing to stage A Christmas Carol as the child actors watch from the sidelines with wide-eyed excitement.
The transformation is complete with the reading of the immortal pronouncement: "Marley was dead: to begin with. … Old Marley was as dead as a door-nail."
The first "Bah! Humbug!" from Scrooge, played once again by Hippodrome stalwart Gregg Jones, soon follows, and A Christmas Carol is off and running.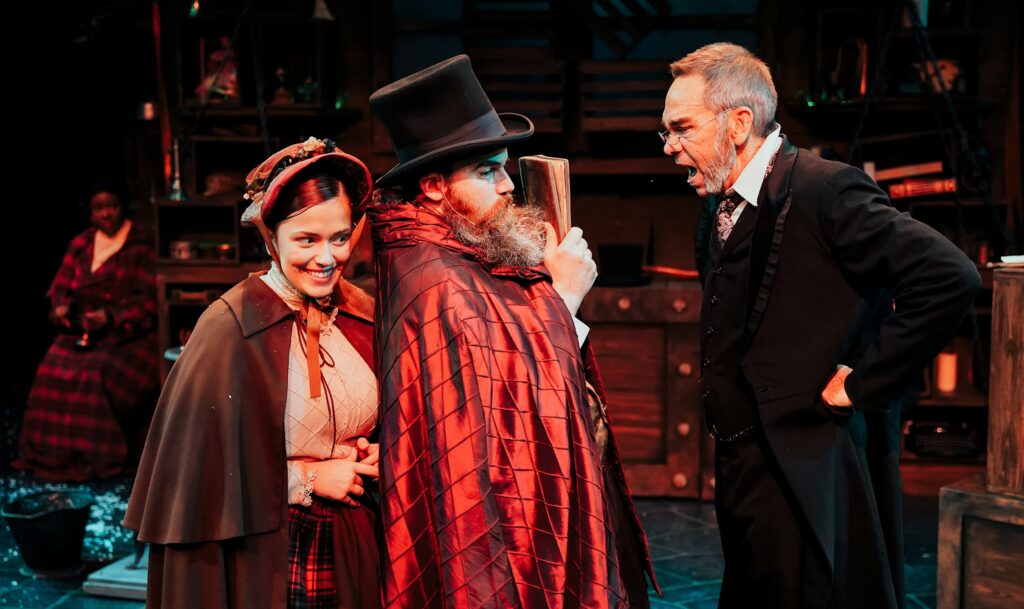 Jones, a retired theatre professor at Santa Fe College, is appearing in A Christmas Carol for the 23rd time. He played Jacob Marley many of those years before becoming Scrooge four years ago, replacing the late, great Rusty Salling.
"This is my third [adaptation] of it," Jones said. "I think this is delightful, especially because it features the children. Listening to them sing is heartwarming and very connected to the spirit of the holidays."
Theo Canev, 11, performs as young Scrooge in A Christmas Carol for the second year in a row.
"I love singing the songs," said Theo, a fifth-grader at Chiles Elementary School. "This show is so much fun!"
Carson Holley, 10, a fifth-grader at Oak Hall School, embraces her role as Belinda. In particular, she likes being part of an ensemble cast.
"I love the way different actors play multiple parts to showcase their acting skills," Carson said. "The adults also get to interact with the kids more in a way that makes sense."
There are 18 children, ages 5 and up, involved in this year's production. They are divided into nine-member units that will alternate during the weekday shows. However, all young actors are involved in the weekend performances that the public will see. (Note: For a complete list of cast and crew, scroll to the bottom of this article.)
"The kids have all learned their two tracks — their own roles and their ensemble roles," Gray said.
McGinty's adaptation allows for younger cast members to serve as more than a backdrop for the grownup characters. There might even be a surprise or two as A Christmas Carol unfolds.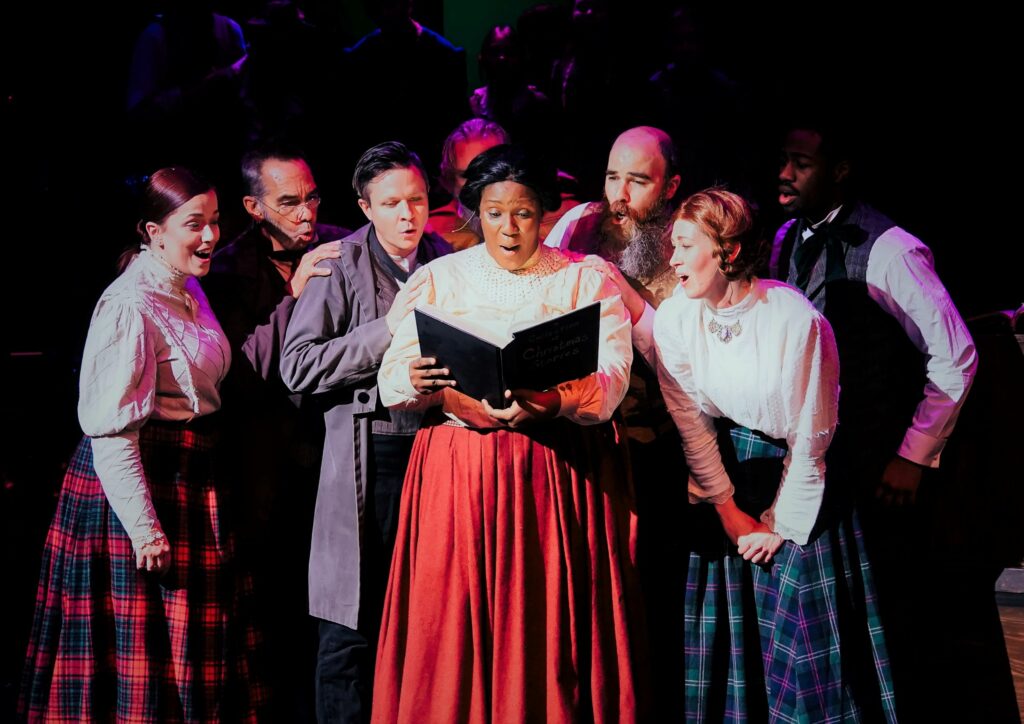 "I love it," Jones said. "I like the movement of it, the spirit of it, the live-theater thing where we get to showcase the actors' skills within the storytelling, the inventiveness of the direction and the acting to create environments, to create moments, atmosphere, all that …"
Jones also acknowledged the behind-the-scenes work of sound designer Amanda Nipper and lighting designer Bob Robins. Not to be overlooked are Stephanie Parks (costume design), Keira McDonald (props design) and Warren Goodwin (technical director).
"It's that beautiful collaboration of all of the actors and the directors and the designers creating what you experience," Lynge said.
One of the new faces in the cast is Wildlin Pierrevil, making his Hippodrome debut as Fred and Young Scrooge. He's a fourth-year theater major at UF.
"I saw A Christmas Carol the first year I was here," he said. "I wasn't really a Christmas person back then, [but] then I saw A Christmas Carol and I walked out throwing holly everywhere. I was throwing ornaments out of my pockets!
"Not to be dramatic, but I really look forward to the holidays now."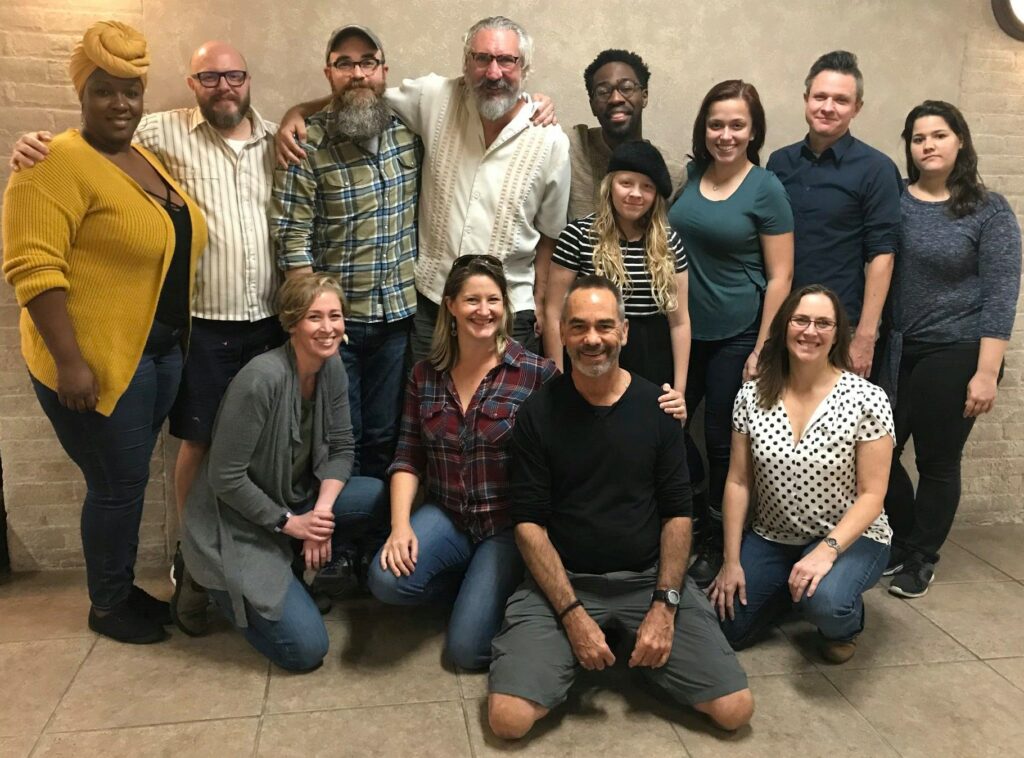 Meanwhile, UF grad Katie Pankow is excited to be playing three roles this year after performing as Mrs. Cratchit in last year's production.
"Not to sound selfish, but it's very fun to do a piece like this because we're just so connected with everyone else onstage, and you have to be," she said. "It's great because you know that everybody is with you and everybody has your back, and everybody is playing this same elaborate game as you. So it's really fun."
McGinty has been involved in A Christmas Carol at the Hippodrome for eight years. This year he plays Bob Cratchit, Scrooge's underpaid clerk and father of the sickly but angelic Tiny Tim. McGinty said he wanted to create an ensemble version of the play.
"I love pieces that have a group of actors, like Peter and the Starcatcher or Curious Incident [of the Dog in the Night-Time], where there's a group of actors that come together and tell a story," he said. "I love that concept, so that's where I started. And I just kind of went from there."
Lynge said this new version of A Christmas Carol remains true to Dickens.
"The core is the same. That's what the tradition is — the core of the story," she said. "We're just telling it in a cool, theatrically magical different way."
— Noel Leroux
---
A Christmas Carol
Hippodrome Theatre
25 SE 2nd Place
Gainesville, FL 32601
Box office: 352.375.4477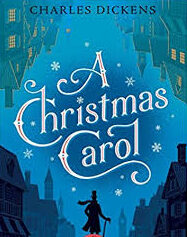 Performances: Saturdays 2 p.m. and 4 p.m. and Sundays 6 p.m. (through Dec. 22).
Adult cast members: Gregg Jones, Niall McGinty, Wildlin Pierrevil, Sophia Young, Joel Stigliano, Elaina Walton, Katie Pankow and Bill Eissler.
Young cast members: Carson Holley, Kendall Peterson, Lexi Macklin, Sadie Christensen, Peter Weinstein, Aidan VanBourgondien, Corrin Pulliam, Madeline Elyse Smyth, Trevor Ellis, Theo Canev, Leah Weiser, Channing O'Halloran, Neko Nappy, GeriAnne Meals, Mimi Macklin, Evelyn Orsini, Faith Franck and Lillian Ehlers.
Crew: John Gray (director), Bryan Mercer (musical director), Robert Robins (lighting), Elizabeth Haroian (stage manager), Christine Robertson (assistant stage manager), Keira McDonald (props), Warren Godwin (technical director), Mihai Ciupe (scenic design), Marilyn Wall (original costume design), Stephanie Parks (costumes), Amanda Nipper (sound) and Bill Boothman (master electrician).
> To purchase tickets and for further info, visit the Hipp website.
> Follow the The Hippodrome on Facebook.
* Please let us know what you think of A Christmas Carol — or share a memory of the show — by posting a comment below.