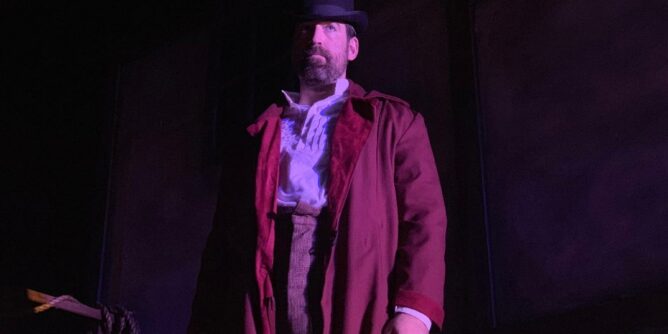 The Acrosstown Repertory Theatre begins its 39th season with a pop-rock musical based on Robert Louis Stevenson's novel about a brilliant mind gone horrifically awry.
---
Dan Christophy is Gainesville's master of musicals. In recent years, he's directed local productions of Annie, The Little Mermaid, Les Misérables, Next to Normal, Legally Blonde and Oliver! among others at the Gainesville Community Playhouse.
Starting this week, his ability to direct huge productions will be put to the test at another Gainesville venue when the Acrosstown Repertory Theatre presents Jekyll & Hyde to open its 39th season.
"I enjoy directing larger productions," Christophy said. "I enjoy getting multiple levels of personalities and experiences to work collaboratively to put on a really good show."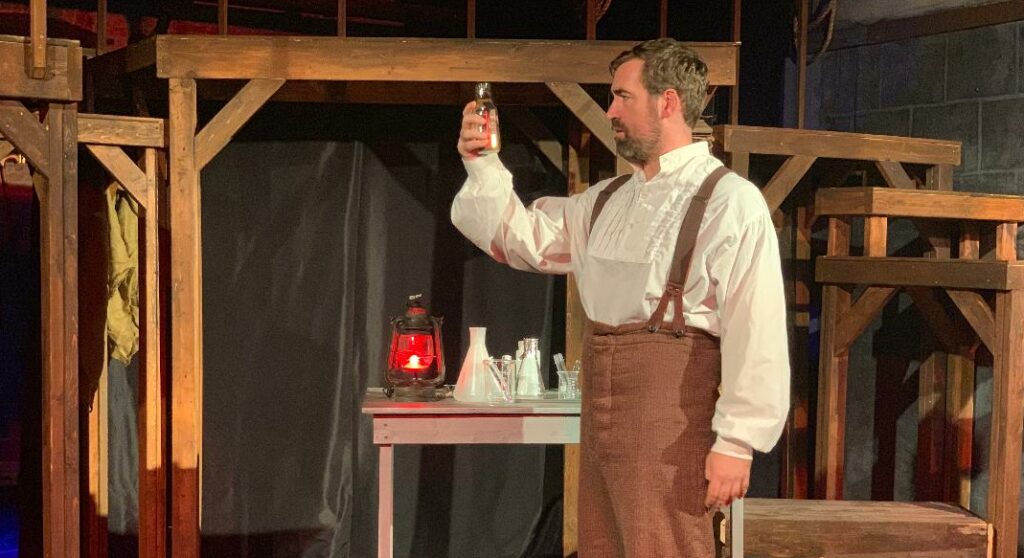 Opening Night for Jekyll & Hyde is Thursday with an 8 p.m. performance at the ART, 619 S. Main St. (in the Historic Baird Complex). There will also be performances Friday and Saturday at 8 p.m. and Sunday at 2 p.m. continuing with four shows a week through Oct. 6.
Although the Acrosstown has a history of staging musicals — most recently Into the Woods and Tommy — this is Christophy's directorial debut at the 68-seat black box theater. His biggest challenge has been building an elaborate set that mimics London in a small space that still allows a cast of more than 20 actors to move freely across the stage.
"This is a full-fledged musical," Christophy said. "My goal is to make it as close to professional as possible with the local talent that we have. And I think we're almost there."
Jekyll & Hyde is based on Robert Louis Stevenson's classic novel about a well-respected doctor whose desire to conquer evil backfires when he drinks a potion that transforms him into a murderous madman.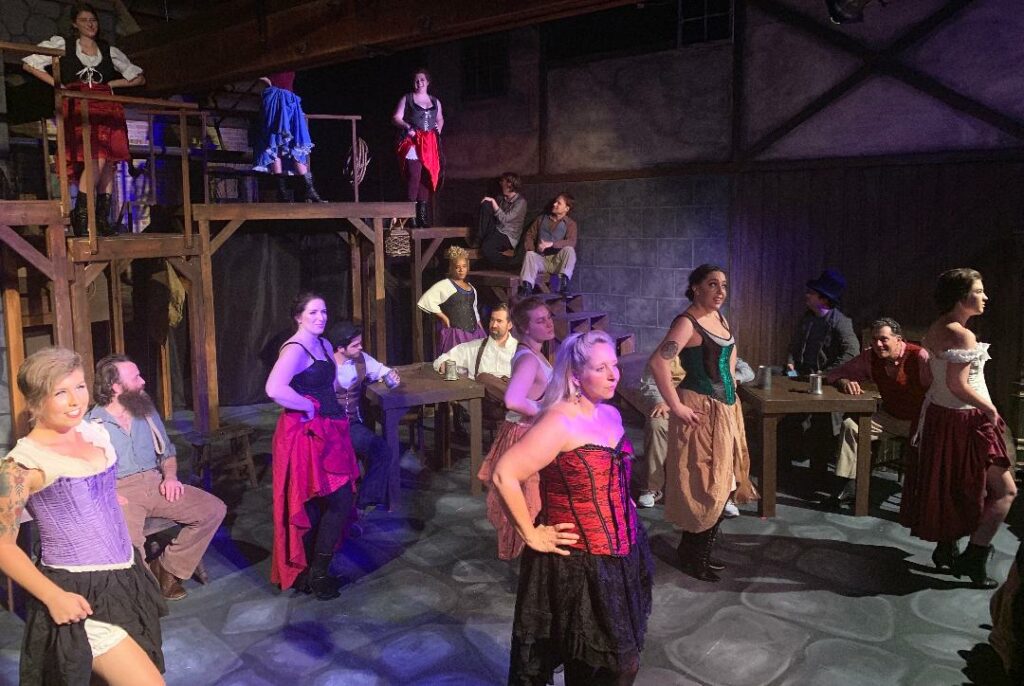 "What's more timeless than good versus evil?" said Laura Jackson, who plays Emma Carew, the good doctor's fiancée. "It makes a good musical because there's the inherent drama just from the story."
Phil Young, a veteran of Gainesville musicals, makes his Acrosstown Repertory Theatre debut in the lead role(s).
"This is the most difficult role vocally and from an acting perspective that I've ever done," Young said. "It's completely cerebral. You have one guy reserved and polite and another who releases his animalistic monster and revels in it."
The driving force behind Jekyll & Hyde is the pop-rock soundtrack, according to Christophy. The ART's production features 42 songs, including "This is the Moment" and "Someone Like You."
"The story is in the music," Christophy said. "It's almost like an operetta. It makes the audience feel and not just listen."
Christophy said he chose Young, a seasoned actor, for the title role because of his versatility and range.
"At auditions, he was able to separate the characters of Jekyll and Hyde the best using physical manipulation and audio manipulation," the director said. "In the show, he has to do it instantaneously. It's not easy!"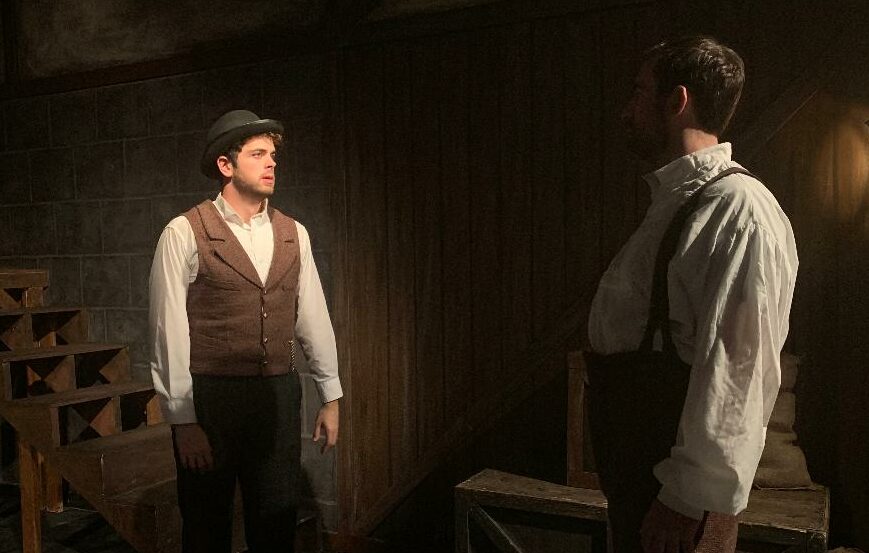 Young most recently performed as Atticus Finch in To Kill a Mockingbird at the Star Center Theater. He estimates having performed in 20 productions locally since 2012, including Jean Valjean in Les Misérables at the GCP.
"This [Jekyll & Hyde] is twice the amount of singing and there are vocal switches," he said. "I've listened to the Broadway recording this show since I was 9 or 10 years, and it's always been a dream to play Jekyll and Hyde."
In addition to Young as Jekyll and Hyde and Jackson as the doctor's fiancée, Susan Christophy plays Mr. Hyde's torrid love interest, Lucy Harris, and Bob Ruggles plays Gabriel John Utterson, Dr. Jekyll's confidant who also narrates the play. For a complete cast list, scroll to the bottom of this article.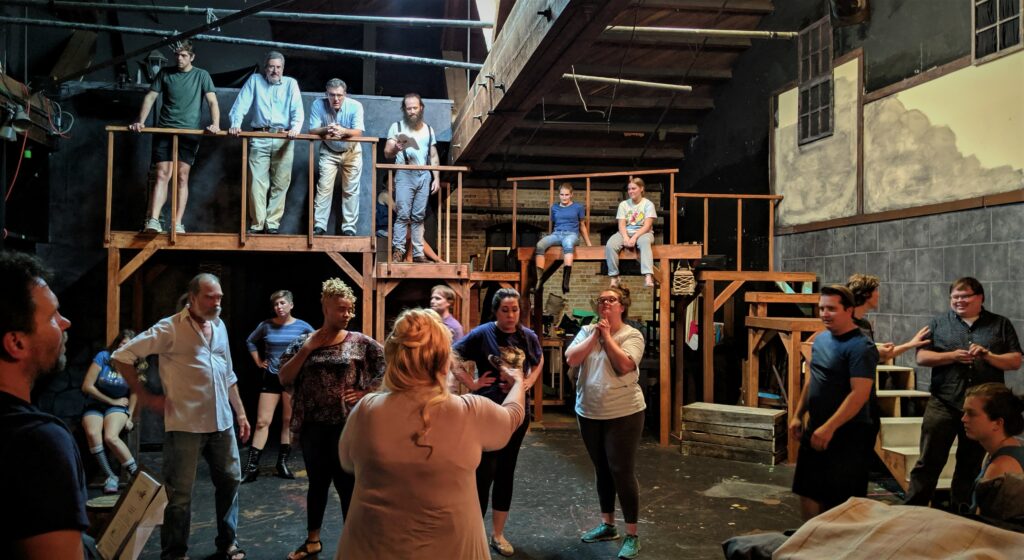 Susan Christophy, Dan's wife, is also the choreographer and costume designer for Jekyll & Hyde and assists her husband with other tasks.
"We sort of complete the vision for each other," she said. "This is such a big musical to do in this space. There's no backstage, but we've figured it out."
Dan Christophy likes that Jekyll & Hyde is a crossover production, utilizing talent from both the Acrosstown Repertory Theatre and the GCP. And, of course, the key is getting the most from that talent.
"What makes a good show is everyone being in character all of the time," he said. "Even if you're a background character, someone in the audience is looking at you."
— Noel Leroux
---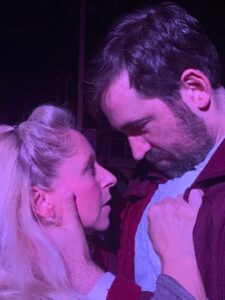 Jekyll & Hyde
Acrosstown Repertory Theatre
619 S. Main St.
(in the Historic Baird Center)
Gainesville, FL 32601
Performances: Thursday through Saturday at 8 p.m., Sunday at 2 p.m., through Oct. 6.
Tickets: $20 ($15 for students, seniors and military)
Cast: Phil Young (Jekyll, Hyde), Laura Jackson (Emma), Susan Christophy (Lucy), Andrea Young (Nellie), Bob Ruggles (Gabriel John Utterson), Bradley Allen Searles (Stride), Jeff Stevens (Sir Danvers Carew), Badger Moring Jr. (Bishop of Basingstoke), Jesse Vale (General Glossop), Renna Ten Broeck (Lady Beaconsfield), Dennis Clement (Lord Savage), Wilfredo Gonzalez (Spider), Christopher Brown (Archibald Proops), Aegis Duensing (Poole), Andy Jean (Bisset), Madeline Smyth (Newsboy and Ensemble), Mallory Rubek (Ensemble), Ashley Vogt (Ensemble), Jackie Collins (Ensemble), Nicole Lovelace (Ensemble), Kayla Zobel (Ensemble), Savanna Curtis (Ensemble).
Production: Dan Christopher (director, set design, lighting design), Susan Christophy (costumes, choreography, scenic design), Jacob Goldberger (stage manager, sound design), Savanna Curtis (assistant director, vocal director).