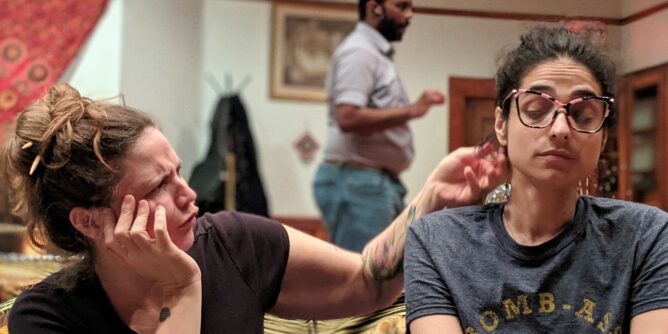 Actors' Warehouse opens its 2019-20 season with Yasmina Reza's Tony-winning play about two sets of parents who need time-out.
---
In the infamous words of Rodney King, "Can we all just get along?"
Apparently someone forgot to impart that wisdom on Alan and Annette Raleigh and Michael and Veronica Novak, the two married couples who drive God of Carnage, a dark comedy opening this week at Actors' Warehouse, 619 NE 1st St.
The one-act play begins on the evening after an incident involving the couples' 11-year-old sons. Although the boys are never seen, young Benjamin Raleigh apparently struck Henry Novak in the face with a stick, knocking out two teeth.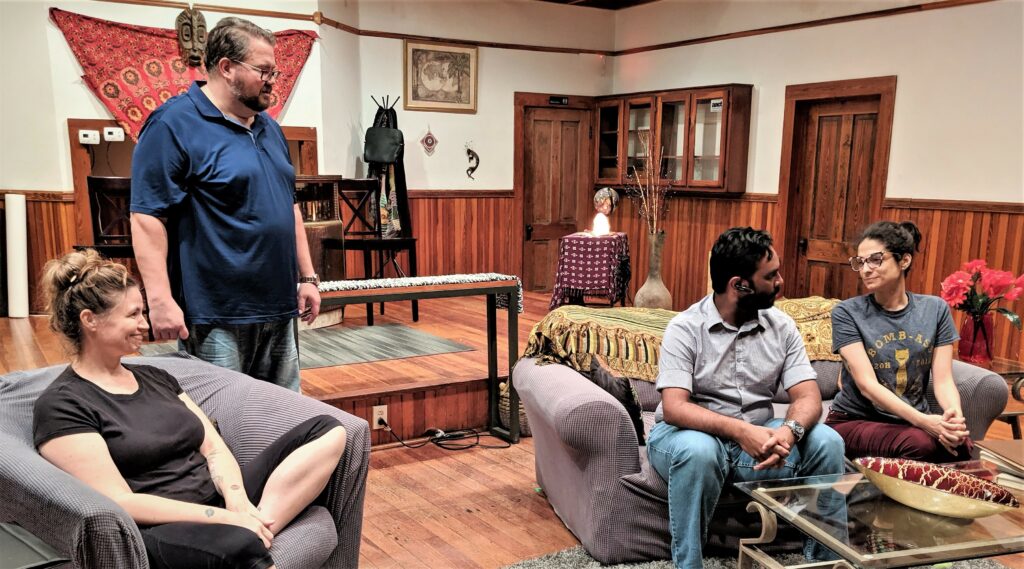 At first, the adults are overly polite to one another and you think you're trapped in an episode of Leave it to Beaver. …
"I'm very sorry, Mr. Cleaver. I can assure you that Lumpy will never lay a hand on Wally again."
"I believe you, Mr. Rutherford. Clarence is a fine boy who just gets a little rambunctious at times. No harm done."
In God of Carnage, however, the pleasantries are over in a matter of minutes. And before you know it, the gloves are off.
And, no matter how sordid it gets, you can't look away!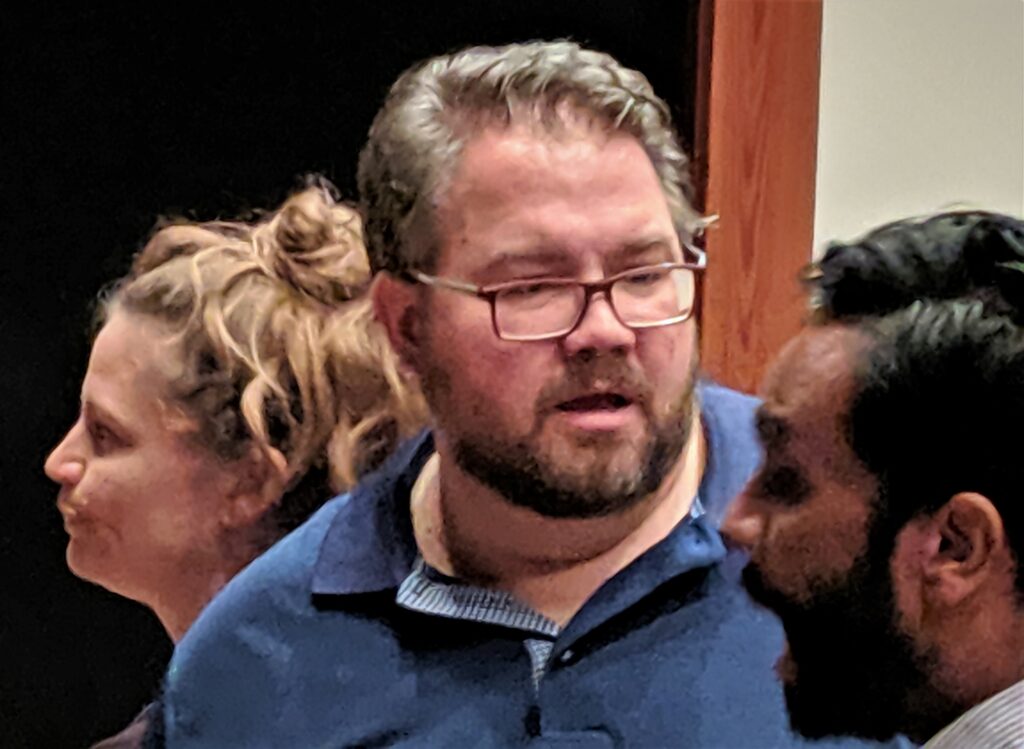 "None of these characters are good people, but you know them," director Lola Bond said matter-of-factly.
Bond said she first saw the play when she lived in Washington state.
"I remember thinking that when the show started, it seemed to lag," she said. "But then something happened about 10 minutes through that grabbed my attention. Then I was hooked and found it engaging, funny and frustrating."
There's not a sympathetic character in the show. Each one takes an opportunity to insert a foot (or two) into their mouth, making for cringe-inducing, "you-did-not-go-there" entertainment.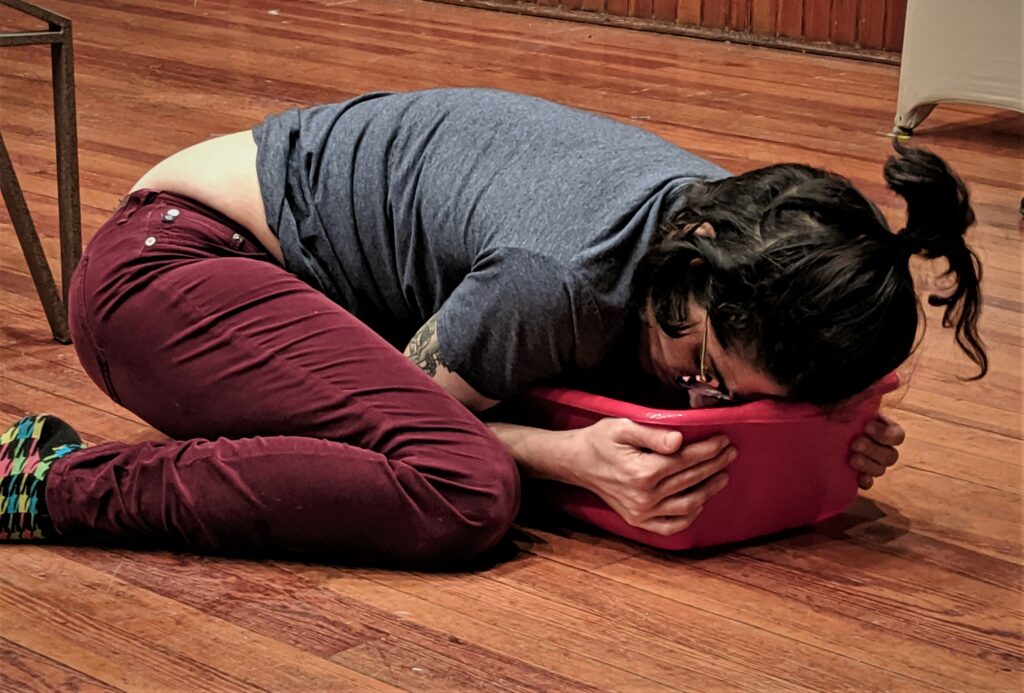 We'll start with Alan Raleigh (Saie Kurakula), an attorney who can't disconnect from his Bluetooth or smartphone long enough to finish a sentence.
"It's a fun role because you get to indulge — he has to be a jackass," Kurakula said. "As an actor, it's fun to play that sometimes."
His impatient wife, Annette (Mariette Gallor), works in "wealth management" and has untimely stomach issues.
"At first, she's quiet and reserved," Gallor said of Annette. "But when she feels her son is being attacked [by the Novaks], you see a little more of a fire in her. She goes through an evolution."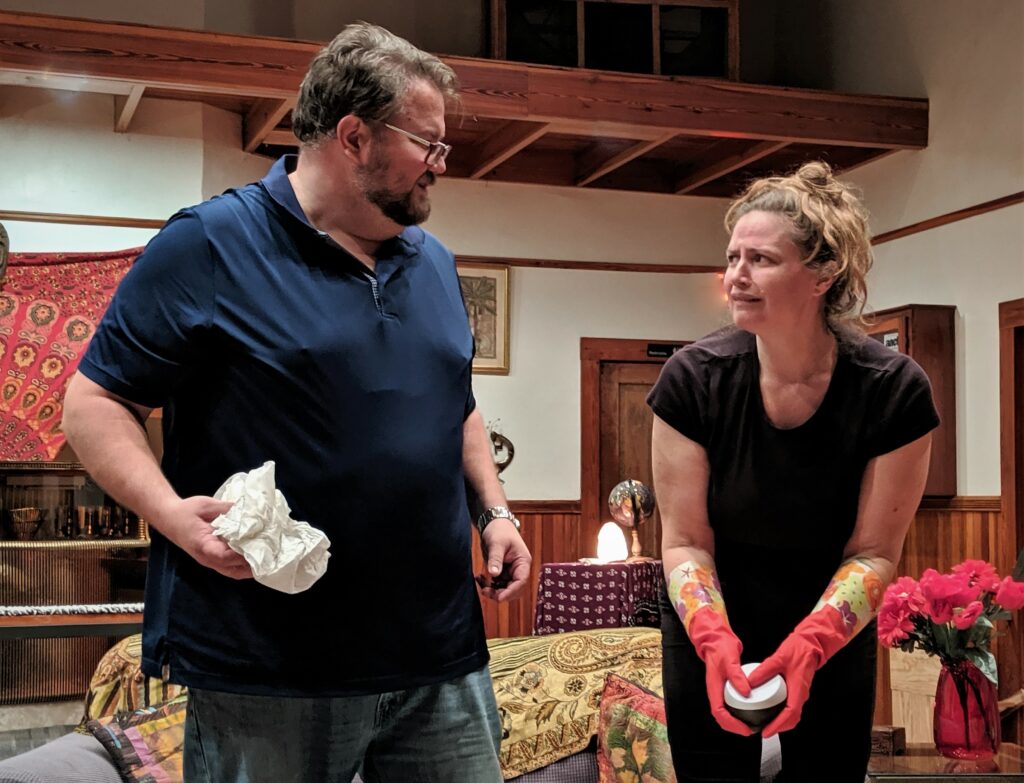 Meanwhile, high-minded Veronica Novak (Samara Powers) is writing a book about Darfur and serves her guests pear-and-apple clafoutis before all hell breaks loose in her living room.
"She's one of those woman who is optimistic and justice-minded," Powers said about Veronica. "She wants things to be better, but she doesn't see her own privilege so her efforts are a little hampered."
And then there's snooty Michael Novak (Bradley T. Hicks), who sells household goods by day and tortures hamsters by night.
Hicks said the playwright knew exactly what she was doing in presenting four upper-middle class characters wading in the shallow end of the gene pool.
"The play is powerful in its ability to turn the mirror of reality on the audience and to show them their own true faces," he said. "It's not a very nice place."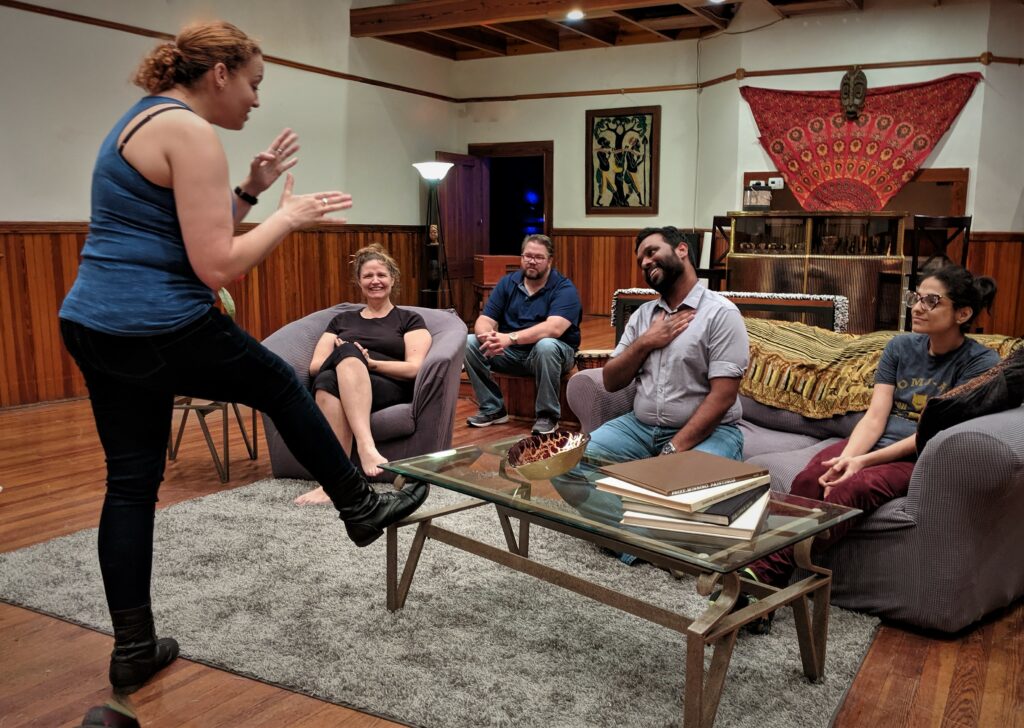 Bond said that Reza's mastery of language sets the rhythm and tone in God of Carnage.
"At first, it might seem mundane or meaningless, but everything she does is purposeful," the director said. "It's a study of human behavior."
God of Carnage debuted on Broadway in 2009 with an all-star cast that included Jeff Daniels and Hope Davis as the Raleighs and James Gandolfini and Marcia Gay Hardin as the Novaks. Harden won the Tony for Best Leading Actress in a Play.
Bond warns that some language in the play might be offensive to sensitive ears. In fact, she had considered altering the script to delete certain words she herself detested.
"The more I read articles about [Reza], I realized that her whole point was to make us feel uncomfortable — to jar the brain into forcing you to pay attention because it's parts of our culture and ourselves that we don't like," she said.
Ultimately, Bond said, "I had to respect the integrity of the script."
— Noel Leroux
---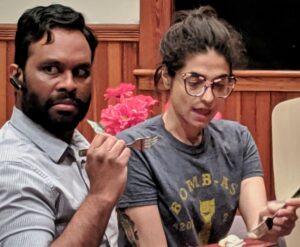 God of Carnage
at Actors' Warehouse
619 NE 1st St.
Gainesville, FL 32619
Performances: Thursday through Saturday at 8 p.m., Sunday at 3 p.m. through Sept. 22. (No performance Sept. 5.)
Tickets: $25 general admission, $20 seniors, $15 students. Note: There are $10 Thursdays on Sept. 12 and Sept. 19.
For further info, visit the Actors' Warehouse website.
Let us know what you think about the play by posting a comment in the Leave a Reply section below.