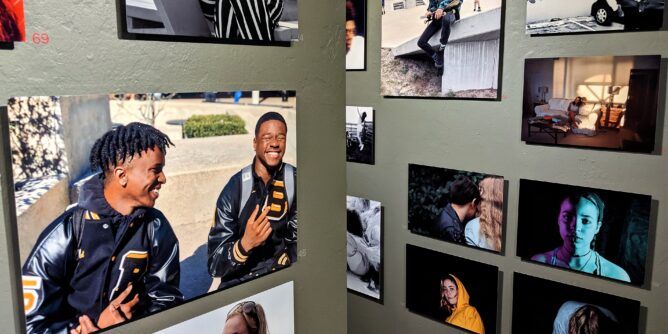 The photography exhibit that opens Friday night at the Thomas Center Galleries includes 150 portraits of youths taken by youths — for future youths.
---
Stroll through the new exhibit, "Synchronica :: Framing Time," at the Thomas Center Galleries and you'll see the world from a whole different perspective — from the refreshing vantage point of young people.
And not just any young people. The 150 photographs on display were all taken by area students ages 14-21 as part of the yearlong Gainesville150! commemoration to celebrate the city's sesquicentennial.
"These photographs represent all the aspects of being a teenager," said Russell Etling, the city's cultural affairs manager. "It's the future captured here in one space — and you're immersed in it!"

"Synchronica :: Framing Time" officially opens Friday night with a public reception at the Thomas Center from 7-9 p.m. during Artwalk Gainesville. More than 20 downtown area venues are taking part in the June Artwalk. (For a complete listing, scroll to the bottom of this article.)
According to Anne E. Gilroy, curator for the Thomas Center Galleries, there were 1,140 photographs submitted for "Synchronica." A panel of judges that included Gilroy, Logan Marconi of Santa Fe College, Carol McCusker of the Harn Museum of Art and Angela DeCarlis from UF narrowed that number by almost 90 percent.
The word "synchronic" refers to a thing as it exists in a moment in time.
"There was a lot of sifting and sorting," Gilroy said. "First we looked at images for their aesthetic value — the transaction between the photographer and the subject, the 'eye' the photographer had, the uniqueness of the image, the honesty in the vision.
"Then, to be honest, I wanted a balance of gender, age, race, lives represented. Last, I would say that we had to eliminate repetitive work. There were certain themes or types of images that showed up over and over, so even though a particular image might be really well done, if it was repetitive it didn't always make the final cut."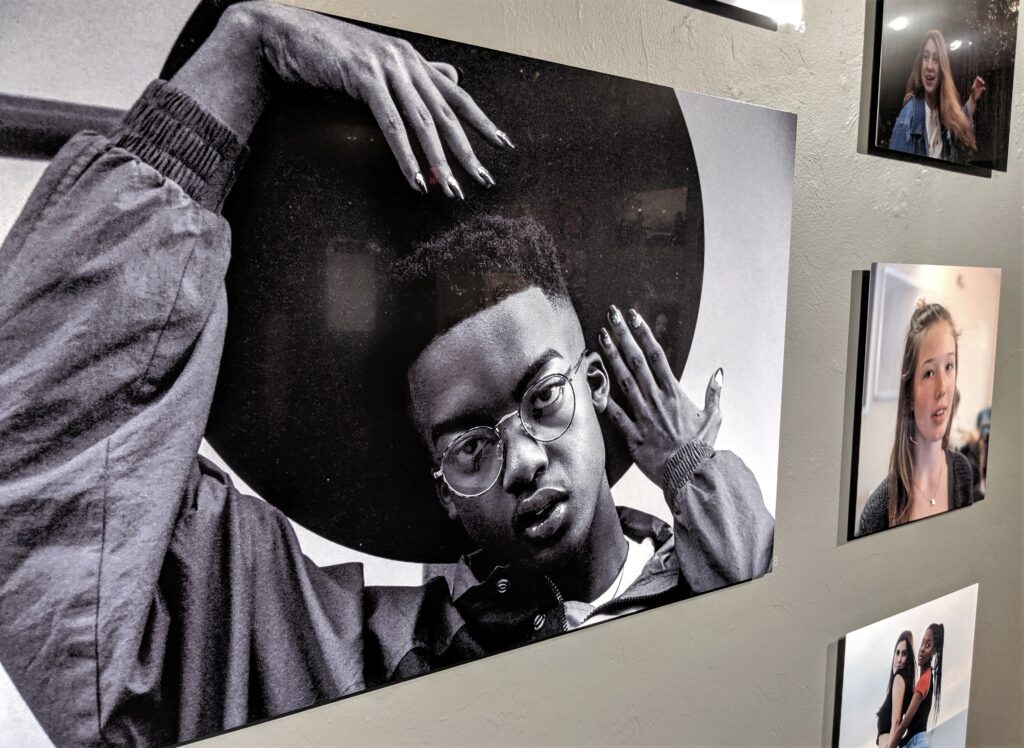 The end result is an exhibit that reflects what the youths of 2019 see in each other in their everyday lives. Many photographs show laughter and fun times, but others capture teens in more serious moments.
"There's something emotional about it," Etling said. "I've seen people brought to tears."
Etling said an early working title for the exhibit was "Dear 2169." That's because the photographs are intended to become part of a time capsule designed to be opened in another 150 years, which would be Gainesville's 300th birthday.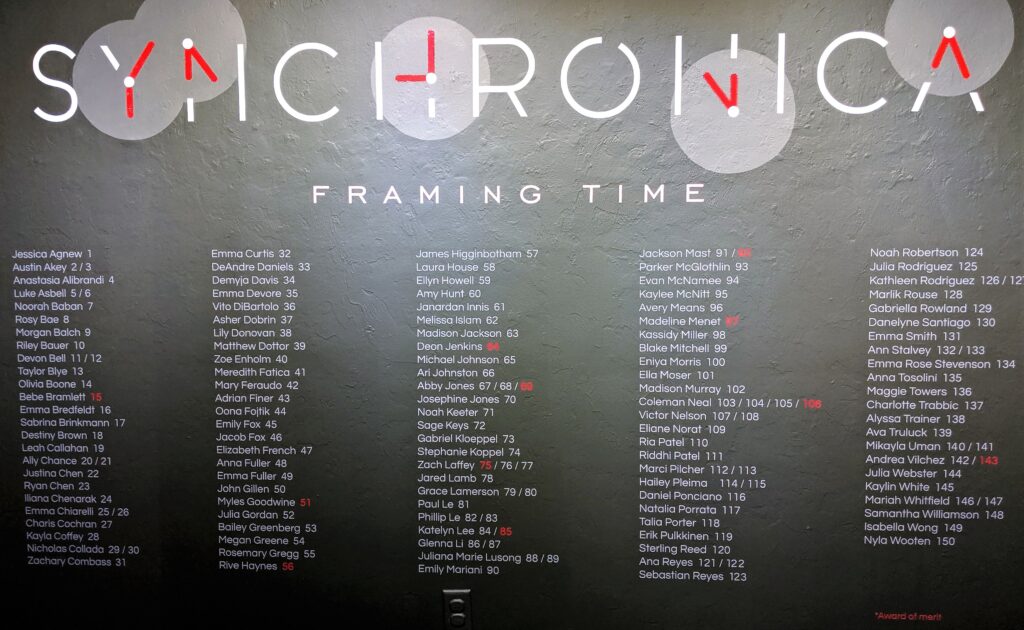 Each photograph on display was processed by fusing archival inks onto aluminum with heat not only to preserve the image longer than paper but also to give each photo a luminescent quality.
"They almost look backlit," Etling said.
The collection of images in "Synchronica" is a voice from the present leaving a message for unknown viewers in the future. Each photo has identifying information on the reverse, so that subsequent generations can find their forebearers among the images in this marker in time.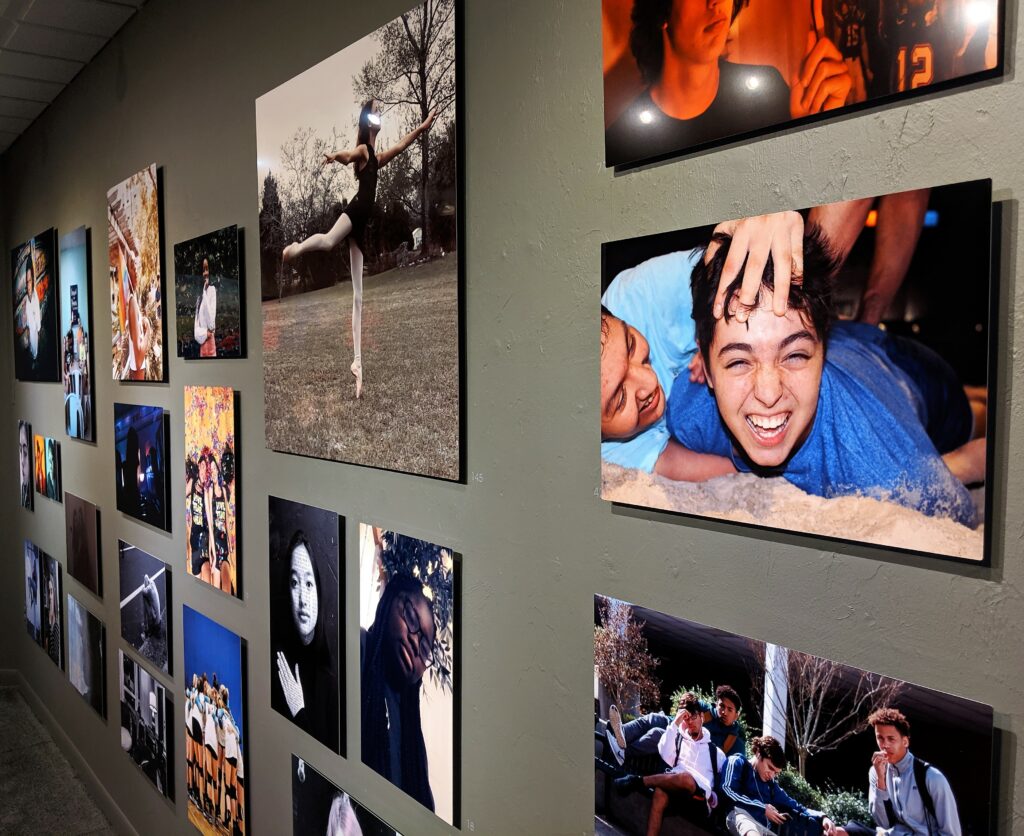 Students from several Alachua County Public Schools as well as the private Oak Hall School were encouraged to take part in the project that began more than a year ago. Gilroy visited the schools and explained to teachers and students that the goal of the project was simply to capture a moment in time and place.
The students took it from there, using their cellphones and standard cameras to take photos of their peers. No selfies were allowed, nor were images of adults.
Looking back, Gilroy called the idea "a random shot in the dark."
"'Yeah, why don't I just get hundreds of teen photographers to send me really intimate portraits and self-portraits, but not selfies?'" she remembered thinking. "I mean, the idea was a little bit preposterous from the beginning. It stood a good chance of just getting mired down in unpredictable problems, or of just turning out to be mediocre — which would be a total fail in my opinion."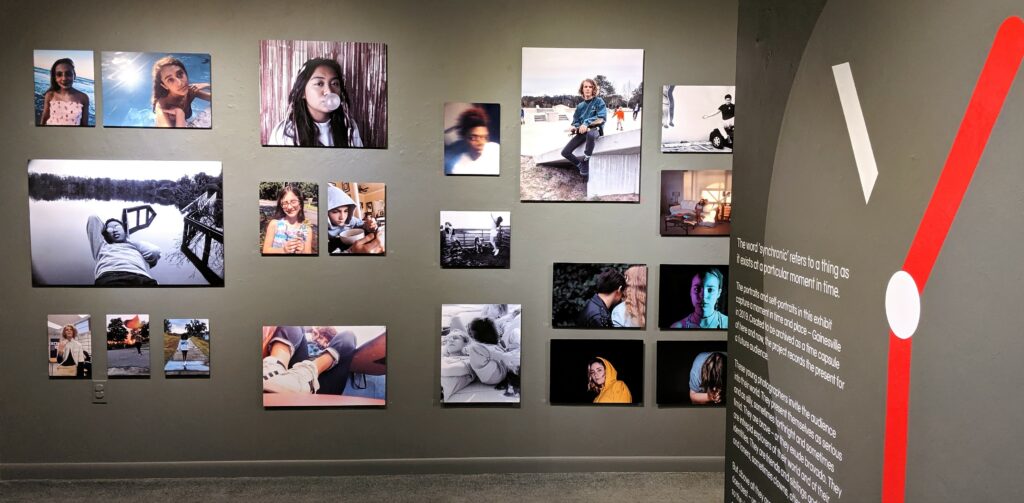 Now that "Synchronica" is completed, Gilroy's no longer second-guessing herself.
"It is exactly what I envisioned!" she said. "But … I had a lot of fear that my early vision and expectations might be unrealistic. Producing an art exhibit when the art doesn't yet exist and when I had to count on hundreds of teens to get excited and invest themselves in the idea was risky.
"I can say they more than met my high expectations!"
Gilroy added that the project wouldn't have succeeded without Kristy Foster, the art teacher at Buchholz High School.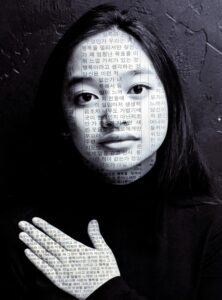 "She got behind it one hundred percent," Gilroy said. "She inspired her kids, she talked me through a lot of the questions and issues, she was invested in the project from the first day, and I relied on that energy a lot."
Gilroy also wanted to thank Diana Rollo of Alachua County Public Schools as well as teachers Terrence Ho of Oak Hall, Clea Lauriault of Gainesville High and Pam Valcante of Eastside High. Additionally, local Realtor Mike Hastings, of Dawn Realty, sponsored the 11 Awards of Merit that will be presented on Friday night.
"Synchronica :: Framing Time" is funded in part through a grant from the Florida Humanities Council with funds from the National Endowment for the Humanities.
"I don't know if the exhibit is important," Gilroy said, "but I hope it is meaningful both now and at some point in the future — meaningful now to the young people whose photos are part of such a beautiful body of work, and significant at some point in the future when all the contemporary visual artifacts like shoes and eyeglasses and cars and sports equipment seem quaint or even archaic.
"And I like to think there will be people in the future who see these images and can say, 'Hey, there's my great grandmother when she was only 15!'"
— Noel Leroux
---
"Synchronica :: Framing Time" will be on display through Jan. 4, 2020, at the Thomas Center Galleries, 302 NE 6th Ave, Gainesville, FL. Hours are weekdays 8 a.m.-5 p.m. and Saturdays 1-4 p.m. Admission is free.
---
Following is a list of participating venues for Friday night's June Artwalk and what to expect:
GFAA Gallery (1314 S. Main St.): Presenting the members' themed show "Absolute Abstracts" Opening reception and awards presented during Artwalk. Exhibit continues through July 20. Meanwhile, the Front Gallery features self-curated collections of artwork. The GFAA Gallery also includes a boutique with affordable artisan objects and artworks. Note: Artwalk hours 6-9 p.m. GFAA Gallery open Tuesday-Saturday 11 a.m.-6 p.m., closed Sunday and Monday. (For further info, visit the gallery's website at gainesvillefinearts.org.)
First Magnitude Brewing Company (1220 SE Veitch St.): Hosting a variety of artists and live music by Eli Tragash, as well as food trucks and craft beer. Note: Artwalk hours 6-9 p.m.
435 (435 S. Main St.): Hosting woodworker and painter Robin Popp. Her North Florida farm and surrounding area provides much of the subject matter for her oil paintings. She often works "en plein air," or on location, capturing the color and light of the natural world. A Florida native, Popp attended Ringling School of Art in Sarasota and PTEC's Cabinetmaking program in Clearwater. She loves her studio/workshop, and teaches plein-air painting. (Venue is next door to the Civic Media Center.)
Civic Media Center (433 S. Main St.): Always a haven for creative thoughts and offering alternative images and ideas about the politics and norms of our world. (civicmediacenter.org)
4Most Gallery (534 SW 4th Ave.): "Make Room" is a pop-up solo exhibition by departing 4Most Resident Sue Montoya. In this installation, she weaves cli-fi inspired by personal anecdotes with information regarding living conditions in Miami. The video, montage, zine and sculpture map out
the meaning of "making room," from fostering spaces of creative expression to the construction boom in Miami.
Hippodrome Gallery (25 SE 2nd Place): In conjunction with the Hipp's mainstage production, Million Dollar Quartet, the first-floor art gallery once again features local guitar maker Alex Ferrington and his exhibition "Rock Paper Stone: Guitar Designs." His original designs take on the classic American cigar box guitar style. Using found objects, Ferrington uses his love of the country blues sound and wood-making talents to innovate a part of American music history. (thehipp.org)
Maude's Classic Café (101 SE 2nd Place): Featuring "PERSPECTIVES," a group show of artists who meet regularly to draw or paint various models. It's always interesting to see a rendition of the same person from different points of view, with different media. Included are works by Frank Barone, Mary Ruth, Colleen Rand, John Then, Gwen Chrzanowski and Troid Brett.
Black C Gallery (201 SE 2nd Place): Presenting Liliana Dvorianova's "The Golden Sunset of the Human Body." Dvorianova integrates digital manipulation into her photographic work, thereby creating an exact image she envisioned for a piece. She is interested in transformations of identity. Rather than presenting ideas directly to the viewer, she chooses to embed her works with mystery and complexity." Note: Artwalk hours 7-9 p.m. Regular gallery hours Monday-Thursday noon–5 p.m. and by appointment. (blackcproduction.com)
Somewhere Along the Way (201 SE 2nd Ave, Suite 110): Featuring a live painting by local artist Brittany Ragland painting Frida Kahlo, as well as live music. (somewherealongtheway.biz)
Artisans' Guild Gallery (201 SE 2nd Place): Featuring guest artist Frank Barone. "Painting and drawing from observation has always been a great challenge and love." Barone has participated in several local plein-air events and is a member artist at Melrose Bay Art Gallery. Live music with
Quattro, a ukulele quartet. Regular gallery hours Monday-Saturday 10 a.m.-7 p.m. and Sunday noon-5 p.m (artisansguildgallery.com)
Sweetwater Print Cooperative (117 S. Main St.): Presenting "Let's See," an exhibition of mixed-media works by Robert Malinowski and Valerie Aslakson-Jennings. Exhibit continues through July 24. After Artwalk, the gallery is open Thursday afternoons and Friday mornings, or by appointment by calling Stewart Thomas at 352.514.3838.
Lennie Kesl Studios (115 S. Main St., upstairs in the Tench Building): Presenting Andrii Melnyk, a Ukrainian scientist with a background in microelectronics. His passion for photography dates back to his childhood, taking pictures with a basic black-and-white film camera. Melnyk has been experimenting with various types of photography, portraits, architecture, landscapes, still-lifes and candid shots. He takes photographs of street life on the go and has an eye for interesting angles and harmonious compositions.
Eleanor Blair Studio (113 S. Main St.): Artist Eleanor Blair will soon be moving out of the beautiful studio she has had for three decades. On display during Artwalk will be lots of her new paintings, pastels and drawings. Live music by Weeds of Eden. (eleanorblairstudio.com)
The Bull (18 SW 1st St.): Featuring Krissy Kay and "Summer." The exhibit features whimsical and
quirky pen/ink illustrations. Utilizing 2D design and Cubist perspectives, Kay seeks to transform the strange and grotesque of the mind into a smile on her face.
The SL8 (10 E. University Ave.): Presenting the show "CABALA–Demons & Divine" by artist and Tarot reader Karl Labi. He has designed his own deck called the "Israel Tarot" that will be on display, for sale, and he will do tarot readings. Israel Tarot takes on an international and multicultural journey
from the most ancient times to the present moment of digital revolution and postmodern man. It's a
compilation of esoteric wisdom, targeting the ancient and confidential mysteries about life, its purpose and ultimate goal, and can be utilized as a tool of self development.
The Historic Thomas Center (302 NE 6th Ave.): Opening reception for "SYNCHRONICA. Framing Time," 150 powerful photo portraits of and by young Gainesville photographers. More than a year in the making, this exhibition is part of the Gainesville150 celebration. Also featuring "A Walk in the Park," a group exhibition of 19 works by 10 local artists inspired by the city's public spaces, in the second-floor Doris Bardon Gallery. Note: Artwalk hours 7-9 p.m. Light refreshments served,
The Collaborative Shoppe (532 N. Main St. with parking in back): Featuring artist Jeff Jarrett, who says "Have fun and show your HEART in your ART." Jarrett will be painting live during Artwalk, plus a group exhibition market of local finds and handmade goods. There will be a Create-n-Take station. Note: Artwalk hours 6-10 p.m. (Next door to Uniquities Consignment Shop.)
Visionary CrossFit (716 N. Main St.): Presenting Sarah Whitmire: visionary artist and oracle painter. Whitmire will be performing live during Artwalk and has a solo show on display through the end of August. Be astounded by her large paintings, bold colors and raw, expressive style. Also featuring live music, a black light gallery, incredible murals and permanent exhibitions by Carrie Martinez, Jesus Martinez and Tim Malles.
The Vine (627 N. Main St.): Welcoming Dean Griebel and Teresa Zokovitch. Join them for their photography exhibition and a sampling of wines from their recent travels through southern France and Spain. "We hope to share the sense of community, the beauty of nature, the love for food and wine and the excitement of the road trip."
The Bull (920 NW 2nd St): Featuring Jeffrey Gertner's artwork along with music by HR Gertner.
Cypress & Grove Brewing Co. (1001 NW 4th Ave.): Featuring Milan Hooper and Clea Lauriault with live music by Jack Mason and Jack Jr. (6-7 p.m.) and Jenu Six (7-10 p.m.). Note: Artwalk hours 6-10 p.m.
The Atomic Ark Gallery (1801 NE 23rd Ave. — across from Satchel's Pizza): Specializing in American Modern furniture design from the 1930s through the '70s, with an extensive collection from America's most prolific designers. Recently featured on the Gainesville Modern Home Tour as a
sponsor, in addition to staging several homes on the tour.
For further info, visit the Artwalk Gainesville website.