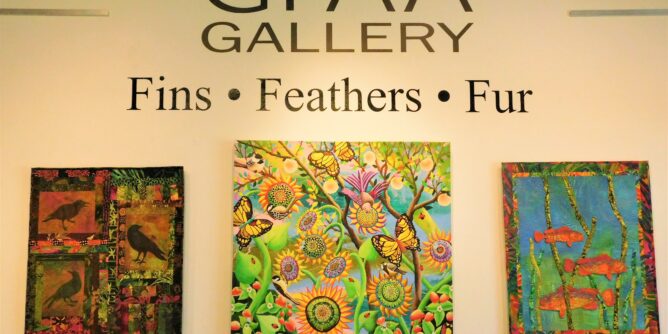 The "Fins, Feathers and Fur" exhibit puts focus on wildlife and other critters during GFAA show, while Hipp presents solo photography show by Marina Sachs.
---
Browsing the GFAA Gallery during its newest exhibit is like taking a walk on the wild side.
Titled "Fins, Feathers and Fur," the themed exhibit includes 72 paintings, photographs and other pieces by 41 members of the Gainesville Fine Arts Association showing two- and four-legged creatures — and fish — interacting with Mother Nature. There's even a metal sculpture of a 4-foot-long praying mantis!
"As usual, the theme has been interpreted broadly," said Sue Kelman, GFAA president. "It's a beautiful show. I'm really delighted with all the gorgeous photography and paintings."
The public can get a first look at the exhibit on Friday from 6-9 p.m. during an opening reception at the gallery, 1314 S. Main St. The event is part of the monthly Artwalk Gainesville, which is taking place at more than 20 galleries and art-minded businesses in and around downtown Gainesville.
(For a complete list of venues and artists, scroll to the end of this article.)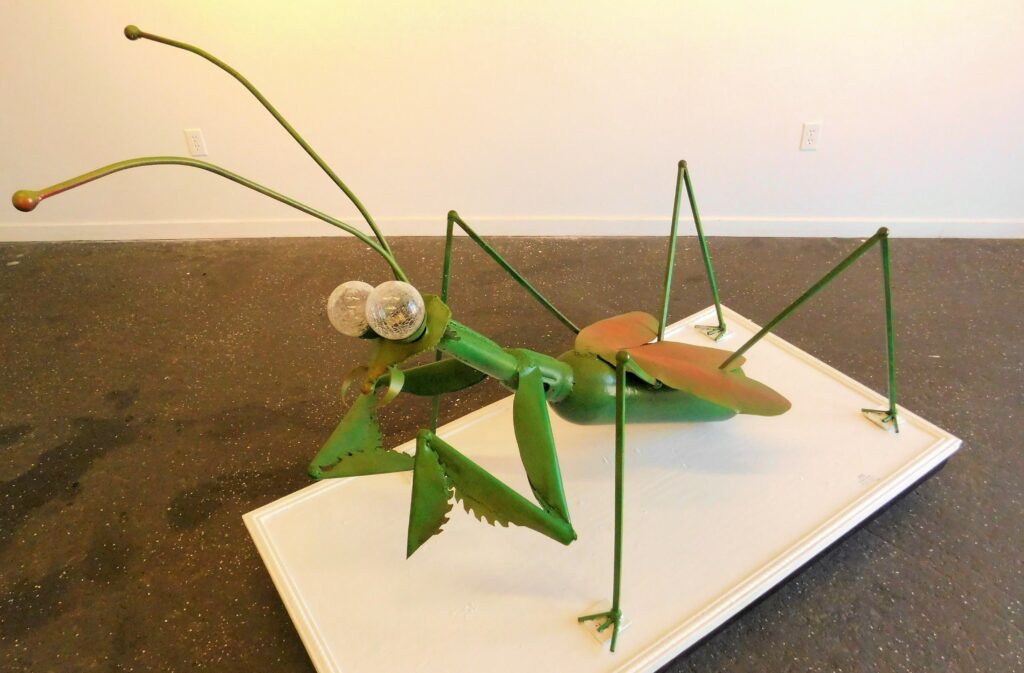 The green praying mantis was created by GFAA artist Michael Angelo Gagliardi out of steel and found objects. The insect's eyes are crafted from round light fixtures. Last month, Gagliardi created a 7-foot-tall steel sculpture titled "Pan Didn't Like the Blues, He Was All Jazz."
"Michael brings such life to our gallery!" Kelman said.
According to Kelman, the nonprofit GFAA boasts more than 300 member-artists.
"We really hold a unique place in town," she said. "The GFAA creates a space for people to bring and share their art."
Next month, GFAA artists will display their works under the theme "Black and White, With a Twist." Unlike previous years, this year's theme allows artists to submit entries that include a burst of color in their otherwise black and white artwork.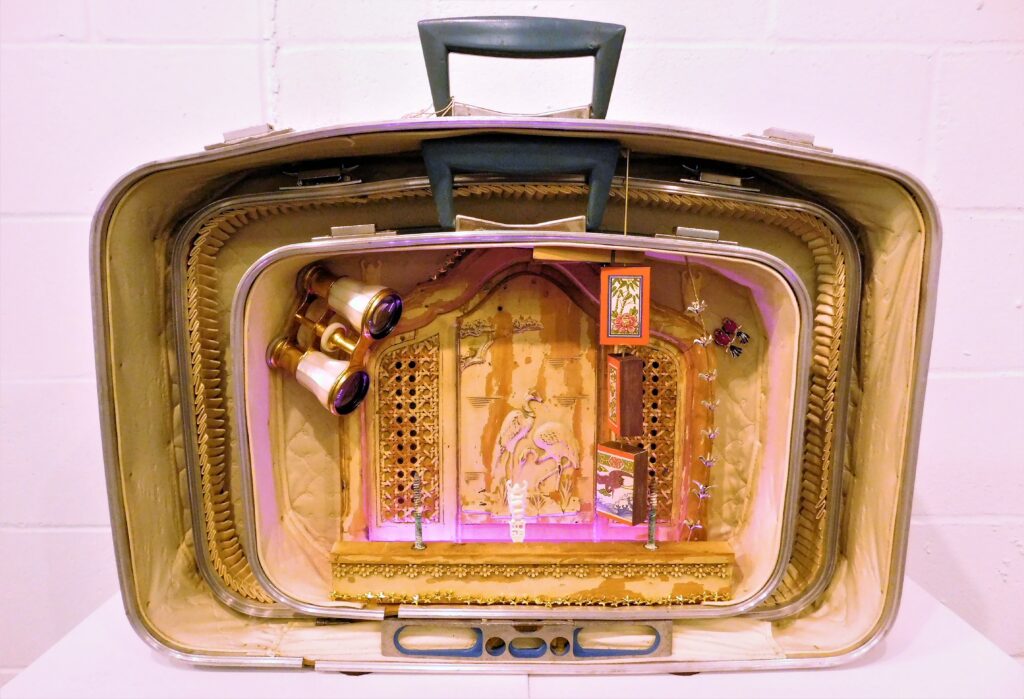 Gainesville artist Frank Curtis, known for his "suitcase art" created from vintage luggage, has a piece titled "Illumination" on display at the "Fins, Feathers and Fur" exhibit. The piece is actually three suitcases that fit inside each other, creating a stage-like presentation.
"These images are about the 'Light Bulb' going off in our head," said Curtis, who also happens to be the monthly Artwalk coordinator. "The rusty screws equate to 'Rust Never Sleeps,' a reference to time moving forward no matter what and recognizing that as a universal truth. The flight of birds, their migrations, their brief life span. The small binoculars is our desire to get a closer look, to see more and understand more."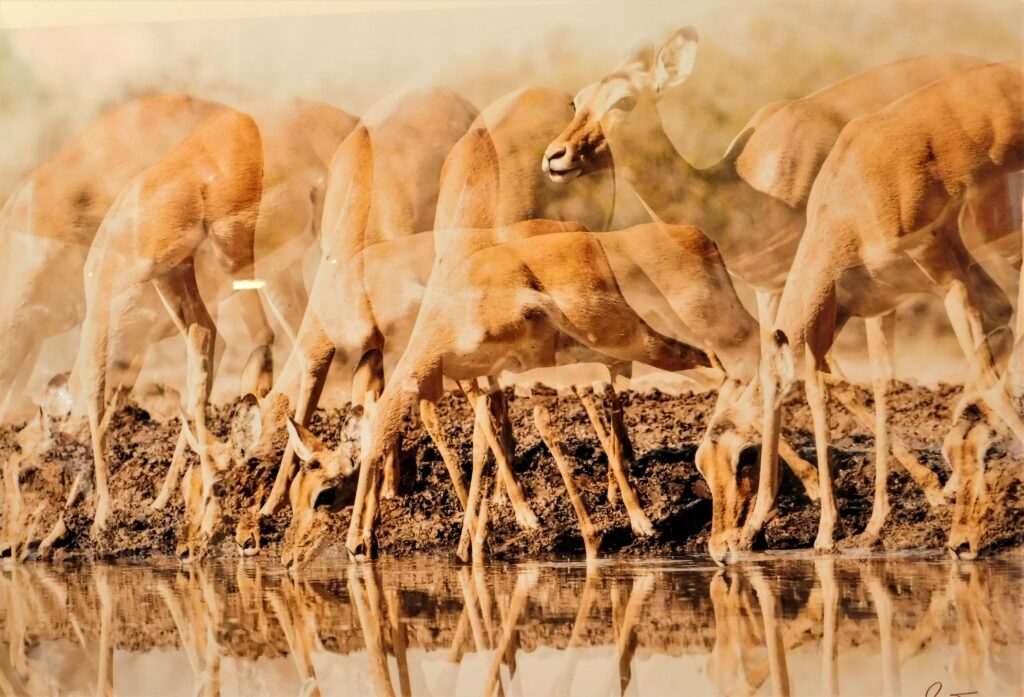 Most of the GFAA shows are juried. This month, Tina Mullen, director of UF Health Shands Arts in Medicine, judged the "Fins, Feathers and Fur" show. Awards will be announced during the Artwalk Gainesville, including a $125 Best of Show prize.
The "Fins, Feathers and Fur" exhibit continues through April 20 at the GFAA Gallery. The gallery is open Tuesday through Saturday 11 a.m.-6 p.m.
Elsewhere during Artwalk, the Hippodrome Gallery is hosting an opening reception for "GIRLS (look at me)," a solo exhibition of new works by local artist and educator Marina Sachs.
Working in her primary mediums, 35-millimeter photography and silkscreen, Sachs deals with femininity, commodification, repetition and endurance. The "GIRLS (look at me)" exhibit is a growing series of vibrant photographs that attempt to capture the image of women from the artists' position as a female artist, thus escaping the male gaze in its creation.
"Each subject's gaze hints at the loneliness," said Sachs "an infinite recession that women experience when they are commodified, objectified, and constantly exposed to commodified female bodies. This series is a promise that the girls who live in your dreams will always stay there."
Sachs is pursuing her Masters of Arts in Art Education at UF. Her exhibit continues at the Hipp Gallery through April 21.
There are several new venues for this month's Artwalk. Curtis said the goal is to get everyone involved in the monthly event.
"We are so excited that new venues are interested in being a part of this 30-year tradition," he said. "Our downtown is growing and thriving. It's only natural that it would expand to other areas and have a greater variety of artists and hosts."
---
Following is a list of participating venues for Friday's March Artwalk and what to expect: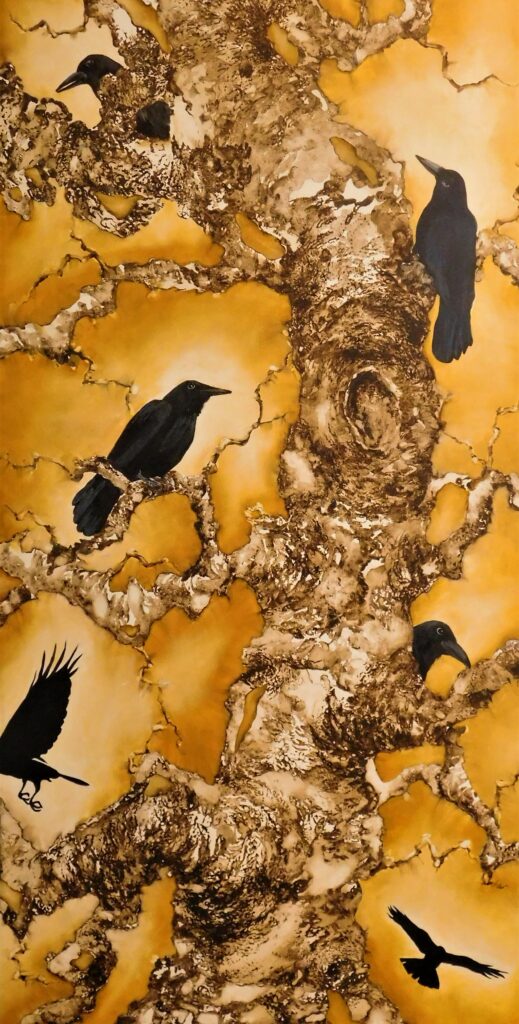 GFAA Gallery (1314 S. Main St.): Presenting the members' themed show "Fins, Feathers and Fur." Opening reception and awards presented during Artwalk. Exhibit continues through April 20. The GFAA Gallery also includes a boutique with affordable artisan objects and artworks. Note: Artwalk hours 6-9 p.m. GFAA Gallery open Tuesday-Saturday 11 a.m.-6 p.m., closed Sunday and Monday. (For further info, visit the gallery's website at gainesvillefinearts.org.)
First Magnitude Brewing Company (1220 SE Veitch St.): Hosting a variety of artists and live music by Alli W., as well as food trucks and craft beers. The gallery in the Source tap room is displaying Larry Finkel's nature photography. Finkel has a passion for capturing wildlife pictures and has been known to stand in a local swamp for hours to capture that one great shot. Vendors in the Beer Garden will include Jenna Horner Art, Happy Williow Soaps, Java Holmes Brew, Jenna Brooke Niblack, Melody Tunks, Marissa Ogburn, One Healthy Planet, LLC (Rose Godfrey), Rock Paperstone, Natalie Walker with Solmana Collection, Danielle Jacobs and Brittany Donald Ragland. Note: Artwalk hours 6-9 p.m.
435 (435 S. Main St.): Hosting Mike Chappell, who makes porcelain and stoneware, soda-fired functional pottery. Soda firing is an atmospheric process that leaves marks of the flame on the work, allowing each pot to tell a story of how it was fired and its placement within the kiln. Mike began making pots after setting up his home studio in 2005. (Venue is next door to Civic Media Center.)
Civic Media Center (433 S. Main St.): Join the CMC at 10 p.m. for a night of music-infused technology: Silent Disco! Support the artist collective Dion Dia with your presence and dance moves. Entry is $10. (Ages 18-plus only.)
4Most Gallery (534 SW 4th Ave.): Presenting "lo que se fue y lo que se dejó" ("what was and what was left"), a solo exhibition by Ashley Ortiz-Diaz, MFA candidate in Printmaking at UF. Ortiz-Diaz makes space for contemplating death through word, image, installation and workshops. Throughout her thesis, the plane (including table tops, sheets of paper and those drawn) is utilized as a guide, translator, medium, platform for respite and a space for reflection.
Hippodrome Gallery (25 SE 2nd Place): Presenting "GIRLS (look at me)," a series of 35mm photographs by local artist Marina Sachs dealing with the everyday confrontation of com-modified female bodies through advertisements and social media, capturing the female gaze (from a female perspective) without objectification or commodification. Sachs asks the viewer: "How do you look at women? How do they look back at you?" Exhibit continues through April 18 during Hippodrome business hours and during weekend and evening events. (thehipp.org.)
Maude's Classic Café (101 SE 2nd Place): Hosting Robin Best, an African studies major at UF. Robin loves Gainesville for its thriving local music scene, activist community, diverse wildlife and richness in support for local art. "I teach bassoon lessons, attend local punk and heavy shows, spend time in the Civic Media Center and Main Branch Library, or work on trapeze and other circus arts with the Gainesville Circus Center."
Black C Gallery (201 SE 2nd Place): A performance space featuring the work of dancer, photographer and visual artist Ani Collier.  Note: Artwalk hours 7-9 p.m. Regular gallery hours Monday-Thursday noon–5 p.m. and by appointment. (blackcproduction.com)
Somewhere Along the Way (201 SE 2nd Ave, Suite 110): Featuring work by dozens of local and regional artists in the atmosphere of a coffee and wine bar. Live music by Max Helgemo starting at 7 p.m.
Artisans' Guild Gallery (201 SE 2nd Place): Come say "Goodbye!" to Johnny Dame, an artist, naturalist and an ecosystem specialist who enjoys being in the natural world and following the cycles of nature unfolding through time. His work can be found in collections all over the world. Then say "Hello" to Helena Robertson of Happy Willow Soap Company. She is the guest artisan through April. Live music with the Ukuleles! Regular gallery hours Monday-Saturday 10 a.m.-7 p.m. and Sunday noon-5 p.m. (www.artisansguildgallery.com)
Sweetwater Print Cooperative (117 S. Main St.): Presenting Molly Kempson's "No New South," an exhibit of linocut and letterpress prints that addresses the duality of loving the American South while confronting painful histories. The exhibition continues through April 24. After Artwalk, the gallery is open on Thursday afternoons and Friday mornings, or by appointment by calling Stewart Thomas at 352.514.3838.
Eleanor Blair Studio (113 S. Main St.): Featuring the latest oil paintings by Eleanor Blair. (eleanorblairstudio.com)
Lennie Kesl Studios at the Tench (115 S. Main St.): Presenting "Animals in Our Lives" by local artists Milena Cosenza and Samantha Kelly of F.A.C.T. (Fighting Animal Cruelty Together), portraying the many ways in which we view and treat animals.
The Bull (18 SW 1st St.): Presenting "About Face too," drawn portraits by Josh Wilson. These portraits explore the beauty and expressed emotion of the human face, defined by the line. Wilson has been offering his unique take on Gainesville and its people for more than a decade. The Front Porch Backsteppers (bluegrass) perform at 9 p.m.
The SL8 (10 E. University Ave.): Presenting "A Salute to Women's History Month." Gainesville artists Nava Ottenberg and Nathan Grimes, as well as select works by other local and out-of-town and out-in-the-Cosmosphere artists, including Scott Wood (Clermont), Virginia Zuelsdorf (Orlando), Jiri Lonsky (Czech Republic) and Jade DiMarco (New York City) as well as Gainesville'sGrace Lamerson, John Korb, Lennie Kesl, Lucas Thon, Cory Collins, Josiah Lloyd, Pateh, Michael Levy, Charlie McWhorter and Salvador Dali (Spain).
Florida Community Design Center (101 N. Main St.): Hosting the show "Doodling: Entryway to the Joys of Doing Art!" Through a series of drawings and paragraphs, contributors will demonstrate how they have progressed in their doodling and drawing, and how it has helped them in life. Education and hands-on activities for visitors included.
Cypress and Grove Brewing Co. (1001 NW 4th St.): Presenting the show "Little Urchin" by Gainesville's Jorge Ibanez, former teacher at Santa Fe College. Expressive and fun works for your enjoyment. There will also be live music and fresh brews.
Hardback Cafe (920 NW 2nd St.): Featuring "The Eternal Return: Emanations of Doug Murphy through the Aeons." Gainesville recently lost one of its Titans, Doug Murphy. His friend, Michael Garvin, commemorates his previous incarnation in a series of portraits spanning the chasms of time and space. Watercolor, pen and ink with boundless inspiration from the gods. In partnership with the City of Gainesville. (Around the corner from Cypress & Grove Brewery.)
Uniquities Consignment Shop (526 N. Main St. with parking in back): For our first Artwalk Gainesville, we are proud to present artist Thackary Cooper. His travel photographs capture the beauty of nature and those moments that leave us in awe. For more information, contact Betty Freddes at 352.672.6001.
The Collaborative Shoppe (532 N. Main St. with parking in back): Taylor Grosse developed her artistic style as a meditation and outlet for relieving stress. She creates unique, intricate designs through the use of line, shape and pattern. Grosse will have a creativity station — $3 per person for a coloring card (3.5 inches by 4.5 inches) designed by Taylor to color. Colored pencils will be provided. The shop offers a wide selection of art, gifts, lifestyle products and clothing from local artisans, handmade businesses and Fair Trade. The facility serves as a DIY classroom for workshops taught by locals for all ages and as an entertainment venue for artisan markets and events for friends & family.
The Atomic Ark Gallery (1801 NE 23rd Ave., Suites C1-C2): Featuring Art Deco, Atomic and Mid-Century Modern & Space Age furniture and decor. Striving to showcase and preserve iconic American designs, some of which are featured at the MoMA. Note: Artwalk hours 5-10 p.m. (Located across from Satchel's Pizza.)
The AUK Market (2031 NW 6th St.): Gainesville artist Kana Handel, originally from Tokyo, moved to the U.S. in 1992 and has been showing her work throughout the country ever since. She works in a variety of mixed media, including oil, acrylic, sumi ink, watercolor, dried pigment, handmade paper and lesser-known materials such as persimmon juice, crushed oyster shells, gold leaf and light. Kana integrates storytelling and emotions to explore our relationship with nature and the world. Her work illustrates a conviction that art has the power to heal but, more importantly, a belief in the power of imagination. Dad's Bar is located in the back of the market and there is also a vegan food truck onsite. (Located in the Curia on the Drag complex.)
MindSpace Collective (834 E. University Ave.): Introducing its latest gallery collaboration, "Goddess Rising," bringing together the talents of three local artists: Iris Coe-Gross, Kali Levitov and Larissa Kulyk. Goddess Rising is their inspirational work to local artists that draws on the feminine spirit, family, empowerment and spirituality.
For further info, visit the Artwalk Gainesville website.