The old-school hamburger stand, featuring "The Original" Big Dick, is turning heads and satisfying appetites on Southwest 4th Avenue.
---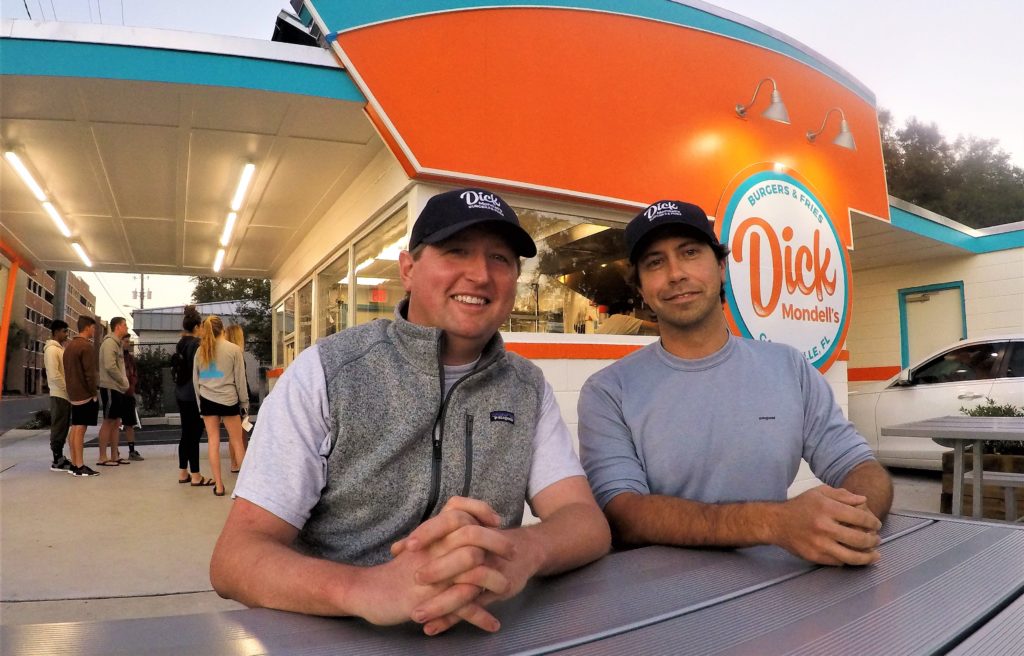 Connor Castelli and Chris Leckerling have taken a downtown eyesore and turned it into Gainesville's hippest new fast-food joint.
Dick Mondell's Burgers & Fries opened in early December at 412 SW 4th Ave. with a menu that's a throwback to America's earliest hamburger stands — but with some modern, health-conscious twists.
"We wanted to get back to the basics of what an original hamburger stand was like," Castelli said.
"We wanted the original drive-through burger stand idea but with a contemporary approach such as sustainable architecture and responsible practices with community engagement," added Leckerling.
After seven weeks of working out all the kinks, Dick Mondell's is planning a grand opening later this week.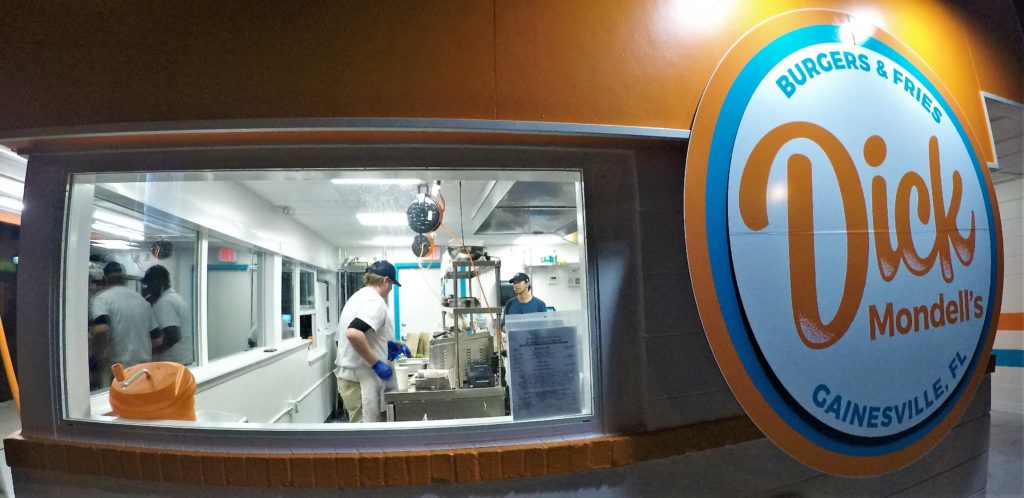 The seed for Dick Mondell's was planted not in North Central Florida but in Napa Valley, California, where Castelli and Leckerling were classmates at the Culinary Institute of America's Greystone campus in St. Helena. They met there in 2012, two of 20 new students in a class on culinary fundamentals, and became good friends.
Both were in their late 20s and already well-versed in the food industry. They enrolled at the prestigious CIA to hone their skills and to learn the business side of things.
In a capstone-style class titled Menu Design, students are expected to create projects based on what they've learned during the two-year program. Castelli and Leckerling brainstormed and developed the idea that would become Dick Mondell's Burgers & Fries.
"There was some sort of contest element to it," Castelli said. "We were incentivized to come up with an idea that was appealing."
Leckerling credits Castelli with coming up with the name for their enterprise, admitting there is no actual Dick Mondell — at least, that they know of.
"We were throwing names back and forth, and [Dick Mondell's] sounded like something established," Leckerling said, adding "It sounds like a real person."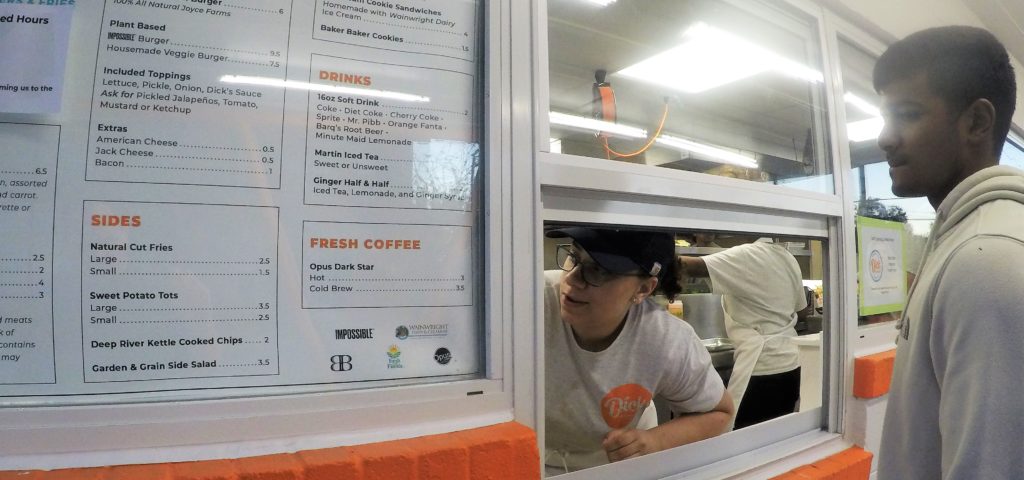 The name of the proposed business lent itself to developing the nomenclature for menu items that poked fun at what the fast-food industry had become.
They dubbed their signature, two-patty hamburger "The Original" Big Dick, paying homage to the McDonald's Big Mac. They called their single-patty burger Dick Jr. to mimic Burger King's Whopper Jr. Of course, the burgers' names can create awkwardness when being ordered.
It's not unusual for a drive-through or walk-up customer to read off the Dick Mondell's menu board and blurt out "I'll have a Big Dick" before realizing what they had just uttered.
"I think an important part of the restaurant is having a little levity," Leckerling said.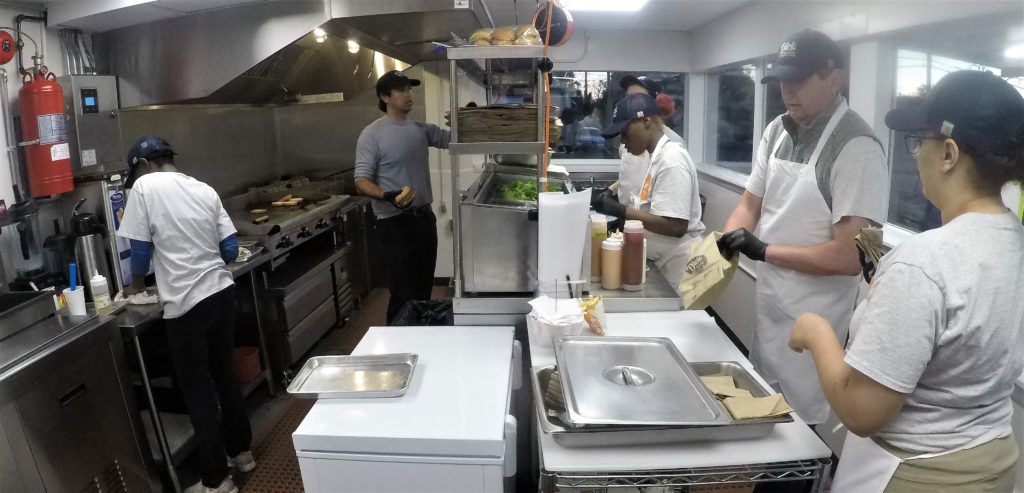 Castelli said Dick Mondell's does not classify itself as part of the trendy "better burger" movement that includes Relish, BurgerFi and Culver's.
"We haven't reinvented the concept," he said. "We're just getting back to where other concepts started."
What Dick Mondell's does offer is fresh, quality ingredients, including Florida-raised beef in its hamburgers and an all-natural Herbed Chicken Burger from Joyce Farms. Their other sandwiches are a plant-based Impossible Burger and the Housemade Veggie Burger.
Sandwich prices begin at $6 and include free standard toppings such as pickle, tomato and lettuce. Cheese and bacon are extra.
Sides include Natural-Cut Fries and Sweet Potato Tots. There's also a Garden & Grain Salad. Sweets include four flavors of milkshakes made with ice cream from Wainwright Dairy in Live Oak and ice cream sandwiches that include cookies from BakerBaker directly across Southwest 4th Avenue. There's also neighborhood coffee roasted at Opus Coffee. Sandwich buns come from Village Bread Bakery in Jacksonville.
"You can't make good food out of bad ingredients," Castelli said.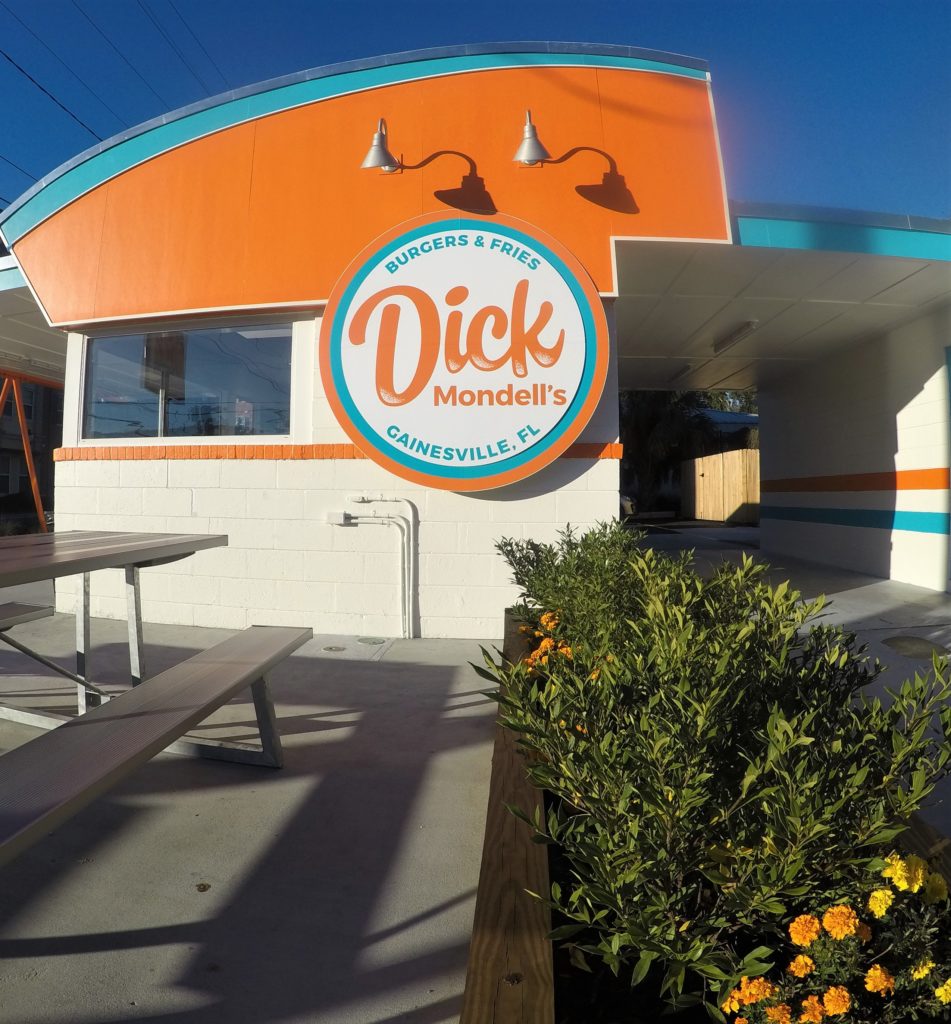 The small building that houses Dick Mondell's Burger & Fries dates to the mid-'60s, when it was home to Sandwich Inn (now located at 110 NE 16th Ave.). Castelli and Leckerling discovered the abandoned building only after giving up finding a suitable spot for their restaurant in Midtown.
"We'd been looking there for two years, but what we were looking for didn't exist," Castelli said.
Then he went on LoopNet.com and saw the commercial property listing on Southwest 4th Avenue that seemed promising.
"It was rough," Leckerling said, describing a property overgrown with weeds and surrounded by barbed-wire fencing. Windows were boarded up.
"But we saw right away it had potential," Castelli said. "It was in a great neighborhood and just fit the concept."
According to Castelli, the landlord had already been helping a potential tenant work with the Gainesville Community Redevelopment Agency (CRA) to improve the property. Castelli and Leckerling simply picked up where they left off.
Working with CRA Project Manager Jessica Leonard, the Dick Mondell's ownership team secured matching funds for a facade grant to enhance the building's appearance.
"It was the cherry on top," Leckerling said. "We reached their dollar limit early on. It was a nice inducement, but more than anything it was nice to interface with the community."
In late 2017, Castelli and Leckerling began gutting the building down to its cinder blocks. They worked with architect Mick Richmond from Brame Heck Architects and engineer Mike Russell to create the look for Dick Mondell's, including the distinctive parapet that includes the restaurant's orange and light blue sign.
All the kitchen equipment is brand new. The cold-storage area and office space across the drive-through lane was also completely refurbished.
"I think it's remarkably close to what we'd imagined," Leckerling said.
But then Castelli added: "We never thought we'd have a drive-in."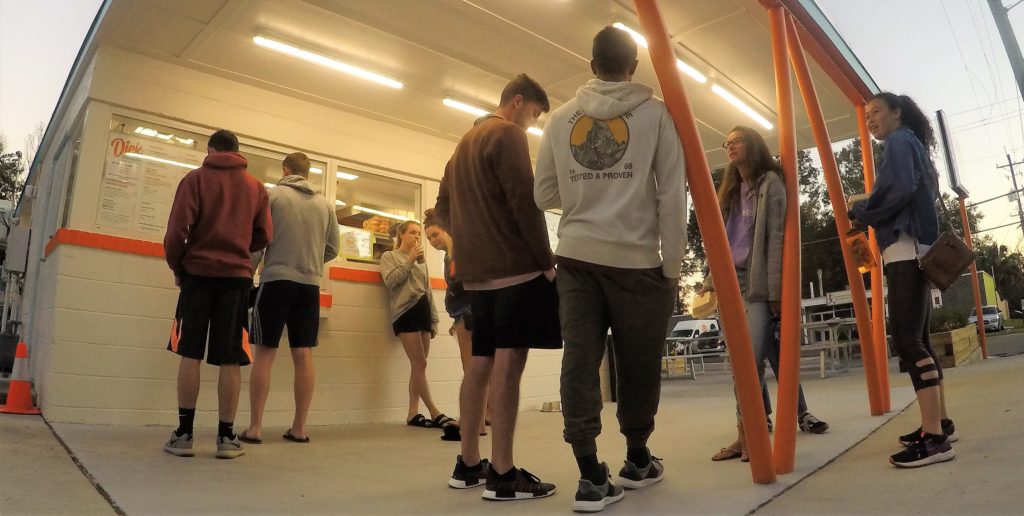 The fact that Castelli and Leckerling would open a hamburger stand seems inconsistent with their backgrounds in fine dining.
Leckerling, 36, has worked at restaurants in New York state, Texas and California. He was most recently executive sous chef at A16 Italian restaurant in San Francisco.
Castelli, 34, was executive chef at bb's Restaurant and Bar in his native Jacksonville. He's also worked at restaurants in St. Augustine and Napa Valley/Sonoma, including the renowned Harvest Moon Cafe.
Castelli earned a degree in English from UF in 2008. While a student, he also worked in the back of the house at the old Melting Pot fondue restaurant in downtown Gainesville.
"It might have been the best time I ever had working at any restaurant," he said.
So, why did Dick Mondell's end up in Gainesville?
"The big reason we chose Gainesville is that it's a good town to get proof of concept," he said, implying that the Gainesville location might be the first of many for Dick Mondell's Burgers & Fries. "The idea is scalable."
"It's a very likable town," said Leckerling, a native of Albany, New York. "As soon as I came down here, I was impressed. I really like how the community and school [UF] are intertwined. There's also a vibrant social fabric outside the university."
And now Dick Mondell's Burgers & Fries — home of "The Original" Big Dick — is part of the Gainesville community.
— Noel Leroux
---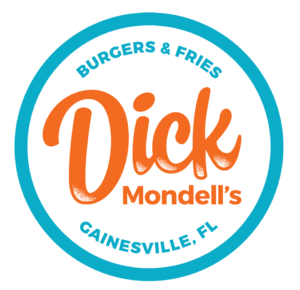 Dick Mondell's Burgers & Fries
412 SW 4th Ave.
Gainesville, FL 32601
Phone: 352.225.3214
Hours: Daily 11 a.m.-11 p.m. (extended hours on weekends beginning soon)
Like Dick Mondell's Burgers & Fries on Facebook.