Gainesville native Cindy Grisdela, who won Best of Show at the 2015 Downtown Festival & Art Show, has been chosen as the poster artist for this year's event on Dec. 1-2.
---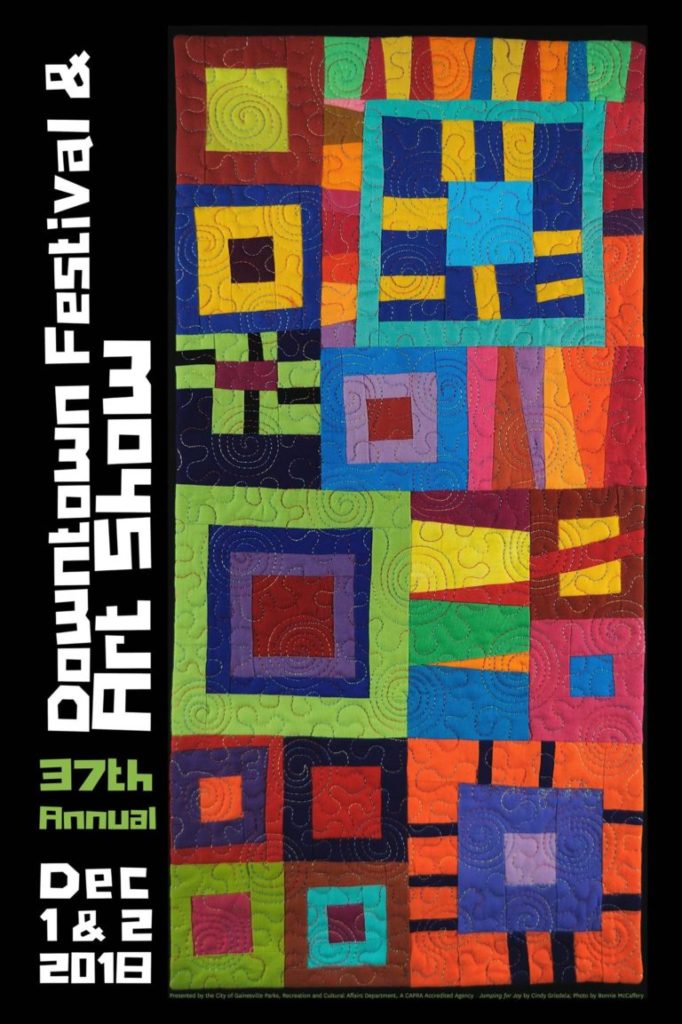 The poster artist for the 37th annual Downtown Festival & Art Show resides in Virginia, but her Gainesville roots — not to mention her eye-catching artwork — make her a perfect choice for this year's honor.
Cindy Grisdela, a fiber artist who specializes in improvisational quilt designs, will have an image of one of her pieces featured on this year's festival poster and commemorative T-shirt. Both will be available for purchase — and signing by the artist — during the Dec. 1-2 festival on the streets of downtown Gainesville.
The artwork selected for the poster is a quilt made from fabric cut into squares, rectangles and stripes in bright shades and earth tones.
"The piece is called Jumping for Joy and it's made of cotton fabric, batting and thread," Grisdela said. "It's a good example of my improvisational approach to my art."
When she began selecting the individual pieces of fabric, she didn't know how they were going to work together.
"I'm intrigued with color and pattern, and I arranged and rearranged the blocks on my design wall until I had a composition that spoke to me," she said. "It's a little bit like putting together a jigsaw puzzle."
Like artists in most mediums, whether it be painting or sculpting or music, the process frequently determines the outcome.
"For me, this is the beauty of improv — starting with an intention but being open to new ideas as the piece evolves. I never know exactly how things are going to turn out, and that's fine with me," Grisdela said. 
Grisdela is based in Reston, Virginia, a suburb of Washington, D.C. However, she was born and raised in Gainesville, where her mother and great aunt taught her how to sew, embroider and crochet. She is self-taught as a fiber artist.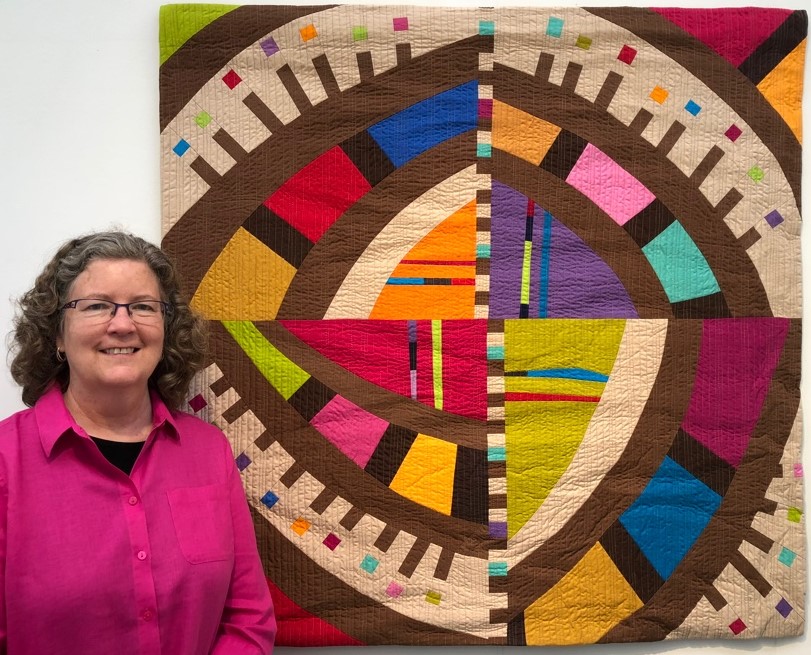 "It's such an honor to have my work chosen to represent the show and I'm deeply appreciative," she wrote on the blog portion of her website, cindygrisdela.com.
"This show is near and dear to my heart for many reasons — because it's in my hometown, because it's the first show where I won Best of Show [in 2015], and because it's a lot of fun!"
Grisdela graduated from Gainesville High School, then earned a BA in Fine Arts from the College of William & Mary and an MBA from George Washington University. When she discovered quilting three decades ago, it became her passion.
Sunshine Andrei, director of the Downtown Festival & Art Show, said the festival committee wanted to feature an artist in a 3D medium. They began reviewing a number of artists that had participated in the art festival.
"We looked at images that had been submitted in the past, pulled up artists' websites, and as we went through the list of artists that were award winners of the past few years, we realized that Cindy's work was just what we were looking for," Andrei said.
"Artistic and joyful, her images are elegant and modern, and we really enjoyed how they can be appreciated at different levels or from different distances. We selected Jumping for Joy.  … I think it was Cindy's use of both bright and rich colors and geometrical shapes that aren't perfect, but fit perfectly."
The selection of Grisdela's abstract 3D artwork represents a departure from past festival posters, which typically have been images of art, nature, the Hippodrome or other iconic Gainesville images.
"It's fun to come back and share my work in my hometown," Grisdela said. "It's also a well run show and they treat the artists well."
The Downtown Festival & Art Show features 240 artists as well as four stages of ongoing entertainment and food vendors set up on the streets between City Hall and the Hippodrome Theatre. More than 80,000 people are expected to attend the event, which is open both days from 10 a.m.-5 p.m.
— Noel Leroux
---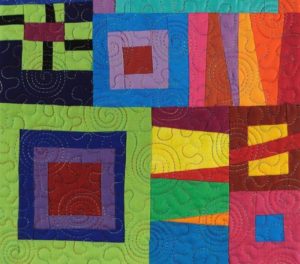 For further info, visit the Downtown Festival & Art Show website.