This year's summer musical at the Hippodrome Theater features an all-female cast and more than 30 songs popularized by artists and groups from the 1960s and '70s.
---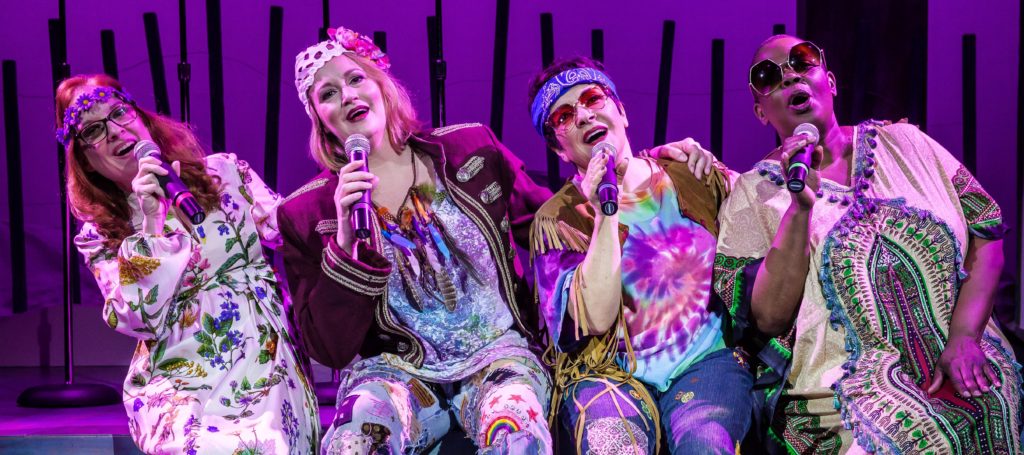 A year ago, the Hippodrome Theater showcased the talents of four male voices in Forever Plaid, which paid homage to close-harmony "guy groups" from a bygone area.
This summer, it's the women's turn to be heard. Loud and clear!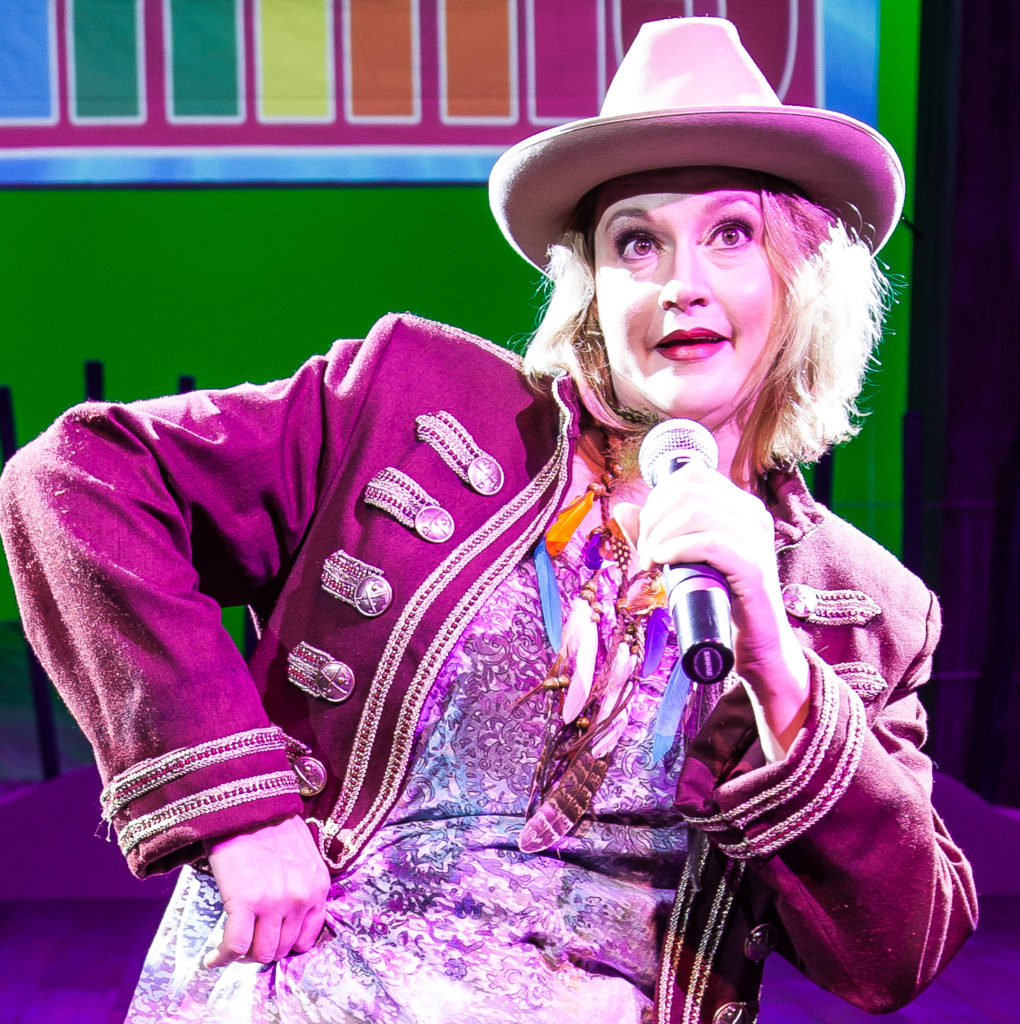 On Friday, the Hippodrome rolls out The Bikinis: A New Musical Beach Party! set on the sandy Jersey Shore that features four females — Annie, Jodi, Karla and Barbara — belting out one classic hit after another from the 1960s and '70s.
"It's a celebration of girl groups that were so popular back then," said Lauren Warhol Caldwell, the Hippodrome's artistic director who also directed The Bikinis. "There are so many songs in this that are recognizable that there will be people singing along out loud. It's going to be very nostalgic for them."
There are discounted previews of The Bikinis on Wednesday and Thursday at 7 p.m. Opening Night is Friday at 8. There will be seven shows a week through June 24. And if history is any indication, the play will be held over into July.
Caldwell said it is a tradition for the Hippodrome to stage a summer musical. Previous years have included The Toxic Avenger, Avenue Q, The Marvelous Wonderettes and The Great American Trailer Park Musical. All were held over several weeks by popular demand.
"I think it's important for the public to know that musicals are extremely expensive for professional union houses to produce," she said. "Royalties are quite high. … So what we need to do is find a show that runs long enough to sort of reap the harvest."
Caldwell said summer musicals have proven popular in Gainesville because the air-conditioned Hippodrome provides theatergoers much-welcome relief from the sweltering Florida heat.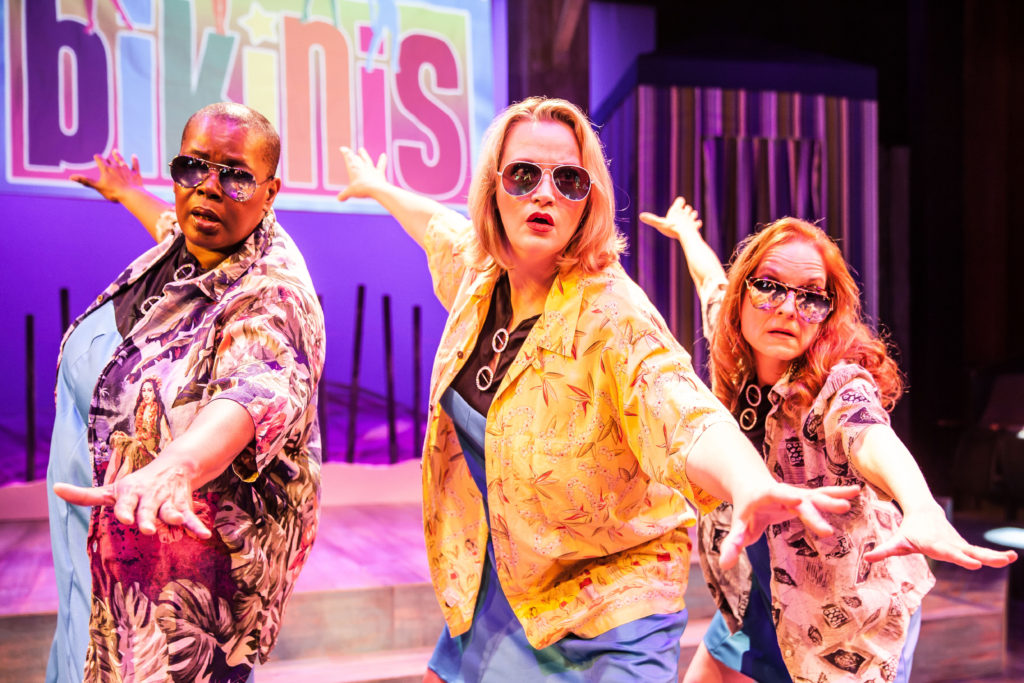 "What they want to do is come here in this theater, grab a cool drink, sit down and be entertained for a couple hours," she said.
The Bikinis stars Hippodrome Acting Company members Kelly Atkins (as Jodi) and Catherine Fries Vaughn (Annie) along with newcomers Melanie Souza (Karla) and Wydetta Carter (Barbara). They play an all-female singing group once known as the Bikinis who reunite as middle-aged women on New Year's Eve 2000 for a concert intended to rescue their beachfront mobile-home community from developers.
However, this is not a play with plot twists or character development. The story line merely serves as a vehicle for the women to sing their hearts out through a memorable era of music and songwriting. Bryan Mercer, the play's musical director, performs on the keyboard as he did last summer in Forever Plaid.
The first act of The Bikinis is a free-spirited romp down Memory Lane with such early-1960s hits as "Itsy Bitsy, Teeny Weeny, Yellow Polka Dot Bikini," "Where the Boys Are," "Be My Baby," "Heat Wave" and "Under the Boardwalk."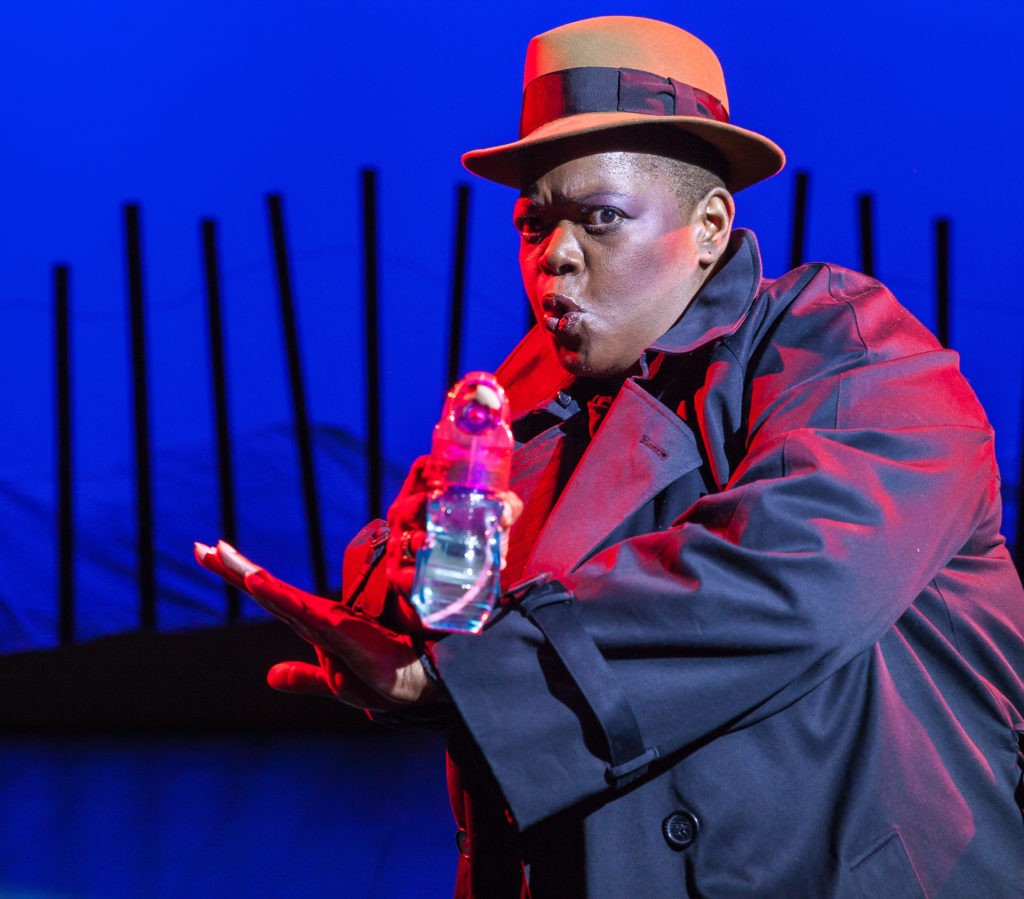 The second act touches on the Summer of Love (1967) with "Time of the Season" and "Incense and Peppermints" before moving right into the '70s with Melanie's iconic "What Have They Done To My Song, Ma" and Chaka Khan's "I'm Every Woman." There's even a tribute to the disco era with "I Will Survive" and "Last Dance."
"These songs are stuck in my head every night," Caldwell said. ""I've gotten a ton of emails and Facebook messages asking me 'What are the songs in this?' and I'm like 'Get your ticket and see for yourself!'"
This will be a reunion, of sorts, for Atkins and Fries Vaughn, who performed together twice in the Hipp's production of The Great American Trailer Park Musical (in 2006 and '09) and also in Alice in Wonderland (2006). Atkins performed most recently at the Hipp in last year's Hand to God, while Vaughn was last seen on the mainstage in Becky's New Car.
Souza and Carter are making their Hippodrome debuts, but both are veterans of the stage and, like Atkins and Fries Vaughn, members of the Actors' Equity Association. Souza is from Sarasota, Carter from Chicago.
Atkins once performed alongside Carter in Hairspray at the Alhambra Dinner Theatre in Jacksonville, but she said there has been little time for reminiscing while preparing for The Bikinis.
"We're in a hyper work mode," Atkins said following a rehearsal last week. "There's so much material to learn, clean and polish. Any offstage time is spent trying to fix something. Right now it's all about getting the show on its feet. There's not much hanging out, drinking wine."
Vaughn said that The Bikinis is much more than four women singing one catchy tune after another.
"There are a lot of elements in this piece," she said. "There's the video and getting all of our harmonies together, choreography and our singing — it's just coordinating everything and making it all fit together."
Added Atkins: "There are a lot of moving parts!"
Carter said that when all is said and done, The Bikinis is intended for only one thing.
"If you want to really have a good time and enjoy music from the past and just relive it and have fun this summer, see the show!"
— Noel Leroux
---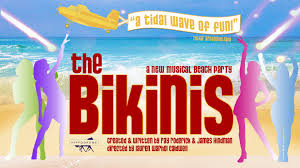 The Bikinis
Hippodrome Theatre
25 SE 2nd Place
Gainesville, FL 32601
Box office: 352.375.4477
Seven performances a week through June 24 (Tuesday 7 p.m., Wednesday 7 p.m., Thursday 7 p.m., Friday 8 p.m., Saturday 5 p.m. and 8:30 p.m. and Sunday 2 p.m.).
To purchase tickets and for further info, visit the Hipp website.
Follow the The Hippodrome on Facebook.
* If you attend the production, please let us know what you think. Leave a Reply below!