The presentation by curator Anne Gilroy begins a busy night at the Thomas Center Galleries that also includes a reception for a new exhibit featuring Gainesville folk artist Alyne Harris.
---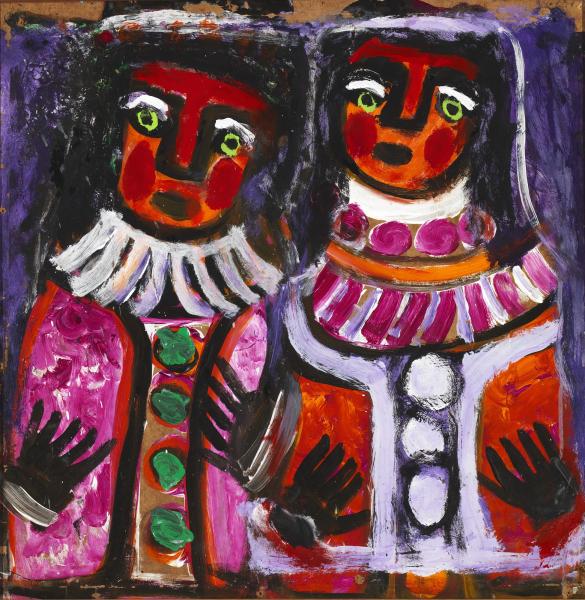 Eddy Mumma didn't start painting until he was 60 years old. By the time the self-taught artist died 19 years later — in 1986 — about 1,000 pieces of his work filled almost every nook and cranny of his small  home in northwest Gainesville.
Mumma, who enjoyed being known as "Mr. Eddy," was a double amputee from diabetes who rarely left his home. And yet today, more than three decades after his death, Mumma's artwork can be found at the Smithsonian American Art Museum, the American Folk Art Museum and many other prestigious museums across the U.S.
"He went from obscurity as a recluse painting in Gainesville to being a renowned self-taught artist whose work is on display in major museums," said Anne E. Gilroy, curator of the Thomas Center Galleries and an authority on Mumma's body of work.
On Friday night, Gilroy will present a one-hour talk titled "The Art & Life of Eddy Mumma" at 6 p.m. in the Long Gallery at the Historic Thomas Center, 302 NE 6th Ave. She will tell Mumma's story, how he was discovered by UF professor Lennie Kesl and the serendipitous rescue of his paintings after his death.
The talk begins an eventful night at the Thomas Center that also includes an opening reception for the exhibit "The View from Paradise: The Paintings of Alyne Harris," a continuation of the exhibit "Into the Light – The Rediscovered Paintings and Prints of Louise Leak" and live entertainment by The Ramblin' Mutts starting at 7:30.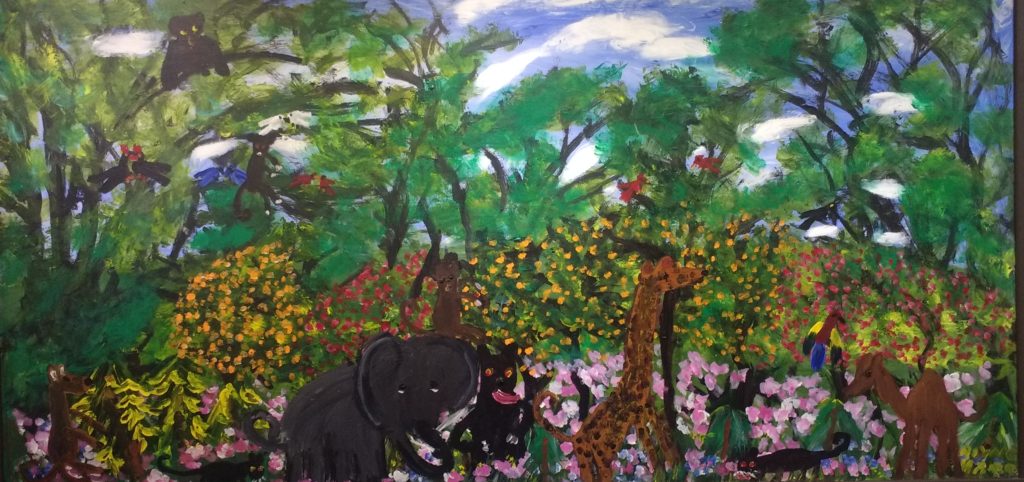 The festivities at the Thomas Center are part of the monthly Artwalk Gainesville, which is taking place at 15 galleries and art spaces throughout the downtown area. (For a complete list of participating venues and artists, scroll to the bottom of this article.)
Mumma's distinctive portraits typically feature regal, flamboyant and colorful characters crowded within their rectangular frames. Most also feature large eyes and upraised hands.
There was something else that set Mumma apart from most artists. Modesty.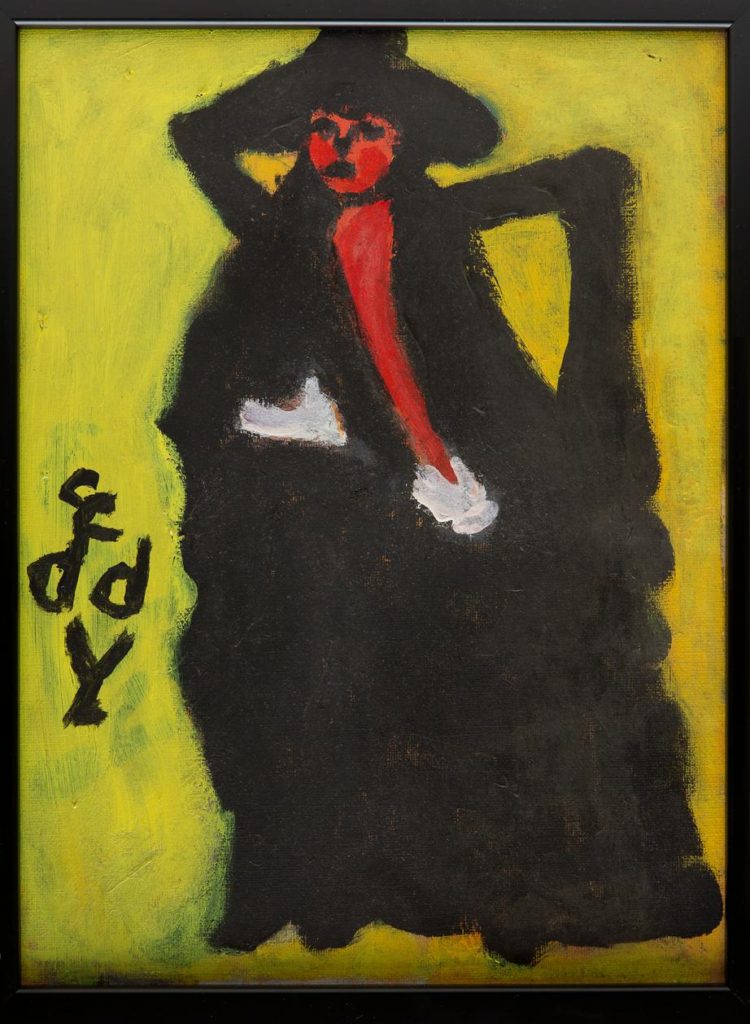 "He did not sell his work and he did not exhibit it," Gilroy said. "He did not want anything to do with traditional success. He didn't require an audience or acknowledgement."
Gilroy told the story about the time a gallery owner from Atlanta drove many hours to Mumma's Gainesville home.
"He would not let her in the door!" she said.
Gilroy's talk on Friday night is an extension of the coffee-table book, "Mr. Eddy Lives," she wrote and that was published in 2016 by the American Visionary Art Museum in Baltimore. The 128-page book serves as a catalog for what is considered Mumma's best work.
Some of Mumma's paintings will be on display Friday night in the Mary Prosen Room on the Thomas Center's mezzanine level.
"Mumma was painting from his own vision, and it's possible to track the evolution of his work from early to later, when his 'voice' matures and he reaches a zenith of painting strength and skill," Gilroy said.
Meanwhile, the second-floor Doris Bardon Gallery will feature acrylic on canvas works by longtime Gainesville folk artist Alyne Harris who, like Mumma, is a self-taught artist. Gilroy curated the exhibit.
"I really focused on the larger pieces that are less common," Gilroy said. "Many of the pieces on exhibit are from private collections and have never before been shown in public venue. In other words, these pieces don't get out to play much!"
While doing online research for the exhibit, Gilroy came across a painting by Harris of a fountain that appears to be the one in the Thomas Center Gardens. Gilroy contacted the painting's owner, Laurie Justice of South Carolina, who generously donated the piece to the Thomas Center in memory of her husband, Jack, who knew Harris.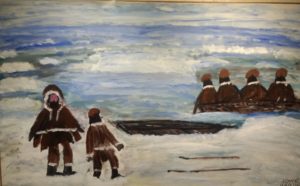 Although Harris paints mostly rural scenes, nature and churches, the "View From Paradise" exhibit includes her paintings of city scapes, Eskimos and one featuring God and the Devil.
Gilroy said she hopes visitors to the Thomas Center Galleries will gain a new appreciation for Mumma and Harris.
"The connection in a broad sense is that they are both painters whose work is categorized as 'self-taught'— or sometimes called 'folk art' or 'visionary art' or 'outsider art.' What it all means is basically unschooled or untrained — artists who take up brush and paints and work sometimes feverishly on making work that is unlike anyone else's."
On a more micro scale, Gilroy added, Mumma and Harris are both Gainesville artists, both knew and were appreciated greatly by Lennie Kesl, and both are featured in the galleries at the Historic Thomas Center as well as at the Samuel P. Harn Museum of Art on the UF campus.
Following is a list of participating venues for Artwalk Gainesville May and what to expect:
GFAA Gallery (1314 S. Main St.): Opening reception for the new juried exhibit "Photography & Digital Art" from members of the Gainesville Fine Arts Association. The exhibition runs through June 21. Note: Artwalk hours 6-9 p.m. GFAA Gallery open Tuesday-Saturday 11 a.m.-6 p.m., closed Sunday and Monday. (For further info, visit the gallery's website at gainesvillefinearts.org.)
First Magnitude Brewing Company (1220 SE Veitch St.): Hosting a variety of artists and fun, including a Climb for Cancer fundraiser. Featured artists include Salina Cardias, Bobby Foxx Designs, Lyssa Bowen, Jenna Horner, Mitch Walters, Amber Rohlman, Sean Mcgee, Laura Adams, Molly Kempson, Earth Tonix, Samm Epstein, Eileen Westwood and Violeta Lizama. Live music provided by Tabajara Belo. Also enjoy the atmosphere of a local craft brewery. Food trucks and beverages available. Note: Artwalk hours 6-9 p.m.
Civic Media Center (433 S. Main St.): Presenting "Weird Latin Night" featuring Latinx funky weird music and live art, including a bumpin' dance party. Drinks available for donation.
Hippodrome Gallery (25 SE 2nd Place): Presenting Folk and Art-in-the-Style-of Folk exhibit, featuring 103 pieces of art contributed by 42 Gainesville community artists.
Maude's Classic Café (101 SE 2nd Place): Presenting Laura North, who recently received her BFA with a concentration in painting from UF.
Black C Gallery (201 SE 2nd Place): Presenting "Antarctica," showcasing photographs from gallery owner Ani Collier's recent trip to the White Continent. Note: Artwalk hours 7-9 p.m. Gallery hours Tuesday-Saturday noon-6 p.m. (blackcgallery.com)
Artisans' Guild Gallery (201 SE 2nd Place): Hosting a Trunk Show featuring jewelry artist Jeanne Bunting and her one-of-a-kind vintage creations. There will also be a Scavenger Hunt. The winner receives a $25 gift certificate to the gallery. Offering the area's largest selection of handmade fine arts and crafts from 50 regional artists. Gallery hours Monday-Saturday 10 a.m.-7 p.m., Sunday noon-5 p.m. (artisansguildgallery.com)
Sweetwater Print Cooperative (117 S. Main St.): Presenting Clara Ortega: "Confronting Phrenology." The show challenges elitism and racism in the art world by taking a comparative look at printmaking, a traditional art-making method, and street art, a contemporary method. Show continues through June 27. Gallery is open on Thursday afternoons and Friday mornings, or by appointment. (Call Stewart Thomas at 352.514.3838.)
Eleanor Blair Studio (113 S. Main St.): New oil paintings by Eleanor Blair and live music by the Weeds of Eden. (eleanorblairstudio.com)
The Bull (18 SW 1st St.): Presenting "About Face," a portrait series by Josh Wilson. Live music to follow at 10 p.m.
Hardback Cafe (211 W. University Ave.): Featuring Diana Diaz (Feral Ursla), a mixed-media artist using the process for each piece as part of her therapeutic regimen. Each creation is an attempt to understand the human struggle and a vehicle for discussing mental health. Her abstract paintings sometimes include both random and deliberate images under organic materials such as plants, wood, and insects all sewn, glued, and textured together to create something that resonates with all of us. Imported cheeses and other complimentary snacks will be provided.
352Walls Parking Garage (105 SW 3rd St.): Gainesville's Urban Art Initiative invites you to visit the new SW Garage Gallery. See new murals by Maria Delvs, Monty Welt, Alix Mathia and Alexander Venable. Live music by Pishima Calloway & DJ King Bada.
Florida Community Design Center (101 N. Main St.): Featuring artwork by Gainesville native Jim Funk. At age 30 he discovered the wonderful change in thinking one can experience when doing art. "We are all artists. Unfortunately our intuitive, holistic artistic thinking is hidden behind electronic screens and bowled over by the thin strait line of the written word," Funk says.
The Vine (627 N. Main St.): Featuring painter and jeweler Peter Senesac. "For me, painting is a chance to explore alternate views of reality. My intention is not to paint a particular place but to create a mood, to encourage the viewer to daydream, to remember, to invent a story. The idea is to communicate a sensation of a beautiful or interesting place. Composition, light and shadow, color and texture all help to set the stage to tell the story."
Cypress and Grove Brewing Company (1001 NW 4th St.): Presenting Christine Brundige works in watercolor, depicting mostly lush Florida flower and plant life, with some beach scenes as well. Capturing the beauty and calmness of the moment to share with the viewer. In
her more recent work she has been incorporating more bold, vivid color in the compositions.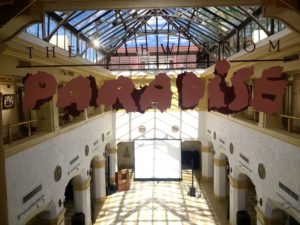 Thomas Center Gallery (302 NE 6th Ave.): Presenting an evening of art and music:
6-7 p.m. The Art & Life of Eddy Mumma. A curator talk by Anne Gilroy in the Long Gallery. Doors open at 5:30; talk begins promptly at 6.
7-10 p.m. "The View from Paradise: The Paintings of Alyne Harris." Upstairs in the Doris Bardon Gallery, with a reception honoring the artist.
All evening: "Into the Light – The Rediscovered Paintings and Prints of Louise Leak," downstairs in the Thomas Gallery. "The Art of Eddy Mumma," upstairs in the Prosen Room.
7:30-10 p.m. Entertainment by The Ramblin' Mutts, live soul and blues music.
For further info, visit the Artwalk Gainesville website.