The Acrosstown Repertory Theatre and UF Center for Arts in Medicine present the compelling drama about four Canadian soldiers stationed in Afghanistan with differing accounts of the same series of events.
---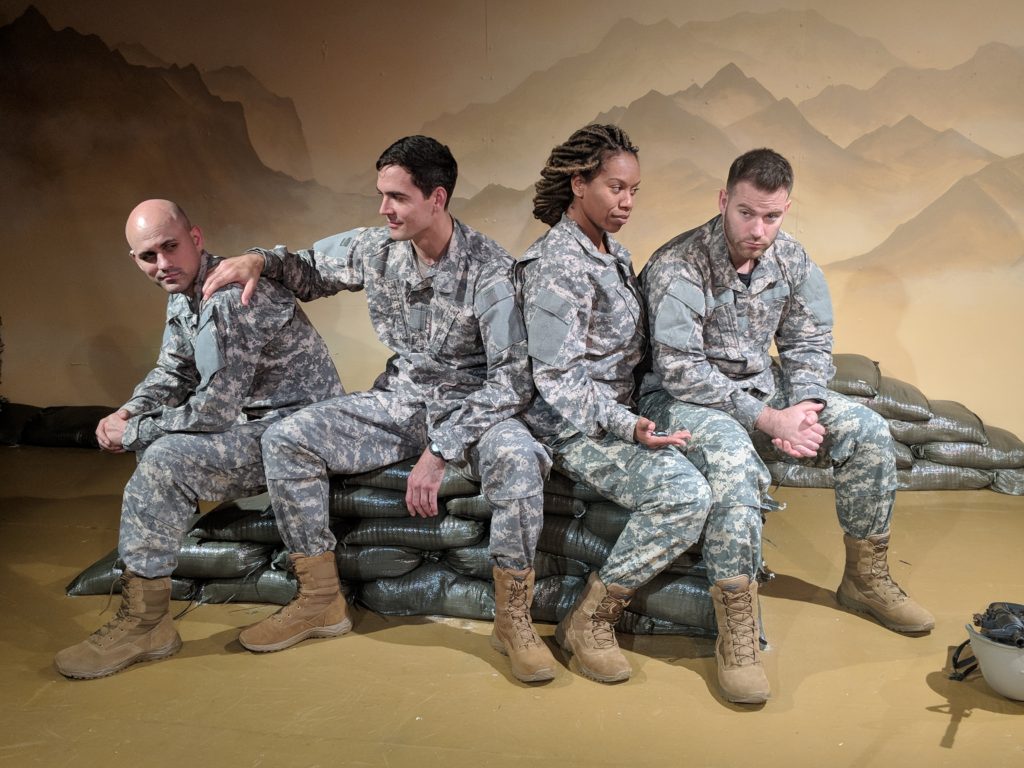 It's been said the cost of war is not so much about dollar amounts — which are astronomical — but more about the psychological toll combat takes on its participants.
That becomes evident in This is War, a raw and powerful drama from Canadian playwright Hannah Moscovitch opening this week at the Acrosstown Repertory Theatre, 619 S. Main St. (in the Baird Hardware Complex).
There is a $5 (cash-only) preview on Wednesday night at 8. Opening Night is Thursday at 8. The play continues for the next two weekends. Tickets are $15 ($13 for students, seniors and military).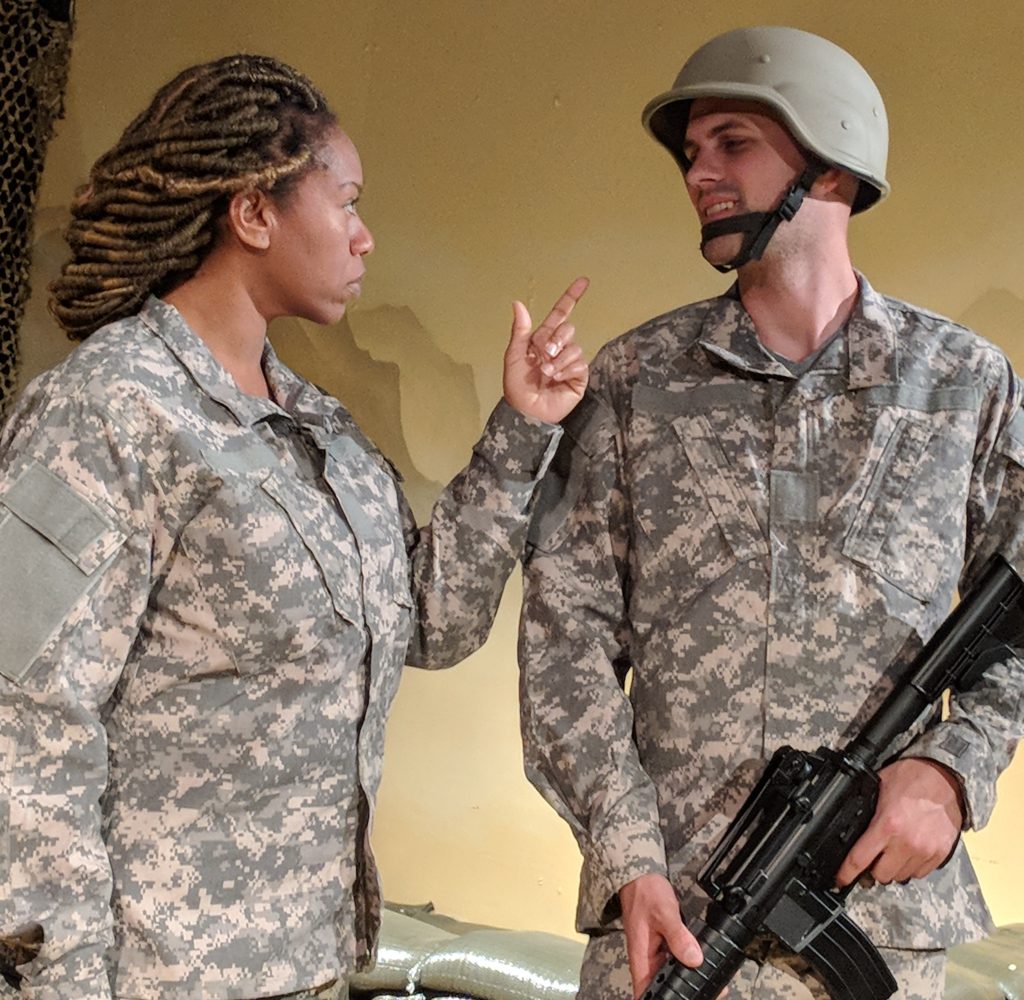 In This is War, four soldiers in a Canadian infantry platoon stationed in Afghanistan face questions about atrocities that occurred during a mission while fighting the Taliban. Their responses to the unseen (and unheard) journalist provide insight into each soldier's embittered psyche.
"The play shifts perspectives," said director Jeffrey Pufahl, lecturer in the UF Center for Arts in Medicine, which is helping to produce the show. "The stories are told from the point of view of each of the three main characters. It's not a traditional play structure."
But the structure works well because each soldier is battling his or her own demons, whether it be PTSD (Post-Traumatic Stress Disorder), TBI (Traumatic Brain Injury) or sexual harassment. Each topic is addressed in the play.
"This play is like a puzzle," Pufahl said. "It comes at you in fragments because it's a memory play. The accuracy of their accounts come into play because the recollections are colored by their emotions and their injuries."
It's up to audience members to sort out the stories, told in flashbacks, and discover the truth — if it exists.
"This play is compelling because it shows how human these soldiers are," said Brittney Caldwell, who plays Master Corporal Tanya Young. "It also is a fantastic display of how the memory is malleable."
Caldwell's character is already deeply stressed by an unrelated incident in which she killed a young Afghan girl. Now she is trying to hold herself together while dealing with the pressures of battle as well as the raging hormones of her fellow soldiers.
"Tanya is a young woman trying find her place in a men's army," Caldwell said. "She is conflicted by her woman-ness and sexuality. More specifically, she is conflicted with how to suppress her own temptation as the advances come from among the many men she works with."
This play is like a puzzle. It comes at you in fragments because it's a memory play."
— director Jeffrey Pufahl
Caldwell describes her character as "troubled, frustrated, volatile, vulnerable, traumatized, driven, desperate and nurturing all in one."
The male characters in This is War are Private Jonny Henderson (Kennan Liston), Sgt. Stephen Hughes (Cason Bartz) and Sgt. Chris Anders (Andrew Prescott). Each is vulnerable under his military fatigues.
"I think Jonny is fragile because he's just a kid," Liston said about his 20-year-old character. "He doesn't understand the danger lurking in relationships. He's too romantic about the world."
Some of the play's most tension-filled moments involve the naive Henderson and Sgt. Hughes, the platoon's 30-something alpha male who marks his territory in the love triangle with Young. Sgt. Anders tries to play the nice-guy medic but is not immune from abuse because of his sexuality.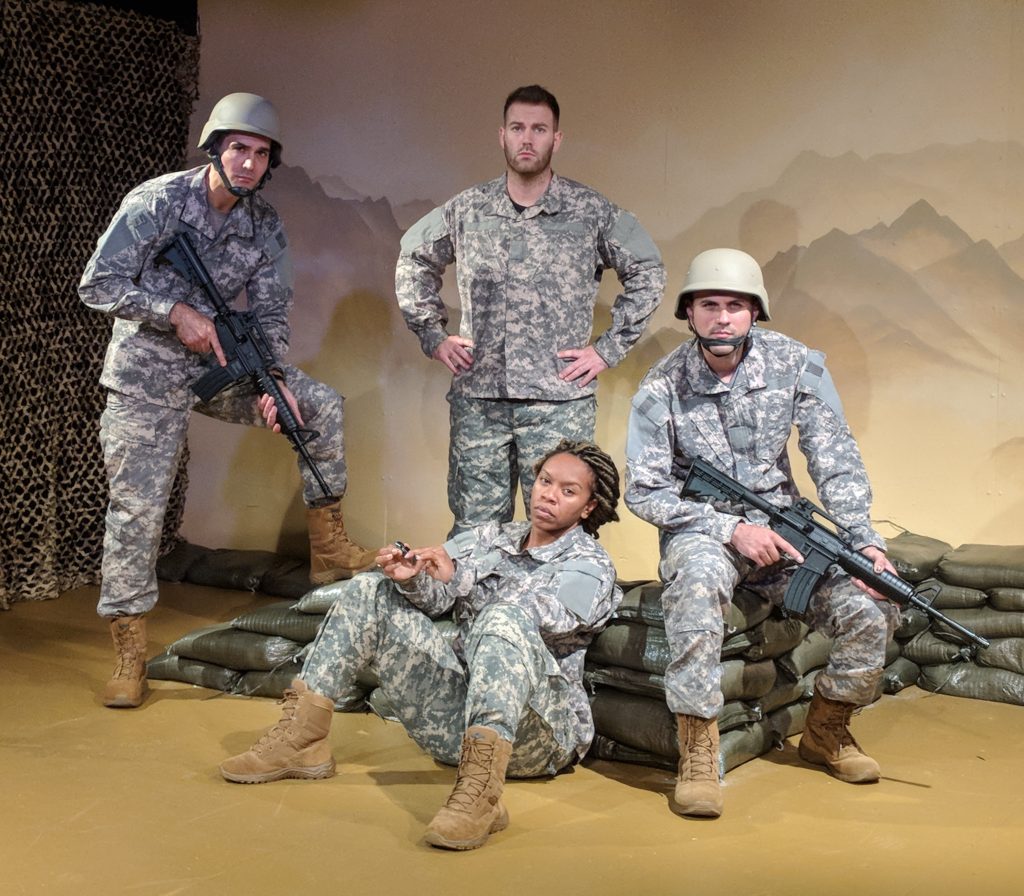 Although each of the four characters gets his or her share of the spotlight, Pufahl said "The central character is the war itself."
Pufahl, Scholar in Residence with UF's Samuel Proctor Oral History Program, also directed Telling: Gainesville at the Actors' Warehouse in 2016. In that production, five U.S. veterans and a military wife shared their personal experiences about war.
This is War appealed to Pufahl on a couple of levels. As a Saskatchewan native, he thought it would be intriguing to present a play in Gainesville about war from a Canadian point of view. He also liked the oral history aspect of the play and chose it for his Dialogues on the Experience of War discussion series before pitching it to the Acrosstown's selection committee.
Caldwell, who recently completed her MFA in Acting at UF, said This is War will make people think twice about the decisions they make.
"I would like audiences to think about the consequences of every decision that is made and what they would have done," she said. "Further, I would like for the audiences to think about this play the next time they judge someone else's decision to do something they believe is wrong."
Liston, who performed as Katurian in the ART's production of Pillowman two years ago, comes from a military family and grew up on bases but never served.
"There is certainly something in war that changes people," he said. "People are drawn to civility and humanity, and war is in direct opposition of those things. People go to war and a part of their humanity dies as a necessity of survival, and once that dies you can't ever claim it back."
— Noel Leroux
---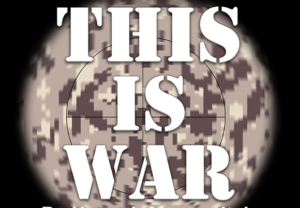 This is War
Acrosstown Repertory Theatre
619 S. Main St.
(in the Historic Baird Center)
Gainesville, FL 32601
Performances: Thursdays, Fridays and Saturdays at 8 p.m., Sundays at 2 p.m., through June 10.
Tickets: $15 ($13 for students, seniors and military)
For further info, visit the Acrosstown Repertory Theatre website.