Lucas Hnath's provocative play about a megachurch pastor who delivers a divisive sermon to his faithful flock debuts this week on the mainstage at the Hippodrome Theatre.
---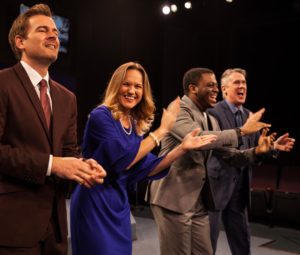 Did you hear the Good News? For the next four weeks, the Hippodrome Theatre is being transformed into a megachurch, complete with pulpit, 12-foot-tall cross as a backdrop and cushioned seating to accommodate 268 members of the congregation — namely you.
Do I hear "Hallelujah!"? Praise the Lord!
Truth be told, the Hippodrome's mainstage is still a performance theater, but Lucas Hnath's engaging play The Christians might just convert audiences in strange and powerful ways.
Opening Night is Friday at 8 followed by performances Saturday at 5 p.m. and 8:30 p.m., and Sunday at 2 p.m. The production continues with seven shows a week through May 13. Tickets are $32-$37, but discounted for students and seniors.
The Christians centers on Pastor Paul (Joseph Ditmyer), who over the course of 20 years has built his evangelical church from a modest storefront to a massive sanctuary complete with a pool-size baptismal font and a coffee shop and bookstore in the lobby.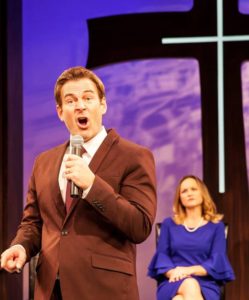 On one particular Sunday morning, Pastor Paul gleefully announces that the church is, at last, free of debt. But before the congregation has a chance to let that news sink in, the good pastor offers a startling revelation that contradicts church doctrine. It's a statement about hell that challenges not only the belief systems of its characters on stage but likely those of religious and nonreligious audience members alike.
"We've all been raised very differently, and it will charge the audience, like it has all over the country, to have a debate," said director Lauren Warhol Caldwell, the Hippodrome's artistic director.
Pastor Paul's declaration sets The Christians in motion, sending shock waves through the church and setting off a series of debates about faith, leadership, tradition and change.
The pastor's sudden adversaries include Associate Pastor Joshua (Marquis Gibson), church elder Jay (V Craig Heidenreich), an emotional congregant named Jenny (Renata Eastlick) and Pastor Paul's devoted wife, Elizabeth (Juliana Davis), who informs her hubby matter-of-factly: "Your magnificence is beginning to wear off."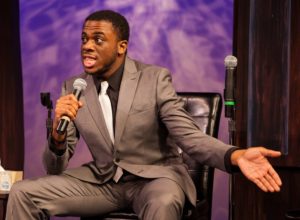 Throughout the one-act play, the actors speak all of their lines using hand-held microphones — even when not addressing the congregation. In the introduction to his script, Hnath explains: "The whole play is a kind of sermon. Sometimes it's a literal sermon. Sometimes it's made up of scenes that use the formal elements of a sermon, and as such, even the most private scene has a kind of declamatory, performative, sing-songy quality."
Caldwell said the use of mics helps make the story larger and gives it that megachurch authenticity even in an intimate theater.
"It also sort of creates an alienation between audience and actors," she said.
The Christians debuted during the 2014 Humana Festival of New American Plays at the Actors Theatre of Louisville, where Heidenreich has performed for 13 years.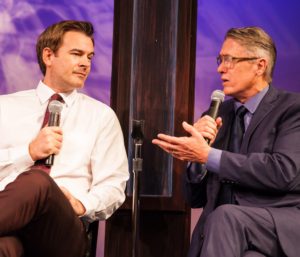 "It was the hit of the Humana Festival season that year and went almost immediately to New York," he said. "So the buzz was very good, and in the theaters it's been playing in throughout the country it's been selling really well."
Heidenreich, who recently directed Ripcord at the Hipp, said that although The Christians happens to be set in a megachurch, it is not necessarily a story about religion or faith.
"The play is about good, kind, decent, loving humans trying to bridge that insurmountable gap to be able to communicate with each other," he said. "The theological question of the play is the characters' question, but I don't think it's thematic. … It just happens to take place in a church."
Eastlick is returning to the Hippodrome for her second production this season. She previously performed as Nina in The Royale.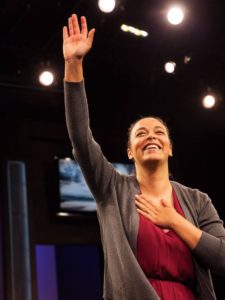 She said The Christians really is about the everyday challenges all humans face.
"To me, the play is about the human struggle and the difficulties to communicate with each other when we are struggling and afraid to share our thoughts with each other," she said. "And that can be just in this particular church or it can be when people are afraid to share their politics around one another or when people are afraid to talk about race around one another."
Ditmyer, whose previous Hippodrome role was Dr. Treves in 2016's The Elephant Man, said that the church setting makes The Christians relatable.
"Because it does take place in a church, most people can't not put themselves in the shoes of the characters," he said. "Most people have some opinion or experience of their own regarding the church or their religious experience or lack thereof."
Davis, Ditmyer's wife in real life, said The Christians gives her and fellow cast members a rare opportunity to make eye contact with audience members during the show.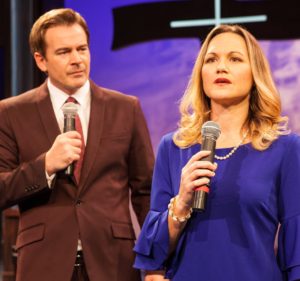 "The stage acts as a church and so there's just this natural assumption, I think, that the audience takes that role on — and that's wonderful for us!" she said. "I get to do a lot of observing of the audience. … It's a special thing we don't usually get to do in a show, unless it's like Honky Tonk Angels or another musical."
Heidenreich gives Hnath credit for writing a "brilliant" play that doesn't preach but rather promotes conversation — something sorely lacking in this polarized world. There's no shouting (imagine that!), just measured tones.
"We live in a very noisy world with a lot of people shouting across abysses of belief and understanding on a lot of the topics," Heidenreich said. "And I think that among the reasons the play is so popular at this moment is that there is an effort being made by the playwright to insist on people trying to listen to each other."
Eastlick said there's another reason Gainesville audiences should see The Christians.
"It's a story about real people with real issues and how can they get resolved," she said. "It'll leave people breathless and will definitely start a conversation."
Amen!
— Noel Leroux
---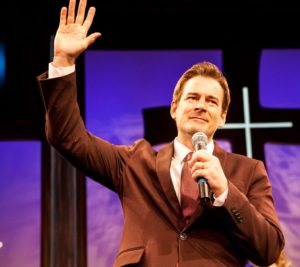 The Christians
Hippodrome Theatre
25 SE 2nd Place
Gainesville, FL 32601
Box office: 352.375.4477
Seven performances a week through May 13 (Tuesday 7 p.m., Wednesday 7 p.m., Thursday 7 p.m., Friday 8 p.m., Saturday 5 p.m. and 8:30 p.m. and Sunday 2 p.m.).
To purchase tickets and for further info,
visit the Hipp website.
Follow the The Hippodrome on Facebook.
* If you attend the production, please let us know what you think. Leave a Reply below!