The 49th annual Santa Fe College Spring Arts Festival takes place this weekend along historic Northeast 1st Street. Local artist Mike Segal captures some of that history in this year's poster art.
---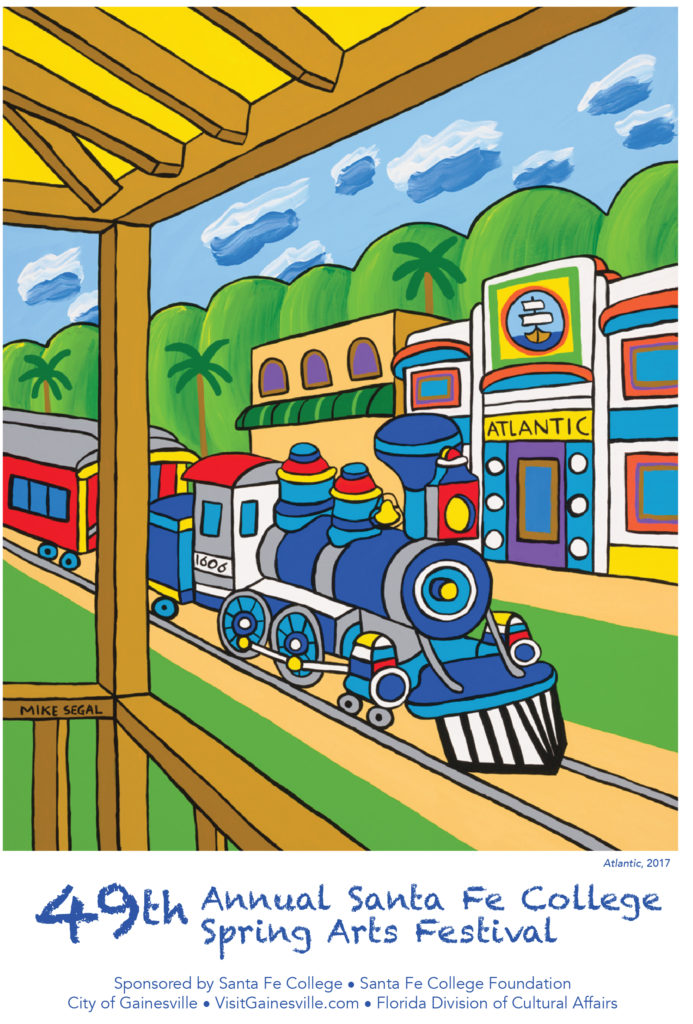 When Mike Segal was asked to paint the poster art for this year's Santa Fe College Spring Arts Festival, he did some research on Gainesville's history and came to a conclusion.
"The story of Gainesville is really the railroad," he said. "The railroad made Gainesville accessible at an early stage and allowed it to develop quickly."
Using that knowledge, Segal went about painting a vibrant image of an old-fashioned locomotive pulling a train car down Main Street, past a downtown building that is now the Atlantic Nightspot.
The painting will adorn posters and T-shirts available for sale Saturday and Sunday, when the 49th annual arts festival takes over tree-shaded Northeast 1st Street between 2nd and 8th Avenues. About 220 regional and national artists representing all mediums will be participating in the show, which will also include ongoing live entertainment on two stages and numerous food vendors.
"There's a lot of energy and enthusiasm for the festival this year, especially since we're one year away from the 50th anniversary," said Raul Villarreal, SFC's cultural programs coordinator who organizes the event with Kathryn Russ and a dedicated team of volunteers. "We've made some changes that we hope people will like."
One change is the addition of the Actors' Warehouse, 619 NE 1st St., as an entertainment stage, along with Bo Diddley Plaza. Unlike past years, there will be no music stage located at the Historic Thomas Center.
The young artists' and children's creative areas are also moving from the grounds of the Thomas Center and will be situated north of the community artists' area, on Northeast 1st Street closest to 8th Avenue.
"We wanted to streamline the festival so the pedestrian flow will be on [Northeast 1st Street]," Villarael said. "The Actors' Warehouse space, in a converted church, is a perfect venue for smaller music groups."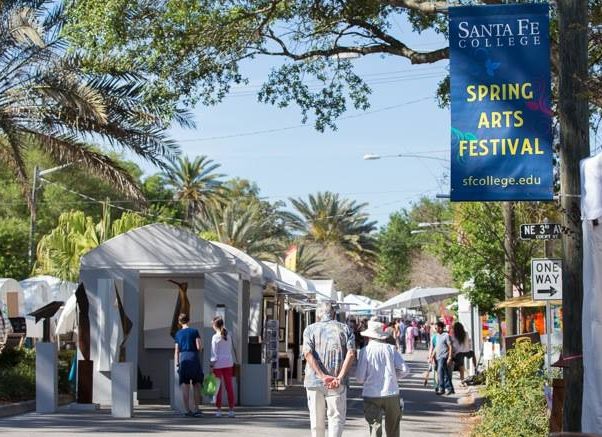 Festival hours are Saturday 9 a.m.-5:30 p.m. and Sunday noon-5 p.m. In addition, there will be a Saturday night concert at Bo Diddley Plaza featuring local band GrüvTherapy at 6 p.m. followed by headlining guitarist Taylor Roberts at 7:30. All events are free and open to the public.
Segal, the poster artist, is a self-professed history buff who has done an estimated 3,000 paintings in his career. He and his wife of 48 years, Marvi, live in the wilderness of Levy County, between Chiefland and Cedar Key. His studio looks out into an oak forest. The solitude serves as his inspiration.
"Since I live in the rural South, usually my paintings will have something to do with critters or a Gulf coast scene," he said. "But I am able to find something to paint anywhere. Just look around you. The most important things in your life are right in front of you."
For the Spring Arts Festival poster, Segal chose an image of the type of old train — complete with a cowcatcher — that might have carried passengers and goods to Gainesville in the 1850s, long before the town became an education hub. The painting is rendered in Segal's signature flat style with vivid primary colors and bright greens.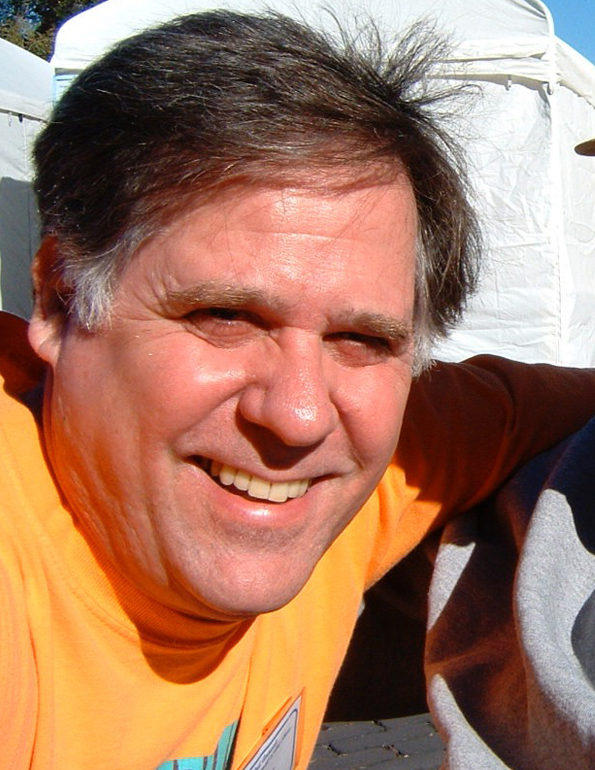 The locomotive is emblazoned with the number 1606. That represents the year when the Santa Fe de Toloca mission was established along the historic Apalachee "royal road" used by Spanish missionaries traveling between St. Augustine and Tallahassee.
Segal's train is going down Main Street, where the old railroad tracks once bisected the downtown area. The building now housing the Atlantic Nightspot was originally the ticket office for the Atlantic Coast Line Railroad and later the First National Bank.
Segal, a Miami native, studied landscape architecture at North Carolina State, a school that was influenced by people who designed the Blue Ridge Parkway.
"It was a technical school with really bright students — all self-starters — and our professors had different combinations of talents," he said. "We had a kind of underground art school at night when we worked with our professors, so we were able to develop our own art styles outside the work we did in the classroom."
He started out doing flat designs on silkscreen for textiles. His first artwork was silkscreen on paper.
"People didn't value that medium, and I realized I could paint the same flat designs and make 10 times more money!" he said.
During those formative years, Segal often traveled to Florida to sell his plein air paintings at various art shows. He moved to the High Springs area in 1989 and then to rural Levy County four years later to be closer to Cedar Key.
I want my work to be uplifting, to be an escape, to make people feel good and be happy."
— Mike Segal
"I take a folk-art approach to my paintings, but it's also a contemporary approach," Segal said. "I show my work in the fine art shows and also in the folk art shows, so it spans both worlds. I'm also influenced by the art-deco style, which is prominent in Miami where I grew up."
Segal is a member of the Gainesville Fine Arts Association (GFAA). Two years ago, he created the poster for the 9th annual GFAA Fine Arts Fair at Tioga. That poster also depicted a vintage train engine passing the old Alachua County Courthouse.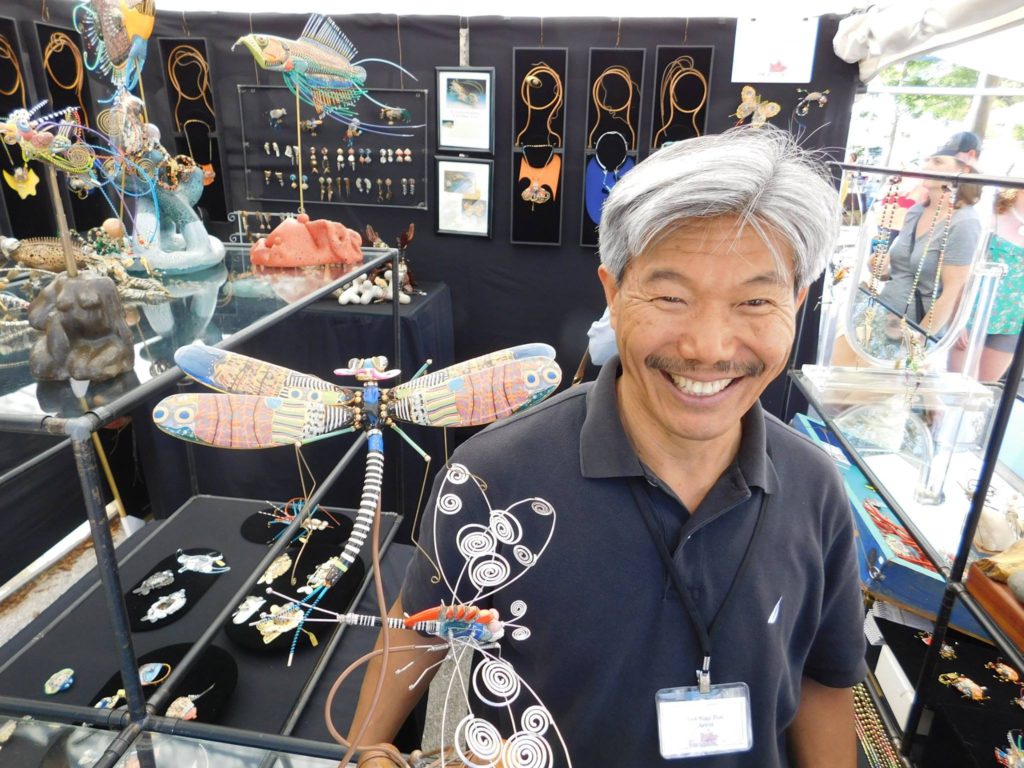 "I want my work to be uplifting, to be an escape, to make people feel good and be happy," he said.
Segal's distinctive "outsider" artwork has also has adorned posters for Gainesville Downtown Festival & Art Show as well as shows in Micanopy, Thornebrook Village, New Smyrna Beach, Ginnie Springs, Cedar Key and Dahlonega, Ga.
"It is the joy of painting more than anything that keeps an artist at it full time," Segal said. "To face a big white canvas is frightening, like standing on a high diving board getting ready to dive. But you have done it many times before, and it is exciting to see how the painting will grow out of the canvas until it comes to life."
Although Segal has participated in the Santa Fe College Spring Arts Festival three previous times, this will mark his first appearance in 20 years. However, he has participated in shows in North Central Florida continuously for three decades.
"To be chosen as the poster artist for the Santa Fe College Spring Arts Show is one of the greatest honors that a Florida artist may receive," he said. "Spring Arts is the premier show in our region and one of the best shows in the nation."
Artists compete for acceptance into the festival, where they may win prizes for outstanding creations and receive purchase awards from local collectors.
"We are always working to get word out about the festival, and 50 brand-new artists applied this year," Villarreal said. "We have an artist coming from Cuba. Last year's poster artist, Erh-Ping Tsai, is coming from upstate New York. People are bringing their works from the Carolinas, Louisiana and Illinois. That's all in addition to our regional artists from throughout North Florida and our local artists from Gainesville and Alachua County."
The Spring Arts Festival is organized and supported by Santa Fe College and the Santa Fe College Foundation.
— Noel Leroux
---
Following is a list of the entertainment that is scheduled to take place to coincide with the Spring Arts Festival:
Actors' Warehouse Stage (619 NE First St.)
Saturday
10 a.m. – Inisheer Irish Dancers – old-style Irish dancing
10:30 a.m. – Allison Hogan School of Irish Dance – traditional Irish step dancing
11:15 a.m. – Sound Weavers – quintet playing standards
12:15 p.m. – O'Reilly & Co. – traditional Irish songs and tunes
1 p.m. – Uptown Swing – swing standards
2 p.m. – Gainesville Barbergators – group and quartet singing a capella barbershop style
2:45 p.m. – Gainesville Harmony Show Chorus – barbershop singing
3:15 p.m. – Mike Ryals – acoustic guitar
4 p.m. – The Jazz Bandits – jazz standards and ballads
4:45 p.m. – Damaged Daughters – Americana music; acoustic duo
Sunday
Noon – Shade Tree – acoustic folk & rock
1 p.m. – Talking Stick – original pop music
2 p.m. – Martin & Breslin Band – classic acoustic rock
3 p.m. – Patchwork – five-piece, all-women folk & bluegrass band
4 p.m. – Kanapaha – traditional Celtic music and songs
Bo Diddley Stage (111 E. University Ave.)
Saturday
9 a.m. – Expressions Academy Dragon Chorus – elementary school chorus
9:30 a.m. – Brian & Lance – duo playing guitar, singing music from 1960s, '70s and '80s
10 a.m. – Gainesville Youth Chorus – Broadway choral music & solos mixed with a few contemporary choral selections
10:45 a.m. – Ethnic Dance Expressions – Middle Eastern, Turkish and Zambra Mora dancing
11:30 a.m. – Gainesville Hula Ohana – Polynesian dancing
12:30 p.m. – Nighthawks – five-piece band playing blues, classic rock and funk
1:15 p.m. – Lost Safari Drummers – African drumming ensemble
2 p.m. – Santa Fe College Jazz Combo – famous jazz standards
2:45 p.m. – Santa Fe College Faculty Jazz Band – true jazz
3:30 p.m. – Santa Fe College Rhythm & Blues Review – Motown classics
4:15 p.m. – Santa Fe College Big Band – big band jazz
6 p.m. – GrüvTherapy opens for headliner, guitarist Taylor Roberts
Sunday
Noon – Gainesville Big Band – big band jazz
1 p.m. – Quartermoon – Americana music
1:45 p.m. – Dance Alive's Next Generation – dance; classical ballet, jazz, hip hop, contemporary
2:30 p.m. – Gainesville Ballet Theatre – dance; ballet, hip hop, modern
3:15 p.m. – Danscompany of Gainesville – dance; ballet, jazz, hip hop, contemporary
3:45 p.m. – Sun Country Dance Theatre – dance; ballet, modern, jazz, contemporary and tap
4:15 p.m. – Klezmer Katz – Jewish folk music; big band, swing & Gypsy sound