Gainesville's monthly Artwalk is always a happening event, but Friday night's holiday-themed Artwalk will be a special celebration of both visual and performing arts.
---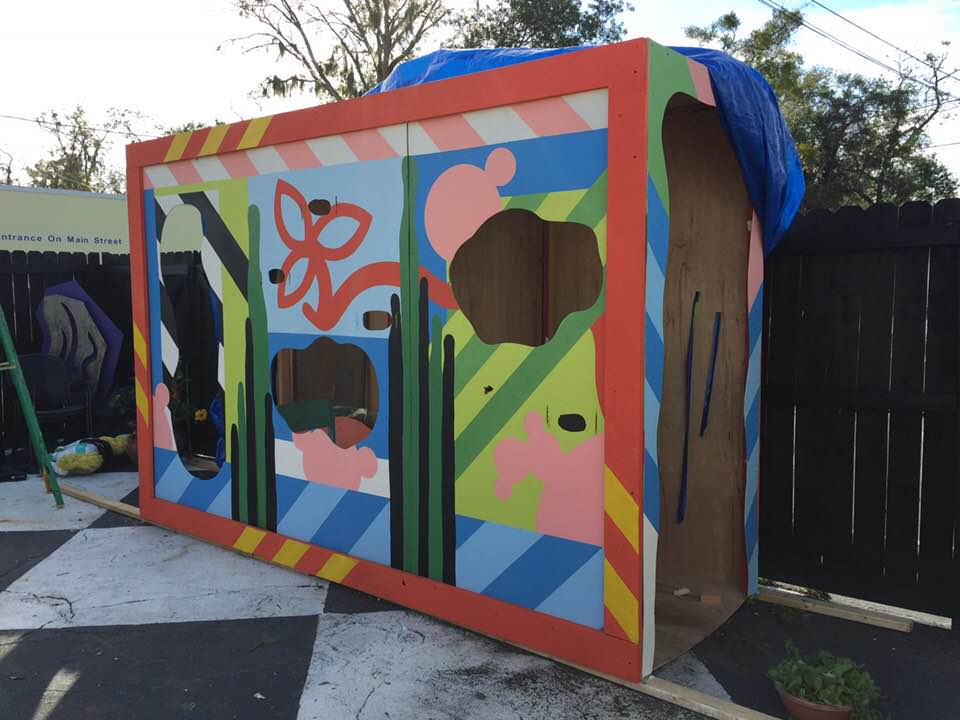 Frank Curtis has been taking vintage suitcases and creating 3D assemblages out of them since 1984, when he was a UF graduate student.
For tonight's monthly Artwalk Gainesville, a self-guided tour of downtown area galleries and other art spaces, Curtis will present luggage on what he calls a "grand scale." He has built a giant suitcase that measures 12 feet wide, 8 feet high and 4 feet deep.
"It's more like a hallway," Curtis said. "When I pulled up with that thing on my trailer, they were floored."
"They" are Jesus and Carrie Martinez, owners of Visionary CrossFit, 716 N. Main St., where Curtis and his suitcase will be part of a group exhibition featuring the works of local artists, live painting, a black-light gallery, DJs and fire and hoop performances. There is free admission from 7-9 p.m. After 9, it's $8 cash/$10 credit until 2 a.m.
Most Artwalk venues are open from 7-10 p.m. Some of the venues feature live music and most offer some refreshments.
This month's Artwalk has an unusually diverse mix of visual art and performance art. For example. S-Connection Aerial Arts, 205 SE 10th Ave. (behind Depot Park) will be celebrating its 10th anniversary by offering free circus performances at 7:30, 8:30 and 9:30 p.m.
"We are happy about our accomplishments and want to demonstrate some of our amazing talent to the community as a show of our appreciation," said Corey Souza, owner of S-Connection Aerial Arts.
An exhibit at Third House Books & Coffee, 113 N. Main St., is called "Welcoming Humans of Gainesville" and will feature photography by Renée Hoffinger (the human behind the Facebook site "Humans of Gainesville") and stories celebrating our friends and neighbors who were born outside the U.S. and have chosen to make Gainesville their home.
At Visionary CrossFit, Curtis encourages people to interact with his huge "replica" suitcase, which is made from lumber and plywood.
"You the viewer gets to be part of the artwork," he said. "You can go in it and through it. The Martinez kids have been using it as a fort the last few days!"
Cuban artist Seck 37, aka Seckadelic, has transformed the giant suitcase into a sprawling canvas. Seck37's signature colorful, graphic style with bold shapes and color splashes across every surface of the suitcase, creating a vibrant, three-dimensional piece.
Curtis, who has been Artwalk coordinator for the past three years, will also have some of his photography on display at the GFAA Gallery, where there is an opening reception for its latest exhibit, Landscapes and Still Life.
Following is a complete list of participating venues for December and what to expect:
GFAA Gallery (1314 S. Main St.): The Gainesville Fine Arts Association presents an opening reception for its Landscapes & Still Life exhibit. The exhibit runs through Jan. 7, 2018. NOTE: Artwalk hours are 6-9 p.m. (For further info, visit the gallery's website at gainesvillefinearts.org.)
First Magnitude Brewing Co. (1220 SE Veitch St.): Hosting a variety of artists and fun, including Painting with a Twist, Mitch Walters, Lyssa Bowen, Violeta from Purple Star Clayations, Scooooder Stones, Jenna Horner, Ras Justo Luis from Upful Creations, Dark Stars Creations, Molly Kempson and Reciclarte (recycled) Crafts. Also enjoy the atmosphere of a local craft brewery. Food trucks and beverages available. NOTE: Artwalk hours are 6-9 p.m.
S-Connection Aerial Arts (205 SE 10th Ave.): Specializing in circus arts and Brazilian dance and music, this 10th-anniversary celebration includes live music by Don Austin plus cirque performances by AscenDance artists and students of S-Connection Aerial Arts school. Hors d'oeuvres by Suki's Catering will be served. This event is kid-friendly, free and open to the public. (www.sconnection.org)
SAW / Sequential Artists Workshop (18 SE 5th Ave.): Commemorating AIDS Awareness Day UF and the SAW Comics Contest. SAW partnered with UF to promote an AIDS graphic novel contest. The winners will be presented along with other AIDS/HIV Awareness artwork.
Gainesville Art Studios (618 S. Main St., Suite B): "If Hope was Money, I'd be a Millionaire" is the studio's final exhibit before closing its doors. The show will feature portraits of breast cancer survivors that were completed during October by studio owner Iris Coe-Gross. There will also be a celebration of the studio, arts, community, and the feeling of hope. (www.gainesvilleartsstudio.com)
Civic Media Center (433 S. Main St.): Hosting its Holiday Art Bazaar featuring original oil paintings by Jacksonville artist Maiya Elaine; pheasant, ostrich, guinea and peacock feather masks and accessories by feathersmith Ronald C. Marr of La Plume de Ville; handmade tie-dye and crochet by Lacey Korver of The Wandering Maker; a live blacksmithing demonstration by Jordan Borstelmann of Crooked Path Forge on our courtyard stage; and much more. (civicmediacenter.org)
4Most Gallery (534 SW 4th Ave.): Presenting Field Work, a two-person show featuring interdisciplinary artwork from current BA and BFA students. Field Work explores research and the synthesis of data as a component of a vital studio practice. 4Most Gallery is supported by UF's School of Art and Art History and connects SAAH students, alumni and faculty with the greater Gainesville community through innovative and dynamic exhibitions and programming.
Hippodrome Gallery (25 SE 2nd Place): Presenting a Holiday Open House and the annual Hipp Staff & Friends Art Show. The first-floor art gallery will feature works in various mediums and styles by Sara Morsey, Celino Dimitroff, Daniel Perea, Lorelei Esser, Rachel Jones, Bryan Mercer, Marissa Toogood, Warren Goodwin and Taylor Petry. The building will be decorated on every level, with multiple trees, lighting displays and seasonal refreshments in the bar gallery. Hippodrome gift cards, show tickets and discounted season-ticket passes will be available for sale. Exhibit continues through Dec. 30. (thehipp.org)
Maude's Classic Café (101 SE 2nd Place, Sun Center East): Featuring Raquelle Wallace, a BFA Acting student at UF. She began painting to relieve stress and dress up her beige apartment walls (hence the trend of highly saturated hues). She works in mainly mixed media.
Persona Vintage Clothing and Costumes (201 SE 2nd Place): Hosting Milan Hooper, a self-taught artist living and painting in Gainesville. Working with recycled materials and re-purposed house paints, Hooper's subjects include animals and wry humor about our times. He also makes steel sculptures.
Artisans' Guild Gallery (201 SE 2nd Place, Union Street Station): Find a bounty of seasonal gifts and home decor just in time for the holiday season. The Artisans' Guild Gallery features hundreds of quality, handcrafted fine art and fine crafts created by regional artists. Sidewalk music courtesy of Tierra Libre.
Black C Gallery (201 SE 2nd Place): Featuring "Converging Perspectives: NYC," a mix of cityscapes by artist and gallery owner Ani Collier. Next week, look for Wind Down Wednesday, an all-levels yoga session led by Mind and Body Guide Liz Getman on Dec. 6 at 7 p.m., and Art in Action, a performing arts event with musician Maggie Clifford on Friday, Dec. 8 at 7 p.m. Tickets for both events are available at www.blackcproduction.com/events-happenings.
Sweetwater Print Cooperative (117 S. Main St.): Presenting "Off the Wall," Sweetwater's annual holiday show featuring works in a variety of media by members and friends for holiday giving. Works in the gallery may be bought right off the wall (all work in the gallery is $5 to $200; a few may be higher). Show continues through Jan. 24 and may be seen Thursday afternoons, Friday mornings, and by appointment by calling Stewart Thomas at 352.514.3838.
Eleanor Blair Studio (113 S. Main St.): Featuring wooden bowls by Sara Eoff and oil paintings by Eleanor Blair. The studio will also be open Saturday from 1-6 p.m. and Sunday from noon-3 p.m. (www.eleanorblairstudio.com)
The Bull (18 SW 1st St.): Hosting Celino Dimitroff, a post-industrial lighting artist committed to making lamps and paintings strictly from found and familiar objects. He is published in a book about self-taught artists in Florida. His work can be seen at his store, SoMa art media Hub on South Main Street.
Hardback Café (211 W. University Ave.): Social Media Spawneth Monsters! Mike Garvin launches his grand assault on the modern world in ink and watercolors. Also appearing, the legendary Mike McShane will be singing "I'm Not Frank Sinatra," a magnificent tour de force of 20th-century crooning. As usual, Hardback Cafe also brings world-class cheese to the table. (hardball211.com)
Florida Community Design Center (101 N. Main St.): AnARTists Returns with Ouida McIlhinney. A talented local artist, she returns to the Design Center in celebration of AnARTists, a community arts collaborative to encourage "Healing with Art."
Third House Books & Coffee (113 N. Main St.): Featuring "Welcoming Humans of Gainesville." Co-sponsored by Welcoming Gainesville & Alachua County, this exhibit features photographs by Renée Hoffinger (the human behind the Facebook site "Humans of Gainesville") and stories celebrating our friends and neighbors who were born outside the U.S. and have chosen to make Gainesville their home. Food and beverages available from adjacent Downtown Wine & Cheese. (welcominggainesville.org). 
The Vine (627 N. Main St.): Hosting Denise Hope Katz, a Tench @ Lennie Kesl Studio Artist member. She was born in East Orange, N.J., and at age 11 began to study anatomy, portraiture and oil painting at Art Students League in New York City. Her work reflects all colors, with touches of surrealism, realism and German Expressionism.
Visionary Crossfit (716 N. Main St.): Presenting a group art exhibit featuring a Suitcase Art Installation by Frank Curtis, as well as three spacious galleries featuring the work of local artists Carrie Martinez, Seck37, Natalie Galindo, Molly Kernan, Judi Cain, Dee Carolina and others. The evening will also include live painting by Sarah Whitmire, Carrie Martinez and Jessica Wilson. A Black Light Gallery featuring Gainesville's first 3D mural by Tim Malles. DJ Prof Goat from Orlando headlines Drum and Bass DJ lineup with fire and hoop performances. Tacos by Soul Spice. An all-ages show with free admission 7-9 p.m. After 9, it's $8 cash/$10 credit until 2 a.m.
Cypress & Grove Brewing Co. (1001 NW 4th St.): Featuring Sara Nash, a Gainesville native known for her large-scale acrylic paintings of trees. Her work emphasizes representational and abstract marks, lines and gestures. Live acoustic guitar music.
---
For further info, visit the Artwalk Gainesville website.