The Actors' Warehouse presents the folktale/comedy by Ramona King beginning Friday night. Two actors in the cast are from Orlando. A former police detective plays one of the thieves.
---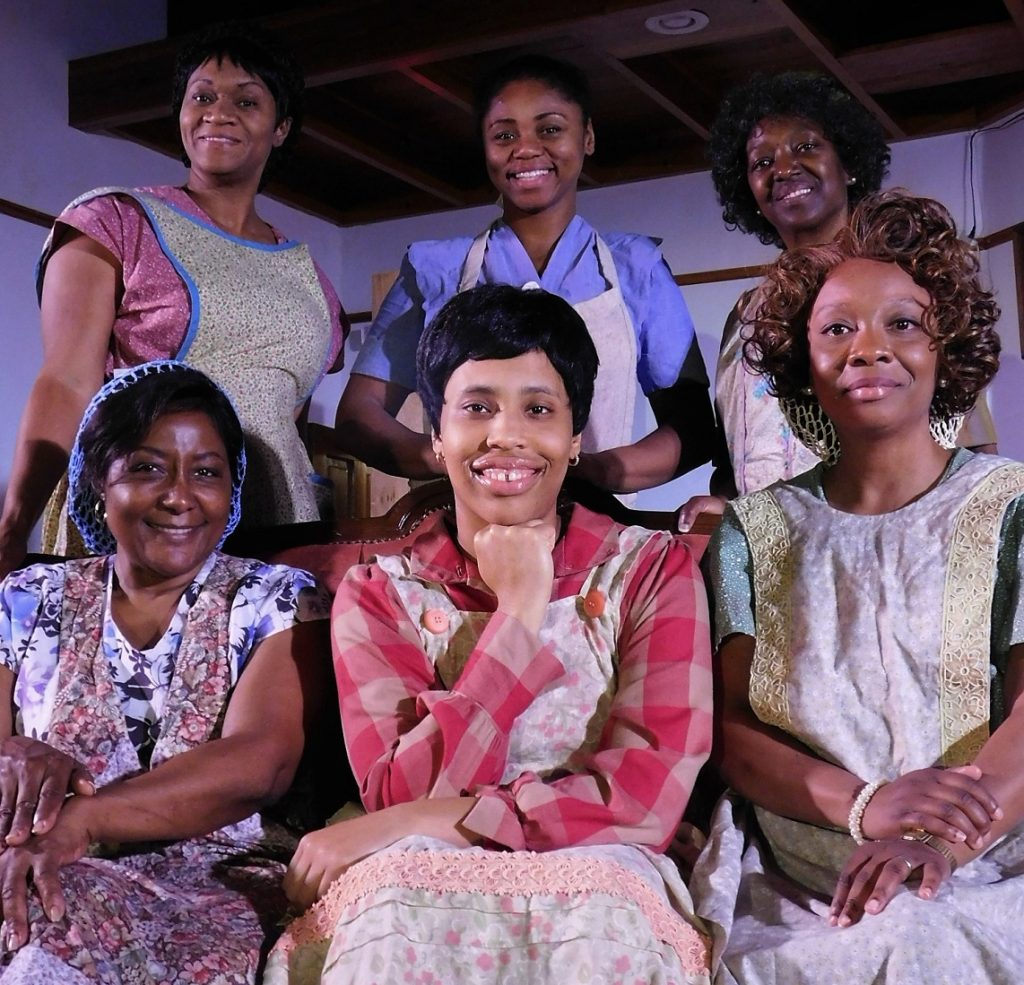 What could possibly go wrong when five God-fearing church ladies and a recent college graduate with a profit motive conspire to rob a bank for the sake of charity?
Well, let's just say executing the heist sets the wheels in motion for Steal Away, a comedy opening this week at the Actors' Warehouse, 619 NE 1st St.
"Even though you know what these women are doing is against the law, you still root for them," said Steven H. Butler, the Actors' Warehouse artistic director who is co-directing the production with L'Tanya Van Hamersveld.
The AW will present Steal Away this weekend on Friday and Saturday night at 8 and on Sunday at 3 p.m. The following two weeks (through Dec. 17), the theater will present the play Thursday through Sunday. For showtimes and tickets, visit the Actors' Warehouse website.
Steal Away, written by Ramona King, takes place in Depression-era Chicago. The five middle-aged church ladies are members of the Negro Women's Organization for Youth Education. Their traditional method for raising funds to send young women off to college is by baking and selling pies.
However, when one of the women's granddaughters, Tracy, returns home with a college degree, she cooks up a Robin Hood-style business model that requires gangster suits.
"I've been wanting to do this play for many years," Van Hamersveld said. "I was given this play several years ago by my mentor at UF. I read it and fell in love with the characters."

Van Hamersveld said she identified with the play not only because she grew up in Chicago's South Side but because, like Tracy, she was the first person in her family to earn a college degree.
"My grandmother was a huge influence that helped me want to pursue higher education," she said.
In Steal Away, Van Hamersveld plays the role of Tracy's grandmother, Stella, who's reluctant to buy into the bank-robbing scheme. That is, until a racist bank manager turns down the ladies for a loan to keep their charity afloat.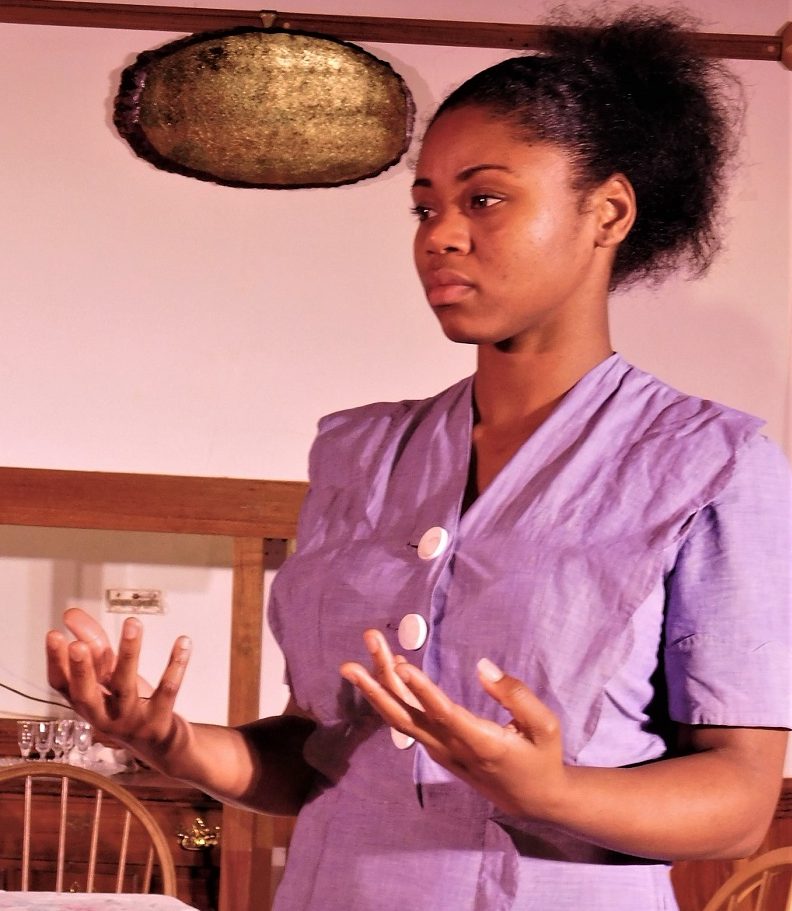 Actors' Warehouse newcomer Shanteria Strowbridge plays Tracy, a character she said she can definitely relate to.
"Oh, yes, Tracy's very persistent," Strowbridge said. "She's got a little attitude. But she's also a sweetheart, like me!"
Strowbridge, 25, is also seeing if she's a fast learner. She only accepted the role on Thanksgiving Day after the original actor cast as Tracy departed the show.
Conveniently, Strowbridge had just quit her job working at a Publix distribution warehouse in Orlando a few days before she was offered the role. She is staying with her sister in Alachua for the duration of Steal Away.
Other members of the Steal Away cast include Jamaili Tyler (Jade), Audrey Harris White (Blu), Gloria P. Ashley (Sudy) and Amei Soleyn (Redd). All are church ladies in the production.
Tyler is familiar to AW audiences for her roles in Dancing Lessons and Cat on a Hot Tin Roof. She also directed Black Nativity.
She said that Steal Away has many funny moments but also addresses serious issues "when church people don't always act like church people."
Tyler added: "It's a moral dilemma for all of them except Tracy because they're being denied by systems in society."
Ashley, who plays Gloria, said the play takes a few unexpected twists and turns.
"I don't think anyone's going to be prepared for what's going to take place," said Tyler, who earlier this year played Lucille Bridges in The Story of Ruby Bridges at the Star Center Theatre. "In spite of all the struggles they face, you'll see a lot of love, encouragement and freedom within the sisterhood. It gets real."
The most experienced actor in the show is making her stage debut in Steal Away. Orlando-based Audrey Harris White has acted in commercials and films for the past several years.
"I'm usually cast as the lawyer or some authority figure for some reason," she said with a laugh.
White, who commutes 1.5 hours to Gainesville for each rehearsal, likes her character in Steal Away.
"It's fun to play Blu," she said. "She's sassy and says what's on her mind."
Harris is the reason Strowbridge was added to the production. Both have attended Truthful Acting Studios, based on the pioneering work of legendary acting teacher Sanford Meisner. They met earlier this year in Orlando while taking a class together.
Interestingly, White is playing a bank robber after serving as a detective in the Orlando Police Department for 30 years. She retired in 2010.
"After years of 'Get down on the ground and put your hands behind your back,' I can play now," she said.
— Noel Leroux
---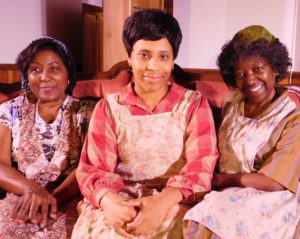 Steal Away
at the Actors' Warehouse
619 NE 1st St.
Gainesville, FL 32619
Performances: Thursday, Friday and Saturday @ 8 p.m., Sunday @ 3 p.m. through Dec. 17.
Tickets: $20 general admission; $15 students and seniors.
For further info, visit the Actors' Warehouse website.