When the Hippodrome Theatre's production of A Christmas Carol opens this week, it will mark the 40th consecutive season the theater has presented the Charles Dickens tale about Ebenezer Scrooge and the power of redemption. An informal reunion of cast and crew is set for Saturday.
---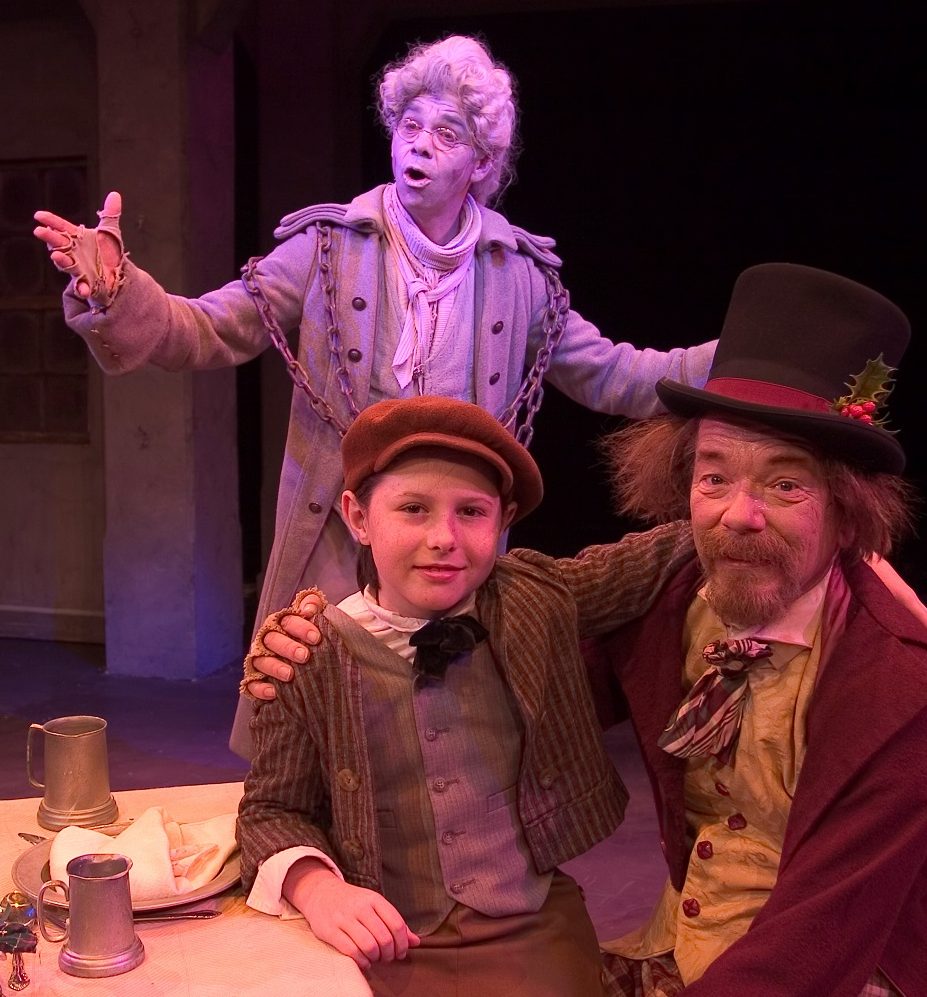 Although no one has kept official count in recent years, the Hippodrome Theatre has staged Charles Dickens' A Christmas Carol an average of 25 times a year for the past four decades. That adds up to about 1,000 performances.
For Ebenezer Scrooge, the miserly accountant who despises Christmas until he has an epiphany, that's a ton of Bah! Humbugs!  
Although only a handful of actors have portrayed Scrooge at the Hipp the past four decades, several hundred other performers — young and old — have appeared in the holiday production over the years. Meanwhile, tens of thousands of Gainesville area residents have enjoyed A Christmas Carol in person, including a couple generations of schoolchildren bused in from throughout Alachua County.
"For so many children in the community, A Christmas Carol is the very first experience of theater they have," said Jessica Hurov, the Hippodrome's managing director. "When they get off their buses, walk up the steps and get settled in their theater seats, they're transported to Victorian England. We hope it's a moment they will never forget."
That holiday tradition continues this week when the Hippodrome stages A Christmas Carol for the 40th year in a row. Performances take place Saturdays at 2 p.m. and 4 p.m. through Dec. 16 followed by seven more performances the week of Dec. 19-22. There will also be 20 weekday-morning performances for area schoolchildren leading up to the holidays.
For this Saturday's 4 p.m. performance, the Hippodrome is inviting all past actors, children, crew members and anyone who's ever been associated with A Christmas Carol to celebrate the 40-year milestone. Following the performance, everyone is welcome to gather in the Hipp's lower level for refreshments and to reminisce about the production.
Lauren Warhol Caldwell, the Hipp's artistic director, said many actors got their first stage experience in A Christmas Carol.
"I've run into actors in New York in their 30s and 40s who still say they will never forget being onstage for the first time in A Christmas Carol," she said. "It's really heartwarming to hear."
The Hippodrome first performed A Christmas Carol in December 1978, when the theater was still housed in a warehouse off U.S. 441 North. Admission to the show was free with a donation of one toy for the Toys for Tots program or a contribution of two canned food items for the Salvation Army.
According to a Gainesville Sun article from then, Hippodrome co-founder Gregory Hausch directed A Christmas Carol that year. Opening night drew a packed house.
"[It] was the biggest crowd we've ever had at the Hippodrome," Hausch boasted in the Sun. "We had 410 people and had to turn away 50 people."
Interestingly, a Sun article that very same week reported that the Hippodrome had offered the Alachua County School Board $35,000 for the historic downtown post office that would become the theater's permanent home in early 1981.
When the Hippodrome brought A Christmas Carol to its new downtown home, Rena Carney and Jim Wren became the directors. Carlos Asse also directed for seven years and created his own musical adaptation.
"I wrote the lyrics and Jim Wren wrote the music," Asse said earlier this week. "It was not an easy show to direct or to stage manage."
Asse created many of the set pieces and ingenious props still used today, including the drifting tombstone. Lorelei Esser contributed over the years to new props.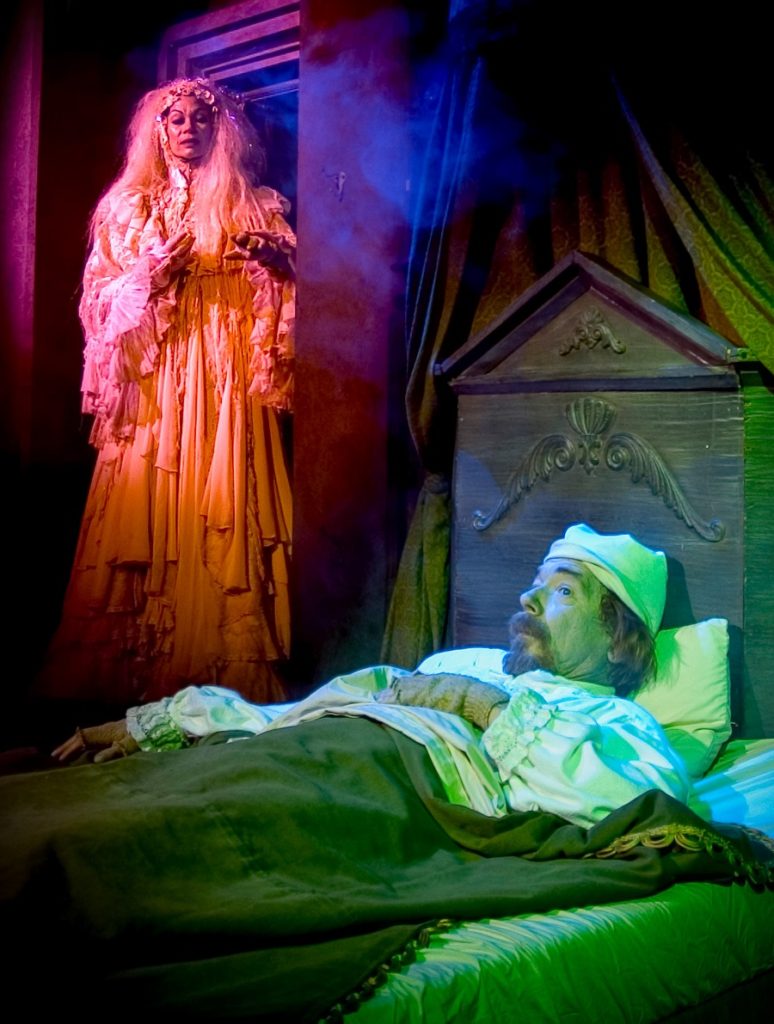 Marilyn Wall, another Hippodrome co-founder and Asse's former wife, created all the original costumes and added new ones over the years. Some still survive in various incarnations. She also made the turkey that always appears in the final scene.
According to Hippodrome Acting Company member Sara Morsey, Bruce Cornwell was the first Scrooge to grace the Hipp's production of A Christmas Carol. Louis Tyrell, Kevin Rainsberger and Chad Reed also played the role before the venerable Rusty Salling made Scrooge his own for 24 consecutive years.
"I'd say it's the most rewarding character I've done," Salling said in a 2014 interview.
Salling was in the Hipp's very first A Christmas Carol, playing both Bob Cratchit and Marley's ghost. Salling passed away in 2016, but Caldwell said he is fondly remembered.
"A Christmas Carol truly brings back Rusty every year," she said. "There's a certain spirit the show has now, and it's the spirit of Rusty. We can feel him in there."
Cameron Pfahler, 26, said his involvement with the Hippodrome was spurred by his Uncle Rusty's many years at the theater.
"Having a close relative so involved in theater gave me a natural curiosity," Pfahler said. "He always had stories to share."
For the second year in a row, Pfahler is serving as "child wrangler" for A Christmas Carol, in charge of the 17 young actors that help give the play its wholesome youthfulness.
"I'm responsible for them during the show, making sure they have their costumes and their props and that they don't miss their cues," he said.
Pfahler said he remembers first seeing A Christmas Carol at the Hippodrome when he was 5 years old but not immediately recognizing his uncle in the lead role.
"I do remember being scared of the flying ghost!" Pfahler said. "It's a very impactful show for kids when they're first understanding the magic of theater."
This year, Hippodrome veteran Gregg Jones will perform as the crotchety Scrooge for the third year in a row. For 17 years, he had played Jacob Marley opposite Salling's Scrooge.
"I've seen enough years of it where I've seen someone who started out as Tiny Tim when they were 4 or 5 years old and, seven or eight years later, they're still in the show as a teenage character," Jones said.
Asse and Wall's three sons — Carlos Jr., Marcos and Miguel — all got in on the act as youngsters, playing various roles in A Christmas Carol.
"It was a family affair!" Asse said. "Marcos enjoyed being the snowball thrower. He also was inside the tombstone."
Occasionally, a young actor grows into an adult role. Brittany Bennett, who plays Mrs. Fezziwig this year, played Belinda Cratchit 11 years ago.
Hurov's 17-year-old daughter, Maia Thompson, appeared in the production seven consecutive years as a child. She played Ignorance and Want (two years), Fan, Belle, and Belinda (three years).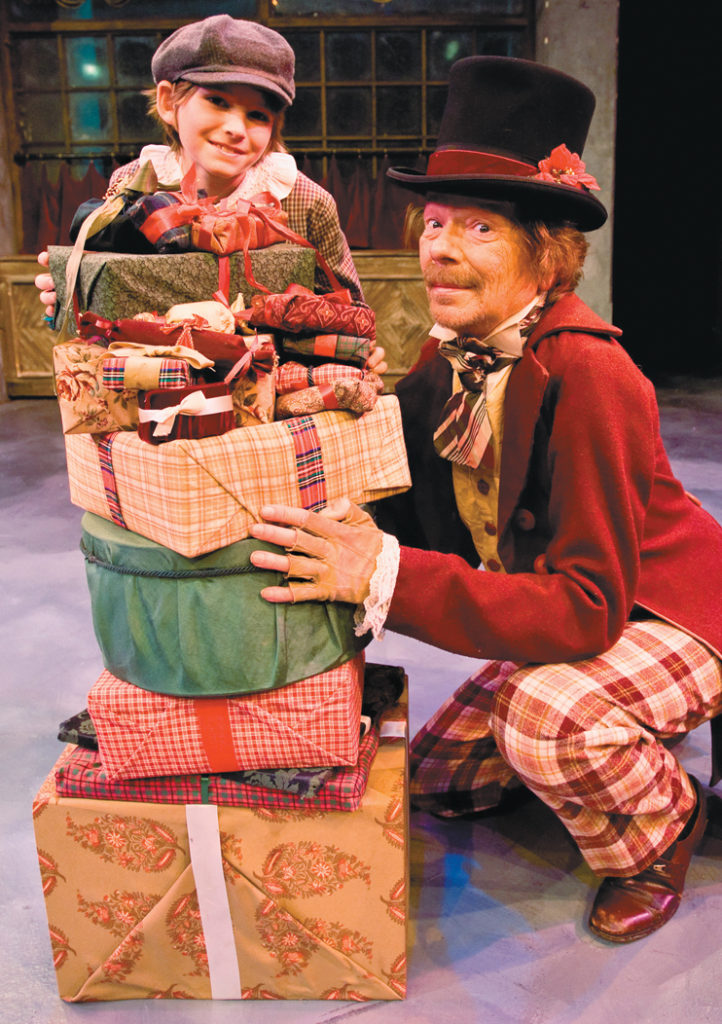 "It was a great experience because I made friends I know I'll have for a lifetime," Thompson said. "I was never nervous because the older actors always made the kids feel like our roles were just as important as theirs."
In recent years, the adult actors in A Christmas Carol have become involved in mentoring and tutoring sessions with young members of the cast.
"Everybody feels like they have ownership of the outcome," Jones said. "Everybody in the room, including the kids, resonates with the message and the spirit of the story that's being told via Charles Dickens. He's such a great writer and it speaks to the quality of his work that this story, this production, has stood the test of time."
Hurov said A Christmas Carol carries a message that is timeless.
"Scrooge's redemption is the key to the story," she said. "And I think it's important that it's not about gifts. The thing with A Christmas Carol is that it's about sharing. It makes you remember neighbors who have less than you. It teaches children the power of philanthropy. It's a beautiful thing!"
Although A Christmas Carol was first published in 1843, the story remains relevant in the 21st century, according to Jones.
"There's stuff in there that hits notes about the political issues that we're living in in our times, including greed and the haves and the have-nots and class warfare," he said. "There's a scene where Belle breaks up with young Scrooge because he's turned to money and greed rather than love. I'm watching that scene every performance and listening to it as Scrooge watching my earlier life through that vision, and I just think 'Wow!'"
In 40 years of productions, it's not surprising that A Christmas Carol has experienced some glitches along the way. Morsey, who has directed the production eight times and performed several roles over the years, said that the fog machine regularly set off the fire alarm.
"Everyone would have to leave the theater and wait for the fire department to give the 'all clear,'" she said. "One time it went off as we were preparing for a 10 a.m. show and we all had to go out into the rain in various states of dress and undress. No one was particularly happy at the time, but we did all see the humor in it."
Jones remembered one embarrassing moment when he performed as Marley's ghost wrapped in chains.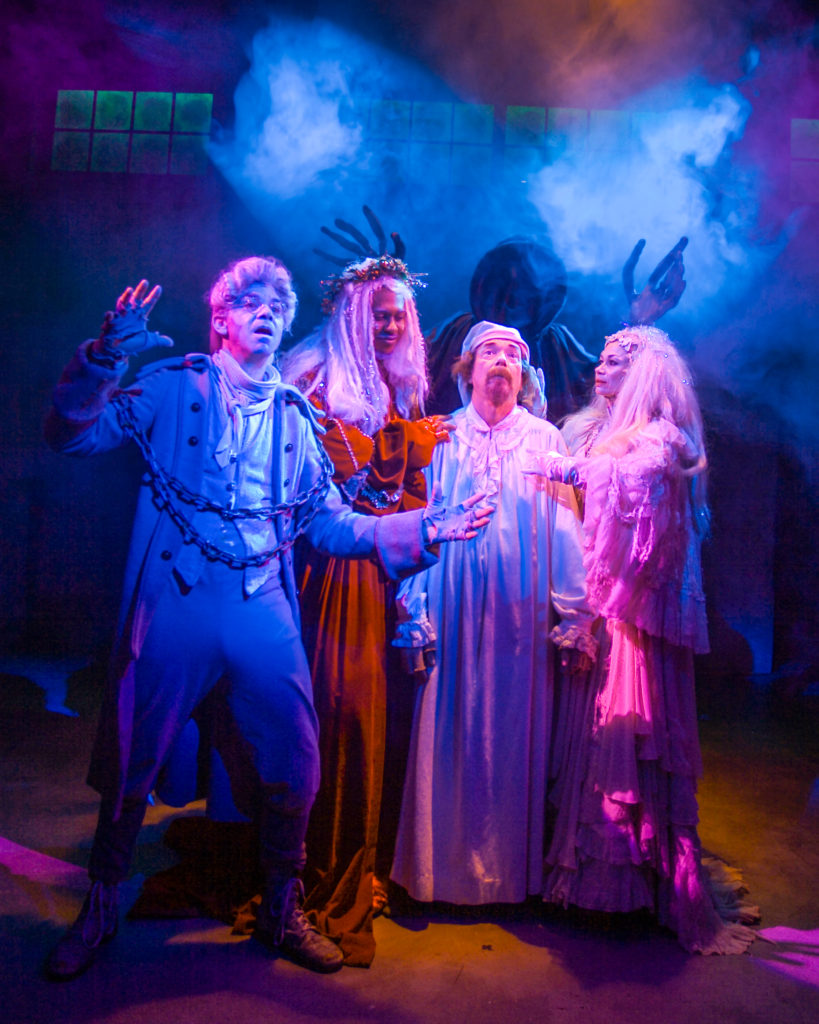 "While haunting Rusty [Scrooge], I used to sort of throw the chains up over my head," Jones said. "In the middle of the scene, the chains got snagged and pulled off my wig. I put the wig back on, but the chains wouldn't come off, so I had to play the rest of the scene with the chain stuck in my wig with Rusty just stifling laughs. I'm looking at Rusty and trying not to crack up, but he's cracking me up."
There was another time when a child actor inside the infamous tombstone became disoriented while doing its choreographed spin.
"He just started meandering around the stage in a zigzag pattern and had no idea where he was ," Jones said. "Finally I had to go over and literally put my hand on the tombstone and guide him upstage, which completely ruined the effect."
There was another forgettable moment involving the ghost that soars over the pitch-black stage during one scene in A Christmas Carol. However, Hippodrome veterans would prefer not to spoil the special effect by explaining what went wrong except that Salling's trademark laugh burst from the darkness.
"One year when the flu was ravaging the cast, we had three 'Peter Cratchits' and all three were out," Morsey said. "Another kid stepped in and played Peter without a hitch."
Many people consider A Christmas Carol to be the Hippodrome's annual gift to the community.
Jones enjoys sharing a story about a middle-age man who recognized him in his street clothes and approached him.
"He said, 'I recognize you from Christmas Carol. I loved what you did and I just wanted to tell you that I've been coming to this play since I was the age of Tiny Tim, with my family. I just want to tell you it's still the greatest show. I bring my family back every year. It wouldn't be Christmas without coming to A Christmas Carol.'"
— Noel Leroux
---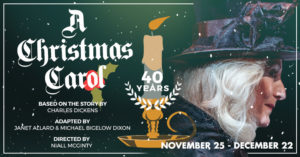 Have you ever been involved in the Hippodrome's production of A Christmas Carol? If so, we would love for you to share that experience with our readers in the "Leave a Reply" space below.