Organizers of the 36th annual Downtown Festival & Art Show handed out $20,000 in judges' prizes to more than 20 artists on a weekend that drew enthusiastic crowds to the streets of downtown Gainesville.
---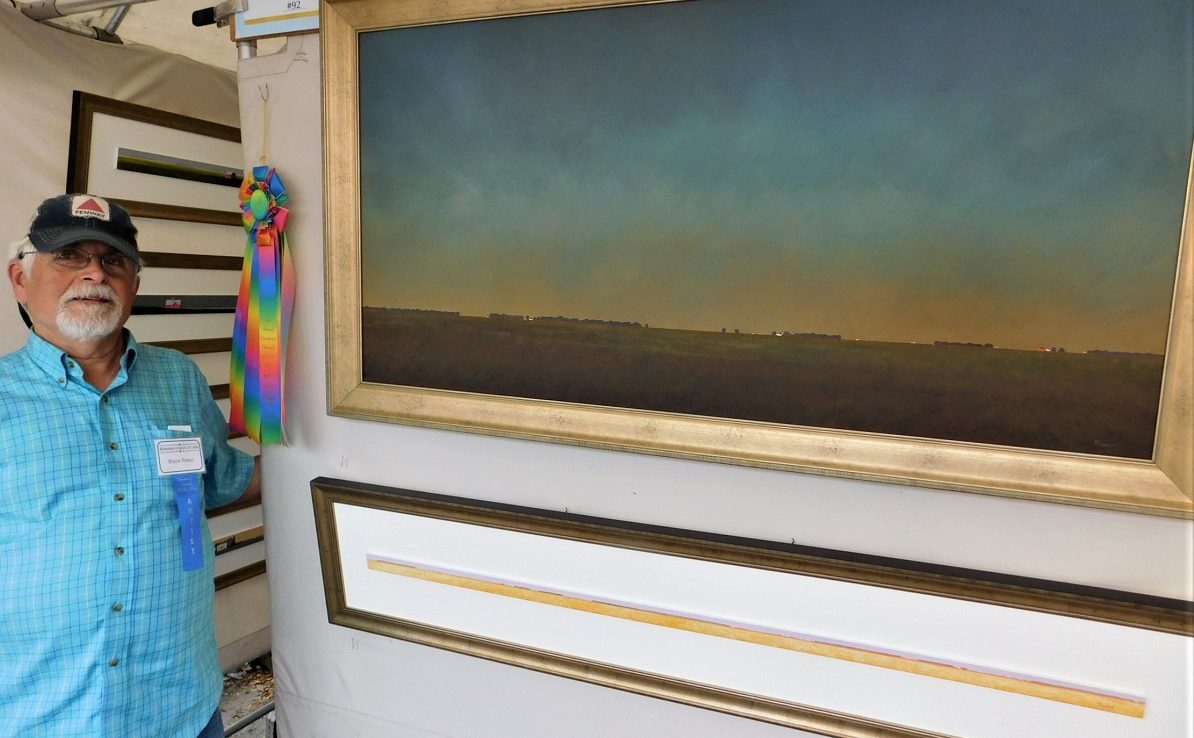 If you've never been to the Midwest and seen the very flat, wide-open prairies and farmlands, Bruce Peeso will transport you there — through his paintings.
The Massachusetts-based artist reproduces vast landscapes using acrylics on canvas. For emphasis of scope, some of Peeso's paintings are less than two inches high but stretch several feet wide.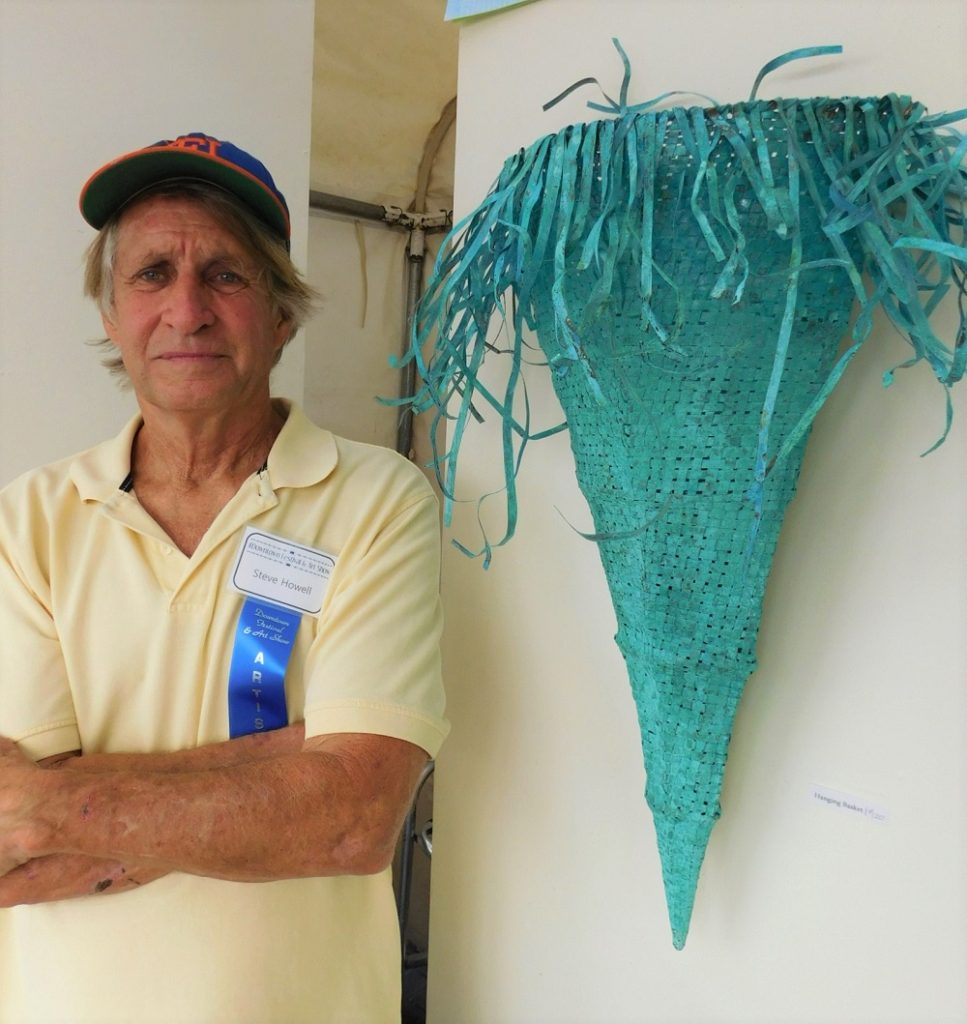 "There's a peacefulness to the open space," said Peeso, 66, who has crisscrossed the U.S. to display his work for the past 42 years. "The paintings are based on my time spent in the Midwest, where I do a lot of art shows."
Judges at the 36th annual Downtown Festival & Art Show were so impressed by Peeso's long-format, photograph-like paintings that they awarded him Best of Show 2D, which carries a $2,000 cash prize.
"It's quite a nice award," he said. "They told me they were in unanimous agreement, which is flattering."
Peeso said his paintings are inspired by how he views the world from his car.
"You look at the horizon when you're traveling and that's what gives it a sense of space," he added. "To me, it's about the horizon line."
This was Peeso's first year participating in the the Downtown Festival & Art Show. He applied for a spot based on the recommendations of friends who have done the show in the past.
Meanwhile, Gainesville sculptor Steve Howell won Best of Show 3D for the second consecutive year for his intricate woven-copper mixed media creations.
Although the judges looked at the entire presentation in Howell's booth, one piece that likely got their attention was a cone-shaped hanging basket that Howell finished just in time for the show.

"The inspiration for this piece comes from looking at the conical baskets women wear high on their shoulders when picking tea in Sri Lanka," he said. "I saw that maybe a year ago on a 'National Geographic Special' and it struck me and ruminated in my brain."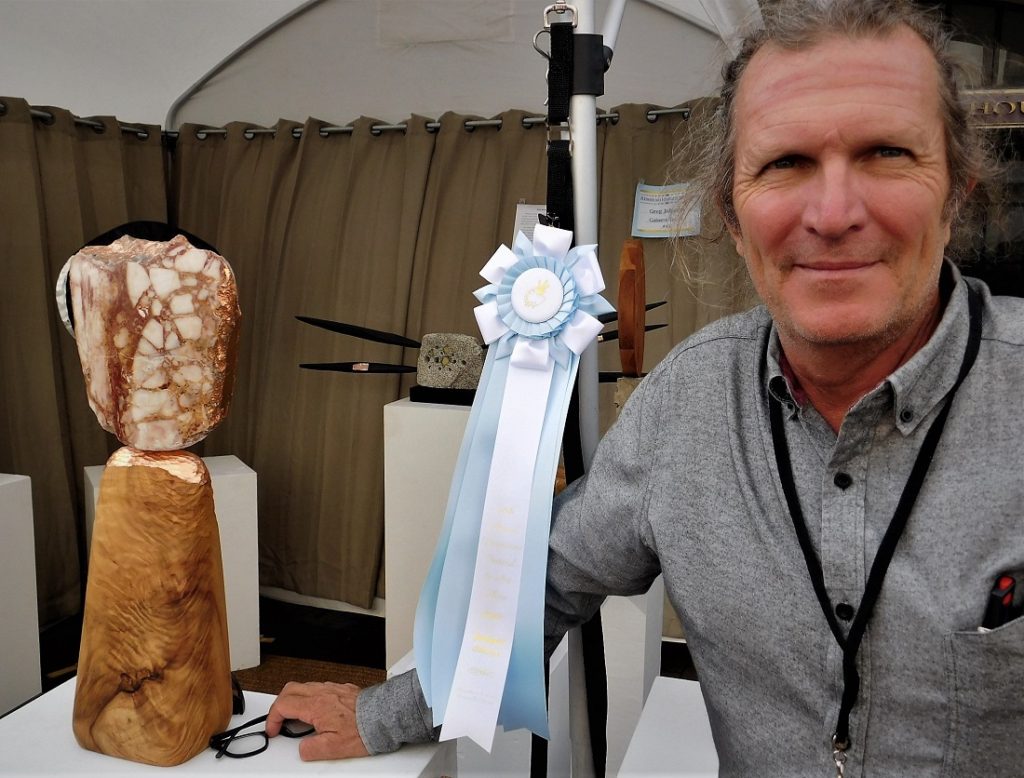 Howell said he is honored that the two out-of-area judges — David Fithian from DeLand and Jane Hubbard Jennings from the Daytona Beach area — were complimentary of his work.
"They weren't that specific," he said, "but there are a dozen people here who could have been Best of Show."
Meanwhile, the Judges' Choice awards, worth $1,000 each, went to Atlanta mixed-media artist William C.J. Cowherd in 2D and Gainesville sculptor Greg Johnson in 3D.
Johnson said he works on balancing disparate materials — wood, stone, metal and beeswax — into a harmonious whole.
"The work itself is very intuitive and letting the materials work with a minimal amount of intervention," said Johnson, who has a background in forestry and applied plant biology.
He lamented finishing second to Howell, only a few booths away.
"My whole life I've been chasing Steve!" he said.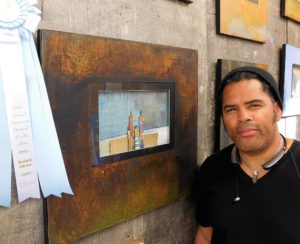 Cowherd won his Judges' Choice award on his third try participating in the Downtown Festival & Art Show. His artwork involves steel clad to wood with a proprietary patina process.
"I call my art neo-ancient 2D mixed media," he said. "My inspiration is from African and tribal art."
There were also five Awards of Excellence handed out worth $1,000 apiece. Winners included Gainesville's Jacquelyne Collett in glass and Newberry's Chris Tatum in wood.
Each piece of kiln-fired glass art by Collett is delicate — a pristine object that is pleasing in its simplicity but sophisticated in design and execution.
"I am sketching and mark-making with glass, hand pulling glass threads over a torch and then manipulating them again with heat to make shapes," Collett states. "I rarely have a preconceived idea of what the pieces will look like."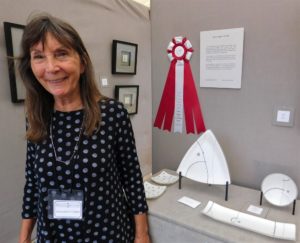 She said she is pleased to get recognition for her work.
"I know that judging is very difficult and I feel very blessed they chose me as an award winner," Collett said. "There's a lot of work here that is worthy. It's a very competitive show."
Awards of Distinction, worth $600 each, went to 13 artists or artist teams. The only local recipient was Gainesville's Candace McCaffery in fiber/textiles.
Following is the complete list of award winners for 2017:
Best of Show 2D ($2,000): Bruce Pesso, Monson, Mass., painting
Best of Show 3D ($2,000): Steve Howell, Gainesville, mixed media
Judges' Choice 2D: ($1,000): William C.J. Cowherd, Atlanta, mixed media
Judges' Choice 3D ($1,000): Greg Johnson, Gainesville, sculpture
Awards of Excellence ($1,000 each): Jacquelyne Collett, Gainesville, glass; Chris Tatum, Newberry, wood; Cindy Grisdela, Reston, Va., fiber/textiles; James Carter, Southbury, Conn., painting; Jinsong and Carol Kim, Mims, ceramics/pottery.
Awards of Distinction ($600 each): Candace McCaffery, Gainesville, fiber/textiles; Bruce Odell, Lafayette, La., ceramics/pottery; Ed Myers, Lake Mary, digital arts; Lisa Mote, Newborn, Ga., mixed media 3D; Kathrine Allen-Coleman, Jackson, Ga., mixed media; Rick Abrams, DeLand, painting; Benjamin Peterson, New Port Richey, sculpture; Clovis Dean Rusk, Brooksville, painting; Mel Fleck, Taylorsville, Ky., drawing/printmaking; Megali Cereghino-Groves, Orlando, wood; Ira Burhans, Palm Harbor, ceramics/pottery; Joan Michlin and Skip Ennis, Sarasota, jewelry; Marius Moore, Gulfport, photography.