Just in time for Halloween, the Acrosstown Repertory Theatre presents The Rocky Horror Show, featuring Dr. Frank N. Furter, that "sweet transvestite from Transsexual, Transylvania," and that catchy "Time Warp" song.
---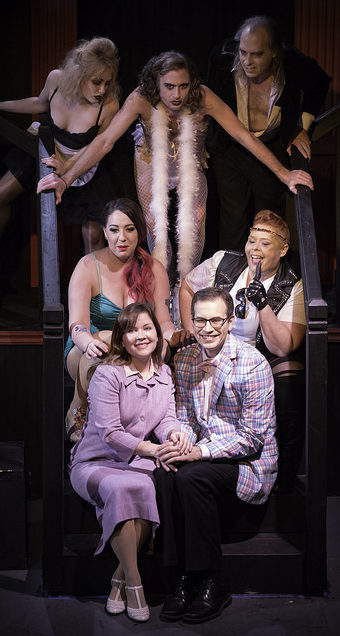 It has been more than four decades since movie audiences were introduced to The Rocky Horror Picture Show, an outrageous tribute to B horror movies and campy musicals.
The story follows stranded young lovers Brad and Janet as they stumble upon the rather peculiar — and erotic — world of Dr. Frank N. Furter, a mad scientist who's dead-set on creating a hunky monster named Rocky for his earthly pleasures.
The movie eventually became a cult classic, drawing sold-out crowds who turned late-night screenings into sing-along and audience-participation events complete with water pistols, rolls of toilet paper, rubber gloves and slices of toast as signature props.
Starting this weekend, the Acrosstown Repertory Theatre brings the fun-filled story to its stage with a production of The Rocky Horror Show. Opening Night is Friday at 8. There will also be shows Saturday at 8 and Sunday at 2 p.m. Nine more performances follow through Nov. 12.
"Rocky Horror has been a part of the American experience since 1975," said Jessica Arnold, who is co-directing the play along with Shay Smith. "The songs are infectious, wild, touching and a shout-out to individuality and self-expression."
The Rocky Horror Show is actually the 1973 stage musical from which The Rocky Horror Picture Show was adapted two years later. Although most of the songs — such as "Time Warp," "Damn It, Janet" and "Sweet Transvestite" — are the same, there are some differences.
"I've seen the movie over 100 times, so one of the challenges was adapting to the change in music," said Carolyne Salt, the Acrosstown Theatre president who also plays the role of usherette Roxie. "It's not completely different, but it's different enough for singers to make changes to songs they're heard their whole lives."
Actor Tim Curry originated the role of Dr. Frank N. Furter on the London stage and reprised the role as "the sweet transvestite from Transsexual, Transylvania" in the film. In the Acrosstown Theatre's production, Dean Carvalho convincingly wears the corset, fishnet stockings, heels and lipstick of the not-so-good doctor.
The flamboyant character is a long way from Carvalho's previous Acrosstown role as the understated Estragon in Waiting for Godot.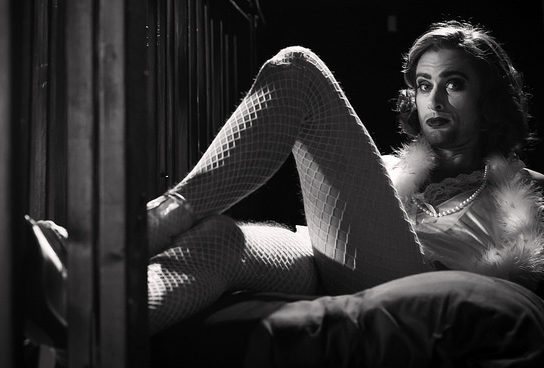 "Rocky Horror is nothing like Godot," Carvalho said. "It's not a thought-provoking, existential comedy. It's a fun, good-time musical that everybody knows the words to and can sing along to."
Ian Hales plays Brad Majors, the character played by Barry Bostwick — opposite Susan Sarandon's Janet — in the 1975 film.
"It's so much fun playing Brad — he's a McCarthy-era man, very responsible," Hales said. "One thing I love about this show is that it's a parody of classic horror movies, but it's their virtue at risk, not their lives."
This is Hales' debut at the Acrosstown Repertory Theatre, but he has performed four times at the Gainesville Community Playhouse, most recently in Mary Poppins. He's also performed for the past 15 years with the Thieves Guilde, which reenacts battles during the Hoggtowne Medieval Faire.
Hales said that the catchy songs make The Rocky Horror Show memorable. It's one reason he owns the soundtrack.
"'Hot Patootie' is a great song with a nice melody," he said. "This is one of my favorite shows. It's been on my bucket list for quite awhile."
The same goes for Laura Jackson, who plays Brad's fiancé, Janet Weiss.
"This is my dream role," she said. "Janet is a great character. She starts out as this sweet, innocent, quintessential, All-American girl. By the end, she's explored her dark side and her feminism."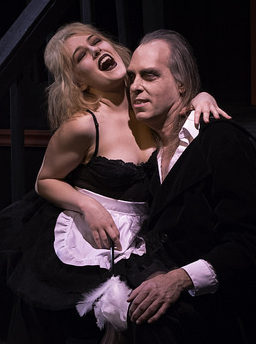 Arnold said that The Rocky Horror Show is not an easy show to produce, especially in the limited confines of the Acrosstown's intimate theater space. She credited Ted Lewis for building a multi-level set that maximizes the performance area.
"This has been one of the more difficult and rewarding directing experiences in my career," she said. "I'm particularly fortunate to have such a talented co-director in Shay Smith, Carol McCoy as vocal coach and Emma Grimm as our assistant director.
"We divided the rehearsals up at the beginning between acting, choreography and voice work. That really let the performers focus on one thing at a time, and it's amazing to see them bring everything together."
There are almost 20 actors in the cast, several of them making their ART debuts.
"It's been great to bring some of the performers out of their comfort zone and really push them as singers, dancers or actors," Arnold said. "They've been working hard to honor both the original and our vision, and it shows. They're taking to it like Transylvanians in a castle!"
Smith, the co-director, is also overseeing the shadow cast of The Rocky Horror Picture Show: Live on Stage that has five performances this month at High Dive. (The final one is Nov. 1.)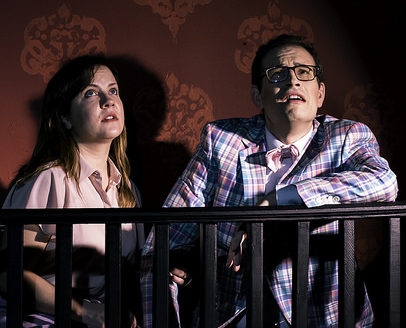 "I could not have even begun to do this piece without Shay," Arnold said. "She's a brilliant singer, dancer, performer and choreographer, and she has a passion for teaching and performing. Her shadow cast for The Rocky Horror Picture Show is a perfect counterpoint for what we're doing for The Rocky Horror Show at the Acrosstown. They're doing the original, so people who love that one have been able to relive it down to the letter. However, we're doing something a little bit different here at the ART, a bit darker, and playing up the 'Horror' side of the name."
Another difference in the Acrosstown's production is the use of two usherettes in The Rocky Horror Show rather than one. Salt plays Roxy while Chelsea Hoyt plays Trixie.
"The usherettes are the bookends, the Greek chorus that brings the audience into the show," Salt said. "In the script, Frank failed at his mission, but they don't tell you what his mission was. I think Frank succeeded in his mission and that was for the usherettes to bring in new audiences, new blood — virgins, as you were — into The Rocky Horror Show."
The cast also includes Jesse Markham (Riff Raff), Emma Grimm (Magenta), John A. de Groot (Rocky Horror), Eric Hill (criminologist/interrogator), Jackie Collins (Columbia), Stephanie Birch (Eddie) and Andy Hunn (Dr. Everett Scott). The Transylvanians/Phantoms include Adam Lobar, Ashlyn Busscher, Cat Adams, Ed Hunter, Elizabeth Rossen, Emily Lienhart, Laura McNeill and Tyson Adams.
Arnold said that the goal of her cast and crew is to give each audience member an immersive experience and maybe a new perspective.
"I love how inclusive this show is, and how everyone has been able to put their own little stamp on it to really embrace the direction we're going in," she said. "We want to give a whole new experience to the audience. We want to chill, thrill and fulfill every one of them!"
— Noel Leroux
---

The Rocky Horror Show
at the Acrosstown Repertory Theatre
619 S. Main St. (in the Historic Baird Hardware Center)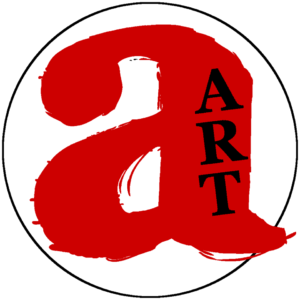 Performances: Thursdays, Fridays and Saturdays at 8 p.m., Sundays at 2 p.m. through Nov. 12. Also, Tuesday, Oct. 31 at 8 p.m.
Tickets: $20 general admission, $15 for students, seniors, veterans and active military.
If you attend the production, let us know what you think of it by Leaving a Reply below.