Can't get enough political divisiveness these days? Try tossing an openly gay man into the presidential race and see what happens. The Acrosstown Repertory Theatre does just that in its latest production. 
---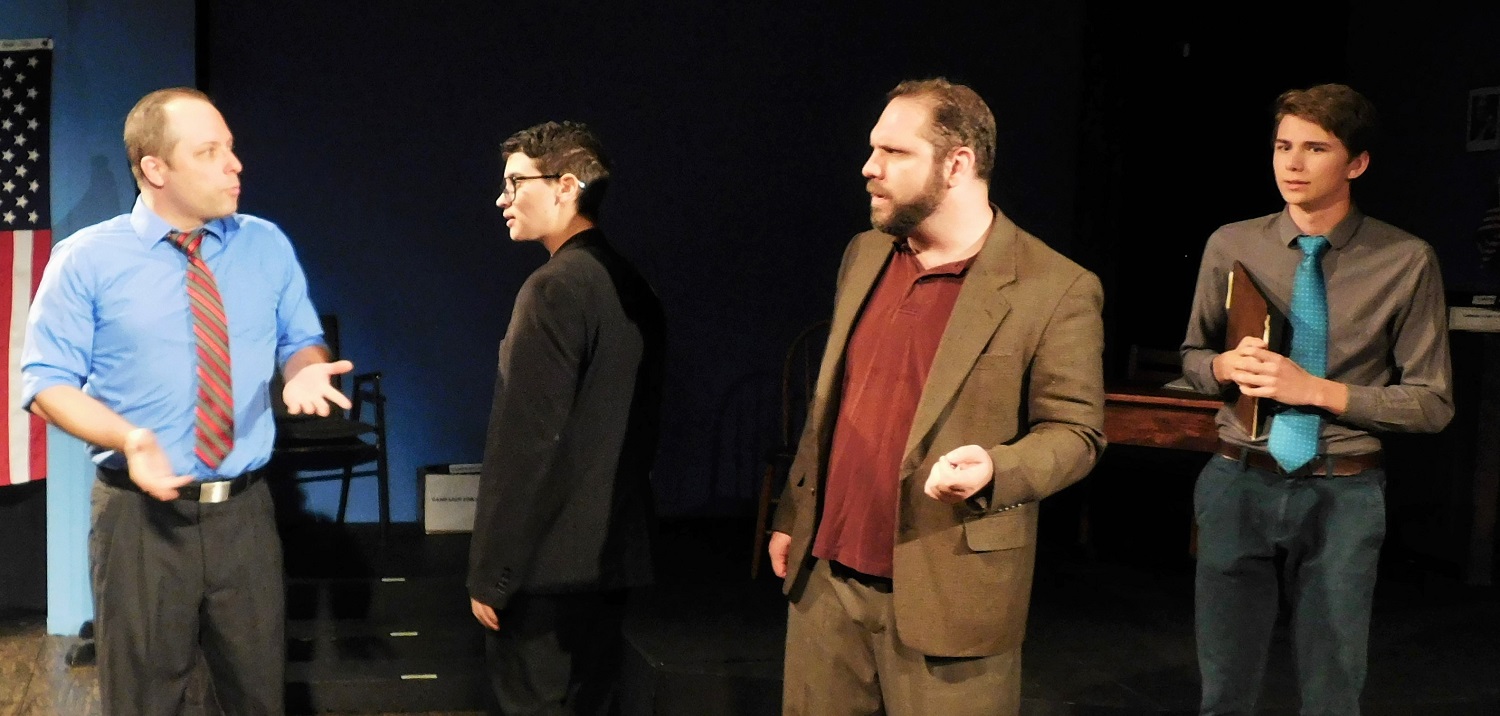 America took more than 230 years to elect its first black president. Now most indications point to the U.S. choosing its first female president within the next month.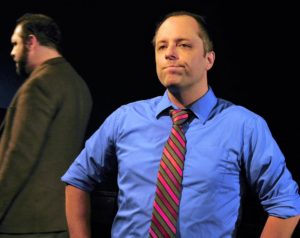 And that raises a valid question: Does the possibility exist for an openly gay person to occupy the Oval Office?
Such is the premise of Commander, a dark comedy making its Florida debut this week at the Acrosstown Repertory Theatre (ART), in the Historic Baird Center at 619 S. Main St.
The play has a $5 cash-only preview performance Thursday night at 8. Opening Night is Friday, when tickets are $15 ($13 for students, seniors, veterans and retired military). The play continues through Oct. 30 on Fridays and Saturdays at 8 and on Sundays at 2 p.m.
"It's a wonderful time to do a play about an interesting candidate for president," said Karelisa Hartigan, who is directing Commander. "We definitely wanted it to run before Election Day."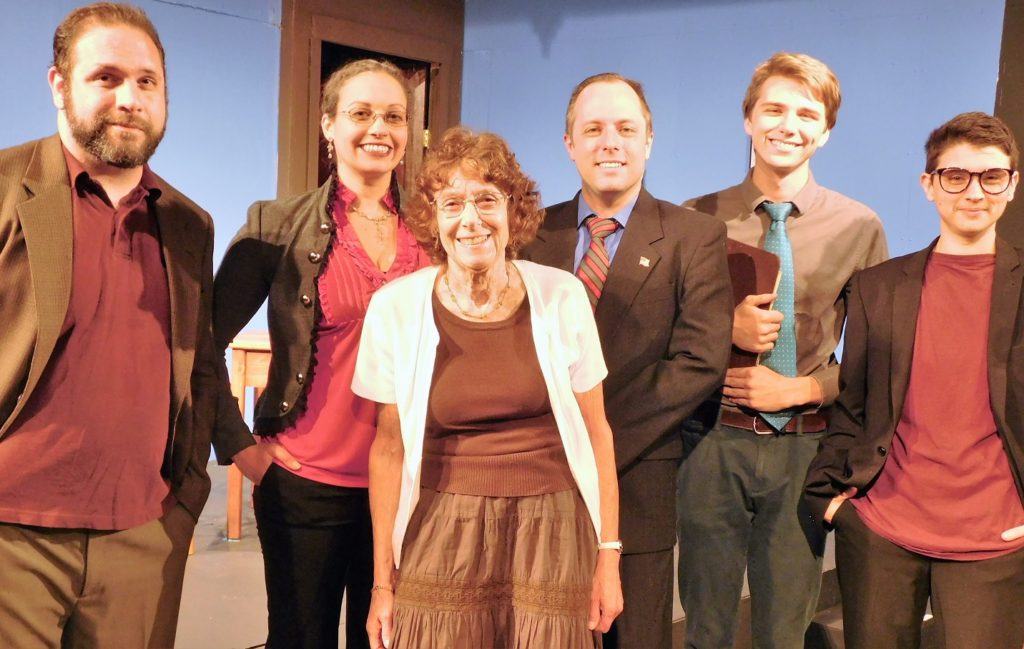 The play, written by Mario Correa, follows Rhode Island governor Ned Worley (played by ART veteran Adam Lishawa) from when he announces his candidacy for president up until the Iowa caucuses. Throughout the campaign, Worley must contend with the skepticism of political consultant Frank Sands (Michael Glover) not to mention the cynicism of his partner of 18 years, Richard Gilly (Milo Brooks).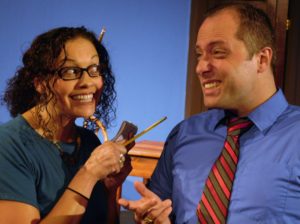 The able Commander cast also includes Lola Bond as a pair of news reporters as well as Acrosstown newcomer (and UF freshman) Joshua Evangelista as Frank's fellow consultant, Zack Maines.
Hartigan saw the play performed last year at the Comparative Drama Conference in Baltimore and was immediately impressed.
"It's a very funny play with a very serious and poignant ending," she said. "It asks people to evaluate what we look for in a candidate and whether we can set aside our prejudices and look at the larger picture."
Lishawa, who most recently performed at the Acrosstown Repertory Theatre last month in These Shining Lives, said the timing of Commander is perfect in this heated political climate.
"This is a good play for now because some of the hot-button issues from the past year have dealt with gender and sexual identity," he said. "It also examines the idea of society's influence upon individuals who do not necessarily adhere to the heteronormative lifestyle."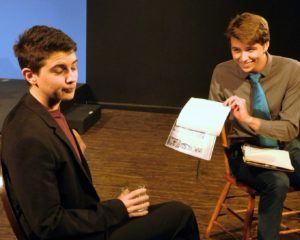 Lishawa called Commander a "powerful and important piece" in that elections are too often decided on personalities and not issues.
"It's about taking the most obvious but inconsequential differences of a candidate and making that the story," he said. "It's something everyone should abhor."
Brooks, who plays Ned's partner of 18 years, delivers some of the juiciest lines of the production. His character, Richard, is less than excited about the prospect of becoming First Partner in the White House.
"A lot of dormant issues rise up between Ned and Richard," Brooks said. "They'd sat for years like dry gunpowder because there was nothing there to ignite it. Now they've opened old wounds that were left to fester."
The actor admitted that Richard's character, a high school teacher who dreads the spotlight, spends much of the play exhibiting behavior that many Americans would consider stereotypical of a gay man.
"What's fascinating to me is that he uses that behavior as a defense mechanism or a smokescreen," Brooks said. "At heart, Richard is actually a private man who just wants a small house with his dog and partner."
Commander made its world premiere only a year ago when it was staged by the Vagabond Players in Baltimore, where it was honored as Best Play & Best Production at the city's Playwrights Festival. Correa, the Chilean-born playwright, also wrote the Off Broadway comedy Tail! Spin! examining sexcapades by politicians using their own emails and texts verbatim.
Hartigan introduced herself to Correa at the Comparative Drama Conference and expressed an interest in bringing the play to the Acrosstown Repertory Theatre. The play has since been performed in New York City and Arizona.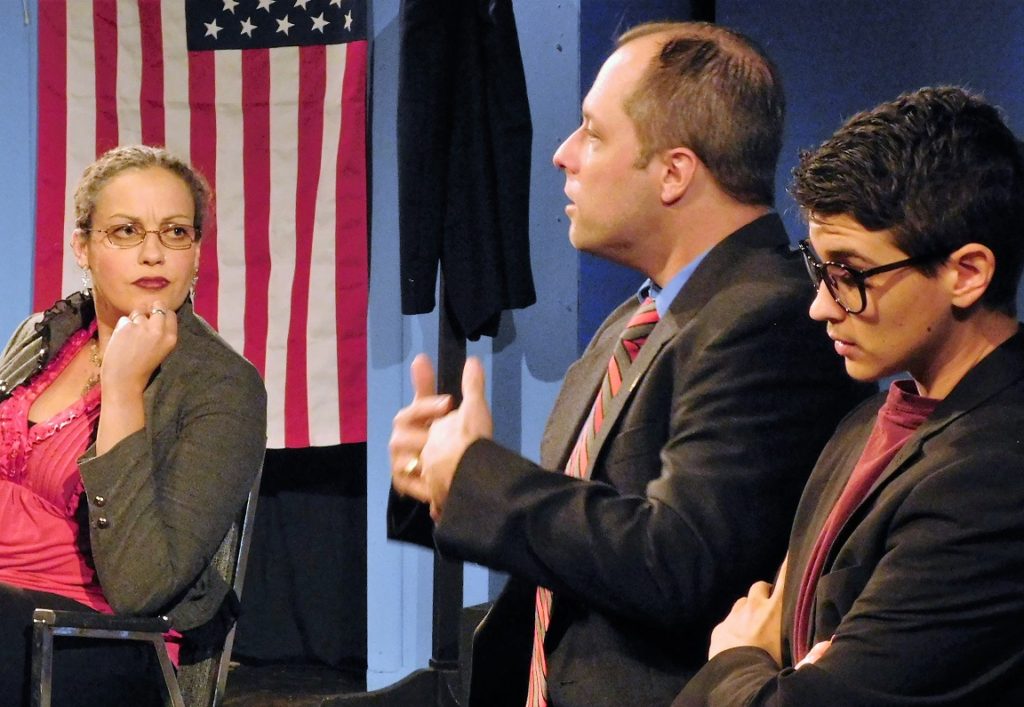 "He was quite willing for us to have it in Gainesville," Hartigan said.
By the way, Hartigan founded the Comparative Drama Conference in 1977 as a young professor at UF. The international interdisciplinary conference was based here until 2000, when it moved to Ohio State.
Hartigan is Professor Emerita of Classics at UF, where she taught Greek and Latin languages for 36 years until her retirement in 2008. Not by coincidence, that is also the year she became involved with the Acrosstown Repertory Theatre and directed Theatre of War, a stage reading that used Greek drama to address issues faced by current veterans of war.
Hartigan grew up in community theater in Westfield, N.J. Her father worked backstage while her mother acted and directed. At the College of Wooster in Ohio, Hartigan spent much of her time in the lighting booth and was the school's first female stage electrician.
After retiring from UF, Hartigan served as ART president for three and a half years. She most recently directed the theater's production of A.R. Gurney's Another Antigone in early 2015.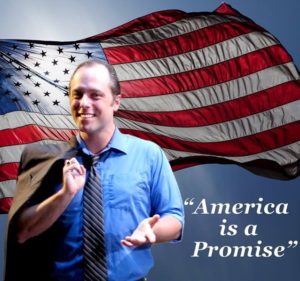 Every Thursday, Hartigan also teaches a "Social Skills in Transition" course that uses improv in the rehabilitation process for formerly homeless and incarcerated veterans.
"It's amazingly positive because they really, really get into it," she said. "They come into the class really scared and then get into the laughter and leave feeling so much better. It's just a wonderful experience."
Lishawa said that, as a director, Hartigan is an actor's dream.
"The beautiful thing about Karelisa is that she allows us to work the entire stage and let the play grow organically," Lishawa said. "We're not going up against any artificial boundaries, which is a wonderful thing for an actor."
Likewise, Hartigan is just as happy with her Commander cast.
"My cast is fantastic," she said. "They're so comfortable together onstage. They're all stars. I got my dream cast!"
— Noel Leroux
---
Commander
Acrosstown Repertory Theatre
619 S. Main St.
(in the Historic Baird Center)
Gainesville, FL 32601
Tickets: $15 ($13 for students, seniors, veterans and active military)
Performances: Fridays and Saturdays at 8 p.m., Sundays at 2 p.m., through Oct. 30.
For further info, visit the Acrosstown website.