Bryan Mercer and Mark Chambers channel Bette Davis and Joan Crawford, respectively, in a stage parody of the 1962 psychological thriller Whatever Happened to Baby Jane?
---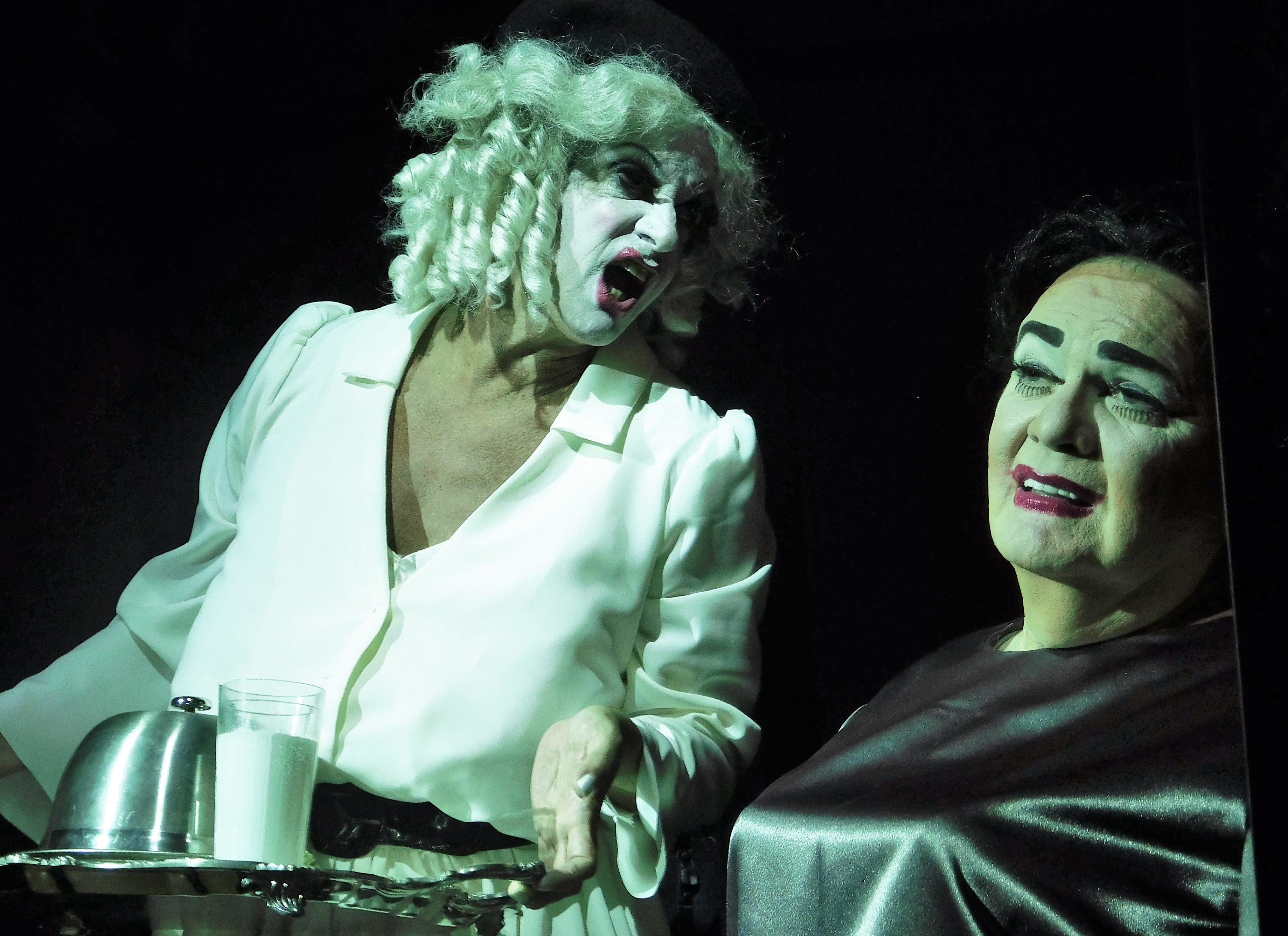 As a teenager, Bryan Mercer got one of the biggest thrills of his young life when he and his mother attended a lecture by film legend Bette Davis in Daytona Beach.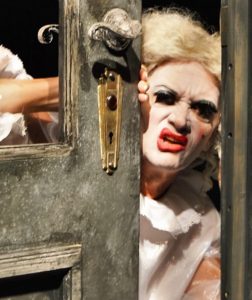 Although Davis was well beyond her prime as one of Hollywood's most beloved leading ladies, the two-time Oscar-winning actress made a lasting impression on Mercer.
"I remember her power!" Mercer said. "I was struck by how small she was physically, but she seemed to fill the stage. At 14 I had no vocabulary for it, but I remember the feeling of awe I had."
That was in 1974. More than 40 years later, Mercer is paying the ultimate homage to Davis by inhabiting one of her classic film roles on stage at the Hippodrome Theatre. For the next four weeks, Mercer will amp it up as the adult Baby Jane Hudson in Whatever Happened to Baby Jane?
The production has previews tonight and Thursday night at 7 on the Hippodrome mainstage before Friday's Opening Night at 8. The play continues through Nov. 6 with eight performances a week.
The play is being promoted as a parody of the 1962 black-and-white thriller Whatever Happened To Baby Jane? The movie starred Davis as a former child star who spends her days tormenting her wheelchair-bound sister, played by fellow screen legend Joan Crawford.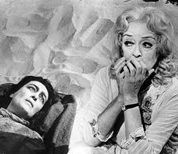 More than half-a-century later, the Hippodrome is recreating Whatever Happened to Baby Jane? and making the story even more macabre than the disturbing movie (if that is possible).
"It's a slow descent into madness," said Lauren Warhol Caldwell, the Hipp's artistic director who is directing the play. "It's really a psychological thriller."
Mercer, who gave a compelling performance as John Merrick in The Elephant Man earlier this year at the Hipp, twists Davis's already demented Baby Jane character into a sadist/psychopath. (Think Heath Ledger as the Joker in The Dark Knight.)
In the movie, Davis sings the sorrowful song  "I've Written A Letter To Daddy" with a degree of pathos. With Mercer's creepier version of the song, audiences won't know whether to laugh or cry.
And that, apparently, is the point.
"It's a scary excursion into the surrender to madness," Mercer said about his character.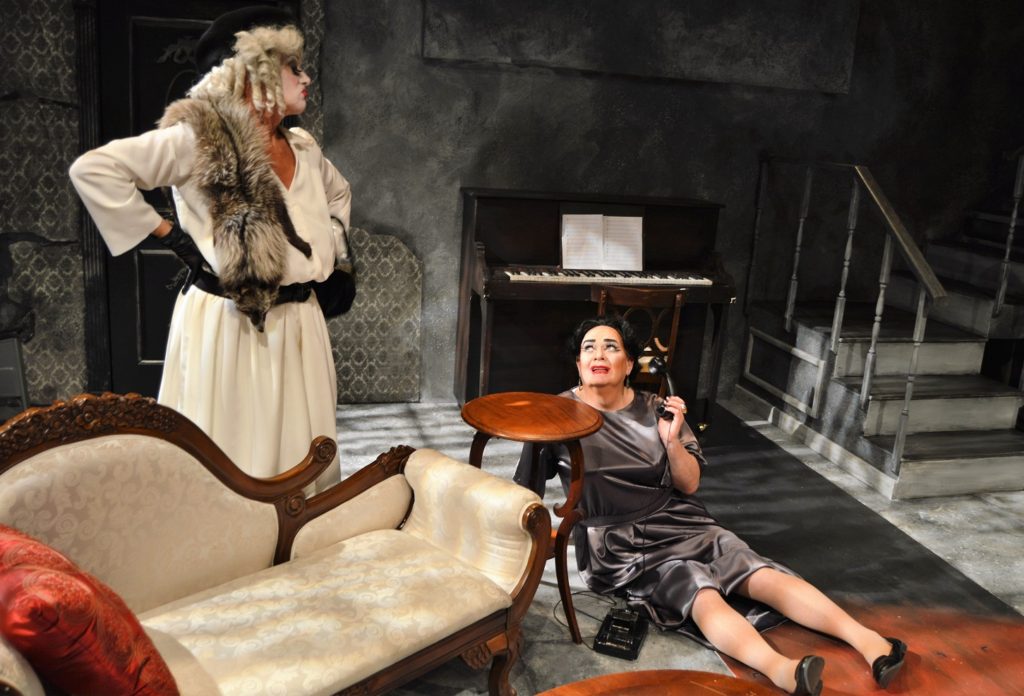 Baby Jane's tirades are directed at hated sibling Blanche (Mark Chambers), who had the audacity to outshine her sister on the big screen until a suspicious automobile mishap crushed her spine and her film career at the same moment.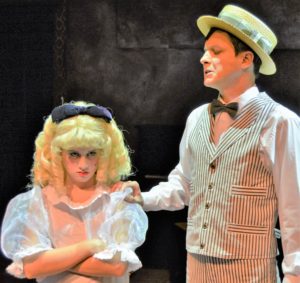 Whatever Happened to Baby Jane? also stars Sara Morsey, Niall McGinty, Logan Wolf, Jake Lesh, Christie Robinson, Maya Handa Naff and 12-year-old Madeline Smyth, a sixth-grader at Lincoln Middle School who plays Baby Jane Hudson as a perky but spoiled child star.
Mercer revels in his role as the middle-age Baby Jane because he also gets to channel Davis's mannerisms and that unmistakable voice
"She throws words as if they were rocks," Mercer said. "I use what I call the Bette method to study lines. Repeat the line and punch a different word every time until you find the one you like — and be willing to change it. It's fun and seems to work."
Getting to play a character that Bette Davis made famous, such as Baby Jane, is just another feather in Mercer's acting cap.
She throws words as if they were rocks."
— Bryan Mercer on Bette Davis
"I remember being blown away by her Queen Elizabeth and her Sweet Charlotte, but it wasn't until adulthood I could appreciate her Regina in Little Foxes or Margot in All About Eve," he said.
Interestingly, the sibling rivalry between the Hudson sisters mimicked the real-life resentment that existed between Davis and Crawford.
"They hated each other!" said Robinson, who has two roles in Whatever Happened to Baby Jane?  "They generated delicious celebrity gossip, much better than Brad and Angelina."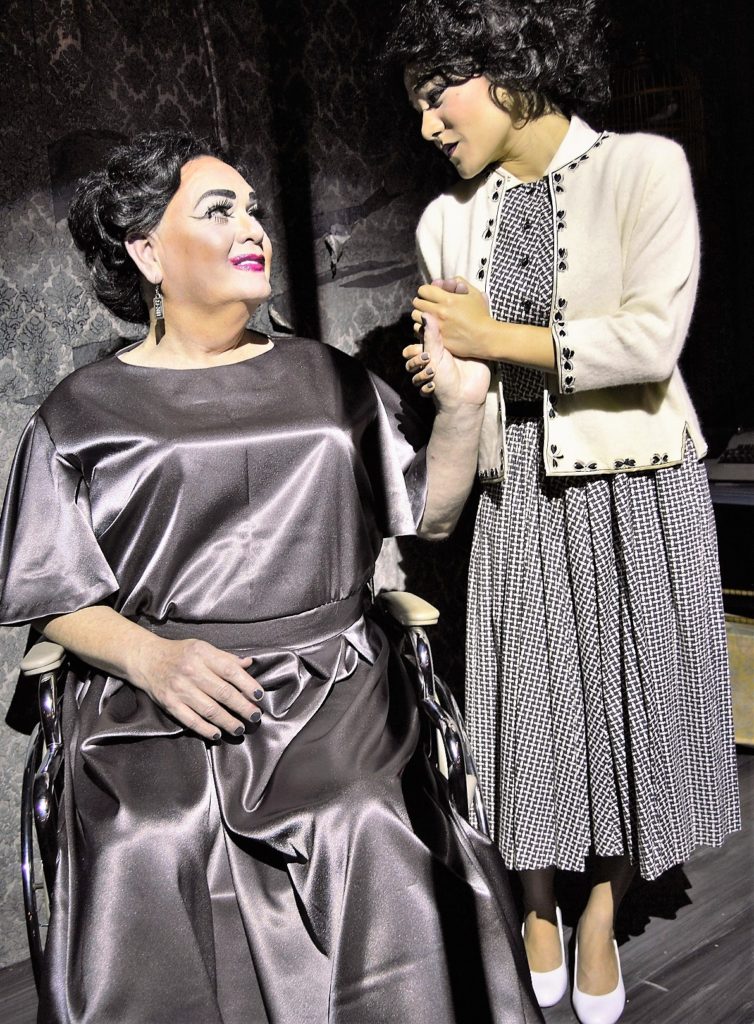 Chambers, who is returning to the Hippodrome after performing two one-man shows in St. Petersburg this summer, is not new to the Whatever Happened to Baby Jane? story. He had two minor roles in Billy Clift's 2010 drag-parody film Baby Jane?
"It was a remake film that had a nice success," Chambers said. "I played the bank teller and the nurse at Dr. Shelby's office. It was a good time."
As Blanche Hudson, Chambers spends most of the play confined to a wheelchair in an upstairs bedroom of the sisters' decaying Hollywood mansion. To create the effect, Mihai Ciupe and his scenic design team removed 35 seats to the right of the Hippodrome stage to create a second-level proscenium.
Still, Chambers is not used to sitting throughout a performance.
"My grandmother was always in a wheelchair, and I have a new understanding and knowledge of her path," he said. "Learning to manipulate the chair is not nearly as easy as it would seem. It's an old chair and a tight space, and to make turns takes effort and practice."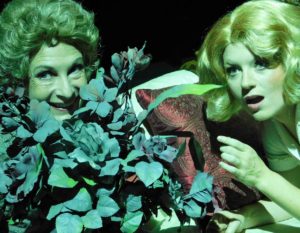 Morsey, most recently seen in Collected Stories, said that fellow Hippodrome Acting Company members Mercer and Chambers are both striving for the truth of their characters and both succeed beautifully with truth and with humor.
"Both Bryan as Jane and Mark as Blanche are presenting a certain 'homage' to the film and to Bette Davis and Joan Crawford, respectively, but one doesn't have to realize that to appreciate their performances," she said. "We have two solid actors with long careers on the stage playing two almost larger-than-life roles here. It's wonderful to watch and be a part of it."
Morsey said that the take-away for the audience is totally unpredictable.
"Personally, I see a story of hope and regret that spins out of control to produce a good mystery and ultimately lets us see the inside story of what makes these two sisters unique and tragic," she said.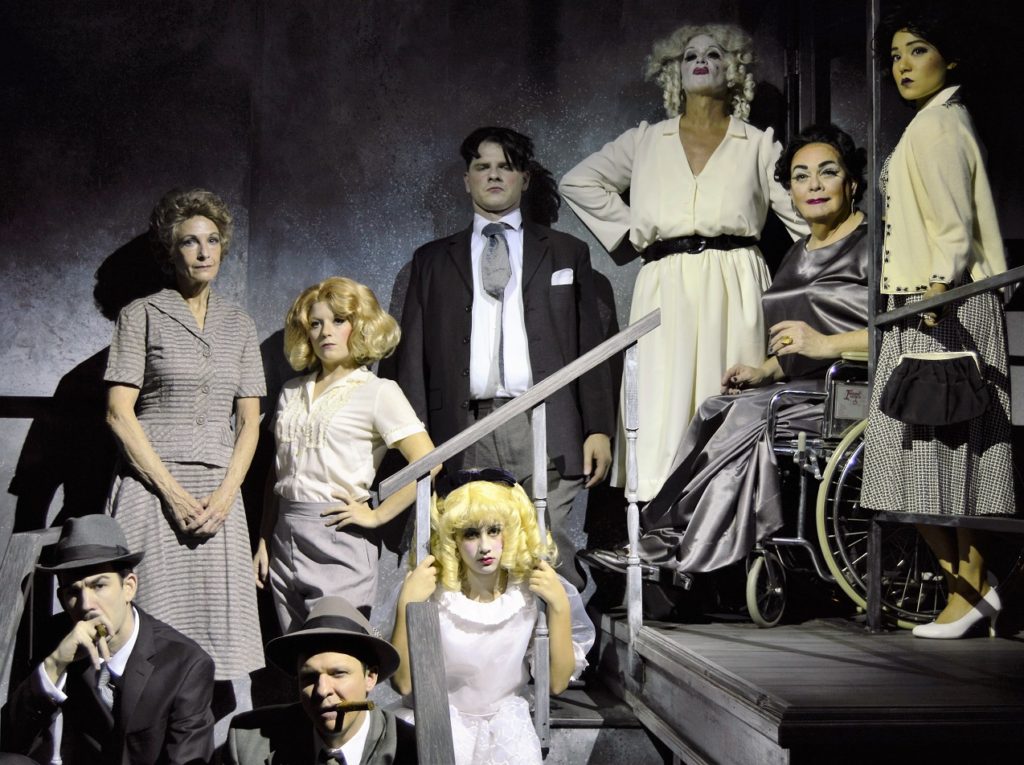 Caldwell, the director, said that Whatever Happened to Baby Jane? is not necessarily intended for laughs.
"Parody means mimicry and exaggeration, but we never set out to do a guffaw comedy," she said. "There are a few giggles and smiles, but we wanted to honor the film and make it our own."
Mercer said he can empathize, in some ways, with the struggles that Baby Jane endures during the play.
"I have had my brushes with depression, fear and alcoholism," he said. "In revisiting that landscape, one must prepare and be strong, but be willing to bring those dark and deep personal understandings into public light to reveal a bit of the monster in all of us."
— Noel Leroux
---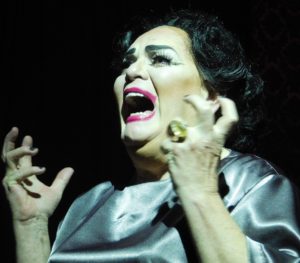 Whatever Happened to Baby Jane?
Hippodrome Theatre

25 SE 2nd Place
Gainesville, FL 32601
Box office:
352.375.4477
Eight performances a week through Nov. 6
To purchase tickets and for further info,
visit the Hipp website.
Follow the Hippodrome on Facebook.
* Please let us know what you think of the production. Leave a Reply below!