Actor Rusty Salling, best known for playing Scrooge in A Christmas Carol for the past quarter-century, passed away over the weekend in the care of hospice.
---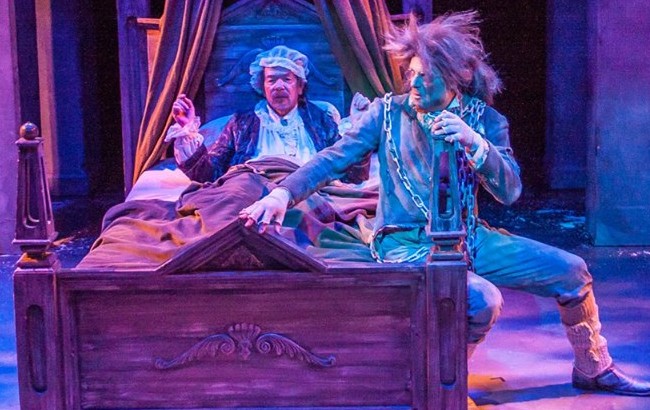 On Sunday morning, Hippodrome Acting Company member Rusty Salling lost a 14-month battle with sinus cancer. He was 67.
Salling touched the hearts of a generation of Hippodrome theatregoers, including tens of thousands of Alachua County schoolchildren, with his irascible yet tender portrayal of Ebenezer Scrooge in A Christmas Carol.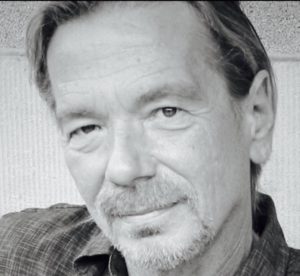 Although Salling appeared in nearly 100 Hippodrome productions dating back to the theater's formative years in the 1970s, audiences looked forward to him uttering "Bah-humbug!" and other familiar phrases during the Hipp's annual production of the Charles Dickens classic.
"I'd say it's the most rewarding character I've done," Salling said in an interview during the 2014 production of A Christmas Carol, which would be his last.
He played Scrooge 24 consecutive years until 2015, when health-related issues prevented him from performing with the energy that Scrooge requires. Fellow Hippodrome Acting Company member Gregg Jones took over the role.
"I couldn't have chosen a better replacement myself than this dear friend and colleague," Salling told gainesvilledowntown.com last December.
Born in Wilmington, N.C., on Oct. 17, 1948, Salling moved to Jacksonville with his family while in his teens. He came to Gainesville in the late 1960s to major in English at UF. However, he discovered the school's theatre department and developed a passion for the stage.
After college, Salling and some friends formed a theater touring company known as Bacchus Productions, which included a year-long tour of Waiting for Godot around the Southeast U.S. The tour included stops at 12 Florida prisons.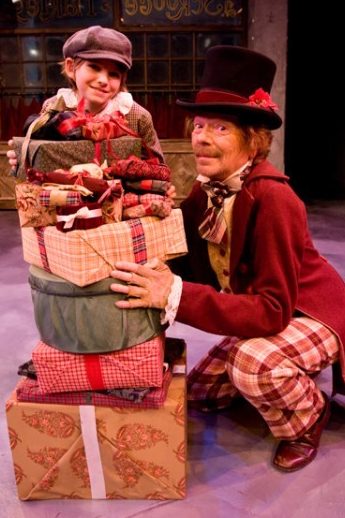 After a three-year stay in New York City, Salling returned Gainesville in 1978 to join the Hippodrome when it was housed in a warehouse on U.S. 441 North.
When Salling was not on the Hippodrome stage, he performed other roles at the theater. For years, he ran the box office. More recently, he was the Information Systems Director and oversaw the theater's computer network. He also designed and operated the theater's website, thehipp.org.
Salling began appearing in A Christmas Carol in 1978, playing Bob Cratchit for 12 years and various ghosts before taking over the Scrooge role that he would own for almost a quarter century.
"I love playing my part," he said. "Otherwise I wouldn't have done it for this long."
During the holiday season, the Hippodrome stages A Christmas Carol on weekends for a general audience. On weekday mornings, the production is performed for a theater filled with elementary school students. Following each one of those productions, an exhausted Salling joyfully engaged in a question-and-answer session with his youthful audience — as himself.
"I'm not Scrooge," he'd tell them almost apologetically. "I'm Rusty."
Salling would immediately lose the British accent that had fooled pretty much everyone during his 80-minute performance. He became just a regular guy. Uncle Rusty, perhaps.
The actor worked the aisles and rows of the theater like a seasoned talk-show host, soliciting questions from students happily missing class on a weekday morning.
"What does 'Bah! Humbug!' mean?" one wide-eyed youngster asked Salling.
"Well, it's Scrooge's way of saying 'Phooey!' or 'Poppycock!' I suppose," Salling responded.
About the only thing Salling wouldn't divulge — other than his age — was how, during one scary scene early in the play, a ghost appeared over the stage.
"That's theater magic," he said. "We'll keep it at that."
---
Following is an interview with Salling in December 2014, before he made his final appearances as Scrooge in A Christmas Carol:
What makes the Scrooge role most challenging? The stamina of being on stage for more than an hour straight. I do leave briefly — very briefly — for a costume change.
There are stretches on stage when your character just listens and observes. There is acting in that, but it's also resting. "OK, here's a breather. Good! OK, I'm back in the bed. Good!"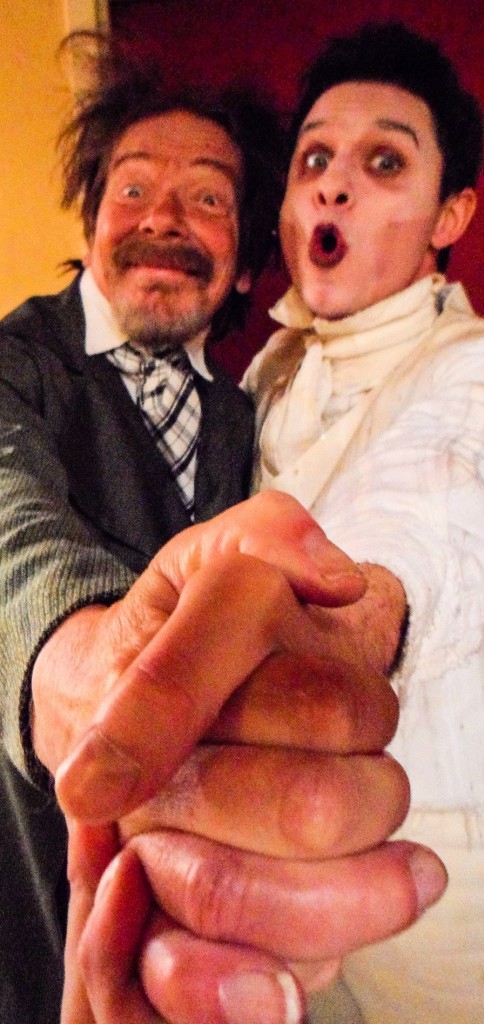 Is the bed on stage comfortable? Not as comfortable as it could be.
What is the most demanding part of the role? Probably when I crawl around on the stage floor. I wear kneepads, but sometimes I forget to bring them and it hurts.
Do people recognize you around town? Yes, they do. This time of year it's kind of hard for me to grocery shop because, you know, "Yes, I'm Scrooge. Now I'd just like to buy my groceries, if you don't mind." But I am Scrooge and I love the attention, too.
How many times do you shout "Bah! Humbug!" each performance? In the older version of the play, there were about seven "Bah! Humbugs!" during the show. Now, this year there's only three.
How else is the newer version different? It's taking the novel by Dickens and emphasizing different parts of the story in a different way. It was a challenge for me at first because I had the old script hardwired into my head. It had been the same version since about 1995 or '96. I had more lines in the older versions. The lines now are similar but not exactly the same. That makes it even trickier.
Do you ever flub your lines? It happens sometimes, but you keep rolling and hope no one notices.
Has anything awkward happened during a performance? We've been really lucky lately. The old fog we once had would set off the fire alarm, so we'd have to stop the show in the middle and evacuate the building. We'd stand around outside for 10 minutes, come back in and restart the show.
You seem to enjoy stepping out of character after performing in front of children. Why? Because, at that point, I'm not in the play anymore. For some kids, this will be the first live stage production they've ever seen, so you have to kind of teach them how everything works. "You just saw Scrooge, but I'm not Scrooge. I'm an actor who plays Scrooge." Just explain that and they catch on pretty quick.
Do you like fielding questions from kids after the show? It's my favorite part. I love it! I do the same Christmas Carol every day, but they start asking you questions as kids and you never know what's going to come out of their mouths. That's a lot of fun for me.
Give an example of a strange question. The other day, somebody asked "Can you pull your skin right off your face?" We were like, "Oh, my God!" But he was just thinking, do we have makeup on or do we have a rubber mask that you pull off.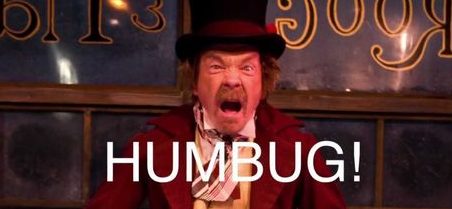 Do you wear a wig during the show? No, it's my own crazy hair. I start growing it long over the summer. I dye it for the show. I'm blond in real life. I can't wait until I'm a blond again! My hair appointment will be right after Christmas.
What is your educational background? I went to U of F. I started out in Psychology, switched to English and ended up in Theater. I went to an audition. That was a big mistake.
A big mistake? Yeah. I might have made some money in another profession.
Other than Scrooge, what roles have you embraced? We did a play here many years ago called The Boys Next Door, about mentally challenged men in a group home. I had the best character, Arnold Wiggins. He was a little Rainman-ish with a couple of other things mixed in. And then, in 2009, we did Eurydice and I got to play the devil, Hades. That was fun, and I got to ride a Segway. It crashed once during rehearsal but never during a performance.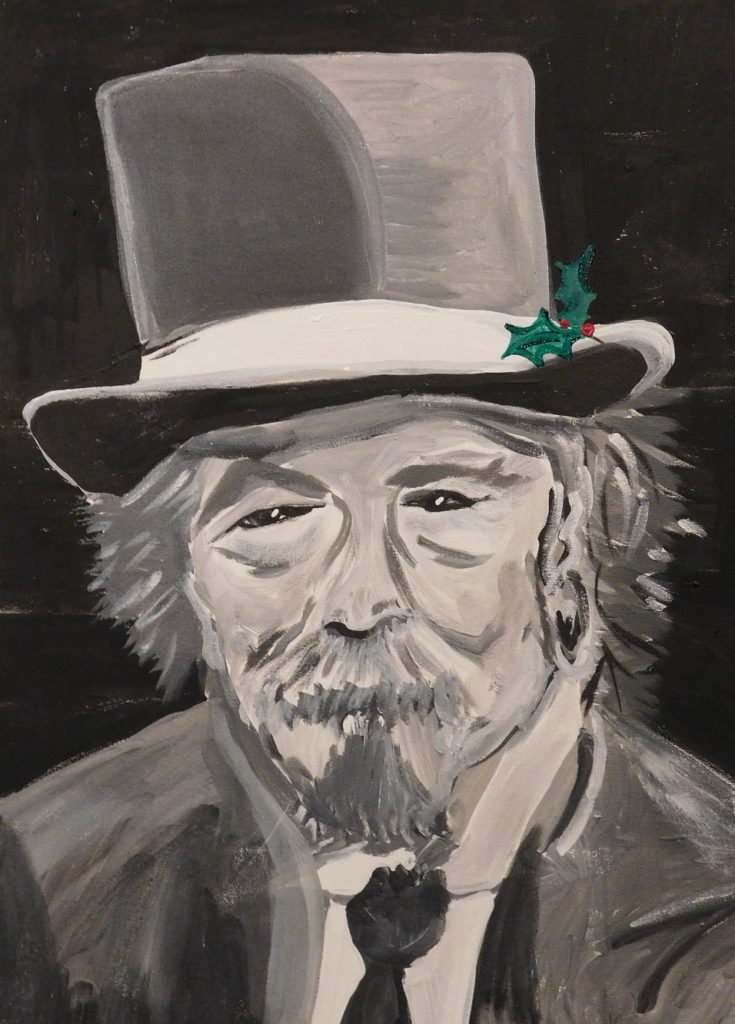 Tell us about your accent. I've been an Anglophile pretty much all my life. I love British movies and TV, and I'm always watching BBC productions.
So, you're not like Scrooge in real life? Some of my colleagues here might say, "Sure, he's just like that," but I'm not. I use elements of my own personality and channel them into the character. But, no, I'm not like Scrooge.
How do you stay fresh as Scrooge performance after performance? Because the audience is different each time. Performing in front of kids is a whole different experience than being in front of adults. They laugh at different things and understand different things. The kids are great too because, depending on their age, they believe what they see. Like that flying ghost.
What do you think Scrooge's problem is? Money is the most important thing in the world to him. That's what his problem is. Obviously he doesn't care about people or anything. I imagine it was somebody Charles Dickens had met. Dickens was the inspiration for a lot of social change.
Have you studied Dickens? I don't spend hours in the library looking up stuff, but I have read a bit about Charles Dickens, even his dark side. The good thing about Dickens is he saw horrible conditions in his environment and wrote about them, and, the second thing is, he was incredibly popular. He was also an actor and he would tour around and lecture and do A Christmas Carol and do all the characters himself, which must have been something.
Do you look forward to the season-ending performance? I look forward to it, but at the same time I don't because I won't be acting. Will it be next Christmas when I act next? I don't know.
How much longer will you playing Scrooge? Well, I got sick the second day of the show this year. Really, really, really sick. It was really hard to do the show. I was thinking, "Do I really want to continue torturing myself with this?" But I got better and it was easier, so I don't know. The thing is, I'm so old now, they won't cast me as anything else. So, what else am I going to do? I've gotta perform.
---
Rusty Salling is survived by his sister, Susan Pfahler, her husband Randall Pfahler, and his nephew Cameron Pfahler, all of Neptune Beach, and his beloved step-dad, Leon Clark, of Jacksonville. In lieu of flowers, the family requests that contributions be made in Rusty Salling's memory to the Hippodrome Theatre.
A celebration of Salling's life will be held at the Hippodrome on a date to be determined later this summer.
Do you have a special memory of Rusty that you would like to share? We invite you to Post a Comment in the space below.