Kelly Atkins Morgan pulls off one of the greatest feats of her accomplished singing and acting career during the Hippodrome Theatre's current summer musical comedy, The Toxic Avenger. She performs a duet with none other than herself!
---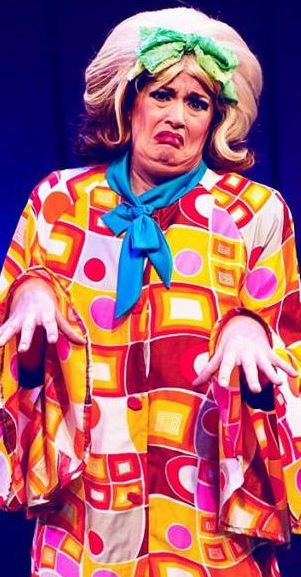 As the script calls for, Kelly Atkins plays two main characters — Babs Belgoody, the shady mayor of the New Jersey town where the play is set, and Ma Ferd, the nagging mother of the nerd-turned-superhero the play centers around — in The Toxic Avenger.
Things get particularly interesting toward the end of Act 1 when the two gruff females square off in a hairstyling salon. One moment, Atkins portrays the bombastic mayor, complete with a bright auburn bouffant and high heels. The very next moment, the actor reappears from behind a curtain as the cranky housewife in a funky housecoat and oversized platinum locks.
The quick-change stage magic is seamless and includes an ongoing argument between the female characters not to mention song lyrics that include four derogatory terms that no respectable guy (or gal) would ever utter. Judging from the roaring laughter filling the theater, however, the verbal smackdown is perfectly suitable for the Hippodrome summer audience.
"It's one of the most exhausting things I've ever done onstage," Atkins said. "My cardiovascular activity is pumping full force from the physical energy it takes to not only keep my voice going and my physicality going, but the costume changing -– and there's such limited time to do it."
The frenzied scene is just one of the many highlights of a thoroughly entertaining performance by Atkins and the other four actors in the cast of The Toxic Avenger, which is entering its third weekend on the Hippodrome mainstage. The play is scheduled through June 26 but will likely be held over into July because of the buzz it's generated around Gainesville.
"It's one of those shows that is made for pure entertainment value," Atkins said. "Its purpose is to make you laugh and have a great time. It's so silly."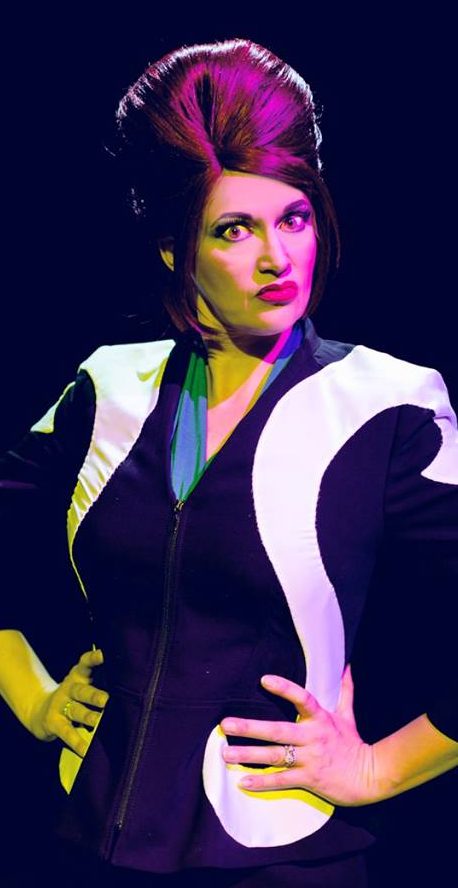 Atkins is the only member of The Toxic Avenger cast who is also a member of the Hippodrome Acting Company. She has performed off and on at the theater since 2005, when she appeared in the musical production 8 Track: The Sounds of the 70's.
Since then, Hippodrome audiences have enjoyed Atkins in The Great American Trailer Park Musical, the conceptual Alice in Wonderland, The Marvelous Wonderettes, Suds: The Rocking 60's Musical Soap Opera and Shout! The Mad Musical.
Atkins sang her heart out in every one of those productions.
"Kelly can peel the paint off the back wall with that set of lungs," said Lauren Warhol Caldwell, the Hippodrome's artistic director who also directed The Toxic Avenger.
"She is truly, truly one of a kind. There is something very electric about Kelly onstage that not every actor has. You're either born with it or you're not."
Atkins might have been born with talent, but she also worked hard at her voice in her early teens in her Virginia hometown of Charlottesville.
"I started studying with a private voice teacher when I was in eighth grade," she said. "Choral music was a really big deal at my school. We had a highly respected choral director. Even though we were a small high school, we were always highly ranked in the state-wide music festivals and honors choirs. Our school just dominated that stuff."
Atkins' first acting stint was during her sophomore year at Waynesboro High School. She had a role in Ray Bradbury's Kaleidoscope, which was being student directed by a senior Atkins happened to have a crush on.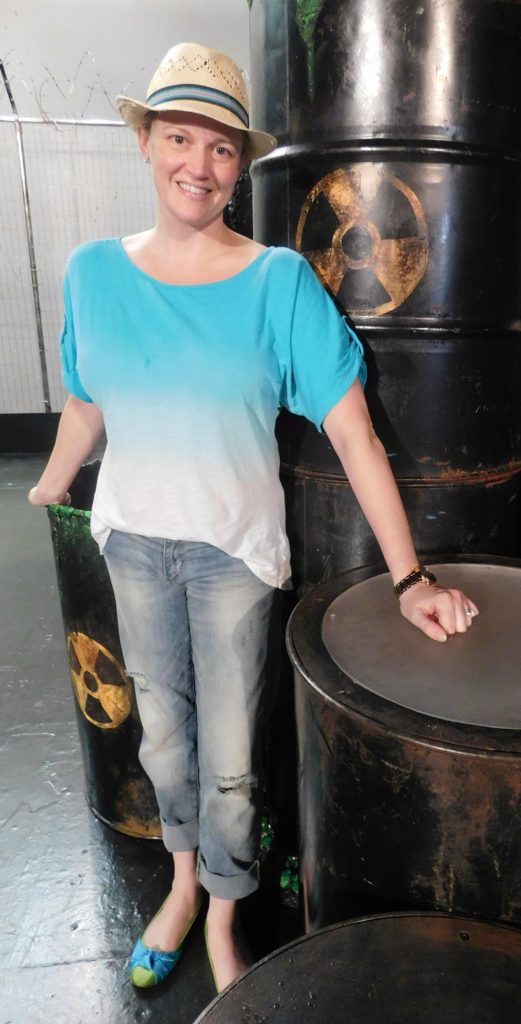 "I totally showed up for the audition just to be in the room with him and to get to know him because I liked him a little bit," she said. "I read for the play and he ended up casting me and we went to this festival and performed. Our little play actually won the top prize."
While still in high school, Atkins was invited to audition for a semi-professional company in the area that was putting together a touring show. The four-person troupe toured the state, presenting The Inner Circle, a play on AIDS awareness, to high school and college audiences.
"We weren't union members or anything, but they paid us $50 a performance, which was a big deal, and they bought us lunch!" she said. "I loved it. I just thought, 'This is cool. I can make money doing this.'
"I remember feeling very at home, feeling very comfortable and really enjoying the type of people I was around."
During her senior year in high school, Atkins was cast as Maria in West Side Story, which was being performed at the Waynesboro Players community theater. She got to sing "Tonight," "I Feel Pretty," "I Have a Love" and "One Hand, One Heart."
Her love affair with musical theater had begun.
Atkins attended Shenandoah Conservatory in Winchester, Va., and earned a double major in Vocal Performance and Musical Theater. She also got her performance certificate, the equivalent of an associate's degree, in classical voice.
"For a period of time, I was unsure if I wanted to do the classical music path or the musical theater path, but then it was kind of decided for me," she said. "I moved to New York right out of college and started auditioning. I got my Equity card and soon realized it would be foolish not to get that Equity card and all the benefits that come with it and the salary that comes with it. I decided that that was going to be my career path."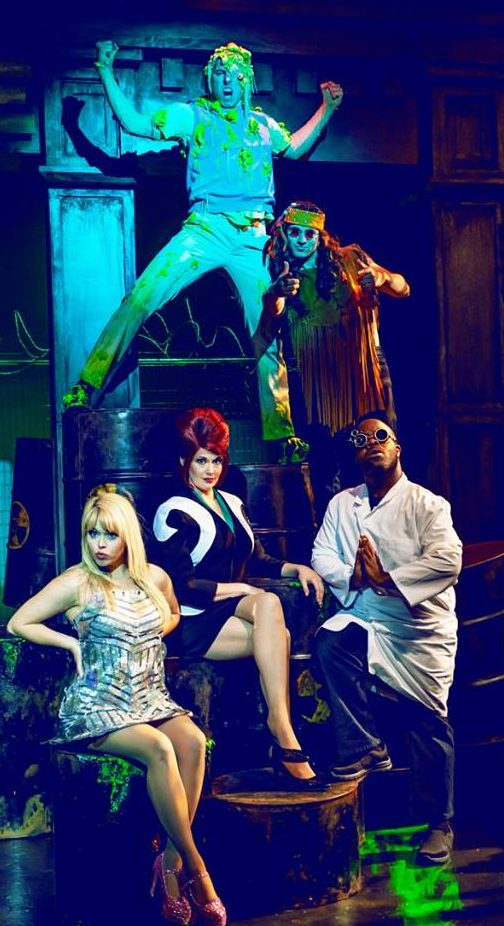 At 22, Atkins signed her first Equity contract to play Lucy in the Repertory Theatre of St. Louis' production of Sweeney Todd.
"Probably two-thirds of the cast had Broadway credits," she said. "I was just so green and intimidated and lucky to be there. It was very humbling. To this day, I don't really know how I got there. I think it's because I could sing a good high D-flat because the sopranos and the ensemble in Sweeney Todd have to sing high D-flats and E-flats."
Atkins' career has included TV commercials and even TV shows. In an episode of America's Most Wanted, she played a bartender serving drinks to the suspected murderer. Her credits include guest hosting an episode of Lifetime's Designing Spaces. Onstage, she has played across from such television celebrities as Sally Struthers, Loretta Swit and Jamie Farr.
Until The Toxic Avenger, Atkins had not performed at the Hippodrome since the Marvelous Wonderettes in 2012. She took a break from acting to focus on raising her daughters, ages 8 and 2.
Last August, her family moved from Jacksonville to Gainesville when her husband began a job at UF. Matt Morgan is an assistant professor and voice teacher in the school's musical theater department. He recently starred in La Bohème at the Phillips Center and performed as a tenor soloist for Dance Alive National Ballet's production of Carmina Burana.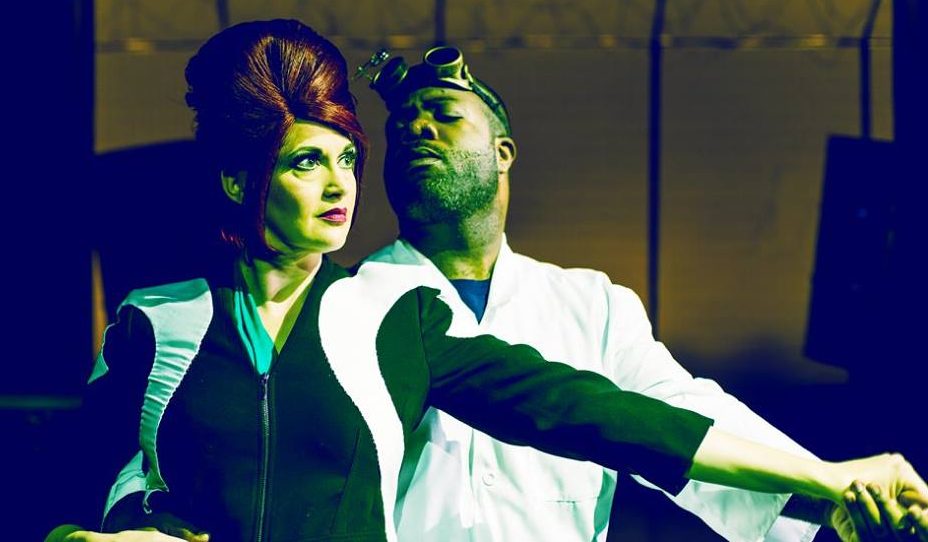 However, it's Atkins' powerful voice resonating with Hippodrome audiences during The Toxic Avenger. In one scene that pokes fun at Bollywood, Atkins transitions from a spirited dance number to a speaking role in a matter of seconds.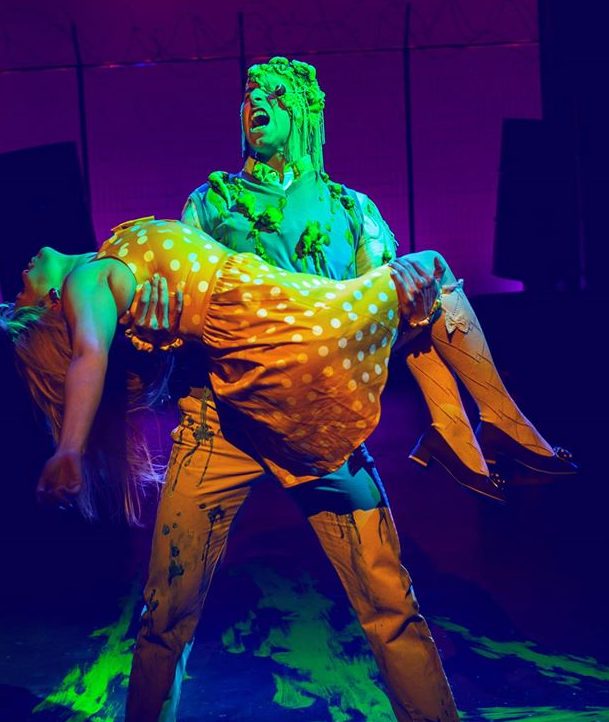 "I don't know where the breath is coming from because that dance just takes so much wind out of me," she said. "I'm like 'Thank God for all that classical voice training and breath-control training because that is really hard."
Because the characters that Atkins plays are so different in accent and physical appearance, many audience members are caught off-guard until a sight gag just before intermission reveals the truth.
"A lot of people honestly had no idea that I'm the same person until the close of Act 1, which I think is so crazy," she said. "I just can't fathom that they really don't get it -– that I'm both people. A lot of people do, but a lot of people don't know."
People have also asked her if the playwright, Joe DiPietro, intended for both roles to be played by the same actor.
"The answer is, yes, it was written for one actress to play both of those roles. That, of course, is one of the big jokes in the show," she said.
When Atkins found out she would be playing a New Jersey mother, she searched the Internet for dialect coaching kits. There were Brooklyn accents and Boston accents, but no New Jersey accent. So she went to YouTube and watched clips from Housewives of New Jersey.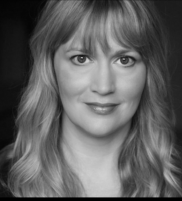 "Quite honestly, I don't even feel like the accent I'm doing is very authentic New Jersey," she said. "It's just what I feel like to be a very annoying, Yankee-like, naggy Jewish mother dialect. I kind of based it on a friend of mine's mother who is from New York and channeling a little of Fran Drescher."
In her role as Mayor Babs Belgoody, it's that glow-red, beehive hairdo that steals the spotlight.
"I cracked up when I saw that wig for the first time — I just could not believe it," she said. "It's bright, bright auburn red and it is a helmet!"
Atkins added that performing dual roles is a joyful challenge.
"It's a really, really great acting exercise for someone like me who's been doing it for a long time," she said. "I don't really take the time very often to actually work on my craft and to work on my skills. I spend time on voice lessons and keeping my voice up because that's very physical and technical. But as an actor, doing this show is really like a wonderful exercise."
During last week's Sunday matinee, Atkins made her entrance (as a nun, no less) and saw nothing but gray-haired folks in the Hippodrome seats.
"I thought, 'Oh, boy. This is not really your type of show. This might be uncomfortable or whatever,'" she said. "Well, they loved it! They were a fantastic audience. They laughed and laughed. They were totally with us."
— Noel Leroux
---
The Toxic Avenger has eight shows each week at the Hippodrome Theatre, 25 SE 2nd Place. Tuesday and Wednesday at 7 p.m., Thursday and Friday at 8 p.m., Saturday at 5 p.m. and 8:30 p.m., Sunday at 2 p.m. and 7 p.m.
For ticket info, visit the Hippodrome website or call 352.375.4477.
If you see the performance, please let us know what you think by leaving a comment below.