The new tasting room in the old 2nd Street Speakeasy is the first offshoot of the Ocala-based distiller of rum, vodka, absinthe and, soon, whiskey.
---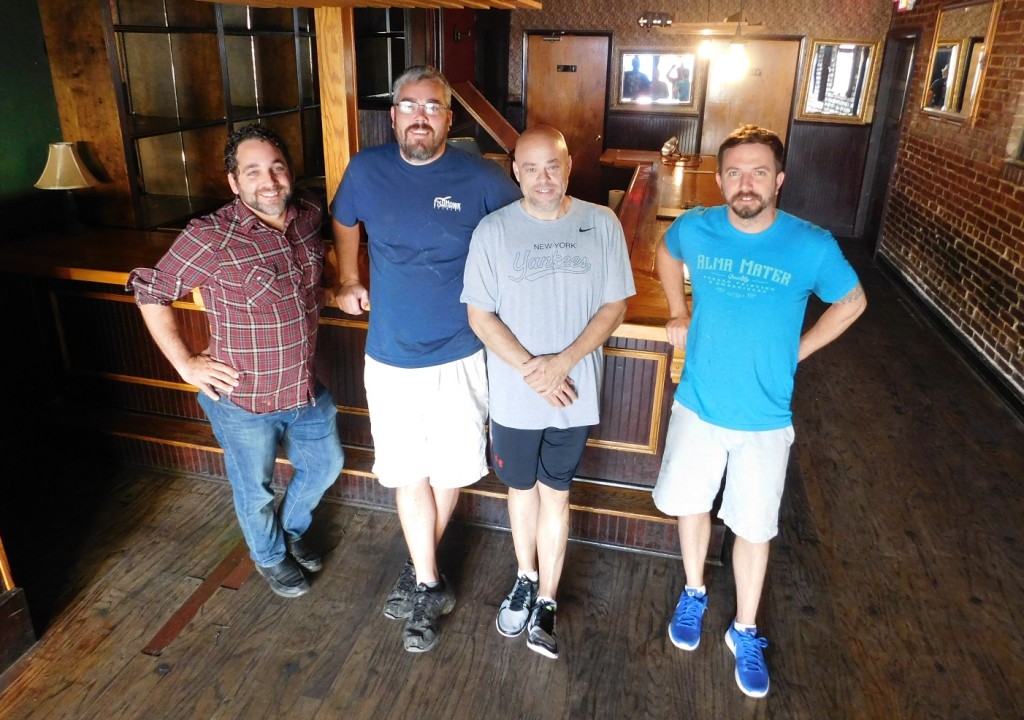 They're pouring drinks again inside the bar space that once housed the 2nd Street Speakeasy in downtown Gainesville. And the best part is, it doesn't cost a dime for a taste.
The FishHawk Distillery Tasting Room had a trial run for invited guests last week, and no one left disappointed. In another month or two, the storefront at 21 SW 2nd St. will be open for anyone 21 and older interested in sampling FishHawk products and perhaps purchasing bottles of the flavorful spirits to take home.
"We have a Craft Distillery license, so we're not allowed by law to sell alcoholic beverages, but we can sell you the bottle," said David Molyneaux, CEO of FishHawk Spirits.
Molyneaux came out of retirement one year ago to open a craft distillery in Gainesville. However, after months of planning, he decided to partner with the small, farm-based craft distillery in Marion County, near Dunnellon. The company developed a spirits line that now includes Absinthia Rubra liqueur, Marion 106 Black tangerine brandy, Island Grove Blueberry Vodka and Twisted Sun Gold Rum.
By the end of this year, FishHawk is expected to have a selection of 20 different spirits, including seven flavors of infused vodkas and the same number of whiskeys under the Sui Generis ("one of a kind") brand name.
Molyneaux will be opening FishHawk Spirits tasting rooms at the distillery and in Tampa later this year, but the Gainesville tasting room will be the first to debut once the old 2nd Street Speakeasy undergoes a slight makeover.
On a recent morning, Molyneaux gave gainesvilledowntown.com a preview of the tasting room, which will maintain the look and feel of a Prohibition-era speakeasy.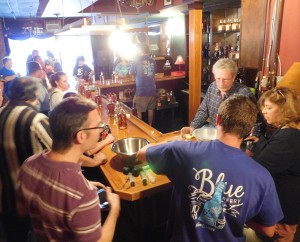 "It will be like a 1920s illegal bootleg club where you used to knock to get in and then gave a password," Molyneaux said. "We're trying to preserve that. That's what made it so unique in picking this site. There's a lot of history to this little place."
Molyneuax had considered the vacant Stubbies & Steins location a block away on University Avenue, but that space was too large.
"If we were going to put a full distillery inside of it, that location would have been ideal in terms of size. For a tasting room and retail space, this size is more appropriate for us," he said.
"We definitely wanted to be in downtown Gainesville, and we were looking at a number of spaces," Molyneaux said. "We think this is the ideal location with the crowd we want to have. We have a significant number of bars and restaurants around here that are or will be carrying our spirits."
When the tasting room officially opens, customers will be able to sit at the L-shaped bar and sample various FishHawk products as well as cocktails made with those products. There will be a retail shop toward the front of the tasting room for purchasing the Fish Hawk spirits but also FishHawk brand apparel and high-end bar accessories, such as stirrers, coasters and rock glasses.
The distillery is partnering with Alma Mater, a Gainesville-based custom apparel company, to print T-shirts, jackets, hats and other items with FishHawk Spirits logos on them. Alma Mater owner Brian Meade is in charge of creating the retail space.
Chris Fillie, who has been involved with a number of renovation projects in downtown Gainesville, has the task of "cleaning up" the bar space by refinishing the hardwood floors, painting the walls and making other improvements.
"I was looking for a couple of individuals that I thought would be go-getters and entrepreneurs themselves who would want to partner and bring this business here quickly, efficiently and effectively," Molyneaux said.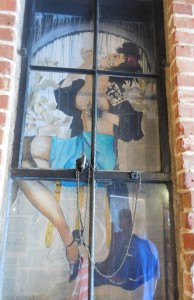 Anyone who frequented the 2nd Street Speakeasy will notice the same artwork in the window boxes as well as black-and-white photographs of Humphrey Bogart, Clark Gable, Frank Sinatra and other celebrities above the bar.
FishHawk products will be made at the distillery and shipped to the Gainesville tasting room, where they will be packaged and labeled for retail sale onsite.
Meanwhile, the distillery's production facility on Highway 40 in Ocala, 16 miles west of I-75, is expanding to accommodate the new whiskey line and other Fish Hawk products.
"We've added several other small buildings around our core building. We're adding a 3,000-square-foot building that should be ready by the end of May," he said.
Molyneaux knows how to run a business. In 1998, he co-founded Invivo, a Gainesville company that specializes in MRI technology. Molyneaux was in charge of research and development before retiring.
"We sold off the company, I retired, got really bored and decided I wanted to do something very, very different," he said. "Distilled spirits was one of the areas I thought I would try even though I have no background in it."
FishHawk has a partnership with Island Grove Wine Company south of Hawthorne to produce the vodka. Those flavors include watermelon, blueberry, blackberry, lemon/lime, grape and tangerine.
"Island Grove will supply us with the fruits and citruses and grapes — the agricultural broker for us," Molyneaux said. "Some things they'll actually grow on their farm. Some things they'll broker from other farms for us, so that we can get fresh Florida ingredients in all of our products."
He added, "We don't make a single thing that doesn't have a Florida ingredient. If we could get everything from Florida, we would, but there are certain things that aren't grown in Florida because of the climate."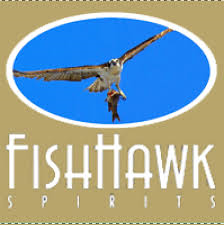 The FishHawk Tasting Room will likely be open to the public Thursdays through Sundays until 9 or 10 at night. Mondays, Tuesdays and Wednesdays would be reserved for corporate and VIP special events, where 10 or 15 people could enjoy the experience.
At some point, Molyneaux wants to offer limousine tours from downtown Gainesville to the FishHawk distillery in Ocala. Once there, some guests might choose to take horseback tour of the 15-acre farm surrounding the distillery. There, Fish Hawk grows the Silver Queen corn used in its whiskey.
"It's a really exciting opportunity to be the first tasting room for a craft distillery in the city of Gainesville," he added.
— Noel Leroux

---
For further info, visit the Fish Hawk Distillery website.