On Friday night, Marcia Raff will unveil a sculpture that will become the 23rd installation of the Downtown Gainesville Public Art Initiative. Some would call the piece "a-mazing."
---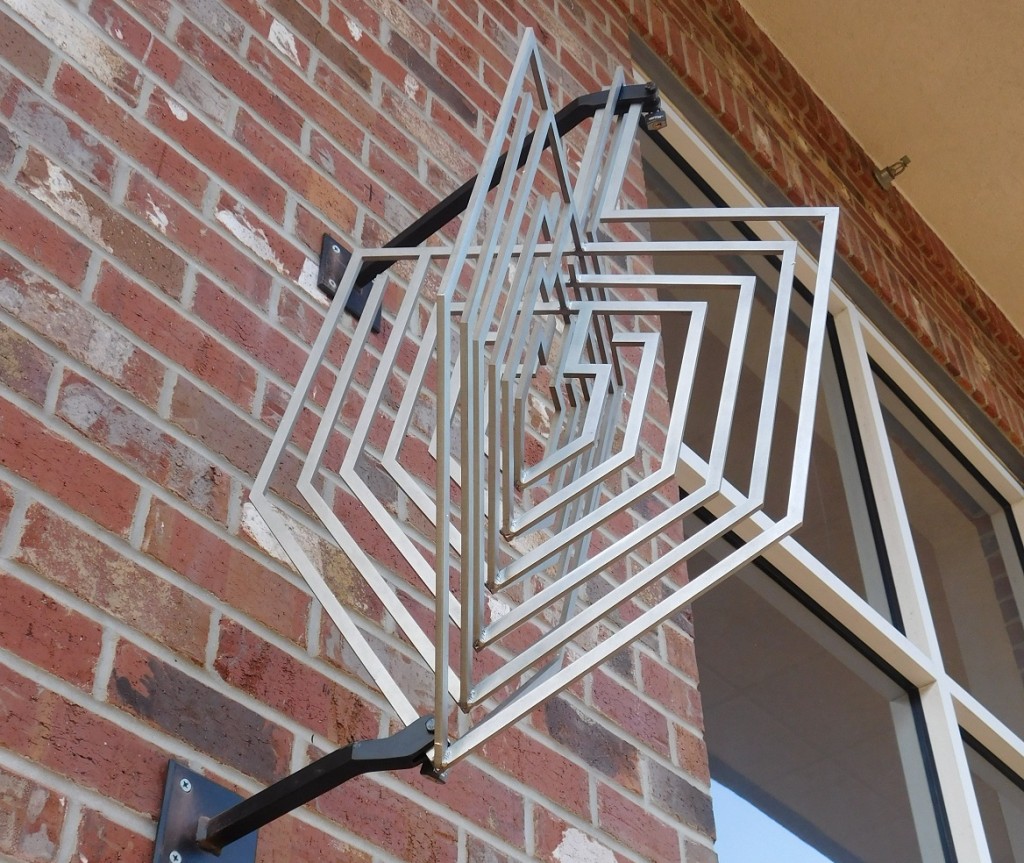 This has been homecoming week for Marcia Raff. The renowned photographer and sculptor, who left Gainesville after her husband passed away two decades ago, has spent the past several days visiting with old friends and reminding herself why this area was such a special place to live for 18 years.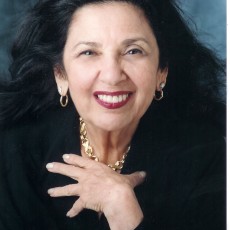 "It's been so good to see everyone again," she said. "It's been like a trip down Memory Lane."
This weekend, Raff will return to her home and studio in Austin, Texas, but not before bestowing upon Gainesville a special gift.
On Friday night, during the monthly Artwalk festivities, Raff will unveil one of her unique sculptures outside Union Street Station in downtown Gainesville. Titled "The Dreidel Labyrinth," the 34-inch-high, stainless-steel sculpture will become the newest addition to the Downtown Gainesville Public Art Initiative.
The unveiling, just outside Black C Art Gallery at 201 SE 2nd Place, will take place at 7:30. The event will be one of the highlights of a busy Artwalk calendar that will include events at more than 20 galleries and art spaces around downtown Gainesville.
(For a complete listing of participating venues, visit the Artwalk website.)
Hector Gallery, 702 W. University Ave., is hosting a pop up labyrinth exhibit and reception for Raff today from 6-8 p.m. The public is invited to meet the artist and trace their way through her nine, two-dimensional "finger labyrinths" on display. Leonardo's 706 will cater the event, which is free.
"I like her work very much," said Hector Puig, the gallery's owner and a supporter of the arts in Gainesville. "I think it's quite relevant."
The Dreidel Labyrinth will be Raff's fourth public installation in Gainesville but the first installed on a wall. Three of her freestanding sculptures are located on the UF campus. One is situated outside the College of Architecture, another at the College of Journalism and Communications and a third in front of the UF Hilton and Conference Center on Hull Road.
Raff now has a total of 19 pieces displayed in public places internationally, including six in Israel, one in both London and Buenos Aires, and many others throughout the United States.
"It still amazes me!" Raff said about her worldwide prominence.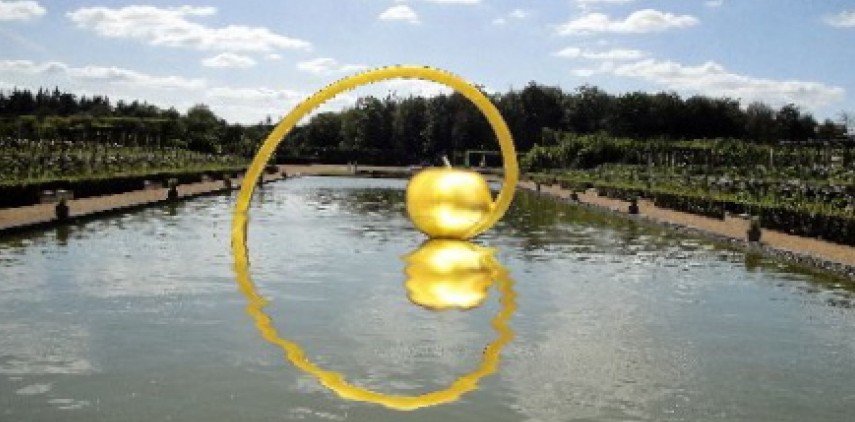 Since leaving Gainesville in the early '90s, Raff has traveled the globe. She lived in a handful of foreign cities, including London and Paris, as well as India and South America, before moving to New York City in 1999. She lived in Manhattan for 11 years before relocating to Austin a few years ago.
Raff has kept in touch with her Gainesville friends over the years, including Mary Rockwood Lane. In recent years, Lane and local businesswoman Nava Ottenberg began urging Raff to loan one of her pieces of art to the Downtown Gainesville Public Art Initiative.
Raff eventually created a two-dimensional labyrinth that was 40 inches high. However, Ottenberg had expressed interest in a three-dimensional sculpture.
"She literally wanted the sculpture on a wall," Raff said with amusement. "I already had the Dreidel Labyrinth in storage and it was ideal for being displayed outdoors, so I suggested it to Nava. She thought it was perfect!"
On Tuesday evening, Eric Bushnell used a special bracket he designed to install The Dreidel Labyrinth on a red-brick wall. Dreidel is Yiddish for "spinning top." Set at an angle, the dreidel appears to be in motion.
Ottenberg, Lane and other local arts enthusiasts have enabled the Gainesville Downtown Public Art Initiative to grow in just three years to more than 20 pieces of artwork scattered around Union Street Station and the adjacent Sun Center Courtyard.
Raff said she is grateful for the opportunity to be included in such a worthwhile project.
"Nava and Mary Lane made these two events this week in Gainesville happen," the artist said. "The last time I had an exhibit in Gainesville was at a two-person show at the Thomas Center in 1997."
Tonight's display of Raff's work at the Hector Gallery will include three informational sheets about labyrinths. One will explain the difference between a labyrinth and a maze. Another will explain how labyrinths are used for meditational benefits. A third sheet will explain how to approach and interpret various labyrinths.
Labyrinths first began appearing about 2,300 years ago. Many large labyrinths are meant to be strolled and contemplated as part of a journey or pilgrimage. Unlike mazes, which are puzzles to be solved, labyrinths have only one way in and one way out.
Raff said the dreidel design was the first labyrinth she made to be installed in the ground. However, she soon realized she could make a wall sculpture out of the design. Her 34-inch-high dreidel won the sculpture award at the National Arts Club in New York City. A smaller, 16.5-inch-tall version won the sculpture award at the Salmagundi Club in New York City.
Raff considers herself a self-taught artist. She took one semester of sculpture class with Brad Smith. He was the artist who executed the fabrication of her first metal sculpture when he became an instructor at UF.
"I started my art career as a self-taught photographer, printing my photographs in my own darkroom that began in the bathroom and then grew to an addition to the house in Columbus, Georgia, that we were living in at the time," Raff said.
"I took photography and then ceramics classes at UF that led me to realize I could make sculpture. Shortly thereafter, I opened my first studio in Gainesville."
Raff said that most of her sculptures were inspired from books that she read and felt passionate about. Although the Dreidel Labyrinth is small, Raff also has worked on many "monumental," site-specific sculptures as large as 16 feet tall. Some are known as "Portals."
"I've always been intrigued with the many varieties of portals in architecture," she said, adding that her portal and labyrinth sculptures can symbolize the path toward enlightenment.
Raff has two overseas exhibits in the coming months. In May, she and her daughter Cathy, a photographer, will have a combined show in Modiin, Israel. In July, Marcia Raff will have a solo exhibit in Chartres, France.
— Noel Leroux
---
To view more of her work, visit the Marcia Raff website.
To read more about the Downtown Gainesville Public Art Initiative, read our article A Public Art Show — Every Day of the Year