The 17-month-old craft brewery off South Main Street now has a nifty canning operation that puts its beer on local store shelves—and into your refrigerator.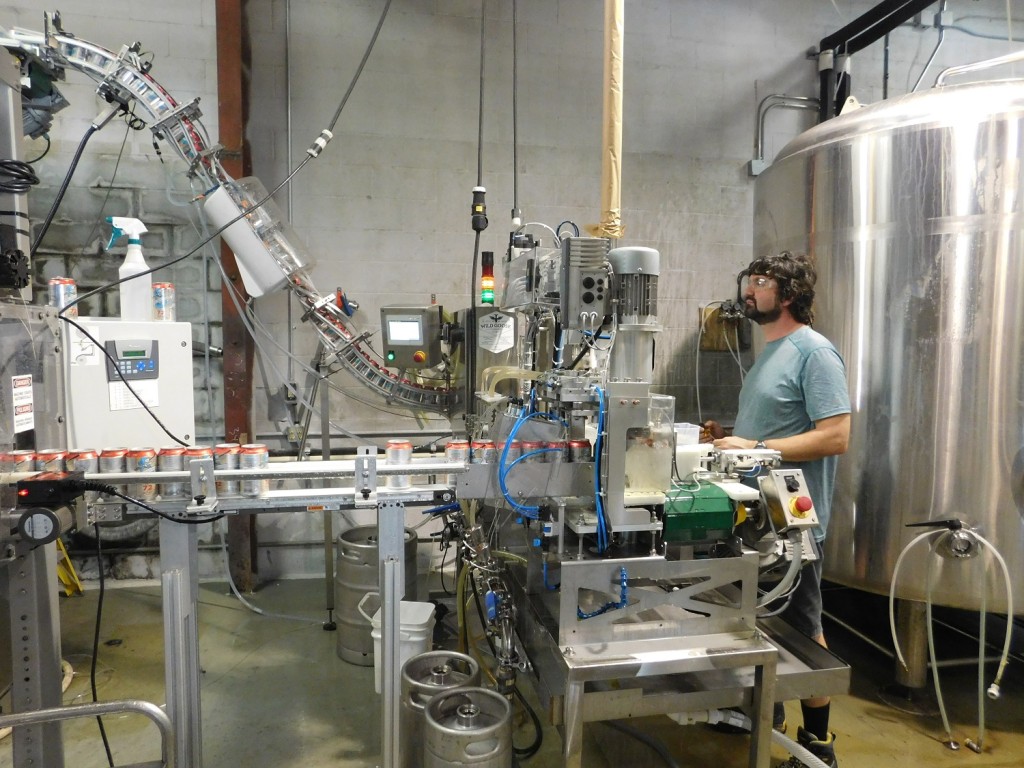 You could say that First Magnitude is the little brewery that could can.
Last year, the 17-month-old brewing company off South Main Street began canning its 72 American Pale Ale (APA) on a newfangled canning line it had purchased. Until then, First Magnitude's brews were available only on draught or in growlers.
"It's a great thrill to see our product in cans," said John Denny, FM's head brewer and one of the brewery's co-founders. "This just opens up so many more markets for us."
On Monday, Denny supervised First Magnitude's 10th canning run, which involved filling about 330 cases of beer. That run only added to the cans of 72 APA already distributed to stores and bars from St. Augustine to Tallahassee and from Jacksonville to Ocala.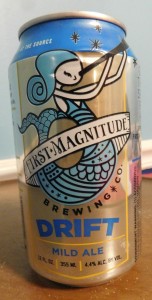 Any day now, First Magnitude is expected to begin canning its Drift English Mild Ale. Those cans of dark beer will be ready for delivery by Burkhardt Distributing in early February to area stores such as Publix, Winn-Dixie, Fresh Market and Lucky's. Several area bars, including Loosey's, will offer Drift in 12-ounce cans as well as on tap.
First Magnitude is expanding in other ways. In December, the brewery added another 30-barrel and a 60-barrel fermenter to its production facility. The towering stainless-steel tanks have increased the brewery's production capacity by a whopping 75 percent.
"This is our new baby," Denny said with a hint of pride.
FM is currently canning beer every two or three weeks, depending on demand. The canning line will fill about 38 cans per minute. The process takes about five hours, not counting the set-up and clean-up times.
First Magnitude's aluminum cans are manufactured and printed in Tampa by Ball's Metal Beverage Packaging Division, which delivers them on wide, stacked pallets.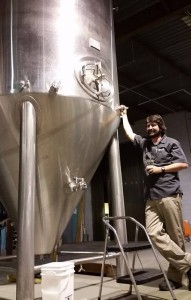 On canning day at the brewery, a depalletizer directs the empty, lidless cans down a spiral shoot to a conveyor belt. The cans take a sharp right turn and go through a rinse tunnel, where they are sanitized and purged with CO2.
"Air is the enemy of beer," Denny said.
At the next step, vertical tubes fill the cans with beer—four at a time. The beer comes directly from a nearby "brite tank," where the brew has been carbonated and stored like a giant keg.
Immediately after being filled with bone-chilling, 33-degree beer (to minimize foam), the cans get lidded and sealed by an automated seamer. The cans take another right turn and get sent through a tunnel, where they are bathed in what resembles a miniature carwash.
After a 90-degree left turn, the cans are separated into groups of six. A photo-degradable ring is applied to each six-pack. A worker transfers the packaged beer by hand from the conveyor belt into cardboard cases for shipping.
UF student Arthur Rudolph, a PhD candidate in Biology, is First Magnitude's quality-assurance person during the canning process. He tests the beer for consistency but also makes sure the cans are filled to the proper level.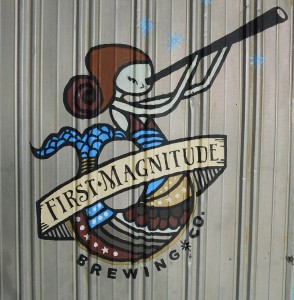 Meanwhile, Denny and assistant brewer Eric Dreyer keep an eye on all aspects of the operation. If a problem occurs, they don't hesitate to shut down the line for troubleshooting.
Denny didn't say what the high-tech canning machinery cost, only that its price tag was almost as much as the original brew house.
"It's a whole lot of technology," he said with a sigh. "They key is to keep it running. You want a smooth flow."
The smoother the flow, the sooner the cans reach the public.
"Having our beer in cans makes it easy to bring them along while enjoying what makes Florida naturally great," Denny added. "Happiness is drifting down the Santa Fe River while enjoying a 72."
---
To chime in on this article or on First Magnitude, please post a comment below.
For an earlier article on First Magnitude, go to New Brew Crew in Town.
For photos from each step of the canning process, scroll down our gallery below:
---

First Magnitude Brewing Co.
1220 SE Veitch St.
Gainesville, FL 32601
352 727-4677
Tap room hours: Tuesday through Thursday 4-9 p.m., Friday 2-10 p.m., Saturday 2-10 p.m., Sunday 2-9 p.m. (closed Monday)
Visit the First Magnitude website.
Follow First Magnitude on Facebook.