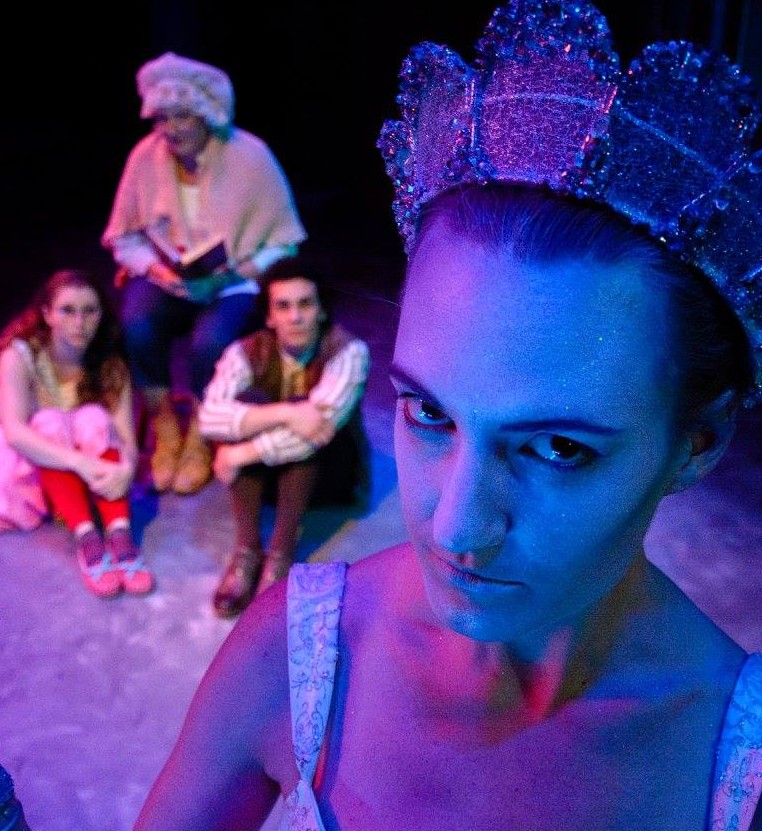 UF theatre professor Charlie Mitchell was not only commissioned to write an adaptation of The Snow Queen for the Hippodrome State Theatre, he was called upon to direct the play as well.
---
Following a recent rehearsal of The Snow Queen on the Hippodrome State Theatre's mainstage, artistic director Lauren Caldwell applauded and cheered the cast and crew from her third-row seat. She then got choked up realizing her little "tribe of actors" had come of age.
"I love the fact it's written and directed by one of our own company members," she said of the play based on the Hans Christian Andersen fairy tale. "As an acting company, we become a tribe of people that understands each other's needs and wants."
That includes using the talents of company members such as Charlie Mitchell to their fullest, as she has done with The Snow Queen.
"This is very special because it comes from inside. It's an emotional thing for me," Caldwell said.
Mitchell is not only a Hipp Acting Company veteran but also a UF theatre professor. When Caldwell read Mitchell's commissioned script of The Snow Queen, which is actually a story within a story, she fell in love with it. She insisted that he also direct the play.
"I hadn't written and directed my own play since high school," the 48-year-old Mitchell said.
On Friday night, months of preparation and weeks of rehearsals will culminate in the world premiere of The Snow Queen at the Hippodrome. The play will then continue with seven performances a week through Dec. 20.
"It's bizarre to imagine going from writing the first few lines of the play on a sheet of paper, and now to this," Mitchell said Tuesday evening during one of the play's final dress rehearsals.
Mitchell's version of The Snow Queen follows a brave girl named Gerda (played by Sami Gresham), who sets off on a magical journey across Scandinavia to rescue her friend Kai (Jeremy Martinez) from the spell of the mysterious Snow Queen (Grace Abel).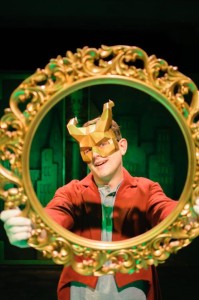 Thanks to Mitchell's knack for storytelling, the fairy tale is cleverly framed by a modern-day budding romance between a widowed writer, Karl (David Patrick Ford), and his next-door neighbor and single mom Astrid (Stephanie Lynge). To win the good graces of Astrid's precocious daughter, also named Gerda (and also played by Gresham), Karl invents the fantastical Snow Queen story in which the girl becomes the hero.
"Charlie's script weaves together the two separate worlds of the Snow Queen fairy tale and real life with remarkable attention to detail," Ford said. "Once I realized the amount of nuance that he had been able to tease out of the interaction of the worlds in his script, my respect for his writing became immense."
The cast also includes Karel Wright, Christie Robinson and David Leppert, all of whom play multiple roles to keep the parallel stories moving at an entertaining clip. The Snow Queen is a family-friendly story with humorous moments, adventure and tenderness — and some singing and dancing (choreographed by Lynge) thrown in for good measure.
Mitchell did exhaustive research on The Snow Queen before starting to write his stage version.
"While kicking ideas around, I read different translations, listened to Scandinavian folk songs and read up on the life of Hans Christian Andersen," he said. "He struggled to be accepted by the Danish literati because he wrote fantastical stories using common language, not the elevated language favored by writers of the day."
Andersen's struggle for acceptance resonated with Mitchell.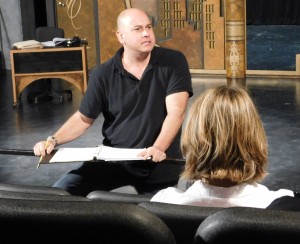 "This gave me the idea for a container to hold the story: An unrecognized, poor writer meets a single mother. He tells her daughter the story of the Snow Queen. The fairy-tale world and real world would overlap. Whenever I wasn't sure what direction to go, I'd delve back into the original story for inspiration."
As director of the play, Mitchell has continued tweaking things, reworking scenes and adjusting the blocking—or positioning and movement—of actors during certain scenes.
"You just know when something doesn't work," he said. "Sometimes you don't crack the code until right before you open."
He's had to cut some dialogue, which is always painful for a playwright.
"The key to being a good playwright is to never fall in love with your own lines," Mitchell said. "You learn that sometimes a look is better than a line."
His job almost done, Mitchell can't wait for the play to debut.
"On opening night I become the invisible man," he said. "At that point, it's the stage manager's show and the actors' show."
Mitchell and Caldwell had co-directed the Hippodrome's production of Avenue Q in 2013 and have worked together a number of other times. According to Caldwell, The Snow Queen has been on the Hippodrome's holiday wish list for a number of years. Each year she selects a play to run concurrently with A Christmas Carol, now in its 38th season.
The key to being a good playwright is to never fall in love with your own lines.
— Charlie Mitchell
Simply retelling Andersen's classic Snow Queen story was not enough.
"[Caldwell] wanted me to do an adaptation," Mitchell said. "I was sort of interested in how to fit the story into now—to find reasons for the Snow Queen story to exist in our world."
Unlike Gerda's modern-day character in the story, Caldwell had full confidence in her writer.
"In this case, Charlie is showing an expansion of his talents," she said. "We're very proud of that."
Ford, who plays Karl, predicted that Mitchell's adaptation of The Snow Queen will have traction in the world of theatre.
"This is a 'world premiere' work of theater, but one that I believe will be requested again and again," Ford said. "I have been involved with several initial productions of plays and musicals in my career, and this one is as good or better than any that I have had the pleasure to work on."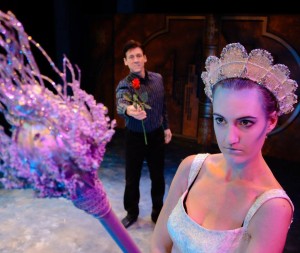 Developing plays is nothing new for Mitchell, who has a BFA from Ithaca College and studied playwriting at Boston University with Nobel prize-winning author Derek Walcott. He earned his PhD from the University of Colorado.
Toward the end of The Snow Queen, Mitchell uses his creative license to poke fun at Frozen, Disney's loose adaptation of the fairy tale. Although a box-office success, Frozen barely resembled the Hans Christian Andersen story.
"People have done adaptations of The Snow Queen, but no one has done it like this," Mitchell said with a hint of pride.
For Mitchell, the process from words on a computer screen to a full theatrical production has been invigorating.
"You create a little world and then it happens right in front of you," he said. "There's nothing like it. [The actors] end up knowing the characters better than I do."
But Mitchell goes one step further. To ensure that every audience member at the Hippodrome's "theater in the round" gets a full experience during The Snow Queen, he has sat in a different seat at each rehearsal and adjusted the actors on stage accordingly.
"You have to move the actors around the stage like chess pieces," he said. "Everybody who pays for a ticket deserves a good view."
He promises that by opening night, everything about The Snow Queen will be just right.
"The baby will be delivered," he said. "Until now, it's been all prenatal care."
— Noel Leroux
---

The Snow Queen
Hippodrome State Theatre
25 SE 2nd Place
Gainesville, FL 32601
Box office: 352 375-4477
Seven performances a week through Dec. 20

For further info, visit the Hipp website.
Follow the Hippodrome on Facebook.