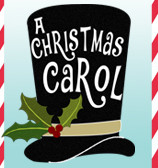 Gregg Jones, best known for his 16-year stint in the role of Jacob Marley, takes over for the venerable Rusty Salling as Ebenezer Scrooge in the Hippodrome State Theatre's annual holiday production of the Dickens classic. There's also a new director this year in Niall McGinty.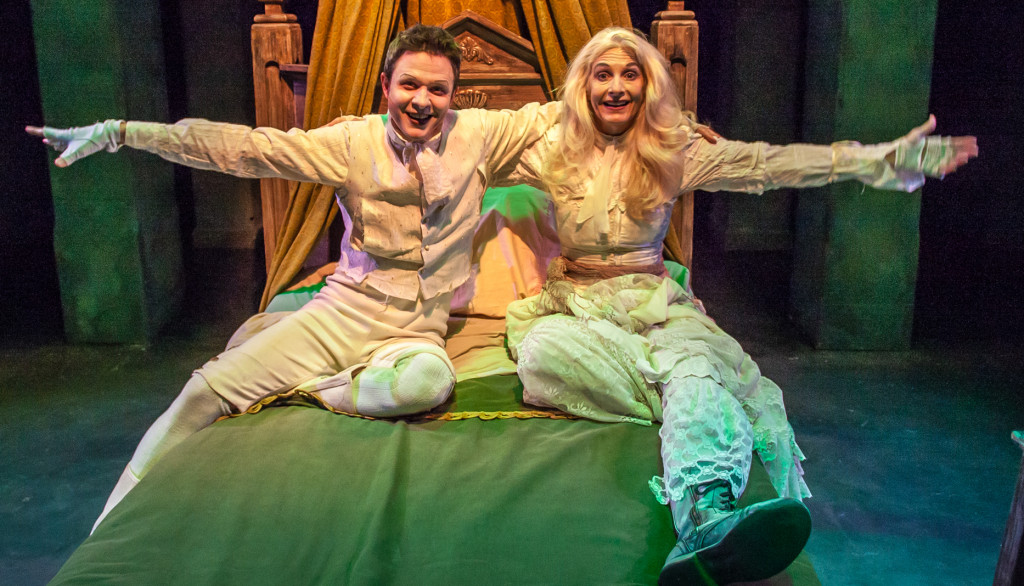 Earlier this month, dozens of pairs of shoes in all shapes and sizes lined a long hallway outside the rehearsal room on the third floor of the Hippodrome State Theatre. The costume department had placed them there for the large cast of A Christmas Carol, the Hipp's annual holiday presentation that opens to the public Saturday afternoon.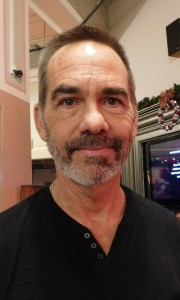 This season, actor Gregg Jones will fill a particularly large pair of those shoes—at least figuratively speaking. He will be taking over the role of Ebenezer Scrooge from Rusty Salling, who had performed the play's signature character for 24 consecutive years.
Salling is taking a well-needed break for health reasons. Earlier this year, he was diagnosed with sinus cancer. The news sent shockwaves through the Hippodrome family.
"We took it very hard," said Lauren Warhol Caldwell, the theatre's artistic director and longtime friend of Salling. "But there was never a moment that we did not rally around him with every fiber of our being. Rusty is a fighter and was determined to do whatever it took to try and beat this.
"We promised to take care of him, and through his determination and perhaps some divine intervention—and lots of love to him—he did beat it."
Although Salling defeated the cancer, the aggressive treatments sapped his energy. He has continued to work as the Hippodrome's information systems director, but decided it would not be wise to also take on the physically and emotionally taxing role of Scrooge in A Christmas Carol.
In an interview a year ago, Salling said the most challenging aspect of playing Scrooge was the stamina required to be onstage for an hour straight. Scrooge is often in motion. In one scene, he scrambles along the floor on his knees.
"I wear kneepads, but sometimes I forget to bring them and it hurts!" Salling said with a laugh.
I want to do [Rusty] justice, but at the same time my job is to do the best rendition of the role I can.
— Gregg Jones
For this year's 38th Hippodrome production of A Christmas Carol, Jones will have the featured role. He said the task is bittersweet.
"I did the show with Rusty for 16 years, playing Marley to his Scrooge," he said. "They asked me to do Scrooge this year. It's an honor. Rusty is a brilliant actor. I want to do him justice, but at the same time my job is to do the best rendition of the role I can."
In an email to gainesvilledowntown.com, Salling wrote "I couldn't have chosen a better replacement myself than this dear friend and colleague."
Jones is familiar to local theatre audiences and outside Gainesville. He has taught theatre at Santa Fe College since 1989 and has been involved in numerous Hippodrome productions over the years. He directed A Christmas Carol  last year. He also has experience in commercials, television and film.
"I had many choices for casting the role of Scrooge," Caldwell said. "Lots of very good actors showed up to audition.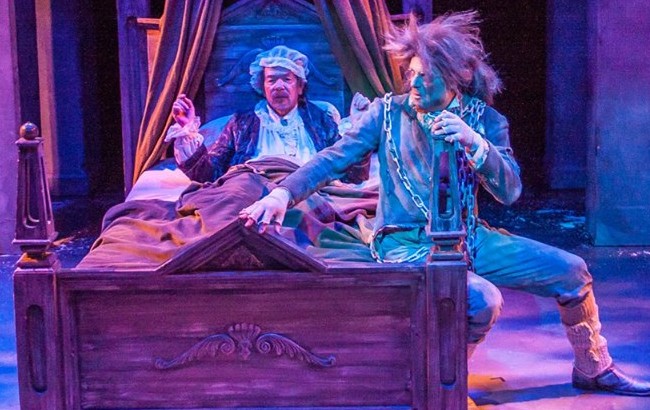 "Last year we did a new adaptation of A Christmas Carol and I used Matthew Lindsay as Marley, the role usually played by Gregg. Both guys have their own legitimate approach to the role, but I fell in love with Matt's Marley."
Caldwell said she asked Jones to step in as Scrooge as sort of an honor to Salling.
"Gregg is creating his own vision of Scrooge, but what better way to honor Rusty's absence than with a man who acted across from him for decades? So Gregg occupies that seat with great pride and honor. It just seemed the logical choice to make."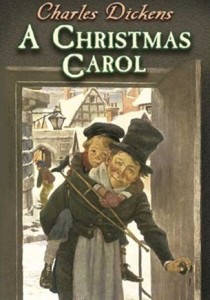 Jones said the challenge for his Scrooge is to view it with the same sentiment called for in the classic Charles Dickens novel.
"Great writing is always a gift to the actor," he said. "I'm trying to find my own rhythm and ways of connecting with the text."
Jones came to Gainesville in 1979. His first show at the Hippodrome was "They Shoot Horses, Don't They?" Since then, he has been involved in more than 40 other productions there. In 2016, he'll retire from teaching at SFC after 28 years. Then the opportunities will be limitless.
"My next chapter will be going back to acting full-time, hopefully some film work, commercial work and live theatre," he said.
The Hipp's A Christmas Carol not only has a new Scrooge this year in Jones but also a new director in Niall McGinty.
Hippodrome audiences are familiar with McGinty through his role earlier this year as Peter in Peter and the Starcatcher. In last year's new version of A Christmas Carol, written by Janet Allard and Michael Bigelow Dixon, McGinty played a Ghost narrator and the Ghost of Christmas Present. He'll reprise those roles this year while directing the play.
When Caldwell asked him to direct A Christmas Carol, McGinty jumped at the opportunity.
"I was honored to be asked and accepted eagerly," he said. "Collaborating as an actor and on a new level as a director with so many talented artists has been exponentially rewarding."
McGinty first appeared in A Christmas Carol at the Hipp in 2000, playing young Scrooge that year and the next. He worked at the Hippodrome regularly until 2003 before moving to Chicago. He and his wife moved back to Gainesville last year, and McGinty became part of the Hippodrome's acting company.
When McGinty found out he would be directing A Christmas Carol without the beloved Salling as Scrooge, he was rightfully concerned.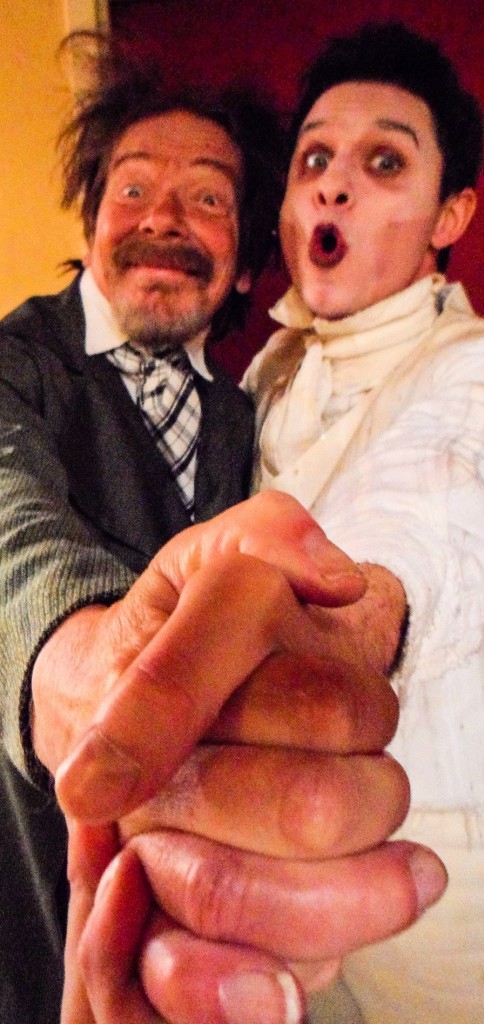 "Coming back in 2014 to play alongside Rusty again after 13 years away from the show was a real treat, and I looked forward to doing this year's production with him," McGinty said.
But Jones taking over the role "has been wonderful," the director said.
"Gregg does a terrific job nodding his head to Rusty's Scrooge, but he also has really made it his own," McGinty said. "Gregg's range and energy are showcased vividly in this year's Scrooge. His transformation from ill-humored to good-humored is really touching."
During a recent rehearsal for A Christmas Carol, McGinty effortlessly transitioned between actor and director. But he also had other things on his mind.
"Not only for the obvious reasons has it been challenging acting and directing in the same show," he said, "but my wife is also nine months pregnant and due on opening day of the show!"
A Christmas Carol will have only eight public performances—two shows each Saturday leading up to Christmas—but the company will also perform the play for thousands of local schoolchildren each weekday morning during the holiday season.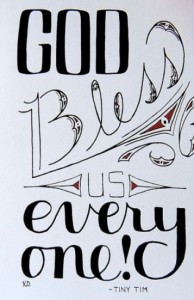 Jones knows that playing Scrooge and conveying a story of redemption to so many impressionable kids carries a heavy responsibility.
"It occurred to me that a lot of this story is about the values we associate with Christmas and the spirit of the season," he said. "In this time, especially on the heels of what happened in Paris, it's a time when the world needs to come together and embrace the spirit of brotherhood and sisterhood on the planet. It's what theatre does."

— Noel Leroux
(If you would like to comment about this article or about the Hippodrome or Rusty Salling, we welcome your input below!)

---

A Christmas Carol
Hippodrome State Theatre
25 SE 2nd Place
Gainesville, FL 32601
Box office: 352 375-4477
Two performances each Saturday through Dec. 19
For further info, visit the Hipp website.
Follow the Hippodrome on Facebook.