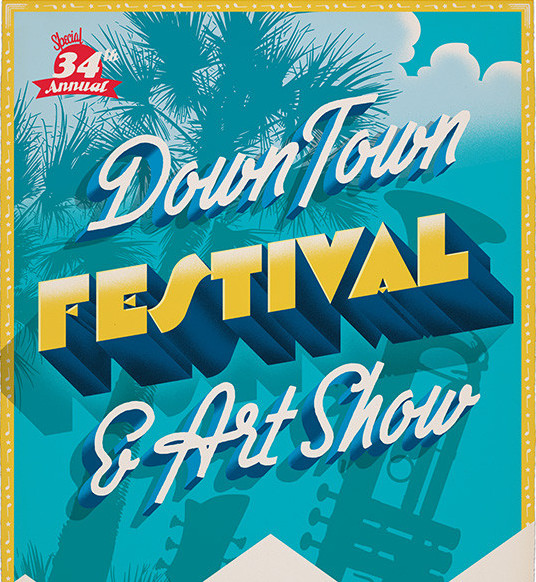 Virginia resident Cindy Grisdela, a GHS grad, made the most out of her annual visit to her hometown by winning the top prize at the 34th Downtown Festival & Art Show.
---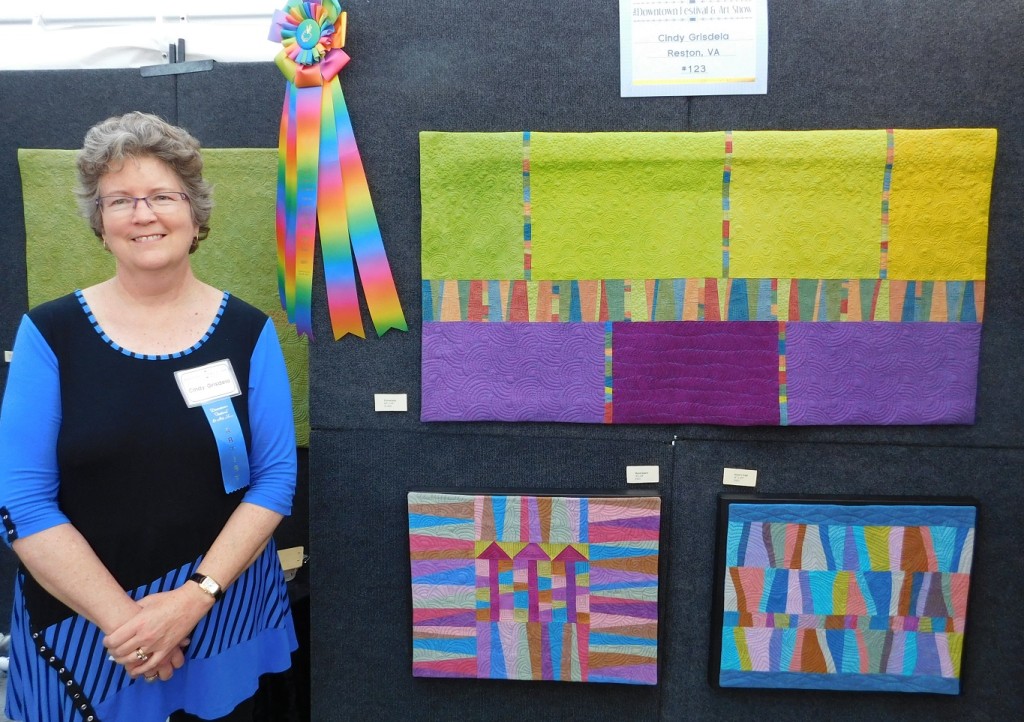 Cindy Grisdela has returned to her hometown of Gainesville each November for the past four years to participate in the Downtown Festival & Art Show. In her second and third years at the show, she was honored to win Awards of Excellence for her contemporary art quilts.
This year, however, she hit the jackpot.
On Sunday, Grisdela won Best of Show at the 34th Downtown Festival and Art Show, wowing judges with her colorful and intricate decorative-fiber creations.
"I am speechless!" Grisdela said shortly after learning of her top prize, which included a large rainbow-colored ribbon and–even better–a $2,000 check. "It's the biggest thrill to win a big award like this in my hometown. Also, it's tremendous because fiber artists don't often win the top awards at these shows."
Grisdela, who has a studio in Reston, Va., was born and raised in Gainesville, where her mother and great aunt taught her how to sew, embroider and crochet. When she discovered quilting almost 30 years ago, it became her passion. She graduated from Gainesville High School, then earned degrees from the College of William & Mary and George Washington University.
"I think of myself as a contemporary quilter," Grisdela told gainesvilledowntown.com. "I think of what I do as painting with fabric. It is labor-intensive. My work is different from many other fabric artists because I focus on the color of the composition and the texture of the stitching in combination."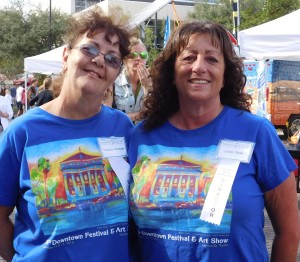 Grisdela will drive back to Virginia today and then prepare for next weekend's American Fine Craft Show at the Brooklyn Museum.
The Downtown Festival & Art Show drew tens of thousands of people to downtown streets with the help of ideal weather conditions. It was Linda Piper's 22nd and final show as events coordinator, and she was thrilled to go out on a high note.
"Everyone is saying how exquisite the art work is this year," she said. "The artists are so pleased with their sales and they're pleased that our community supports the arts."
Piper took the time to meet with pretty much all of the 230 artists in the show, a personal touch that doesn't go unnoticed.
"She has been wonderful organizing all the madness," said Glen Purdy, a Micanopy-based artist who specializes in 3D creations. "She's taken this show from the top 30 into the top 10 with her brains and talent. I hate to see her go."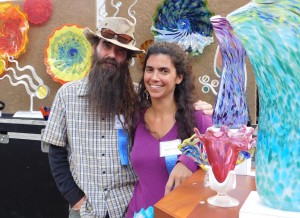 Japan native turned Gainesville resident Kana Handel, who in 2014 provided the festival's poster art, exhibited her oil and acrylic paintings for the eighth consecutive year.
"I love this show!" she said. "I love Gainesville people. It's a small town but with much diversity."
Gainesville glass artist Sarah Hinds, who shared a booth with her artist husband Sky Campbell, was delighted with the event.
"It's been a great show for us," she said. "Great weather, great crowd, great sales. There's a lot of energy out here."
Jim Harrison was also pleased. The director of creative services at UF was bidding farewell to the festival after several years of displaying his Gainesville Fruit Co. line of vintage-themed artwork.
"I am going to be pursuing new and interesting opportunities for promoting Gainesville," Harrison said. "This was the best show I've had in five or six years. The atmosphere and peoples' willingness to spend money was the best it's been in years."
Enjoy a gallery of photos from this year's Downtown Festival & Art Show, including Friday night's Blues Concert: