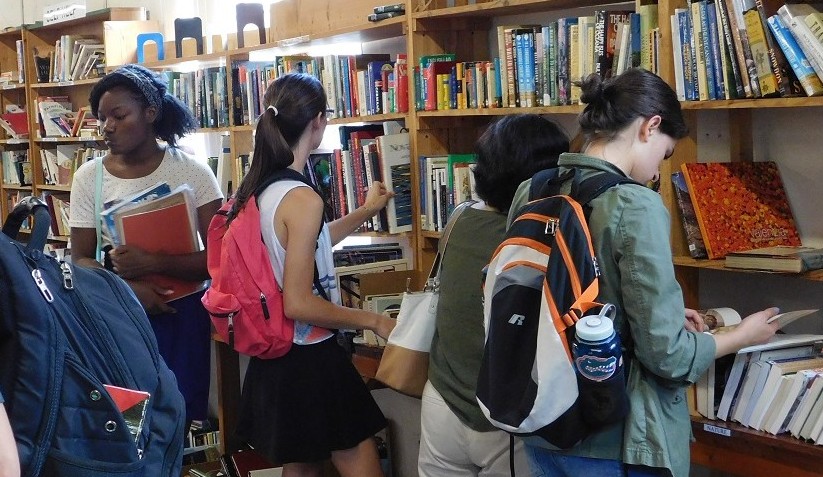 The Friends of the Library 2015 Fall Book Sale began last Saturday with swarms of people poring over more than 500,000 books and other media at the FOL Bookhouse on North Main Street. On Wednesday, the five-day sale concluded with a steady stream of customers scooping up the remaining items for a mere 10 cents apiece.
---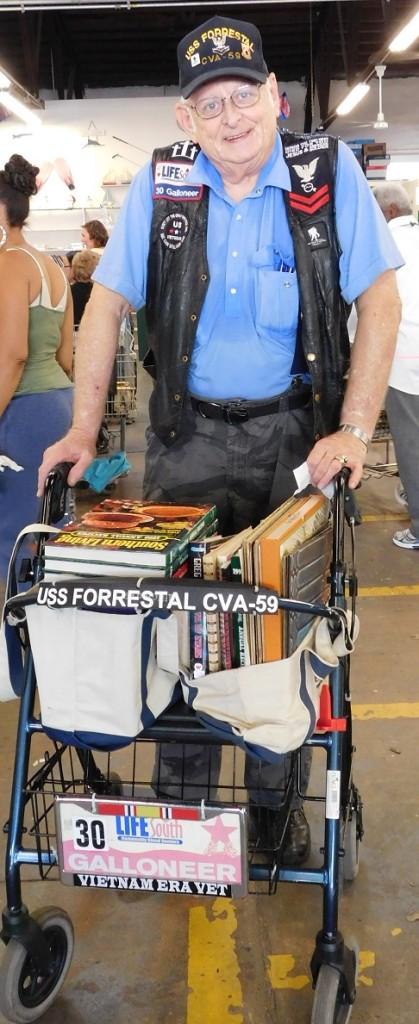 "Just three dollars and 10 cents for all of this happiness and good times!" Bob Finley said, pointing to the 31 items in his cart after departing the checkout area of the FOL Fall Book Sale.
Finley served as a Navy radar man on the USS Forrestal a half-century ago and retired after some 37 years with the U.S. Postal Service. He also is the author of four "interactive" children's books in which the reader gets to name the main character in each book.
"They're about making dreams come true and life lessons," he said. (Finley's website is www.rcfinley.com.
On Wednesday, Finley's pushcart was loaded down with books on a variety of subjects as well as record albums from the '60s and the Swing Era.
"I've got an eclectic taste in music," he said. "For reading, I like science fiction more than anything else."
Almost everyone who shopped at the FOL Fall Book Sale on Wednesday was looking for last-minute bargains. Jon Strout and Heather Foss of Gainesville spent three days at the sale and couldn't get enough of it.
"We got a little bit of everything," Strout said. "We come here every year, in the spring and the fall."
When some people saw the couple's cart overflowing with books and music, they assumed they were dealers They assumed wrong. "We just read a lot," Strout said.
Michelle Jones and her 9-year-old son, George, pulled a wagon almost overflowing with more than 100 children's books. Jones, who works for Childhood Development Services (CDS, Inc.), was purchasing the books out of her own pocket for Head Start and Early Head Start programs in a six-county area.
Nearby, Lucinda Gildersleeve had her arms full of books about history and politics, especially the Kennedy family. She was particularly pleased with one book about Robert F. Kennedy's "Memorial Tributes Delivered in Congress" after the senator's 1968 assassination.
"I always manage to find too much here," she said with a laugh. "My mother was an English teacher."
Out in the parking lot, Mandisa Haarhoff couldn't wait to show off her miniature book about Joseph Conrad. "It's the cutest book. It's why I bought it."
Haarhoff said she attended the FOL Fall Book Sale each day to see what she could discover.
"I've come everyday to haul something. I have quite a collection at home," she said.
All profits from the sale are used for the Alachua County Library District and community literacy projects. Book fans now can look forward to the Friends of the Library 2016 Spring Book Sale next April 16-20.
— Noel Leroux