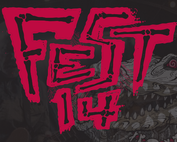 The punk-rock extravaganza takes place for the 14th time in Gainesville, drawing music lovers from around the United States and the world to the downtown area. The biggest winners are restaurants and bars — and the hundreds of bands and their fans.
---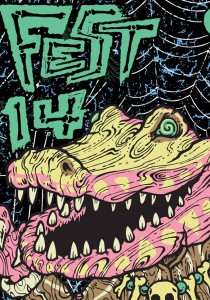 This is the one weekend Danny Hughes looks forward to every year and, strangely enough, it has absolutely nothing to do with the Florida-Georgia football game in Jacksonville.
It has everything to do with his punk friends.
"I have friends from all over the world who come to town once a year, on the last weekend of October, and I love hanging out with them," said Hughes, owner of Loosey's restaurant and bar at 120 SW 1st Ave.
Those friends come to Gainesville not just to visit with Hughes but primarily to enjoy Fest, a three-day underground music festival that celebrates the punk-rock scene. Organizers of the event have lined up more than 350 bands to perform 30-minute sets at 20 venues within walking distance of downtown. Fest will draw upwards of 10,000 hardcore music fans to town.
For Gainesville, it's a big deal. For most downtown business owners (to quote a certain follically challenged presidential candidate), it's HUGE!
"It's our biggest weekend of the year," Hughes said. "It brings a few million dollars of business into town."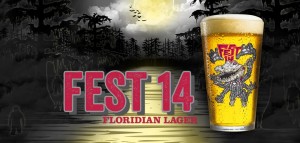 And as luck would have it, Hughes' restaurant is at the epicenter of Fest 14 activities. Loosey's is directly across the street from Lot 10, where the outdoor mainstage is set up this year while Bo Diddley Community Plaza undergoes extensive renovations.
Loosey's also will be a daily venue for Fest, hosting 10 bands/acts today, 16 on Saturday and 16 on Sunday.
"We're sort of Fest Central to begin with," Hughes said. "Gainesville's always had a really strong music scene, but Fest is important because it's homegrown."
Fest began in 2002 as a two-day event with 60 bands performing on four stages. Last year, 373 bands performed at 20 venues. Almost 22,000 wristbands were sold. Attendance was at an all-time high thanks to Fest adding the open-air mainstage at Bo Diddley Plaza, where pop punk pioneers the Descendents drew 4,000 screaming fans.
Pat Lavery, who books shows at High Dive and other local venues through Glory Days Presents, said Fest has carved out a niche for itself.
"Fest is similar to South by Southwest [in Austin] and the CMJ Festival [in New York City]," he said. "What's different is that this is a club festival for the most part but all punk rock in its different forms. As far as narrowing in on a genre, Fest is definitely unique."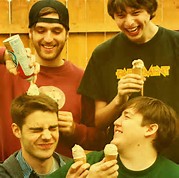 Lavery said that Fest organizers, led by founder Tony Weinbender of No Idea Records, book all the acts for Fest, sell passes and assign several volunteers to each venue. Bands are often scheduled in venues according to their popularity.
Lavery is looking forward to watching a Philadelphia punk band known as Modern Baseball. They will play a cover set of The Killers on Saturday at 2 p.m. at High Dive and play on the Lot 10 stage on Sunday at 7:20 p.m.
Of local interest, Lavery said, is this weekend's long-awaited reunion of As Friends Rust. The hardcore punk band dates back to 1996 and gained wide popularity overseas before disbanding more than a decade ago.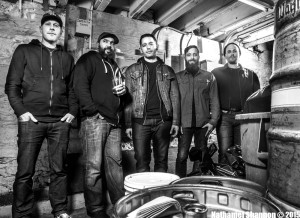 As Friends Rust, fronted by Damien Moyal, will perform on Saturday at 10:40 p.m. at the Wooly on North Main Street. It will mark only the group's third U.S. appearance since 2002.
Meanwhile, downtown eateries are gearing up for a busy weekend.
"Fest provides a great economic boost for downtown–I'd say better than any Gator home game," said Diego Ibanez, co-owner and managing partner of Emiliano's Café. He's also chairman of the Gainesville Downtown Owners and Tenants (GDOT).
Ibanez said he is always impressed by the music fans who travel from outside the U.S. to spend one weekend a year in Gainesville. His Latino/Caribbean restaurant on Southeast 1st Avenue has served people from Australia, Japan, South America and all over Europe on Fest weekend.
"It's such a diverse crowd," he said. "We see a lot of young professionals with disposable income. It's amazing to me how this has grown to be a great event and such a big event."
Emiliano's gets involved firsthand in Fest by providing meals for the bands.

"For us, being a restaurant that's been around 30 years, we get customers that come back to town for Fest because that was their music scene when they went to school here," Ibanez said. "Our game plan has always been to just put our best foot forward."
Around the block at Big Lou's Pizzeria on Southeast 2nd Avenue, Alex Torralvo was getting ready to work his eighth Fest weekend.
"Our food is inexpensive and it's fast, so we're nonstop busy the whole weekend," he said.
Big Lou's will offer a $5 special during Fest that includes a slice of cheese pizza and the ubiquitous Pabst Blue Ribbon. Also, for the second year in a row, Big Lou's will host acoustic sets on its patio Sunday afternoon as part of Fest.
At Maude's Café in the Sun Center, owner/general manager Layne Wrighton has scheduled a Friday afternoon "Festicals" show featuring local bands to coincide with Fest. Insignificant Other, Rosemary Kennedy and Habits will perform a free porch show from 3-6 p.m.
"I like that Fest brings in a lot of people from around the world," Wrighton said. "I call them repeat offenders. They actually seek out the local coffee shops, so I'm excited about giving them a show as well."
Maude's will offer Fest Pass holders $1 coffee and $2 PBR Tall Boys over the weekend.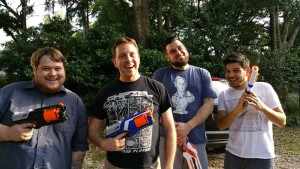 Over at Market Street Pub on Southwest 1st Avenue, owner Anthony Grezlik will host 40 bands over Fest weekend. The 12-hour music marathons on Saturday and Sunday conclude with local bands Moonbeard and Assassinate the Scientist, respectfully.
"We're right in the middle of the festival," Grezlik said. "We're going to be surrounded by everybody who patronizes Fest. I can imagine we'll have a few thousand people walk in here over the course of three days. It will be an economic boost on Halloween weekend."
Grezlik said that Fest is a success not only because of the music but because of what goes on behind the scenes.
"If it weren't for the volunteers—the stage managers, venue managers, equipment loaders and unloaders—Fest probably wouldn't be as organized or as popular as it has become," he said.
— Noel Leroux
---
For further information, visit the Fest 14 website.