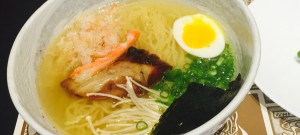 ---
Gainesville's first restaurant specializing in ramen noodles has done a booming business since opening last December.
---
gainesvilledowntown.com
How serious are Fred Brown and Steve Grimes about ramen?
Last November the two men flew to New York City for what Grimes called "a ramen-eating extravaganza." Over two days, they visited seven restaurants and shared between 20 and 25 varieties of the Japanese-style noodle.
They compared notes about the bowls and agreed their taste palates were in harmony. Then they returned to Gainesville and got down to business.
On Dec. 1, 2014, with Brown as operational managing partner and Grimes as executive chef, they opened Crane Ramen in an old storefront at 16 SW 1st Ave. in downtown Gainesville.
Since then, people have lined up to get inside the cozy noodle kitchen and experience for themselves main dishes—or bowls, rather—never before savored in North Central Florida.
"I am thrilled about the response from the community," Brown said. "We didn't think we'd be as busy as we are. It's sort of built organically. People really are excited about having ramen in Gainesville."
On a good night, Grimes and his well-trained kitchen staff prepare upward of 300 bowls of ramen in addition to a tasty selection of otsumami, or appetizers, intended to be served with alcoholic beverages.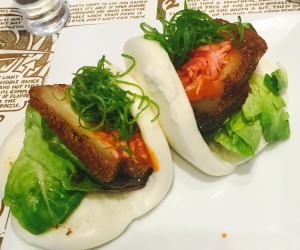 "I would like a Japanese person to come in here and be reminded of the flavors from home," Grimes said. "But I also want a good ol' boy from Florida to be happy just because the food is so good."
There are many elements that go into each bowl of ramen, beginning with the noodles themselves. Crane Ramen uses Sun Noodles, the largest craft noodle maker in the country. Most of New York City's top ramen shops, such as David Chang's Momofuku, use Sun Noodles.
Crane Ramen uses the thin, dense Tonkotsu-style noodle, as well as Tokyo Wavy, a yellowish, more versatile noodle. The noodles are served in flavor-rich broths that each take many hours and great skill to perfect.
The ramen menu includes salt-based Shio (pork belly, marinated egg, menma, nori and negi), soy sauce-based Shoyu (chashu pork, egg, negi and nori), Paitan (roasted chicken, egg, negi, nori and roasted garlic oil), Veggie Miso (vegetable/mushroom broth with selected vegetables) and the popular Tonkotsu (pork belly and shoulder, house hot sauce and egg).
The menu is reminiscent of what Brown, a longtime chef, experienced while living in New York's East Village for 17 years. He was there in 2000, when Rai Rai Ken opened and pioneered the ramen craze.
"I always loved Asian noodle soup. It was so wholesome and nourishing," Brown said. "Then I discovered ramen and it was even better."
Ramen shops soon sprang up in Chicago, Austin, Portland—in Oregon and Maine—and many other North American cities in much the same way sushi bars began flourishing in the late '80s.
According to Brown, there is a Japanese expression—otaku—for those with obsessive interests. Many people obsess over eating ramen.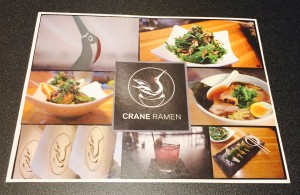 Japan's passion for ramen was immortalized in the motion picture Tampopo. The 1985 comedy features two truckers determined to help a widow reinvent her roadside noodle shop.
Locally, Dragonfly Sushi and Sake lists ramen on its menu. However, Crane Ramen is the first Gainesville restaurant to specialize in it.
Brown, 48, developed the idea for a ramen shop with local entrepreneur Bill Bryson, who operates Grow Radio. They began renovating the space, the former Key West Cigar Company, in early 2014.
Crane Ramen is situated between Paramount Grill and The Bull, creating a city block of wining and dining establishments in the old Beasley & Williams Furniture Store, which closed in 1994.
"There's nothing like this in Gainesville," Brown said. "A ramen restaurant should be kind of intimate and small."
The first thing guests notice upon entering Crane Ramen is the logo of a sandhill crane, with its distinctive red forehead, on the plate-glass windows. The artist happens to be Brown's mother, Louise Freshman Brown, a professor at the University of North Florida. She also created the earth-toned mural/graphics adorning one entire wall of the eatery.
The crane is a symbol of longevity and good luck in Japan. Brown thought it only appropriate to feature the sandhill crane, which spends its winters in Florida. ("They also make a lot of noise!" he added.)
Creating the restaurant space was a local effort. Larry Wilson of Designmind, LLC, designed the interior, which has a white-oak bar facing an open kitchen. Local craftsman Nicholas Iannelli and master carpenter Nitin Jayaswal built the bar, soffit and other contemporary elements. WindFire Designs did the handmade banners with the restaurant's logo hanging from the ceiling.
For a sense of nostalgia, the restaurant kept the heart-pine floors that were part of the original furniture store. Also, wood-accent walls at the rear of the dining room were reclaimed from an old barn on Bryson's cattle ranch in Waldo.
"This is what I envisioned," Brown said, looking around his restaurant. "We wanted the place to be Asian without being too Asian. It's not in-your-face.
"We want to enliven all of one's senses."
— Fred Brown, managing partner
"I wanted something that was urbane, comfortable, elegant and clean. We want to enliven all of one's senses."
Of course, ramen is the restaurant's star attraction.
Although the noodles are imported, most other ingredients come from within 100 miles of Gainesville. About 80 percent of Crane Ramen's produce, including nine varieties of mushrooms, and 100 percent of its proteins are locally sourced. The restaurant gets its pork, chicken and eggs from Florida Fresh Meats in Ocala.
"I would like one-hundred percent [local] with everything," Grimes said, "but there are just some products I can't source locally because it's not viable."
Crane Ramen makes all stocks and sauces in-house to ensure freshness, flavor and consistency. That attention to detail and high standards reflect Grimes' dizzying, on-the-job culinary training and background.
Just 33, Grimes has worked at a dozen or so restaurants across the United States and Asia. He first learned about French-style preparation and Japanese food techniques from a Vietnamese chef in, of all places, Jackson Hole, Wyoming.
The chef had fish flown in from Japan twice a week. Grimes surreptitiously saved the tags from the suppliers. He used the addresses on those tags to map out a trip.
Eventually, Grimes saved up for a three-month journey to Japan that would change his life. He explored the country for a few weeks then secured an internship at a restaurant in Tokyo's bustling Shinjuku district. There, he learned kaiseki, a refined, high-end style of Japanese cooking that is evident daily at Crane Ramen.
"I went to Japan because I wanted to learn the traditional palate and cuisine to do the food and culture justice," Grimes said while tressing pork shoulder in the cozy prep area of Crane Ramen.
Before arriving in Gainesville, however, Grimes' culinary odyssey included another stop in Wyoming, four years in Thailand, Arizona again and then Jamaica. He was working at the Trident Hotel in Port Antonio before accepting the Gainesville job over offers in higher-profile cities.
"It was a choice in lifestyle I wanted to have," said Grimes, who has a young daughter. "I'd never even been in Gainesville until a tasting last September [2013]. What got me was the Spanish moss hanging from the trees."
Grimes oversees all aspects of the kitchen at Crane Ramen, while Luis Mendez supervises the front of the house and bar.
Mendez, 31, a New York City native, stocks a select number of Japanese whiskeys, including single malts considered among the best in the world.
"I wanted to create something that represented the Japanese art of craft cocktails," said Mendez, emphasizing the shaking and stirring of "proper bartending."
Crane Ramen also carries a full spectrum of sake, such as junmai (pure rice), nigori (unfiltered) and ginjo nama (unpasteurized). "Each one has its own flavor profile and uniqueness, like wine does," Mendez said.
There are also Japanese beers, including Sapporo and Echigo Stout. The domestic collection includes Siren Blonde Ale on tap from Gainesville's own First Magnitude Brewing Co.
"You definitely won't get bored with the selection we have," Mendez said.
"Boring" is simply not in Crane Ramen's vocabulary.
"The reason why the restaurant is doing so well is that it's a team effort," Grimes said. "The kitchen crew and front-of-the-house crew are pushing each other in a positive way."
— Noel Neff
---

Crane Ramen
16 SW 1st Ave.
Gainesville, FL 32601
352 727-7422
(reservations not accepted)
Hours:
Lunch—Monday through Saturday, 11 a.m.-3 p.m.
Dinner—Monday through Wednesday, 5-10 p.m., Thursday through Saturday 5 p.m.-late.
Closed Sundays
Visit Crane Ramen on the web.
Follow Crane Ramen on Facebook.