The Gainesville business caters to those who might not have the time to shop for food but who still enjoy preparing nutritious, home-cooked meals.

---
Laura dePaz Cabrera is a busy woman. She balances her career as an attorney with a personal life that includes her husband and their 5-year-old son. She also is the lead female vocalist for the Gainesville-based, Latin-fusion band Tropix.
No wonder that planning family meals is usually not at the top of her daily to-do list.
"I really genuinely love to cook," she said, "but working a busy and somewhat unpredictable fulltime job, I don't have the time—or the energy—to plan out home-cooked meals every night."
That's why she happily welcomes Chef Ami into her kitchen.
Each week, the Gainesville company delivers step-by-step recipe cards and all the fresh ingredients needed to prepare three main courses and side dishes in 30 minutes or less.
"This is a completely new concept for this area, but people really seem to like it," said Matt Dickhaus, who launched Chef Ami with his wife, Johana, in 2014.
One week customers might enjoy sweet and spicy pork chops with pineapple-fried rice, baked caprice ravioli and Mediterranean chicken with parmesan orzo pilaf. The next week the meals might include mouthwatering Tex-Max lasagna, goat-cheese and sun-dried tomato stuffed chicken and shrimp arrabbiata.
Chef Ami has more than 80 recipes in its rotating menu. Dickhaus chooses three of those recipes each week. Once customers place their orders online, Dickhaus purchases fresh produce, meat and seafood items from local growers and markets, according to how many meals his customers have ordered in advance.
Chef Ami's suppliers include Hawthorne's Frog Song Organics, Alachua's Swallowtail Farm, Gainesville's Rainbow Star Farm and Starke's Cognito Farms.
On Mondays, Dickhaus and his crew portion and package the ingredients at their commercial kitchen in southwest Gainesville. On Tuesdays, all the ingredients for those three meals, including detailed recipe cards, are delivered to doorsteps in reusable, refrigerated boxes with the distinctive Chef Ami logo designed by Matt's father, Dan.
Customers decide when each meal is prepared and enjoyed during the week. Properly stored, the food stays fresh for seven days.
Dickhaus got the idea for the recipe and food-delivery service from a company many of his co-workers used when he and Johana lived in Germany.
"I had never seen anything like it in the United States," he said. "There are a couple of services that have since popped up in New York that ship nationwide."
Dickhaus, a Gainesville native and GHS grad, thought his hometown would be the ideal place to start such a business in this country.
 "People here are open to new ideas and there's a lot of support for local and sustainably grown food."
–Matt Dickhaus, owner
"I figured Gainesville would be a good test market," he said. "People here are open to new ideas and there's a lot of support for local and sustainably grown food."
Customers have the option of ordering three meals a week for two, four or six people. Pricing ranges from $65 a week (six meals) to $179 a week (18 meals). Broken down, each meal costs between $10 and $11—less than the price of a main course at most restaurants.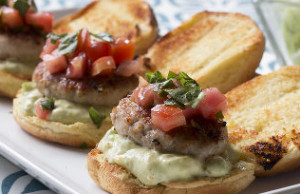 "I really like the convenience and I like how the meals make me explore areas or types of food that I wouldn't normally do on my own," dePaz Cabrera said. "It is an added bonus that the food tastes amazing."
DePaz Cabrera said following the step-by-step recipe cards is "super easy." She likes the fact the cards also include instructions for plating the food.
She struggled, however, when asked to name her favorite Chef Ami meal.
"Off the bat I'd say the fontina cheese-stuffed chicken with pesto," she said. "Smoked ham and roasted vegetables was one of my first to try and an immediate favorite. My husband had never had okra in his life and loved it."
Of course, satisfying customers is Chef Ami's objective. Although Dickhaus has a bachelor's degree in marketing, he consults with retired master French chef Michel Maloiseau for culinary guidance. Dickhaus prepares each recipe multiple times himself before adding it to the Chef Ami menu.
Another goal of the company is to reduce food waste. Dickhaus wanted a service that delivered food in meal-sized portions.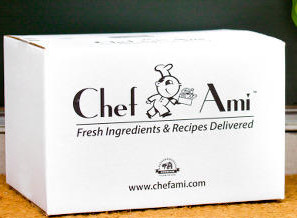 "I don't eat leftovers and it was difficult for my wife and me to cook for just the two of us without wasting a lot of food," he said. "We were looking for a convenient and healthy solution to that problem ourselves—to prepare only what we would eat."
According to Dickhaus, Chef Ami has only .05 percent food spoilage in its kitchen compared with almost 7 percent spoilage in most restaurants. He added, "The amount of food [humans] waste is atrocious."
That's one reason Chef Ami makes a concerted effort to give back to the community through its Feeding Florida program. The company donates its extra food to Gainesville Harvest and also works with Jacksonville-based Second Harvest to feed children.
For each meal Chef Ami customers purchase, a meal (or equivalent dollar value) is donated to Second Harvest to aid the fight against child hunger in Florida.
Dickhaus said he witnessed poverty firsthand in Colombia, where he once worked for a travel agency.
"I hadn't been exposed to that in the States and it made me want to do something to give back," he said. "There's no reason for anyone to go hungry, especially children."
DePaz Cabrera started using Chef Ami on the recommendation of friends and by taking advantage of a Groupon offer. Now, not only does her family enjoy the recipes delivered to her doorstep, she's proud to help a local company that gives back to the community.
"I really like that they contribute to the local economy by using as many local ingredients as possible, and they think green and contribute to charity," she said. "To be able to support a local business that has so many positives is a great feeling."
— Noel Leroux
---
Chef Ami
352 363-1108
Visit Chef Ami on the web.
Follow Chef Ami on Facebook.