The former world-class runner-turned-musician — and longtime Gainesville resident — is taking "retirement" in stride.
---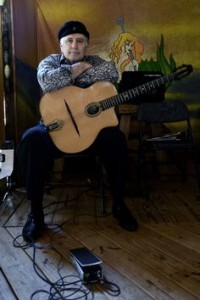 There was a time when the world knew Marty Liquori for his legs and feet, which for a memorable decade in the 1960s and '70s zipped him around tracks faster than just about any other human.
Today, however, Liquori is better known for his hands and fingers, which hold and strum a jazz guitar as well as anyone in North Central Florida.
Call it Marty Liquori's second wind.
"I consider myself retired and pretty much a fulltime musician," said Liquori, who has also been an Olympian, an entrepreneur, a broadcaster, an author, a lecturer and a leukemia survivor. He's also been a Gainesville resident for more than 40 years.
At 66, Liquori is at the heart of the area's jazz scene, not only performing three nights a week but also serving as vice president of the Gainesville Friends of Jazz and executive director of the Gainesville Jazz Festival. In 2013, the Jazz Journalists Association honored him as a JJA Jazz Hero.
"I've been lucky in that there are top musicians who are older, maybe retired, that have played at the top level but live close to Gainesville," Liquori said. "We feel, other than Miami and Atlanta, we have the best jazz scene in the South."
Liquori considers himself a straight-ahead jazz guitarist as well a gypsy jazz guitarist. He plays two gigs a week at Leonardo's 706, where he's performed for 14 years. Monday night is gypsy jazz night with his Hot Club de Ville; Thursday night is classic jazz with his Jazztet.
"One week I might be playing with Gary Langford on trumpet, another week Ben Champion on saxophone," Liquori said. "What's kept it interesting and allowed me to be at Leonardo's all this time is that we have different horn players almost every week."
Liquori also has a weekly gig Tuesday nights at Ballyhoo Grill, playing what he calls "background music" with keyboardist Vic Donnell and sometimes others. The tin roof at Ballyhoo just isn't conducive to full-blown jazz, he said.
Gypsy jazz is of particular interest to Liquori. The style of music originated in the 1930s with Jean "Django" Reinhardt, a Belgium-born guitarist and composer.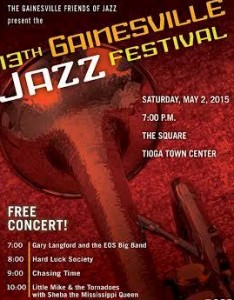 Meanwhile, Liquori keeps his fingers on the pulse of jazz in Gainesville, staying in touch with those who have moved on to bigger and better things.
"There are about five saxophone players from here playing in New York and Boston at the top level," he said. "There are about three bass players from Gainesville—if you follow them on Facebook—who are in Tokyo one week, Germany the next and then back in New York City.
"We produce a lot of good jazz musicians here."
Liquori purchased his first guitar when he was 12. It was a Les Paul Junior, not to be confused with an actual Les Paul. He bought it for $100, which he earned delivering newspapers in his hometown of Cedar Grove, New Jersey.
"A hundred bucks was a lot of money in 1961," he said. "If I'd had $150, I would have bought a Stratocaster, which today would be worth hundreds of thousands of dollars. But I didn't have $150, I had $100."
"If somebody had told me how hard [jazz] was going to be, I probably wouldn't have done it."
— Marty Liquori
Liquori put down the guitar for three decades while he pursued his running and business careers. About 20 years ago, Deb Liquori gave her husband 10 guitar lessons with instructor Jeff Ladenheim. The seed was planted.
"I was just curious how the whole jazz thing worked," Liquori said. "If somebody had told me how hard it was going to be, I probably wouldn't have done it."
But Liquori kept at it. He answered a newspaper ad and backed up the Sweet Notes, a group of older women who sang on a regular basis at retirement homes and hospices. His guitar skills improved.
"It's sort of like that Malcolm Gladwell thing," he said. "It took 10 years and 10,000 hours of practicing to get to the point where I'm comfortable and can go on just about any job and hold my own. Playing a guitar is not a talent anymore than running the mile is a talent. It's about work and taking a scientific approach to things and progressing."
Liquori said the process of music is fun but requires discipline for improvement, such as spending time learning scales.
"I tell people, 'You have to love the process,'" he said. "So if you love running, you'll become a good runner because it's fun to you. If you hate running, then you probably should be playing baseball or something else.
"The process in music, if I practice for two hours, those two hours are fun. It doesn't seem like I was working at it. Whereas in running, when I ran for two hours, there was no getting around it—it was work."
The work, however, paid off. With his running skills, Liquori rose from a high-school track phenom to a household name in the sports world.
"My goal in life was not to be a runner, it was to be a basketball player."
— Marty Liquori
"My goal in life was not to be a runner, it was to be a basketball player," he said. "I just went out for cross country to get in shape for basketball."
But then someone told Liquori that his chances of making his Catholic high school's basketball team were slim. "You're pretty good at running," the person said. "Why don't you just keep doing that?"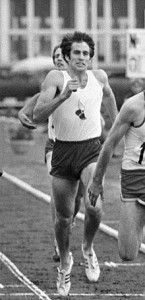 As a sophomore, Liquori's very first time in the mile was 4 minutes, 17 seconds—one second off the New Jersey high school record. In 1967, as a senior, he became the third American prep athlete to break the four-minute mile (3:59.8). Jim Ryun had been the first to do it.
Liquori qualified for the United States Olympic team in 1968 as a 19-year-old Villanova freshman. He made it to the final of the 1,500 meters in Mexico City and finished 12th.
The cover of Sports Illustrated on May 24, 1971, shows Liquori holding off Ryun in the closing seconds of the Dream Mile in Philadelphia. In the image, Liquori appears to be smiling, and the headline reads: Liquori Grins—and Wins.
"It was probably a grimace," said Liquori, downplaying any hint of smugness at upsetting the world's best-known miler of the time. Clocking a 3:54.6, Liquori had lowered his personal best by 2.6 seconds.
"Whether I feel it was my best performance or not, that's the thing that people remember," Liquori said about the race against Ryun. "It was a different time when there wasn't ESPN, only sports on Saturday afternoon. A lot of people were watching it. But I also have a theory, especially with the Vietnam War going on in 1971, that people were reading the newspaper intensely every day, and we were in the paper also."
Four years later, he'd improve his best mile to 3:52.2—and lose to Tanzanian Filbert Bayi in another Dream Mile staged in Jamaica. That finish, with Liquori on Bayi's tail down the stretch, also was featured on Sports Illustrated's cover.
The loss to Bayi and a subsequent loss to New Zealand's John Walker made Liquori switch to the 5,000 meters in an effort to qualify for the 1976 Olympics in Montreal. However, Liquori stepped in a hole and injured his hamstring during a training run on the University of Florida Golf Course. That ended his Olympic quest, but he still was ranked number one in the 5,000 meters in 1977 after setting a U.S. record of 13:15.1.
By then, Liquori was already a successful businessman. In 1972, he and Florida track coach Jimmy Carnes had opened Athletic Attic above Bill Pinner's shoe store in Westgate Plaza.
"Shortly after I moved to Gainesville, I noticed a lot of people jogging," Liquori said. "They were thinking we were just going to sell running shoes to the few runners that we knew in town. That was right after Frank Shorter had won the Olympic Marathon. Running took off. After two or three years, we started franchising it."
At its height, Athletic Attic boasted some 300 stores.
Liquori's post-running career included television and radio commentary for ABC, NBC and ESPN. He also wrote Marty Liquori's Guide for the Elite Runner and an autobiography, On the Run: In Search of the Perfect Race.
Today, Liquori would rather talk about chords and frets than about fame and fortune.
"I'm not a big fan of celebrity," he said. "Just because a guy can eat a lot of hot dogs or run the mile really fast, I don't think it's worth people getting all excited about. I think they should be more in awe of scientists and doctors. I think too much is made about athletes."
Not until Liquori was diagnosed with lymphocytic leukemia in 1992 and later helped to raise awareness about the disease did he understand the power his name could wield.
"I realized, 'OK, I became famous. I can use this fame to help raise money or do whatever."
The Leukemia Society of America's Team in Training initiative raised about $200,000 its first year. Liquori became a spokesperson for the group and helped take it to a new level. At its peak five years ago, Team in Training was raising $130 million a year.
"That pretty much changed the course of leukemia research," Liquori said.
"I didn't beat leukemia because the type I have is chronic and it's gonna come back," he said. "I don't know how long I've had it, but I had a course of chemotherapy that was supposed to knock it back two years or so. Now it's been 23 years."
 Liquori is in the spotlight now only when he plays his guitar for Gainesville audiences. It's a city that felt right to him 40 years ago, and still feels right today.
"I felt it was a good place to be based when I was training, and when I had kids, I thought it was a great place to raise them," he said. "I just never left. I would've left if I ever found a place I thought was that much better, but I haven't."
–– Noel Leroux
---
To keep up with Marty Liquori, visit his Run Jazz website.