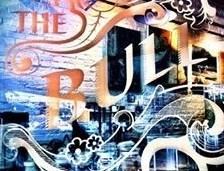 In the heart of downtown, a little establishment with a lot of character.

---
There's nothing more satisfying than walking into a local watering hole after a long day and seeing a friendly face behind the bar.
One such place is The Bull, a downtown Gainesville establishment where no one is a stranger. Manager Jacob Larson and his bartending staff make sure of that with warm smiles and, oftentimes, firm handshakes. Maybe even a hug.
"I love this place because it's so welcoming," said Del Wallis, who was catching up with old friends on a  spirited Friday night at The Bull.
The Gainesville native, who now lives in Jacksonville with her husband and 3-year-old daughter, was in town visiting family. She couldn't resist dropping in at her old haunt.
"This place feels like home," she said. "It's small, but not too small, and it's not loud like so many bars."
The Bull is what many people might call "intimate," occupying a long, narrow space at the end of a downtown block that once housed a furniture store. A double-sided red bench sits out front. (Strangely enough, the bench has its own Facebook page with 41 "likes.")
Inside, the original wood floor gives the place character, as do old church pews used for seating and large wooden tables once used in classrooms. The bar itself, lining the left side of The Bull, is made from reclaimed heart pine.
Along the right wall, above the small band corner, three suspended fireplace mantels have stories all their own. All was salvaged from New Orleans homes following Hurricane Katrina.
"They add symbolically and metaphorically to the atmosphere of the place," Larson said.
Paintings by local artists adorn the walls.
"We're not a gallery, but maybe one of the luxuries for our repeat customers is that the artwork starts to speak to them," Larson said.
The Bull offers patrons a selection of craft beers on tap as well as a large selection of brews from glass and cans. Chalkboards list a variety of red, white and sparkling wines available.
"It's not just a place where people come, but a place where people become."
— Jacob Larson, owner
Larson, recognizable by his handlebar mustache, said he sees The Bull as more than a beer-and-wine bar. He considers it a destination for people to connect on a personal level while enjoying great music and artwork.
"It's not just a place where people come, but a place where people become," he said, pausing to let the play on words sink in. "It's a place to unwind and be understood."
Larson, 39, took over management of the Bull last year. His daytime job is community pastor at the Vineyard, a Gainesville church that he describes as "a movement based on values more than on tradition."
The two jobs, he said, are not mutually exclusive. He describes it as a Venn diagram where "the overlapping part is more than most people assume." Both duties involve giving people experiences that can enrich their lives.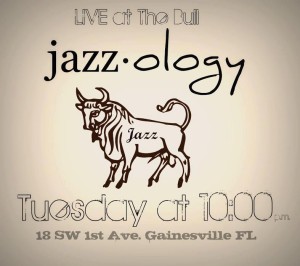 Larson pulled out a small book, aptly titled "Multi-Careering: Do Work That Matters at Every Stage of Your Journey," by Bob Goff.
"My schedule is pretty flexible," he said, adding that his wife of 15 years, Jackie, tends bar and offers him encouragement. "I've had nothing but great support."
Larson has a degree in business administration from UF. He also is executive director of Society Promotions, which he started with Michael O'Malley in 2008. The company strives to promote and produce art, music and cultural experiences that benefit and inspire social change.
Several times a year, The Bull sponsors fundraisers. Local musicians donate their time to benefit such worthy as the One Room School House and Kids Count of Alachua County.
For the past four years, The Bull has hosted Groove Before Christmas, featuring musicians putting their own spin on holiday classics.
"Society Promotions has allowed us to develop good friendships over the years," Larson said. "The Bull has become its landing spot. We get to create art and music here and elevate Gainesville. We want to give people opportunities to be heard."
There aren't too many bar managers who can glance around the room and spot people, such as Del Wallis, whose wedding he performed.
"I don't fit into the stereotype of a man of the cloth, but neither did Jesus," Larson said. "I figure if anyone accuses me of being a drunkard, a glutton and a friend of sinners, I'm in good company."
— Noel Leroux
---
The Bull
18 SW 1st Ave.
Gainesville, FL 32601
(352) 672-6266
Hours: Monday through Saturday, 4 p.m.-2 a.m. (Closed Sunday)
Live Music: Jazzology on Tuesdays, Open Mic on alternating Wednesdays,  Three Flights Up on alternating Fridays
Follow The Bull on Facebook.